The modern AR-15 sporting rifle is one of the most popular firearms today. With this popularity comes enough choices to overwhelm even the seasoned shooter. From bargain-basement to seemingly gold-plated, there are options for every need and every budget. So how do you find the best AR-15s for the money? Specifically, I'm talking about your money.
This article will walk you through the attributes of the best AR-15s in several budget ranges. First, you must decide how you plan to use your AR, then you can use that decision to guide you to spend your time and dollars where it counts.
Before we get into the best AR-15s for the money, let's answer these critical questions first.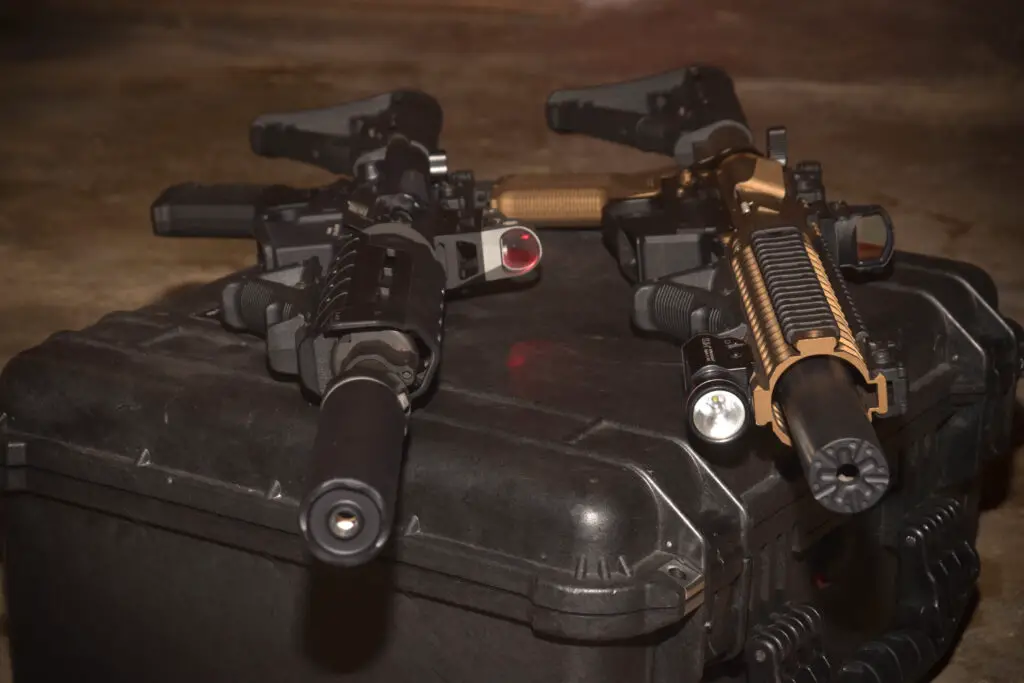 Put Your Money Where It Works For You
Are you looking for a range toy? Will you use your AR-15 for precision shooting out at distance, or will your carbine be the first thing you grab when you hear a bump in the night?
The Best AR-15s and Reliability
First, consider reliability. The occasional range gun needs to go bang almost every time you pull the trigger. Almost. The occasional miss-feed is tolerable, especially if it is limited to inexpensive ammo. Here, clear the jam and move on. Nothing lost, nothing gained. Maybe you can select better ammo next range visit.
Using your AR for hunting or competition? You shouldn't experience a malfunction when the heat is on, however, you should still practice for the inevitable jam. Jams under pressure require you to identify, clear, and recover smoothly and efficiently. While you don't expect it every round, you need to anticipate it and deal with it without skipping a beat.
If your AR is your primary home defense weapon, then it must go bang 100% of the time with your chosen defensive. No exceptions! A jam during break in may be expected. Always test with a few hundred rounds of defensive ammo. If you experience jams then? Well maybe it's time to look elsewhere for a defensive rifle.
Reliability depends on the entire package, from the Bolt Carrier Group (BCG), to the barrel, optics (batteries do, and will fail), and even the lubrication you choose (AR-15s love to be run 'wet'). Reliability is a total package.
The Best AR-15s and Accuracy
Second, consider accuracy. I train with my ARs as close quarters defensive weapons. Therefore, I sight them in at 25 yards, co-witness the optics and irons. With this use case 99% of my range time is inside 25 yards, and most of that is between contact distance and 15 yards. I need a minute-of-chest in these tools when shooting at speed. 1-inch accuracy (at 15 yards) is acceptable for "precision" shots. Just about any AR on the market will satisfy my needs for accuracy.
Precision shooting, be it distance target or hunting, often requires a 1 MOA gun or better. This is where we must pay attention to the barrel, in particular the twist rate, the trigger group, and even the mounting of the fore grip (free floating or attached).
Optics also feed into this need, however, most of the AR-15s listed will have, at best, iron sights. If you choose to add optics, precision will drive the style. Shooting defensive like me? A non-magnified optic with a big reticle. The 7.5 MOA triangle on my Leupold Deltapoint Pro will not help when hunting coyotes at 200 yards, but its quick to pick up when speed counts. The 1 MOA on my Sigarms Romeo is better suited for precise applications. Even better yet is a magnified optic.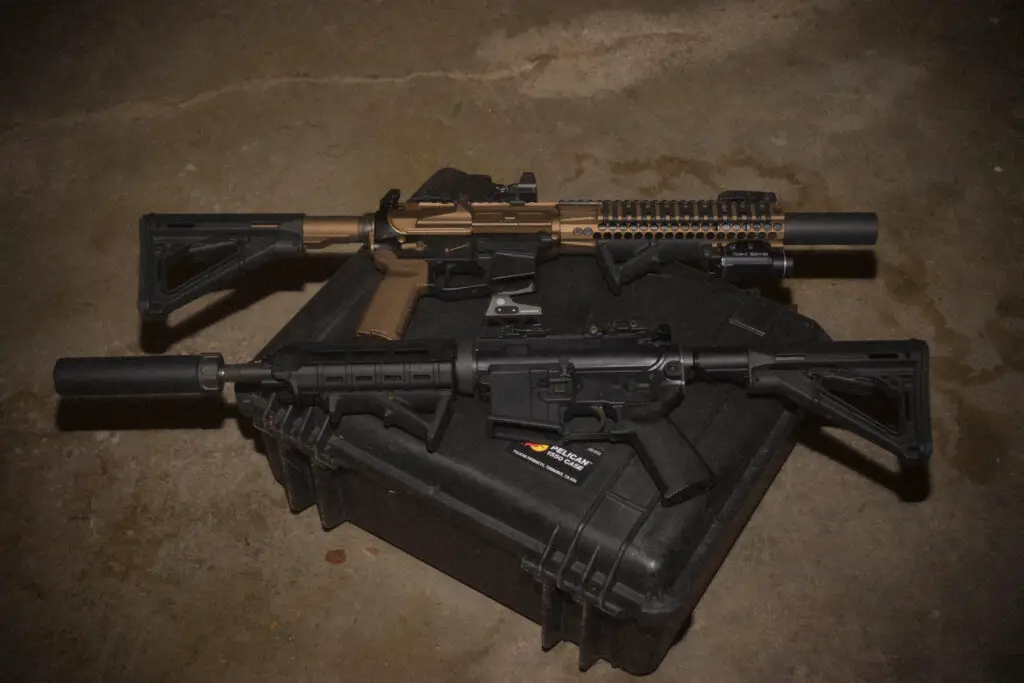 The Best AR-15s and Price
Third, consider the price. Like anything, be it cars, cameras, or collectables, you can purchase firearms across a broad range of prices. I've done my best to select a few from the most reasonable categories and have avoided the most expensive. Once you get beyond $2,500 the buyer usually has a very particular need. That's beyond the scope of this article.
That being said, depending on your need, you may not need to purchase a high-end barrel or a forged receiver. For many, a non-chrome-lined barrel is fine, however, for some, an ultra-light magnesium lower is an absolute requirement.
Look at your budget and requirements and narrow down the myriad of options to those that fit your needs. If in doubt, you can always build your own (more on that later).
What Makes The Best AR-15?
So, what are the components in an AR that you must to look at in order to make the right choice? Let's look at where you should focus your efforts when deciding which is the best AR-15 for you.                                                                       
Uppers and Lowers
The lower receiver houses the trigger group and threading for the buffer tube. The upper receiver is the mounting point for the barrel and houses the BCG. There are complete blog posts dedicated to the metallurgy and machining choices of these components.
In short, there are two primary aluminum variants used for the body of an AR 6061 and 7075. 6061 tends to be softer but more corrosion resistant. Therefore, the coating does not need to be as tough to add lifelong protection. Likewise, being softer, it is easier to work during the machining process. 7075 is harder but has less corrosion resistance.
The next difference is the machining process. Your primary choices are forged and billet. During the forging process, raw aluminum is heated and forged into the shape of a lower or upper. It is then heat treated and finally machined out to include all the holes and threading. This results in receivers with very exact tolerances that are built strong and durable. Billet receivers start as a block of hardened aluminum. The manufacturer completely machined this block to the specifications of an AR upper or lower. Billet receivers are usually thicker walled and may not completely meet military specifications.
Barrel
Responsible for stabilizing (imparting spin) and launching the bullet, there's more to a barrel than meets the eye. The length helps convert the burning powder to bullet energy by capturing the violence of the explosion. In general, the longer the better. The expanding powder pushes the bullet down the barrel. Once you reduce the length below 14.5 inches, the barrel vents unspent powder, which results in noise, muzzle flash, and velocity loss for the bullet.
Unless you are venturing into the realm of National Firearms Act (NFA) weapons, you will limit yourself to 16 inches. For most applications, 16 inches is sufficient. However, for longer shots, invest in a 20 or 24 inch barrel. In my case, focusing on CQB, I have both 16 inches and NFA-registered 10.5 inch, and 7.5 inch (on my pistol caliber carbine) barrels.
Finally, you may need to consider the twist rate of the barrel. This is the rate at which the rifling in the barrel rotates and imparts a stabilizing spin on the bullet. In short, the twist rate is more of a factor when selecting your bullet weight. Heavier bullets (e.g., 80 grains) prefer faster rates, such as 1:7 (1 complete revolution in 7 inches). Lighter bullets can use slower twist rates, such as 55 grain stabilizing in a 1:9 barrel. 
Most likely, this will only affect you if your decisions are driven by precision. Otherwise, take what you can get.
Trigger Group
Like any firearm, the ultimate connection between you and it is the trigger. Trigger attributes such as profile, travel, pull weight, and 'grit' are a matter of use and preference. Again, if you are going with precision, you probably want a glass smooth trigger with minimum weight and travel. Going for a rapid follow-up shot? You may focus on a solid reset and medium pull weight.
The good news, and more on this later, it's fairly easy to replace the trigger group. If you don't have the skills or confidence to do it (and it doesn't take much) a local gunsmith can swap one out for short money plus parts.
Two of my ARs have LaRue MBT and each one was a 15-minute job. The best part, all three have an identical trigger profile.
Best AR-15s For The Money
Now that you're armed with the most critical factors in AR-15 selection, let's look at the best AR-15s for the money.
Best AR-15s For The Budget Minded
Palmetto State Armory (PSA) PA-15
Palmetto State Armory has often been considered a contributor to the budget class of firearms. As one of the most inexpensive AR-15s on this list, it can certainly be considered a budget gun. That does not mean that you have to sacrifice much when stepping into AR-15s with this gun.
https://palmettostatearmory.com/psa-pa-15-16-carbine-length-5-56-nato-1-8-phosphate-m4-classic-rifle-black.html
The upper and lower of this AR-15 are forged from rugged 7075 aluminum and hard coat anodized for corrosion resistance. The lower receiver holds a mil-spec single-stage trigger.
One of the cost-cutting measures is in the non-chrome lined 16 inch barrel. Honestly, unless you're shooting a few hundred rounds a week, you'll never wear it out, so the sacrifice is ok. The twist rate is 1:8, which allows it to cover the most common bullet weights.
The fore end uses an A2 military style grip with a standard front sight. If you are looking for a first AR-15, to see if you like this pattern of rifle, or you just want an occasional plinker, you can do much worse than the budget-friendly PSA PA-15.
Smith and Wesson M&P 15 Sport II
A second budget AR-15, is the S&W M&P Sport II. As with the PSA, the M&P Sport II is a budget rifle that will be an excellent entry level carbine and more than satisfy the occasional shooter.
https://www.smith-wesson.com/product/mp-15-sport-ii
S&W has saved on the overall price with a few conscious considerations. These include a plastic fore grip that saves a significant amount of money, but you can easily replace it with an after-market Magpul fore end or floating fore end. The only serious consideration here is the absence of a heat shield. Unless you are shooting without loves and a fan of multiple mag dumps (who can afford that with current ammo prices?) it should not make a difference to you.
Second, is the reduced finish tooling. Again, this is aesthetic and does not effect function. But less time on the finishing bench saves you where it counts.
The S&W M&P Sport II can easily find a place in any safe either as a starter AR or as a spare to keep around when friends come by and want to hit the range. And if you ever have an issue, S&Ws warranty and service will never let you down.
The Best AR-15s For The Serious User
Springfield Armory SAINT Victor
The SAINT Victor is the first on our list with a free-floating M-Lok hand guard. This improves the overall accuracy by not interfering with the natural harmonics of the barrel. Second, it allows you to accessorize with your favorite furniture, including lights, flip up sights, and vertical or angled grips.
https://www.springfield-armory.com/saint-series/saint-victor-ar-15-rifles
Improvements over budget rifles include a nickel boron coated trigger. This provides increased corrosion resistance and reduced friction for smoother movement of the finger on the trigger.
The barrel has a 1:8 twist that meets the needs of most bullet weights. Both the upper and lower receiver are forged from 7075 aluminum for increased strength with a hard coat anodized finish. The stock assembly consists of a BCMGUNFIGHTER™ Mod 0 – SOPMOD 6 position stock with integrated QD mounts.
https://www.springfield-armory.com/saint-series/saint-victor-ar-15-rifles
The improvements gained with the SAINT Victor make this a choice firearm for any application from self-defense to hunting to three-gun competition.
Colt M4 Carbine – LE6920
For those who want an AR with pedigree, I present the Colt LE6920. The LE6920 is a near duplicate of the M4, the standard for law enforcement and military. This firearm has a well-respected history.
https://www.colt.com/detail-page/colt-le6920-carbine-223556-161-301-pmag-mbus-4-pos-stk-blk
From front to back, this AR-15 Colt builds to Mil-Spec standards. From the upper, lower, trigger group, and the BCG, they include quality construction from one end to the other.
The base model includes an A2 front sight and a Magpul MBUS flip up rear sight. Other options include Magpul, quad-rail, or stripped fore ends.
This is the first in our list with a 1:7 barrel twist, making it an ideal candidate for bullet weights in the high 60s. The chrome lining almost guarantees (depending on your range habits) that you will be able to pass this one down to generations to come.
Sig Sauer M400
I'll let my bias show here. I own an M400. It ran flawlessly for years and is my primary "bump in the night" go to weapon.
https://www.sigsauer.com/sigm400-tread.html
When I say it ran flawlessly, I caveat this with a recent change. About two years ago, I processed a Form 1 for it and it now hosts a 10.5 inch barrel and a Surefire suppressor. It still runs like a sewing machine and has yet to jam.
The 1:8 barrel supports most common ammo. My M400 came with a Magpul fore end while the more recent offerings come with M-LOK rails that allows for a free-floating barrel. Other variants include the popular Romeo optic, ambidextrous charging handle, and upgraded trigger.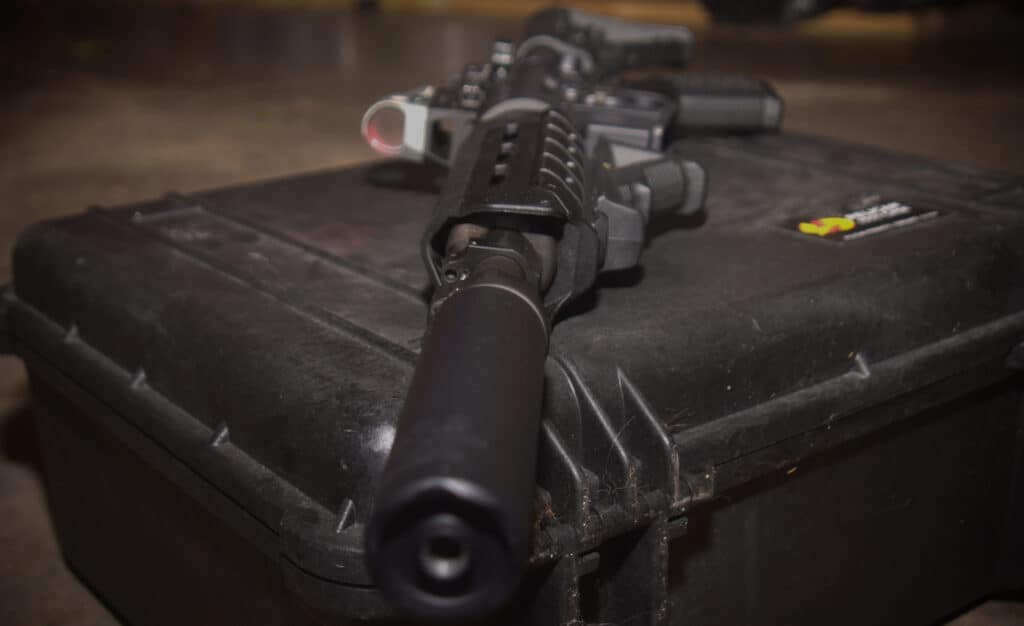 Bravo Company (BCM) RECCE-16
The BCM RECCE-16 family of AR-15s cover precision needs, weight conscious needs, and the ability to accessorize the fore end.
https://www.bravocompanymfg.com/carbines/recce16.php
As with other high-quality rifles on this list, the RECCEs are made using forged 7075 uppers and lowers that are hard coat anodized. Further, BCM advertises that their coatings are Mil-Spec rated (MIL-A-8625F Type III Class 2 (https://www.pfiinc.com/type-iii-anodize-hardcoat-aluminum-anodizing))
The 16 inch barrel is chrome lined and sports a 1:7 twist. Perfect for bullets in the high 60s and low 70s end of the spectrum. Most fore ends include a flat top picatinny with M-LOK in the 3, 6, and 9 positions. However, several include mounting holes along corners, allowing for more mounting options for lasers, lights, and optics along the rail.
Regardless of your use, there is a BCM RECCE configuration that will fit your need with a quality carbine.
The Best AR-15s For Deep Pockets
Daniel Defense DDM4 V9 LW
One of the more expensive offerings on this list is the Daniel Defense DDM4 V9 LW. The LW stands for lightweight and, as shipped, this AR-15 is a mere 6.5 pounds.
https://danieldefense.com/ddm4-v9.html
Daniel Defense is known for manufacturing top of the line firearms and the V9 is no exception. Made with quality parts, including 7075-T6 upper and lower, Mil-Spec BCG, and hard coat anodized rail.
One of the nice touches of this AR-15 is with the proprietary buttstock and pistol grip. Each includes soft overcoating that enhances grip and comfort. Finally, the ambidextrous charging handle allows for racking the bold or clearing jams with either hand. For those who also shoot AK's and roll the gun over to the left to charge them, the ambidextrous charging handle allows the shooter to use the same mechanics for both platforms.
LaRue Tactical PredatAR 5.56
LaRue has built its reputation on quality, accuracy, and high-end performance. Be it accessories or rifles, they continually set the bar higher.
https://www.larue.com/products/16-inch-larue-tactical-predatar-5-56/
The PredatAR is no exception. The fit and finish are nothing but exceptional, but that is just the icing on the cake.
While I don't have a LaRue AR-15, I have the MBT trigger on most of my AR-15s. The feel of this two-stage trigger is smooth and consistent enough that I want it on all my primary weapon systems. In fact, I already have one to install on the Sig M400.
The quality doesn't stop there. The uppers and lowers are CNC machined to exacting tolerances, and the free-floating fore end allows maximum accuracy from the 1:8 twist barrel.
As stated on their website, "No LaRue firearm can leave the facility unless it obtains accuracy of less-than 1 MOA (1.047") at 100 Yards. Each firearm ships with a copy of a 3-round group obtained from that actual firearm."
While not every shooter needs this kind of precision and quality, I don't know a single one that doesn't appreciate it. I hope to find room in the safe (as well as the budget freedom) for a LaRue PredatAR one day.
Accessorizing You AR – Making It Perfect
There is a good chance that you will want to tweak, tune, and upgrade your select AR-15 platform. They are, after all, modular and built for upgrades.
The easiest and biggest bang for the buck upgrades include:
Fore end: whether it is free floating or Magpul, the fore end allows for the addition of fore grips, lights, and lasers
Ambidextrous charging handle: as stated above, the extra flexibility of this accessory pays off in freedom of movement
Weapon light: always identify your target and what's behind it, even in the dark
Flip up front and rear sights: cheap insurance if your optic fails
Captured spring system: Ar-15s are known for the buffer tube "twang", silence it with a captured spring
Binary trigger: more of a range toy, but they are a lot of fun (if you have the ammo budget)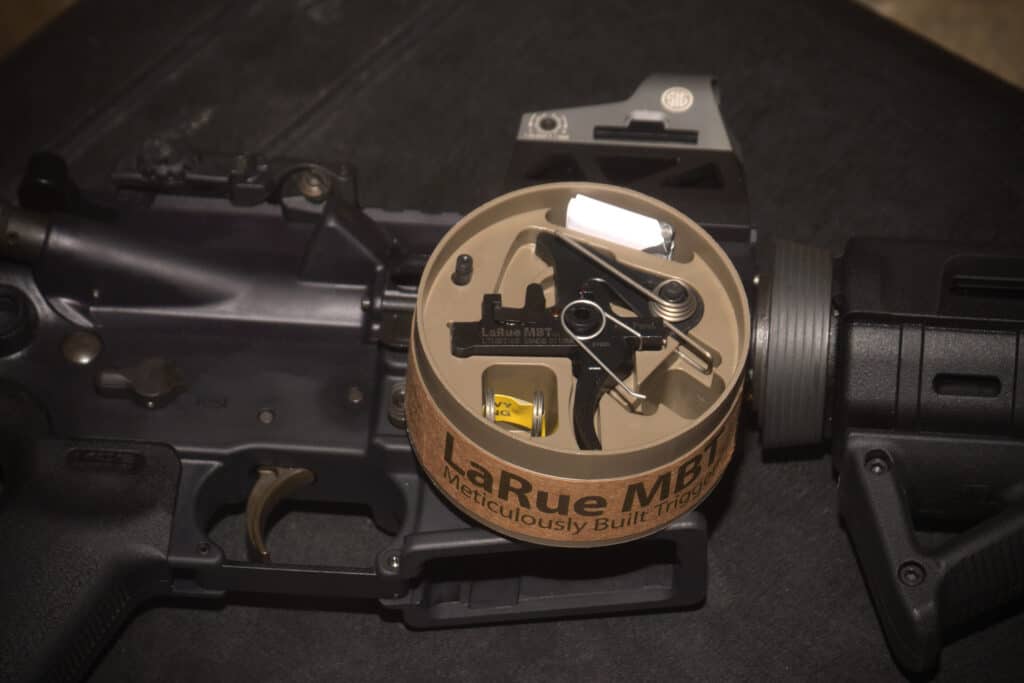 The Ultimate Lego Kit – Build Your Own AR-15
One last option to leave you with… Build your own. I took on the challenge with my 9mm AR and never regretted a minute of the process. I hand-selected each part. Got educated about the assembly process. For my efforts, I now have a one-of-a-kind carbine.
Building your own does not need to be intimidating. There are plenty of blogs and videos about it. There are even up to the date parts lists available if you look deep enough. The lower is the only registered part. You'll have to source that from an FFL (unless you go the 80% route, but that's a different article). You can purchase all other parts without the intervention of a dealer.
Consider it. Not only will you get the exact rifle you want, but you'll get a measure of satisfaction that is unequaled.
Wrapping Up The Best AR-15s For The Money
The modern AR-15 is popular for many reasons. Flexibility, accuracy, and modularity. If you're a weekend plinker, a serious competitor, or even just looking for the ultimate home defense tool, there is one for you regardless of your budget.
I hope this article serves as a jumping off point if you've yet to own one. Even if you're experienced with the platform, maybe it has convinced you to look at a new brand to round out your safe. Regardless, the AR-15 is a platform worth attention. Try one today!