Whether you call it a modern sporting rifle, carbine, or black rifle, the AR-15 by any other name is the most popular semi-automatic rifle, for good reason. It's highly adaptable to hunting, shooting sports, and is rarely surpassed for home-defense and tactical applications. But the question remains, how much does an AR-15 cost? In short, an AR-15 will cost from $600 to over $2,000 based on a few options. But the answer runs deeper than a simple price tag. Let's look at what you can expect to pay for an entry or budget AR, mid-range, and a top-of-the-line AR-15.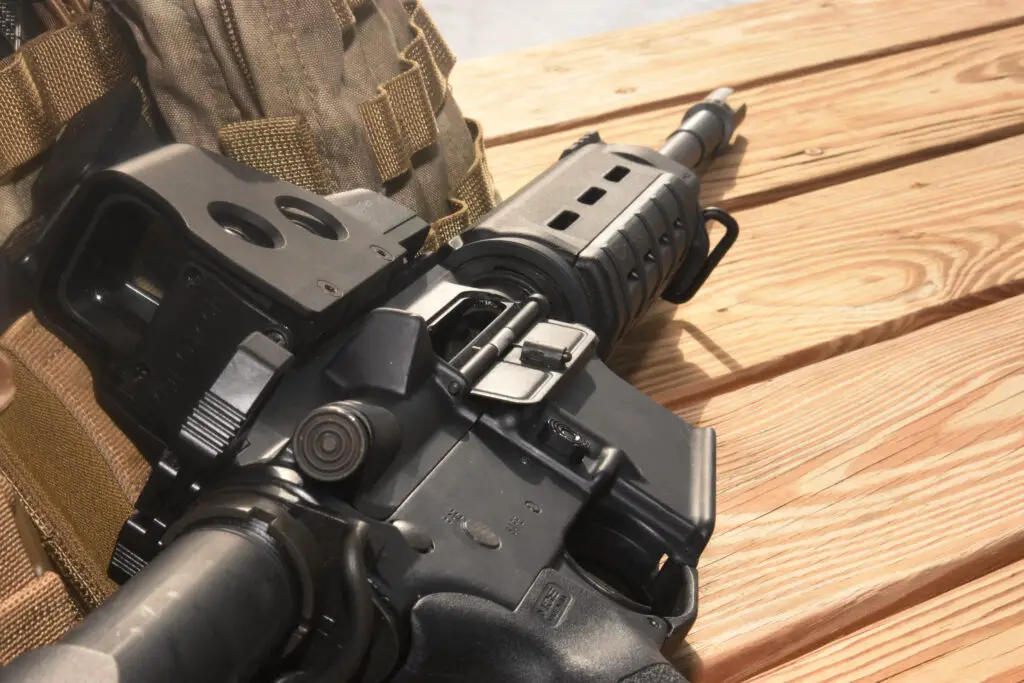 Determining Your Needs
Before jumping into the world of the AR-15, you need to decide what matters to you. Are you adding to your armory simply out of a desire to add your first AR or are you a serious shooter who is upping their game for a home defense rifle? Do you love to tinker or must this gun run like a sewing machine out of the gate? Or are you just looking for an additional rifle to take to the range to share with the occasional visitor? Lots of questions in search of an answer
These are all legitimate questions you need to address before parting with your hard-earned cash. Especially today, as AR prices seem to be on a roller-coaster. Never mind the fact that our dollars don't seem to go as far as they used to. So, with that, let's look at a few of the most important factors in selecting the right AR-15.
Experience
First, you must take into consideration your experience. A novice rifle shooter may be well-served with a basic AR, right-handed safety and charging handle, and gool ole-fashioned iron sights. Meanwhile, an open-class three-gun shooter will require a fully tricked out AR with precision optics and a butter-smooth trigger. 
So where do you fall in the experience range? Being new to rifle shooting doesn't mean that you need to start with a bargain rifle. It simply means that you may not be able to take full advantage of the refinements of a top-tier firearm. As your experience with the platform grows, you will find the attributes, accessories, and materials that are worth the investment. 
Some of that attributes that become more important as your experience grows include trigger staging and polish, controls (charging handle and safety-ambidextrous or single sided), barrel length and style (twist rate, chrome lined, etc.), for end style (picatinny rail, M-LOK), weight, metallurgy, any included accessories (for end grip, optics, sights), stock. As your experience grows, the core components of the rifle will take on more weight (bolt carrier group, metallurgy, and barrel) and those items that can be easily replaced (sights/optics, stock, trigger) carry less weight as you will replace them with the exact aftermarket parts you want. 
Beginner
Experienced
Advanced
Cost
Trigger
Barrel
Higher Priority
Included Accessories
Charging Handle
Weight
Stock (e.g. Collapsible)
Reliability
Controls
Reliability
Captured Buffer Spring
Price
Lower
Priority
Muzzle Break
Sight/Optics (replace with aftermarket)
Optics (replace with aftermarket)
Metallurgy
Weight
Stock
The details that take priority will be dependent on your shooting experience and your experience with an AR-15.
Primary Use
Next, consider your use of the AR. Will it be a range beater or a well-tuned instrument for competition? Ultimately, an AR-15 is a tool and you must match it to its use. We've all used a wrench as a hammer. It does the job, but there's a better way. 
To spend your money wisely, match the tool to the job. If you want your first AR as a range beater, or you want a spare that can be tossed in the trunk as a last-minute addition for the range trip, then a budget model is for you. If you are serious about home defense, then reliability must be at the top of your list and you'll need to be comfortable paying for it. 
If the majority of your weekend are spent at the range shaving hundredths off your split times and you know the absolute limits of your current AR (and you exceed them in your abilities) then you need to spend the money on the areas that will help you get the competitive edge. 
Finally, if you are a night hunter (e.g., hogs or coyotes where it's legal) then you may wish to purchase a mid-level AR and save your money for night vision or thermal optics. Again, spend time determining your use and then allocate your funds in the right areas.
Budget
Speaking of funds. Last, but certainly not least is price. Ranging from a few hundred dollars to a few thousand, an AR can be a significant investment for most budgets. If you buy cheap and still have high expectations you can quickly exceed the price of a "right sized" AR-15 by throwing money at aftermarket upgrades. The old adage of buy once, cry once has meaning here.
Let's look at a simple example. You purchase a budget AR for $700 but you choose to add a few aftermarket upgrades. This includes a trigger ($90), upgraded Magpul stock ($50), free floating M-Lok handguard ($150), and a silent captured buffer spring ($130). This adds up to almost $450 in parts. Add in gunsmithing fees, if you're not comfortable with the platform and losing a few trigger springs, and you're easily in the realm of a mid-range AR that would have most of these upgrades. 
So look at your budget and allocate the total cash on hand between the core platform and your must-have upgrades. 
Accessories, Accessories, Accessories
Now that I have your attention with upgrades, let's look at a few of the most common ones and their relative prices. From tip to toe, the AR-15 is one of the most accessory rich designs. With the advent of the modern hand guard, the ability to turn an AR in to your personal bit of perfection is unsurpassed in the shooting world.
Of Stocks and Springs
First, start at the butt end, we have the stock and the buffer spring. It's common now to receive an AR with a simple adjustable stock. If you wish to upgrade from the popular Magpul MOE Carbine stock there are more comfortable options from Magpul, Bravo, or VLTOR to be had. The buffer spring will often be adjusted if the AR is SBR'd or if you simply want to move to a quieter captured buffer spring. 
Exercising Control
Next, move to the primary control systems. The charging handle, safety can both be easily upgraded to ambidextrous models. As with fine tuning most firearms, the trigger is the first accessory on the list. In order to keep to a consistent feel between my various AR pattern rifles, I have swapped out each trigger with a Larue MBT-2S. I'm sure there are better out there, but I'm used to the MBT and shoot consistently with it.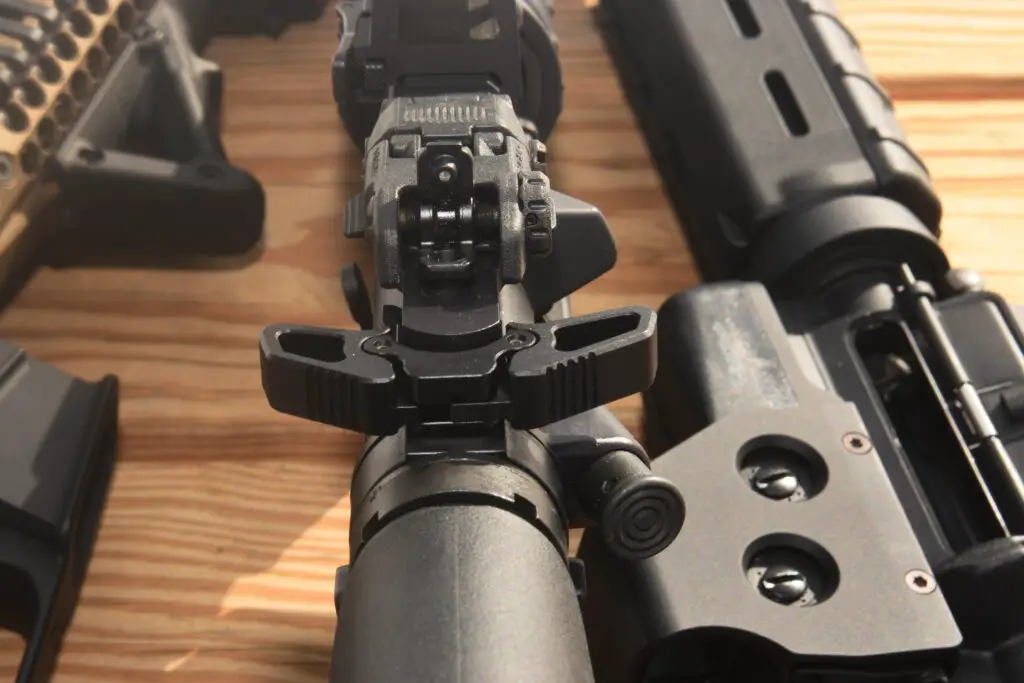 Then, work forward to the hand guard. The departure from the traditional A2 style has opened up the world of lights, lasers, and front/angled grips. Upgrade considerations start with the use of the common Magpul MOE M-LOK hand guard and move to free floating M-LOK, Keymod, and picatinny rail systems. Regardless of your desired length, diameter, or weight, there is a variant out there for you.
Optics and More
Finally, top off your AR with the world of aftermarkets sights and optics. From Low Power Variable Optics (LPVO), to red dots, to traditional open sights, many shooters choose an optic and a co-witnessed set of backup irons. In short, if your chosen AR doesn't fit your need out of the box, then it is simple, and can be inexpensive, to set it up to your exact desire. Don't be afraid to factor in a few upgrades into your total package price. 
| | |
| --- | --- |
| Upgrade | Average Cost |
| Collapsible Stock | $30-$50 |
| Buffer Spring | $125-$150 |
| Ambidextrous Charging Handle | $100 |
| Ambidextrous Safety | $15-$50 |
| Trigger | $75-$250 |
| Handguard | $150-$250 |
| Front and Rear Sights | $50-$100 |
| Red Dot/LPVO | $150-500, $1,000+ |
The AR-15 is the ultimate Lego set, don't be afraid to maximize your platform with accessories.
Entry Level and Budget Minded AR-15s ($500-$800)
There's an AR-15 for every budget. Starting with the cost minded end of the spectrum, it's easy to get into a quality AR for low money. Most occasional shooters will do well with one of these in their safe. You may want to drop in an improved trigger and add on a red dot, but otherwise they will all serve you for thousands of rounds of light use. 
| | |
| --- | --- |
| Mid-Range AR-15 | Average Budget |
| Palmetto State Armory (PSA) PA-15 | $599 |
| Smith and Wesson M&P 15 Sport II | $650 |
| Bushmaster M4 Patrolman 5.56 | $775 |
| Aero Precision AC-15 Mid-Length  | $699 |
| Ruger AR-556 | $730 |
Five of the best AR-15s for the budget minded.
Best of the Budget: Palmetto State Armory (PSA) PA-15
Sometime budgets require deep sacrifices. Luckily, this is not one of those cases. While a PSA PA-14 will never be confused with an absolute top of the line AR-15, saving a few dollars does not mean that you have to sacrifice everything. 
https://palmettostatearmory.com/psa-pa-15-16-carbine-length-5-56-nato-1-8-phosphate-m4-classic-rifle-black.html
The PA-15 starts out as a typical budget platform. There are visible machining marks, and the hard anodized finish will stand up to light abuse, but it will show its wear as the empty brass stacks up. There's grit in the nearly 7 pound, trigger, however, where it counts in reliability, the PA-15 holds its own. 
From an accuracy perspective, you probably won't pull in 1 MOA groups, but you won't be that far off, and for a gun that's at home in the trunk getting bounced around, it will serve you well as a reliable plinker. 
The hand guard is PSA's version of an A2 that won't allow for much in the way of accessories. That being said, add some Magpul furniture and you're still way under the cost of a performance rifle. 
It's hard to go wrong with an entry level rifle that goes bang every time you ask it to. The PSA PA-15 will never win awards for fit or finish, but it'll be there when you need it and won't break the bank. 
Mid-Range AR-15s ($750-$1,250)
Moving up a notch in price will meet the needs of 99% of the shooters out there. Be your use home defense, or weekend competitor, these ARs will fit your needs. At this level, you are probably familiar enough with the platform to know what accessories will meet your exact needs. 
| | |
| --- | --- |
| Mid-Range AR-15 | Average Budget |
| Colt M4 Carbine – LE6920 | $999 |
| Sig Sauer M400 | $879 |
| Bravo Company (BCM) RECCE-16 | $799 |
| Springfield Armory SAINT Victor | $1,150 |
| FN America FN 15 Patrol 5.56 Semi-Automatic AR-15 Rifle | $1,229 |
The top five mid-tier AR-15s
Best of the Mid-Range: Colt M4 Carbine – LE6920
Steeped in history is the Colt M4 LE6920, or 6920 for short. The AR pattern rifle started as an Armalite. The rights to the Armalite AR-15 were sold to Colt for mass production and the rest is history. Colt proved the utility and reliability of the design and offered several versions, including the military M4. The 6920 is the civilian version of the M4, with the primary differences being the barrel length (civilian version is 16 inches) and the absence of the select fire/full auto option. 
https://www.colt.com/detail-page/colt-le6920-carbine-223556-161-301-pmag-mbus-4-pos-stk-blk
The 6920 is a little more stripped down than some of the other options on the list. This is indicated by the A2 hand guard and the flat rail hosting the carry handle. The A2 style birdcage flash hider is also no frills, but effective at its job. This is the AR platform as it was designed and as it has become a part of American shooting. 
While the out of the box 6920 is a great addition to any collection, it also has a little room for improvement. A new hand guard will be in order for those who whish to add a vertical or angled grip as well as a flashlight or laser. Without the carry handle, you can pop on whatever optic you desire from magnified to simple red dot, or keep it simple with iron sights. 
The accuracy of the 6920 is easily 3 MOA if you have the skill and the reliability stands alone in this class. From tip to toe, the 6920 is built on a solid foundation that time has proven out. 
Top-Of-The Line AR-15s ($1,500+)
The most serious of us are willing to part with a significant amount of cash to get the perfect platform. There isn't a bad choice on this list. The difference from one to the other will be noticeable by only the most dedicated shooter. When you want a tack driver that runs like a sewing machine, right out of the box with a butter smooth trigger, then this is the group for you. 
| | |
| --- | --- |
| Top-Of-The-Line AR-15 | Average Budget |
| Daniel Defense DDM4 V9 LW | $2,015 |
| LaRue Tactical PredatAR 5.56 | $2,212 |
| LWRCI IC-A5 | $2,719 |
| Noveske 16" GEN 4 RECON RIFLE | $3,100 |
| Knight's Armament SR15 MOD 2 | $3,047 |
The best of the best AR-15s for your armory.
Best of the Top-Of-The-Line: Daniel Defense DDM4 V9 LW
Even at the high end, you need to balance cost, form, and function. The Daniel Defense DDM4 strikes that balance of near perfection and cost. 
Daniel Defense has established itself as one of the premier high end firearms manufacturers in the industry and the DDM4 is a price member of their stable.
https://danieldefense.com/ddm4-v9.html
Starting with the weight, the LW stands for LightWeight, and it tips the scales at only 6.5 pounds. Slinging up the DDM4 for a full day of competition, hunting, or training will be made a bit easier with its weight. Next is the proprietary pistol grip and buttstock. Daniel Defense's attention to detail with rubber over mold will find you hard pressed find accessories that are more comfortable in the aftermarket. 
Next is the full-length hand guard that mates perfectly with the rail on the upper. This gives you flexibility to add what you want (optic, fore grip, lights), exactly where you want them. 
The trigger is a smooth and crisp 8 pounds, which aids in achieving all the accuracy that the DDM4 offers. The DDM4 is a sub 1 MOA firearm, which you should expect for any firearm in this category. The same goes for the unparalleled reliability. You'll be hard pressed to find a more reliable firearm off the factory floor. 
When you have dedicated yourself to the craft and have achieved personal mastery of shooting, a tool like the Daniel Defense DDM4 will reward you with the ability to achieve your very best. 
Summary
The title of the most popular sporting rifle is well earned by the AR-15. From a budget trunk gun for the beginner to an extension of self that seems built just for you, there is a gun out there for your use.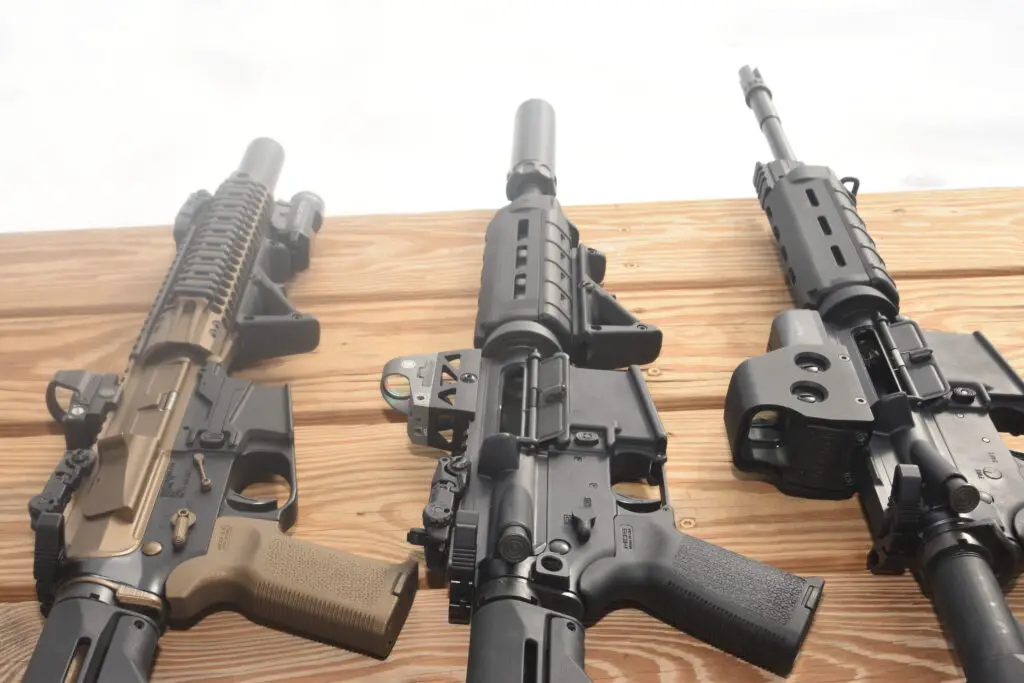 It's worth the time to do some research to find that right gun, as the reward is well worth it. Spend some time with your budget, assessing your skills, and analyzing your specific needs. Next, identify the "must have" features of the core firearm and then any upgrades that you want to take advantage of. Once you have identified what fits your use, then start with this article to narrow the field down a bit. 
From there, it's all up to you to select the right combination of gun and accessories for you. Then hit the range and practice, practice, practice! Finally, let us know how you made out and what made your purchase the perfect AR-15 for you!