Choosing the correct body armor and accessories may provide the difference between life or death. It is important to keep in mind what your line of duty is and how you want to be protected. There are tons of accessories on the market, but because they are available does not mean you must have them. Each accessory serves a purpose and can be used in a variety of ways. They also offer the freedom of modular setups for different environments that you may experience. Below is a quick run-through of body armor accessories you will come across.
Cummerbunds
Mag pouches
Gear pouches
Dump pouches
Pistol holders
Flashlights
Oculars
Sights
Below we take a closer look at each of the above accessories and give recommendations. After that, we also cover some features that the body armor may contain itself. So continue to find what accessories are going to put you at your best and safest.
A Deeper Look
As mentioned above, there is a wide variety of attachments available. This is where we will get down into each specifics' specifics and find which is ideal for your needs. Remember, just because it sounds great to have, does not mean it will be functional. When you add a component to your carrier, it should not be difficult to reach and use. If it is, it should go in your pack.
Cummerbunds
This is a good starting place for most people who are looking to add to their body armor. For those who don't know, a cummerbund is like a belt with hooks to allow extra gear to be mounted. It is not always to carry extras, though. They can be used for better weight distribution, additional airflow, and quick accessibility. If you are looking to add side plates to your armor, then this is what you will need, along with plate pouches.
Our recommended choice is the Condor LCS VAS Slim Cummerbund 221122-002-L. It is an all-black piece that ensures a solid grip around you. Coming in at 1 ounce, you do not need to worry about adding too much weight.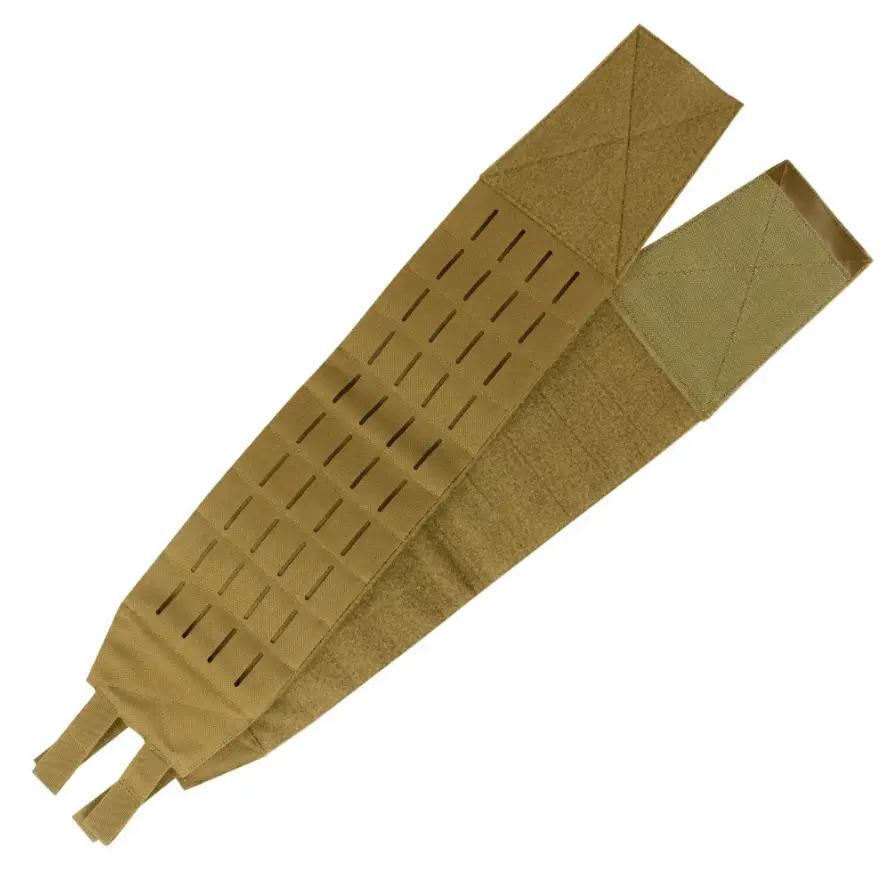 Pouches
There are tons of pouches, each for a different need. There is not much more to it besides picking the one that fits your vest the best. We will give you a quick rundown of the variety of pouches on the market.
Gear pouches: If you have extra gear, this is what you need. They are used to hold handcuffs, radios, or flashlights. They come in a wide variety of shapes and sizes and usually feature a zipper or flap. We like the Condor Rip-Away EMT Pouch because it comes off easily and can be used to transfer gear to another quickly.
Mag pouches: They are the most popular option on the market. Everyone wants to be able to carry more rounds, and it is understandable why. It is best to purchase one that has multiple slots and fits your magazines well. Take a look at the Triple Pistol Taco. It gives you the option to carry two extra mags and a knife if you do not need three slots for magazines.
Dump pouches: It is not the most necessary pouch for many, but can still be extremely vital to a loadout. Usually, they feature a cinch cord to allow access and securing quickly. This is what makes them different from gear pouches. Some can hold a small backpack worth of stuff, while others may be for a magazine or two. If you need lots of space, take a peek at the Blue Force Gear Dump Belt Pouch. It folds up into a tight pouch until needed. When you need to store a spent mag, a simple pull of a tab opens it up and gives you space to hold 10 M4 magazines.
Pistol holsters: If you have a mag pouch for a pistol, there is a good chance that you will have a pistol pouch as well. They can be used to conceal carry or attach as a backup. Some pistol pouches offer spots for magazines as well, so you may not need to purchase two separate pouches. A Condor HT Holster will hold a pistol with attachments. It features a simple design while ensuring that your firearm is always going to remain secure.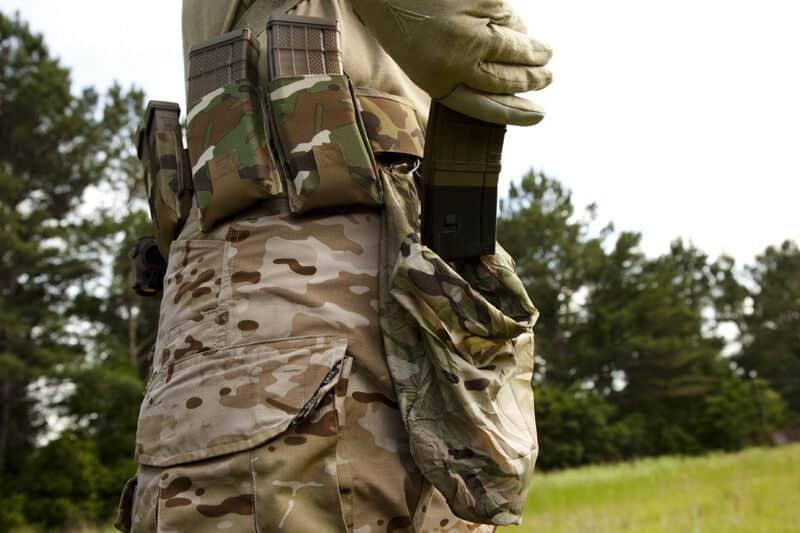 Flashlights and Oculars
Everyone who uses a vest for their occupation knows how vital vision is. After all, it is the primary method we use to take in the information of the world. Thus having vision accessories such as flashlights, oculars, or night vision are a must. For a flashlight, we recommend the Fenix PD35 Tac Tactical Edition Flashlight. It is short enough to stash away and has 1000 lumens to give full vision in darkness. If you are in need of night vision capabilities, the ATN NVM14-WPT Night Vision Multi-Purpose Monocular is a must-have.
Other Body Armor Features Worth Noting
Now that you have seen what you can add to your body armor, there are some features that you may need to come built-in.
Molle and Hook & Loop
The MOLLE system is standard for soldiers. It allows the user to attach their accessories through the use of straps, adhesives, or gears. Hook & loop, or Velcro to the common person, is another method for attaching and detaching accessories easily. This is a vital feature when in intense situations. With hook & loop, you will need to ensure that your purchased accessories have the compatible parts to be functional. 
Quick Release
This is a feature to save yourself in situations where the carrier puts you at risk. For instance, if the carrier is caught while leaving, the quick release gives you the chance to pull a tab and escape. Once the tab is pulled, the panels separate and can be removed easily. Note that this feature is on most vest, but may be in the form of a buckle or clip.
Shoulder Pads
A loaded set of body armor can be a lot of weight on the shoulders. That is why many vests now feature gel-like pads that help spread the weight out evenly. They should sit on top of the should and not slide around while moving. The last thing someone wearing a vest wants is strain and discomfort. That is going to hinder movements eventually and may cause unnecessary situations to unfold.
Drag Handles
Simple design, yet very useful for combat situations. This feature can save a life in the case of a serious injury that leaves the user incapable of moving independently.
---
OUR RECOMMENDED TACTICAL GEAR LIST:
---