If you're in law enforcement or private security, you know how important it is to have all your gear close at hand. A good duty belt ensures that your cuffs, gloves, taser, and firearm are all where they need to be. It also holds them securely. You shouldn't have to worry about your gear falling off while you're chasing somebody.
All of that goes without saying. But a good duty belt has to do more than perform basic functions. For one thing, it needs to be comfortable. You're going to be wearing it for entire eight-hour shifts, plus the inevitable overtime. There shouldn't be any pressure points or edges to dig into your body. Finally, a duty belt should be modular. You never know what equipment you might be required to carry next year, and a modular belt means you're already prepared.
We're about to review the 5.11 Tactical Sierra Bravo Duty Belt Kit. We'll look at all its features, starting with the physical design. We'll talk about compatibility, and how well you can expect it to perform in the field. Then, all you'll have to do is make a decision. Let's look closer, and see what we learn!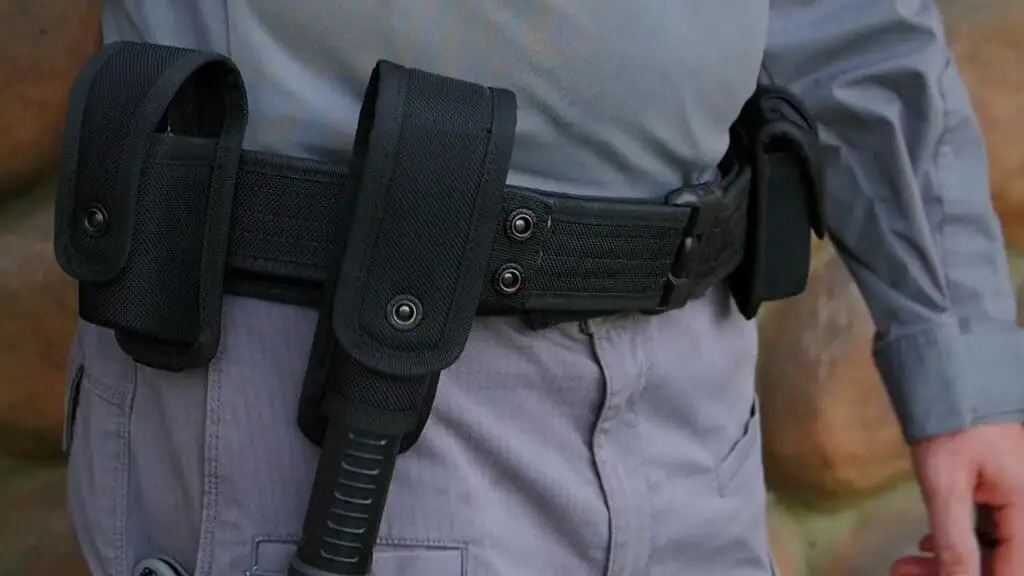 Overall Design
The 5.11 Tactical Sierra Bravo Duty Belt has a dual belt design, which means it consists of not one, but two parts. The primary belt is adjustable, and buckles around your waist. It slips through your belt loops, just like you'd wear any other belt. It has velcro on the outside, which attaches to the velcro on the secondary, outer belt. Additional snap closures ensure that the outer belt will not go anywhere once it's been secured. Another advantage of this design is that the inner belt ensures a tight fit. This keeps the belt above your hips, where it belongs, so the whole assembly won't sag under the weight of your kit.
The belts are attractive black nylon, with a standard dense weave that's commonplace on tactical gear. This keeps them affordable, while also ensuring that they're durable enough to stand up to years of use. If you have your choice of material, it's hard to bet against tactical nylon. On the other hand, some police departments and security companies require different materials. For instance, some old-school departments require a basket weave, while others demand the shine and luster of a leather duty belt. All things being equal, it would have been nice to see more material options. On the other hand, that would probably have driven up the price, and the Sierra Bravo is very affordable for the quality.
In addition to the main belt and the inner belt, the kit includes four keepers. These keepers have dual retention, with both a hook and loop and snap closure. This design keeps them securely in place if one or the other method fails. The same keepers also help secure the inner belt on the outer belt. You can order additional keepers from 5.11 Tactical, or from other suppliers. Keep in mind, though, that if you order third-party keepers, you'll need to make sure they're the right size. The Sierra Bravo is narrower than most duty belts, and standard-sized keepers will be too loose.
The thickness of the Sierra Bravo belt is 1.63 inches, just a hair over an inch and a half. This is significantly slimmer than standard duty belts, which measure 2 ¼ inches in width. As a result, it can be easier to fit over clothes or a uniform. The downside of this slimmer profile is that it can feel heavier if you're carrying a lot of gear. As such, the Sierra Bravo Duty Belt is best for lighter loads. For instance, if you want a belt for the range or you carry a relatively light kit. This isn't to say that the Sierra Bravo Duty Belt can't handle heavier loads. It certainly can! It's just better suited for carrying a lightweight kit.
This belt is available in six sizes, from small to 4XL. The smallest and largest sizes measure 36.78 inches and 60.78 inches in length, respectively. That said, keep in mind that these are belt measurements, not waist measurements. The belt has to fit over you, as well as whatever clothes you're wearing. So if you wear size 32 pants, a 36.78-inch belt will actually fit just fine. Another thing to keep in mind is that these sizes are maximums; you can always cinch the belt a bit tighter. If you're on the borderline between two sizes, choose the larger one to get the best results.
Compatibility
Because the Sierra Bravo Duty Belt Kit has a two-part design, it's easy to wear the inner belt as an ordinary belt. Then, when it's time to start your shift, you can simply attach the outer duty belt with velcro and snap it into place. This way, you don't have to worry about taking the whole belt on or off every time you need to. Instead, you simply attach the outer belt whenever it's needed. Remember that more gear will require more keepers. Otherwise, the outer belt may start to sag under the excess weight.
This belt is made to support most duty belt gear, although you might need spacers depending on what size keepers your existing gear uses. In addition, it works with MOLLE web gear, so most third-party supplies will mount without any extra trouble. Finally, the Sierra Bravo Duty Belt uses the 5.11 SlickStick system. This allows you to easily attach and remove a variety of 5.11 Tactical attachments. In addition to handcuff pouches, holsters, and mag pouches, you can attach a flashlight, radio, zero-G plates, and even a baton loop. There are other options as well, and that's just what 5.11 Tactical offers. Counting supplies from third-party manufacturers, you'll have tons of choices.
Quality of Construction
The first thing we noticed about the Sierra Bravo Duty Belt is the quality of the material. We've already talked about the durable nylon construction. But we should also point out that the belt is very well reinforced. Both the inner and outer belts have durable top and bottom reinforcing strips, which are stitched into the material on both sides. Both also have several rows of stitching running laterally around their circumference. This keeps the material from separating and takes some of the strain off the top and bottom stitches. It also keeps the padding from getting squished to the top or the bottom.
Another thing that impressed us about the quality of the build was the very well-designed keepers. They use genuine Prym snaps, which are among the most secure in the business. This is a huge benefit since snaps are one of the most common points of failure for duty belts. Not so, here. Even the heaviest accessories, like a full four-mag pouch, will not overload the snaps. Of course, this assumes you're using 5.11 Tactical's keepers. If you decide to use whatever came with your gear, the quality may vary. The velcro is similarly secure. It doesn't have the same vice-like grip as the Prym snaps, but it holds pretty tight.
One thing that did concern us is that the belt is made of plastic. Now, we didn't run into any issues with this ourselves. However, we have seen anecdotal reports of the buckle snapping while being worn. To be fair, these reports are anecdotal, and it's tough to say why the damage happened. Had the plastic been damaged beforehand in some other way? Overheated? Frozen in a deep freezer? We can't say. What we can say is that a metal buckle would have been more secure. There's a time and place to use plastic, and the buckle of your duty belt is not one of those places.
Another area where some people may have concerns is comfort. The wider the belt, the more weight, and pressure will be spread out across your body. Conversely, a narrower belt has to carry the same weight on a smaller surface area. This isn't to say that the Sierra Bravo is uncomfortable. It's very well-padded and far more comfortable than any other narrow duty belt we've tried. But it's still narrow, with the limitations this entails. This isn't necessarily a criticism, just something you should be aware of before you decide to click that "buy" button.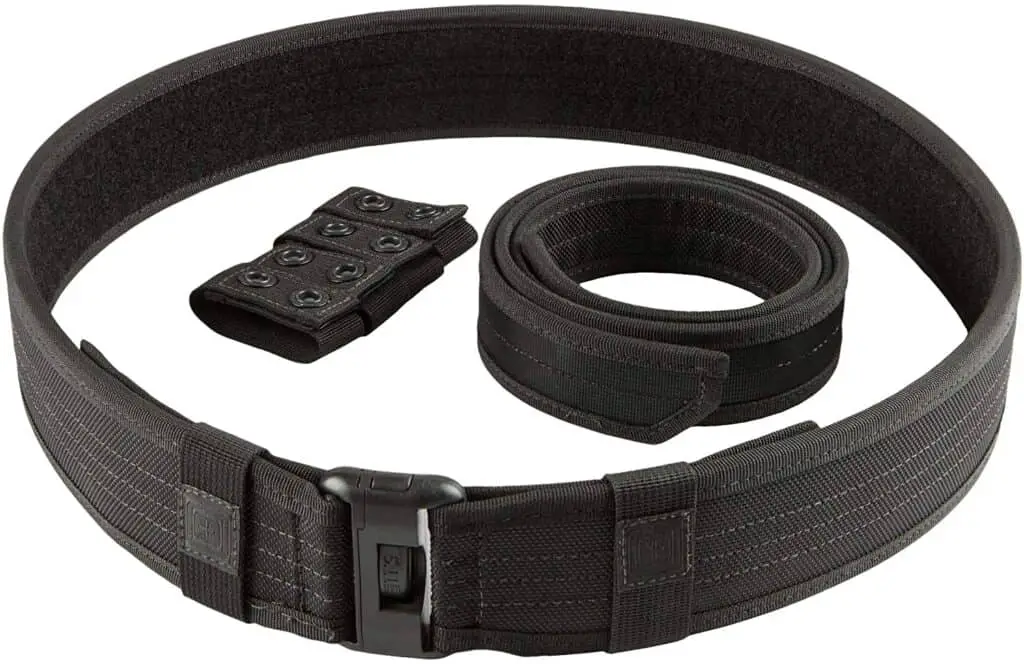 Final Thoughts
As you can see, the 5.11 Tactical Sierra Bravo Duty Belt Kit is one of the better duty belts on the market. With its dual velcro and snap closures, it retains your gear as well as any larger, beefier belt. To be fair, it's not without its drawbacks. The narrow design doesn't spread out the weight as well as a wider belt, although this is mitigated by soft padding. We also would have liked to see a metal buckle. Still, you're looking at an affordable duty belt that will last for years, and which is compatible with almost any type of attachment.
---
OUR RECOMMENDED TACTICAL GEAR LIST:
---