If you are like most people, you probably don't give much consideration to the type of flashlight you have or which batteries you are using until you are left in a dark or dangerous situation. Using a tactical flashlight powered by AA batteries can mean the difference between life and death in some situations. You may be wondering how a flashlight can save a life and which tactical flashlight that uses AA batteries is the best to buy? 
Tactical flashlights are a multipurpose tool that, when used correctly, can be used as a mode of self-defense or simply as a tool for illumination. To buy the right tactical flashlight for your situation, you need to have an idea as to what type of situations and conditions you will be facing. There are many variations of tactical flashlights available for purchase today. Continue reading to determine how you will be using your tactical flashlight and which one will serve you the best for your situation.  
Tactical Flashlights vs. Traditional Flashlights
You may be reading this thinking, "a flashlight is a flashlight", right? Wrong. Not all flashlights are created equal. When you think about a flashlight, you probably think about the inexpensive plastic model that is crammed in your junk drawer with a mishmash of other miscellaneous household items that are rarely used. 
Maybe it will work when you need it, but in most cases, you are usually scrambling around looking for a battery that has enough juice left to shine a meager ray of light on your current situation. The problem with your everyday flashlights is that they are made very inexpensively (usually out of plastic) and simply do not hold up to the wear and tear that we put on them. 
Tactical flashlights, on the other hand, are designed for police or military use and are typically made of aircraft-grade aluminum; they are extremely durable and surprisingly lightweight. The majority of tactical flashlights made are designed with the option to be mounted on a weapon. Tactical flashlights also can help you in a self-defense situation. Tactical flashlights are a very underestimated tool when it comes to their ability to function as a defensive tool. 
Using Tactical Flashlights Requiring AA Batteries
You may be wondering why you should use a tactical flashlight that requires AA batteries. The main reason for this is that AA batteries are typically the most abundant in supply. You can find them easier, and they are less expensive than other types of batteries. Staying away from specialty batteries will prevent you from being stuck in the dark when you are away from a big box store. Most gas stations or convenience stores will carry AA batteries, but it may be more difficult to locate an odd size when you are away from home.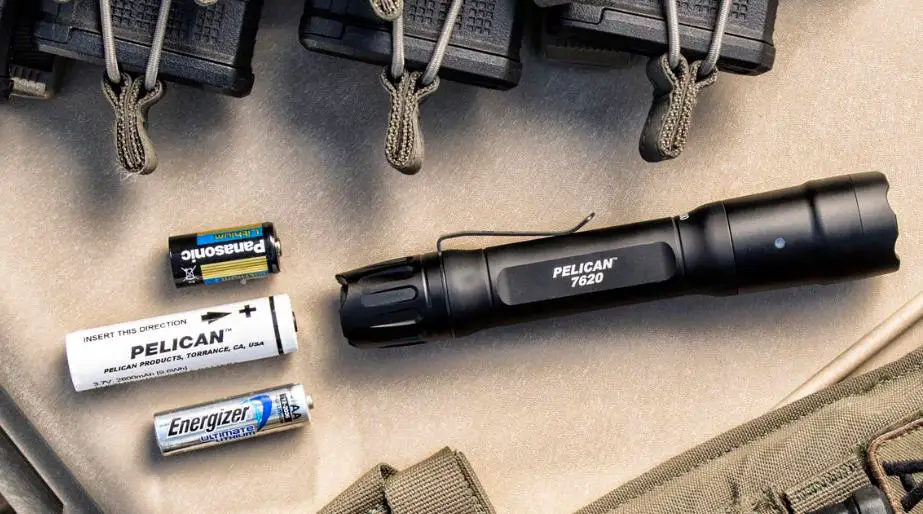 What to Look for When Buying a Tactical Flashlight?
The following are things to look for and consider when you are thinking about buying a tactical flashlight. Consider how you think you will be using it and what kind of conditions you may experience. The most important thing is finding a model that you are comfortable using, so when the need arises, you are prepared for whatever situation you are facing. 
All conditions. When searching for a tactical flashlight, it is important to find one that can withstand any type of weather condition, so you are not left in the dark if a little rain or mud gets on it. 
Beam distance. Beam distance is how far the light reaches. This is important because you want to be able to see a long way in front of you.
Brightness is how many lumens the light has. The higher the lumen count, the brighter the flashlight will be and the better you will see. 
Color options. Some tactical flashlights offer a secondary color and UV output for different lighting situations. 
Comfortable. The size/grip needs to work well for whoever will be using it. You don't want to have something that you cannot hold onto when you are in a difficult situation. Be sure that you are comfortable holding the torch and using the controls.
Drop-resistant. This is an important feature because you don't want your light to go out if you accidentally drop it while you are walking around or working on something in the dark.
Durable construction is essential. You don't want a poor quality tactical flashlight when you need a reliable source of light or protection. 
Easy to use. Be sure that the tactical flashlight you choose is easy to use. You don't want to end up fumbling around trying to find the right setting when you are in a stressful situation. 
Glass breaker/multi-tool options. Look for a tactical flashlight that has a glass breaker and/or other multi-tools to use. These come in handy for quick repairs or self-defense. 
High-quality lens. Look for a durable, shatterproof, and/or scratch-resistant lens material. 
LED. Find a tactical flashlight that uses LED lights versus regular incandescent lights. Incandescent lights tend to blow when dropped or bumped and do not last as long, which means constantly replacing them. 
Lightweight. Buy a lightweight tactical flashlight. The less weight you have to carry around, the better. Most are designed to be lightweight, so it's not usually an issue. 
Maximum run time. Try to find a tactical flashlight that has a long run time on the highest setting. You don't want to be stranded in the wilderness with a dead battery because you used your max light for too long. 
Rechargeable.  Try to find a tactical flashlight that has the option for rechargeable batteries for times when you are not off the grid and want to save money on buying traditional alkaline or lithium batteries. 
Settings. Look for a tactical flashlight that offers multiple modes/settings for different light brightness and distance. Sometimes you don't need the brightest light available, and it is nice to be able to switch to a lower light setting. 
Strobe/SOS mode. If you plan on being in the wilderness or out in a dangerous area alone, look for a tactical flashlight that offers a strobe/SOS mode in the event that you are stranded or attacked.
Choose between full-size versus an EDC-size (every day carry). You need to decide whether or not you need to have a full size or an EDC tactical flashlight. Full-size tactical flashlights tend to be around 12″ long, whereas a standard EDC tactical flashlight is around 6″ long. Both serve the same purpose; however, you need to decide what works best for your situation. Full-size tactical flashlights tend to be brighter and can be used as more of a weapon as well. 
Other Ways Tactical Flashlights are Useful
Tactical flashlights can be useful in so many situations: 
When the power goes out, 
A family camping excursion or 
A scary trip to the basement, 
Most of you are probably not thinking about situations where self-defense may be required.  You can mount a tactical flashlight to your gun for easier shooting in low-light situations and for seeing the sights on your gun. If you are not a gun-wielding citizen but still wish to have the safety benefits, you can use your tactical flashlight to blind and stun an oncoming attacker to buy yourself some time to escape. 
Being prepared for any situation you may encounter is the best way to avoid a negative outcome.
Use your tactical flashlight to shine light in dark areas to identify potential threats to your safety when you are walking alone. If you are in a situation where you are hurt or lost, most tactical flashlights offer a strobe or SOS function to help alert rescuers of your location. Some tactical flashlights come with a serrated or toothed bezel for breaking glass. Some military professionals say that they are not the most effective thing for breaking glass; however, they are a great weapon if you are being attacked. To be effective with this, shine the light in the attacker's face to blind them and then stab them with the end of the flashlight or run if you cannot attack.  
9 Options for Tactical Flashlights
The following list is comprised of tactical flashlights that use AA batteries; they are sure to make any job that requires seeing in the dark easier and, at the same time, add a bit of security to your life. Full-size tactical flashlights are not included on this list because most of them require larger batteries or come with a charger as the only option. 
This is more than just a flashlight; this tactical light has it all! Multiple handy features in one convenient and easy to use package. Keep it in your car for emergencies or carry it with you when you go camping. Its compact design makes it easy to take anywhere—it costs around $25.00.
Other product information: 
It fits easily into small storage spaces
Includes: flashlight, bottle opener, glass breaker, ball-point pen, hexagonal wrench, screwdriver, two ink refills, and six rechargeable batteries
Unique design with convenient pocket clip
Water and break-resistant
This extremely useful tactical flashlight comes with two rechargeable batteries and a charging port. You also have the option of using traditional alkaline batteries if you cannot charge the others. It costs around $40.00.
Other product information:
Can use 2-AA alkaline batteries (included) 
Can use rechargeable batteries (included)
Made with aircraft aluminum for extra durability
Super-strong glass lens with anti-reflective properties
Tactical tail switch with momentary-on function
For those of you who tend to get into hairy situations, this tactical flashlight is for you. If it can withstand an explosion, it can surely hold up to anything you can dish out. Easily mount to weapons, weather, and waterproof. It is made of extremely durable materials with an ergonomic design for a comfortable grip—it costs around $55.00.
Other product information: 
Can run up to 80 hours
Field-tested and approved by the United States Counter-Terrorism Advisory Team
Requires 3-AA batteries
Specially designed grip for wet, oily, and slippery conditions
This rechargeable light has all the bells and whistles. Has the option of using a rechargeable battery or 2-AA batteries. Includes a handy USB port for powering your devices in an emergency. It also comes with a handy multi-tool that hooks to your key chain for multiple functions. It costs around $75.00.
Other product information: 
Can also use regular alkaline batteries
Includes pocket clip
Made from aircraft-grade aluminum
It offers five different light modes
Requires 1-AA rechargeable battery (included)
Water-resistant
This is another great option if you are looking for a reliable compact tactical flashlight. It offers a maximum brightness level of 345 lumens and up to 50 hours of run time. The light can reach a maximum distance of 240 yards. Water and shock resistance; this little light will help you in a big way. It costs around $35.00.
Other product information: 
It comes with a convenient pocket clip attachment
Easy to turn on and off with a button on the tail end
Four brightness settings, including a strobe and SOS mode for emergency situations
Includes a high-quality carrying holster
Quickly switch between modes by turning the head of the flashlight 
Requires 2-AA batteries
The manufacturer claims that this is one of the most versatile military-grade tactical flashlights in the world. With up to 20 different light settings, you are sure to light up any situation. The articulating head makes it easy to position. Controls are designed for easy use while wearing gloves. It costs around $60.00.
Other product information: 
It has an unbreakable lens
High-impact, weather-resistant
Made from extremely durable materials 
Offers white C4 Led, red, blue, IR Led
Requires 2-AA batteries
This ultra-bright high-powered tactical flashlight will surely shed light on any situation you may experience. Its convenient size allows you to slip it into your pocket or use the pocket clip for attaching directly to your belt. It is made with aircraft-grade aluminum for superior durability. This is a handy and extremely rugged tactical flashlight. It costs around $35.00.
Other product information: 
Head of the flashlight designed not to roll in uneven situations
Offers three light settings; 250 Lumen, 18 Lumen, Strobe mode
The pocket clip is removable for easy storage
Requires 2-AA batteries
Shock-resistant C4 LED Technology 
Waterproof for up to 1 meter for 30 minutes
This is an awesome and surprisingly bright flashlight. The great thing about this light is it only requires one-AA battery and still puts out an amazing 300 lumens of light. It offers three light settings and has a comfortable design for gripping. It is great for indoor or outdoor use and comes with a glow-in-the-dark o-ring for easier location when the lights are off. 
It costs around $15.00.
Other product information: 
Has a safety setting to prevent overheating
Highly intensified penlight
Offers high, middle, low lumens and strobe setting
Requires 1-AA battery
This compact tactical flashlight is great for any occasion, whether you are camping or preparing for a power outage. This lightweight flashlight offers multiple light settings and is constructed of high-quality waterproof material. It costs around $15.00.
Other product information: 
Offers up to 30 hours of continuous run time
Offers; high, low, zoom, strobe, and SOS lighting modes
Requires 4-AA batteries
Satisfaction guaranteed
Waterproof aluminum construction
Types of Batteries for Tactical Flashlights
Alkaline batteries tend to last longer and are traditionally less expensive than lithium batteries. They are also safer for the environment and will not explode in a landfill as a lithium battery will. When stocking up for hard-times, most people will use alkaline batteries. 
Long-lasting power for hours of use. Costs around $15.00
Lithium can also be used in place of alkaline batteries; however, as previously mentioned, they are more dangerous to the environment and will not last long in storage. Manufacturers say that they can be stored for up to 10 years. However, in many experiences, they only last around three years whether they are being used or not. 
These claim to provide long-lasting performance with more power. Costs around $45.00
Rechargeable batteries are great to use and have on hand and a great way to save money on buying batteries all of the time. The only downside is that if the power is out for an extended amount of time, you may not be able to charge them, so keep some traditional style batteries on hand as well. 
Charges AA or AAA batteries within 5-11 hours. It automatically shuts off and alerts you when your batteries are fully charged. Costs around $25.00
Being Prepared Can Save Your Life 
Whether you need to find something in the back of your closet or you are in a situation where self-defense is required, having a tactical flashlight on your body at all times can save you from stumbling around in the dark or lacking a defensive tool if you need one. Consider your personal situation and what your needs are when choosing a tactical flashlight. Be sure you are comfortable using it and keep it on you at all times.
---
OUR RECOMMENDED TACTICAL GEAR LIST:
---