MOLLE, an acronym for Modular Lightweight Load-carrying Equipment, refers to the current generation of load-carrying equipment and backpacks designed by Natick Labs. It is used by the military, mainly British and American armed forces. It also refers to the gear with layers of rows and columns of webbing. These webbings make it possible for the gear to serve various and specific purposes.
This modular equipment is a system of gear components (backpacks, pouches, vests) that can be attached to each other. The equipment isn't just suited for soldiers; an ordinary civilian can use the equipment when carrying out activities like hiking, mountain climbing, or camping trips.
About the MOLLE System
The MOLLE system was introduced in 1977 as an update to ALICE (All-purpose Lightweight Individual Carrying Equipment). When it first emerged, the system was highly criticized, especially by the military. Soldiers complained that it was insecure and uncomfortable. Many more complained that it hurt their lower backs. It has, however, been modified over the years and is now widely used, recognized, and accepted.
The MOLLE system is made easy to use with PALS webbing. PALS is an acronym for Pouch Attachment Ladder System and is the bedrock on which MOLLE was developed. PALS refers to the horizontal web grids often found on backpacks and bags via which smaller equipment (like knife sheaths, holsters, pouches, and other gear) can be firmly attached and secured to larger MOLLE forms.
According to the PALS standard, the strips are of a length of 1 inch and are spaced 1.5 inches apart. This system allows you to securely attach one component to another without the attachments being jostled. This system also ensures that the attached equipment does not fall. An average MOLLE has at least two straps per piece of equipment to ensure the equipment is well strapped on and would not be in any danger of falling.
MOLLE and PALS
Many people confuse MOLLE with PALS, but they're not the same thing. MOLLE is characterized by PALS hence the reason many people tend to use the terms interchangeably. It is important to note that MOLLE is not a type of webbing, but a Modular Lightweight Load-carrying Equipment would have PALS webbing. A gear with PALS webbing is said to be MOLLE-compatible equipment.
MOLLE webbing is solid and durable and made of nylon. MOLLE gear is typically based on a Tactical Assault Panel (TAP), a chest rig. The TAP is bib-like and can be used alone or mounted on a vest. The TAP is covered with PALS webbing and has enough space to store up to eight rifle magazine pouches.
Aside from the Tactical Assault Panel, other components of MOLLE include the medium rucksack, the large rucksack, the modular pouches, and the hydration bladder.
What Can You Attach
With a MOLLE system in place, the following items can be attached to your gear:
Holsters: Handgun holsters are designed to accommodate handguns, protect them, and ensure they are secured. 
Bottle pouches /canteen carriers: A bottle pouch is meant to contain a water bottle and they are pretty handy. It has the PALS webbing so that you can attach it to your backpack or rucksack and may also come with a long strap to carry it over your shoulder. It has an extra pouch with a zipper where you can keep things like a phone, credit card, ID card, etc.
Grenade pouches: These are pouches designed to carry grenades and keep them from inadvertently falling.
Magazine pouches: These pouches are designed to securely store magazine ammo. Types of magazine pouches include HSGI Tacos, G-Code Scorpions, S-Tacks, IKW fast mag, e.t.c.
A Planet eclipse mag pouch is a single mag pouch designed to hold only one mag. To use it, you have to ensure the vest or whatever you are trying to attach it to is compatible with a MOLLE style attachment. A total eclipse mag pouch has a slim design and is meant to be concealed. The AR-15 mag pouch can carry multiple magazines.
First-aid kit: This contains supplies and equipment used to give medical aid.
Sustainment pouches: These are pouches designed to contain MREs.
Dump pouches: A dump pouch is a bag where you put your used magazine. You can put your gloves in them, although dump pouches' primary purpose is to accommodate spent magazines.
General-purpose gear pouches: A general-purpose gear pouch is designed to carry small extra items on your chest. It can carry snacks, gloves, a first aid kit, and a survival kit. It's handy at all times.
There are different styles for pouches and these pouches serve varying functions. The attachments are not as big as the gear itself; hence they are light pouches.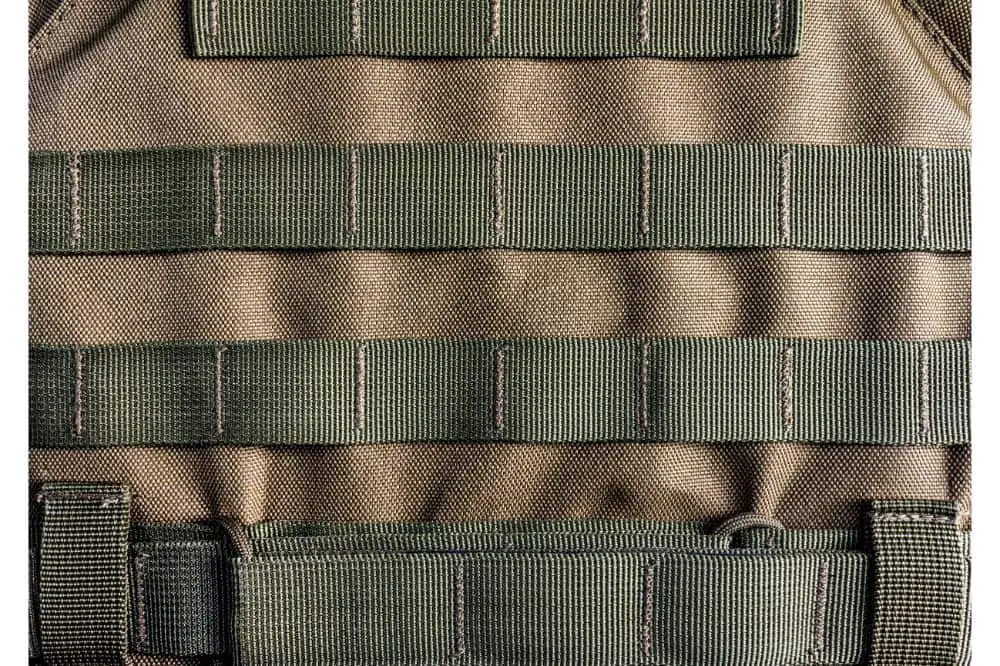 Attaching a MOLLE pouch
Attaching pouches to your MOLLE gear isn't too tricky, even for new users. Your MOLLE attachment system will likely have MOLLE-specific straps or SlickSticks. These straps will be used to weave between the attachment and the equipment you're adding the attachment to. Once the weaving is done, the SlickSticks can be trusted to snap shut, holding your attachments to your equipment securely.
Some attachments have a single strap (or a single SlickStick), while others have multiple.
To attach your MOLLE magazine pouch or other accessories, follow the following steps:
Empty all pouches and the pack itself before attaching.
Place the end with the SlickStick through the first of the MOLLE straps where you want the items attached.
Slide one end of the accessory back through the first insertion loop found on the attachment itself. 
Weave the strap or SlickStick through the first row of nylon webbing on the backside of the attachment. Ensure the weaves are tight.
Continue the weaving process, weaving the sticks through the webbing on the attachment and your equipment until you reach the end of your attachment strap, and all that remains are the snaps.
Once the attachment is the way you want it, secure the snaps. If there are multiple straps, alternate their weaving until the attachment is secured.
---
OUR RECOMMENDED TACTICAL GEAR LIST:
---