The traditional collar is not a good tool to use when it is time to take your dog on a walk or lead them around. Any control you try to gain can end up harming the neck of the dog. With a good harness, you can maintain control and train your dog without any harm in the process. One of the best harness options for you to use is the Icefang Tactical Harness. The Icefang Tactical Harness is a great option to use for any dog owner. The easy buckle system helps you to it to fit snugly on your furry friend, with many great features in lots of sizes and colors. Gain all the control you need on your next walk with the Icefang Tactical harness. There's a lot to cover with this harness, so we'll give you the ins and outs of it all. We'll talk about color and size options, fitting it, some pros and cons, and even a quick tutorial on how to use it, so keep reading!
What Colors Can I Choose?
The Icefang harness comes in lots of different colors. Some can be chosen for preference, but some, like the safety orange, are good options to use if you plan to go out hunting. 
The Icefang harness comes in these colors:
Black
Coyote brown
Range green
Red
Safety orange
Wolf grey
All of the colors look really nice and can be good options when you want to be outside on a walk with your dog. If you want to go hunting, choose some of the brighter colors to help your dog be easier to see around other people. We found that many customers enjoyed getting a few different colors. This helped them to have some variety depending on where they went for a walk and to make it easier to have a second option if they needed to clean one of the harnesses. 
The Available Sizes
Make sure to pick out the right size when you choose the harness you want to give to your dog. There are four main sizes that you can choose for your dog, and they have some overlapping in case your dog is between sizes.
The Icefang harness comes in these sizes:
Small: Best for a neck of 14 to 18 inches and a chest 22 to 27 inches
Medium: Best for a neck of 16 to 22 inches and a chest 25 to 31 inches. 
Large: Best for a neck 18 to 24 inches and a chest 28 to 35 inches
X–Large: Best for a neck 20 to 28 inches and a chest 32 to 39 inches. 
If you do not know the right size for your dog, it is a good idea to do some measurements. You want it to be snug around your dog without being too tight or too loose. This will make the harness more effective and easier to use when you are on a walk.
How to Clean the Icefang Tactical Harness?
This harness is a simple one to clean and get ready to use again. If you take your dog on a walk often, then the harness is going to get dirty quick, like any harness. You do not want to purchase a harness that is too difficult to clean off or is impossible to put on and off your dog. 
Cleaning the Icefang harness is easy:
Hand wash all over using mild detergent
Rinse out with some clean water
Air drying is best, but you can also put it on low in the dryer if you need to.
Make sure to clean the harness on a regular basis before it gets stained and starts to stink. This is an easy thing to forget when you are busy, so put it on your schedule so it stays comfortable and looking nice for your dog. 
The Benefits of Using the Icefang Harness
The Icefang harness is one of the best harness options on the market. It is simple to use, provides you with control during walks, and does not harm your dog. 
Here's some of the benefits of using this harness:
Helps take some of the pressure off the neck of the dog, which is much safer for them
Can fit around your dog comfortably
Makes walking easier and less stressful
Gives you more control, even with bigger dogs
Unlike using a traditional dog color, this harness will not pull across the neck when they lunge or when you need to drag them away from something. Instead, it spreads the force across your dog's entire chest in a much safer way.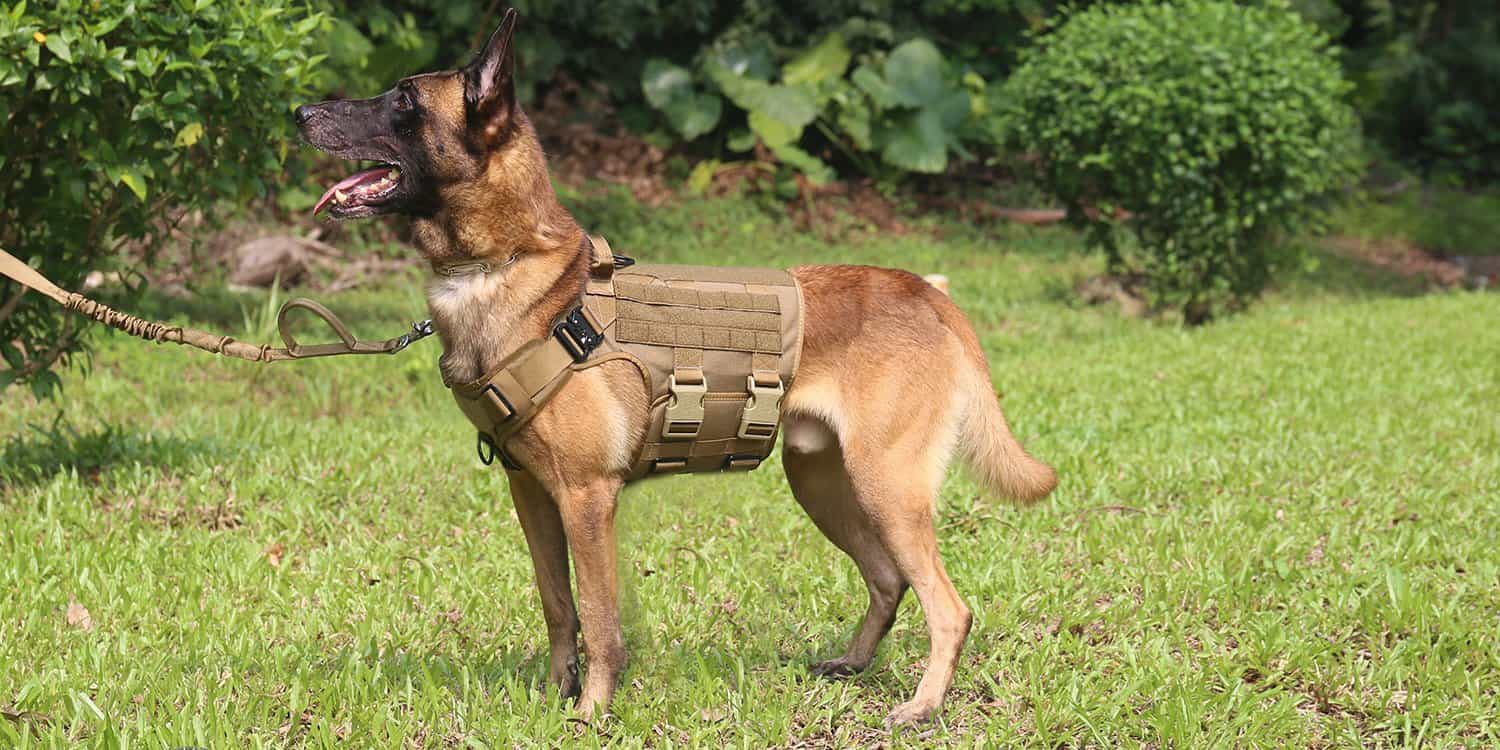 Negatives of the Icefang Harness
While the Icefang harness is a good choice to work with for many dogs, there are a few drawbacks to using this one compared to some of the other choices. 
Here's some drawbacks that other reviewers have mentioned:
It can be a little loud. The buckles at the front tend to click and chatter a bit. 
The stitching can fail in some cases with light tugging
The clips are sometimes not as strong as they could be
These problems tend to only show up in a few of these harnesses, and overall other customers seemed happy with the harness and its functionality. 
How to Use the Icefang Tactical Harness
The Icefang tactical harness is a comfortable fit, easy to use, provides more of the control that you need, and is even available in several different colors. Using this harness is pretty easy too. 
Here's how to use this harness properly: 
Place the harness on your dog. It should fit comfortably around the front legs and chest of the dog. See the manufacturer's guide for help on fitting.
Connect the leash to the no-pull front loop.
Many dogs will stop pulling very quickly once they start walking with the harness, but for those who don't, just give them a short, sharp snap of the leash when they begin to pull.
It is as easy as that. There are a few buckles and clips that help the vest stay comfortable, so you can choose to tighten or loosen to fit the size of your dog. You want to ensure there is a comfortable and snug fit that does not leave the harness too loose on your dog without hurting them either. 
Our Final Review
The Icefang tactical harness is one of the best harnesses on the market. It will work well for all of your walks and can be comfortable for your dog on any walk you choose to take. There are many benefits that make it a great choice for your family. While there are some negatives to watch out for, we would definitely recommend this harness for all dog owners. It has all the features that you need, lots of strength, and the ability to choose the size that you want, making it a great choice no matter the type of dog you have.
Choosing the Icefang Tactical Harness
There are many great harness options on the market that you can choose, but none provide the comfort, style, and functionality that you will find with Icefang. When you are in the market for a new harness to make walking your dog, no matter their size, easier, then look no further than the Icefang tactical harness!
---
OUR RECOMMENDED TACTICAL GEAR LIST:
---