Purchasing a handgun in the states can be incredibly difficult with so many different types on offer. You've got to find one that suits your needs in terms of its weight, its feel and how well you get on with it generally.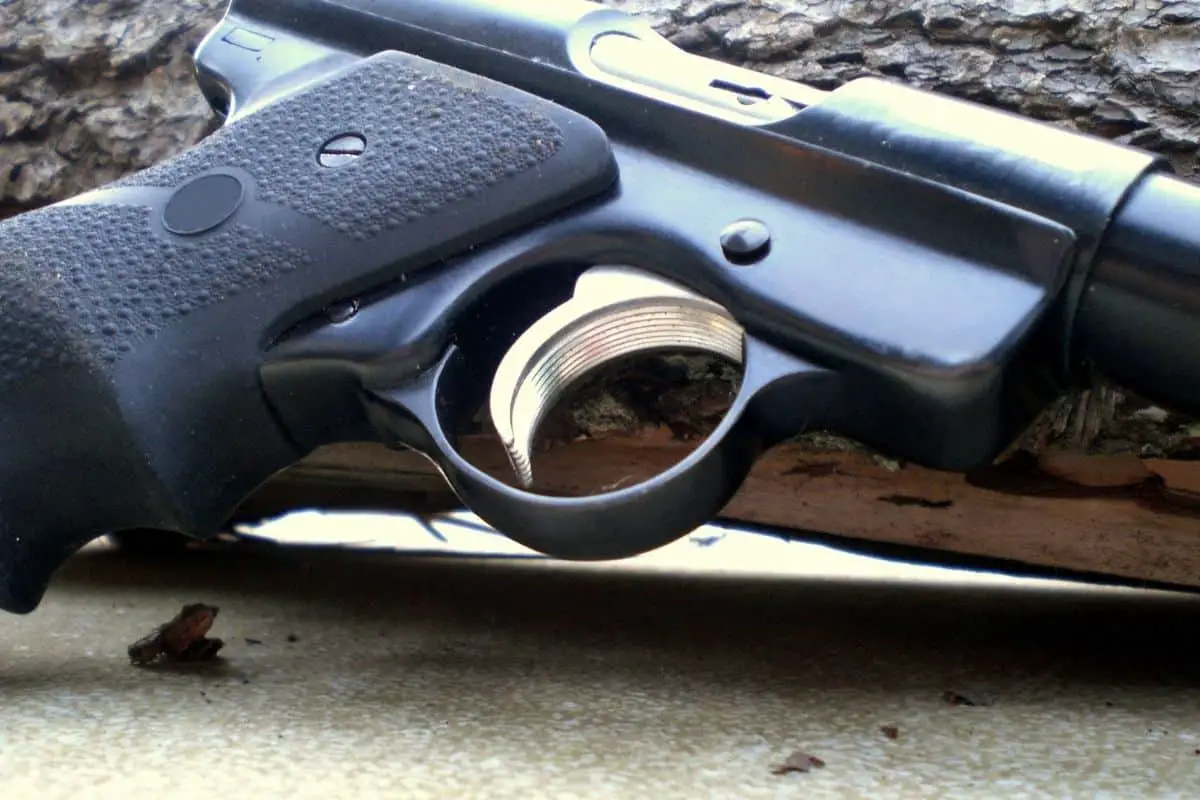 As a result, you'll be lost in a "candy shop" of options. One of these options is the Ruger SR22. If you've never seen or used one before, you might be unaware if this is the right handgun for you. 
Don't worry, we've done the hard work for you. We've tried and tested this handgun and provided you with our take on it.
We've written this handy review to try to give you all the information and answers you need to make an informed decision. 
So, to know more – read on! 
General Information 
Ruger is a weapons manufacturer that has been operating since the late 1940s from its home in Connecticut, USA. 
Their main focus is on providing affordable, reliable and efficient weapons that are not just for commercial use but also to be distributed to law enforcement and military. 
Primarily, they are famous for their .44 magnum revolver, which even those with no knowledge of firearms will have heard of. 
Over the years though, they have perfected and continue to master their range in rimfire firearms. It's clear from this Ruger SR 22 that they were aiming for an easy to conceal handgun that also ticks every other box. 
Think of it as being the perfect handgun – but does it meet up to these claims?
Specifications 
Caliber = .22 LR
Overall length = 6.40"
Barrel length = 3.50"
Height = 4.90"
Width = 1.29"
Weight = 17.50 oz
Trigger action = dual
Features 
This semi automatic pistol is incredibly easy to handle and is completely durable, tough and budget friendly. If you're a fan of target practice – you've found the ideal weapon here. 
Let's take a look at the individual features of this handgun step by step. 
The Trigger 
This is dual action, and therefore the trigger offers single action and double action features, entirely for safety and ease of use. 
The manual thumb safety feature is equipped for ambidextrous usage with a decocking lever suitable for both left and right handers. 
The strangest thing about this handgun however is the safety. Unlike most other handguns, the safety lever goes downwards and then upwards for firing. Often, we became a little confused by this (muscle memory we guess!). 
The trigger pull is very lightweight, squeezing is like a dream. In fact, the use is incredibly simple and can be used by any newbie of the firearm world. 
The Frame 
The frame of this Ruger is very light, as we can see by its minute 17.5 ounces when it isn't loaded. This is likely due to the aluminum slider and polymer frame.
It's incredibly sturdy and durable and is very easy to conceal even though the barrel isn't' exactly tiny. 
It's very simple to install or attach a muzzle or suppressor which can improve your firing experience. Speaking of which, it's very accurate for its size. 
When we're being critical however, the guide rod, ejector and return spring aren't the greatest but these are very minor problems in a much larger picture. 
Due to the inclusion of polymer, cleaning this handgun might be problematic. Chemicals might seriously affect the future use. 
The Sights 
Contrary to other handguns on the market, the sights on this one are quite adjustable, which was a very welcome sight to behold. Long have we been frustrated with the restrictive handgun front sights. 
You can even adjust the rear sights with the screws for added or reduced elevation. There's a three-dot system for the sights that fix one to the front and two to the rear. This allows for much more accuracy. 
The trigger guard has a Picatinny rail attached with multiple cross slots. This gives you the option to add accessories, improved sights or if you want to make minor adjustments. 
What this means for you – there's absolutely minimal need to attend a gunsmith for basic changes. You can do it from the comfort of your own home! 
It feels that Ruger has listened to the feedback from previous customers and moved along with their requests. 
The Grip
The grip is absolutely phenomenal. We were so pleased with how it felt in your hand. It was the ideal fit for most sized hands. 
The attention to detail here takes you back when you hold this handgun. The rubber sleeves are attached to the grip and they do feel great. However, if you want to remove them – it's a real grind. 
Load And Reload
This handgun feeds like an absolute dream. Most ammunition can be used with this, but you'd be advised to use Remington Thunderbolt .22 ammo. 
For some reason, the ten round magazine will not release and drop on its own, so expect a little manual work there. 
You can load and reload this handgun in seconds, which we confirmed at the range. If you are looking for target practice – this is the gun for you!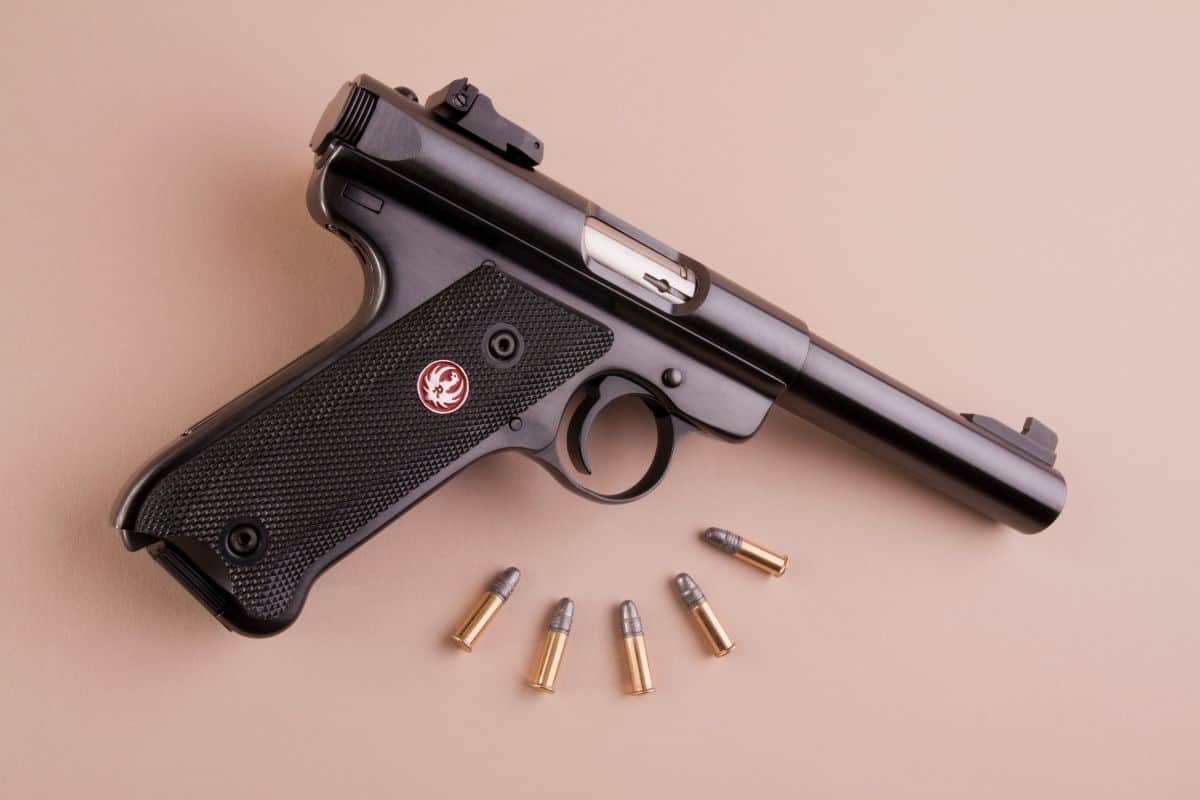 What Are The Pros And Cons?
Of course, nothing is without fault – so we need to take you through all the pros and cons of this handgun. 
Pros 
Lightweight 
Easy to conceal 
Great grip 
Affordable 
Accepts most ammunition 
Suitable for left and right handers 
Cons 
Upside down safety release
Magazine does not release automatically
Grip sleeve is difficult to remove
Who Is This Handgun Best For?
Virtually anybody can use this handgun. Luckily, due to its weight, ambidextrous use and fantastic grip – people with any hands in terms of size or preference can happily use it. 
The one use for this weapon is for law enforcement and it makes sense as to why. Although the magazine does not automatically change, it takes seconds to do this manually. 
In our opinion though, this handgun would not be the ideal choice for self defense as such, rather for plinking or target practice. 
Don't use this gun for small game hunting – it is not ideal. If anything, all you'll do is scare them off. 
Because the trigger requires little push/pull and therefore, little hand strength – anybody – including those with arthritis or complete newbies to the gun world. 
How To Disassemble This Handgun 
Disassembling a handgun, or most weapons for that matter, is incredibly important. This is the best way to clean and maintain your handgun, which means the difference between longevity and functionality – or being scrap metal! 
Here's how you disassemble your handgun:
Release the mag
Lock the slide back and then push the slide forward
Remove it from the rail
Flip the lever and take the recoil spring away
Cleaning 
If you want to clean your handgun in the perfect way without any potential problems – your best bet is to attend a gunsmith and speak with a firearms expert. They will be able to clean your weapon for a small fee. 
However, if you're going to clean the handgun at home – you should be aware of what to do and what not to do. 
The most crucial step is to ensure you have completely unloaded the weapon. Do not think that the safety lever will be enough – because accidents can still occur and this can be fatal. 
Refer to your owner's manual about cleaning advice, but generally you can use a cleaning tool such as a brush. You can find these in any good gun store. 
Be careful with small items and springs and be sure to clean right into the crevices. Try to avoid using solvents or harsh chemicals.
Instead, try to opt for gun cleaning oils or other liquid – again, these can be found in any good gun store. 
Lubrication may be required on the rails, springs and bearing surfaces. However, make sure that you avoid lubrication in the barrel. Lubricant can lead to a misfire or even something more serious. 
Don't pay attention to the myth that more gun oil/lubricant is better. Too much lubrication is not better for the most part. 
Once you have done all this, ensure you finish it off by using a dry cloth. This will ensure any residue or leftover lubricant is completely removed. 
Finally, it's time to start the reassembly process as we spoke about above. One of the most crucial facets to this process is ensuring that there are no irregularities or problems left in the weapon itself. 
This is your chance to check and check again for problems – you don't want to get anything wrong or take a chance here! 
If everything looks good, then go right ahead and continue using your firearm as normal. If you do notice a problem but cannot resolve it, speak with a gunsmith as soon as possible. 
The Bottom Line 
The Ruger SR 22 is a great handgun for most users, especially beginners. Despite its small downsides, it mainly promotes huge boasts and is a fantastic choice.