Many gun owners have specific reasons they opt for suppressed shooting.
Regardless of whether one uses a gun to self-defend themselves or practice shooting, having a suppressor has several distinct advantages for the shooting experience.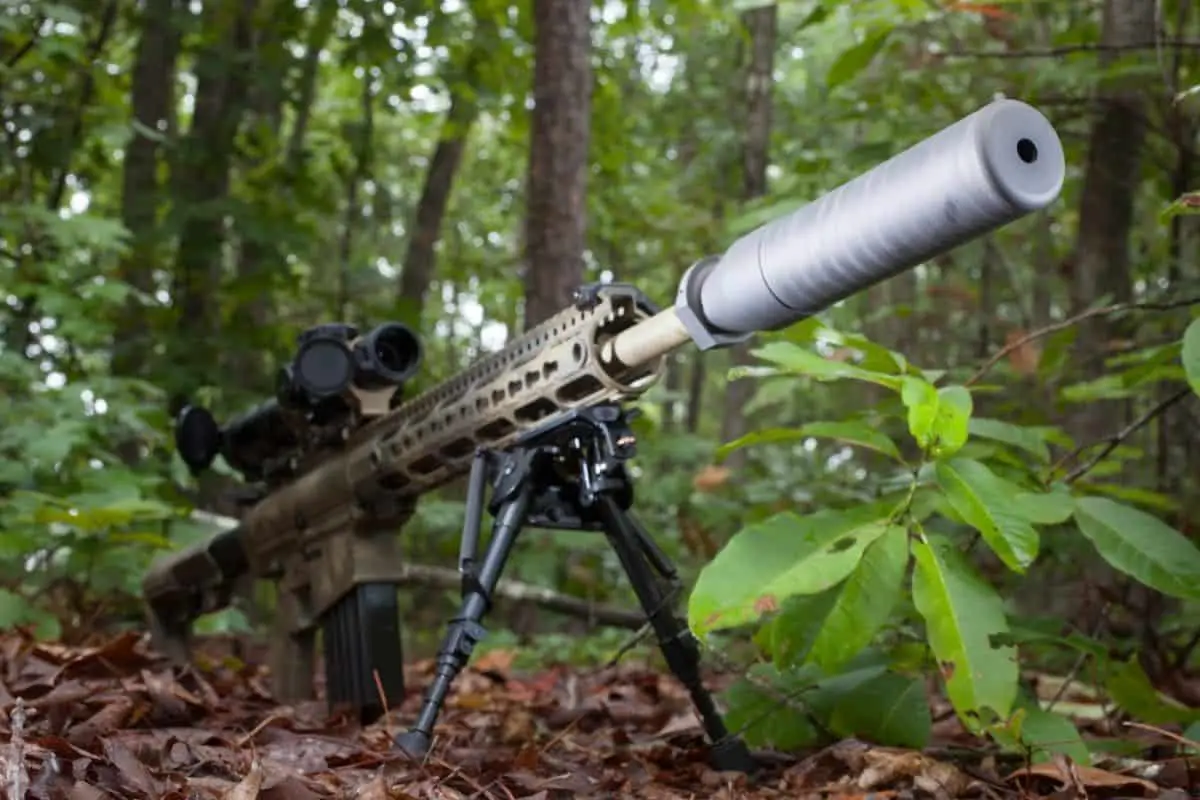 It makes no difference whether you are an absolute beginner or a professional shooter; having a suppressor attached to your gun can change a lot, which is why you need to spend time looking for the ideal silencer for your gun.
A quick search on the market is enough for you to hear and see the SilencerCo Hybrid 46 suppressor, and this article is all about it. 
The SilencerCo Hybrid 46 is one of the most popular suppressors on the market and there is a good reason why it is that way.
So, if you want to find out more about this muzzle device and figure out whether you should get one for your gun, keep on reading this article!
What Can One Expect From The SilencerCo Hybrid 46?
It can be difficult to find the most multi-functional silencer for your gun at times. However, in terms of customization and efficiency, the SilencerCo Hybrid 46 silencer is the industry's no.1 suppressor.
Its clever design ensures that it suppresses almost every gun model of yours, while it also has a multi-caliber rating for both small guns and bigger rifles.
Known as the "universal suppressor," its compatibility with almost all the rifles on the market is simply unrivaled.
In addition to that, the SilencerCo Hybrid 46 suppressor is compatible with the ASR structural system which is considered to be the most adaptable of all.
Great Construction
This silencer is made of high-quality materials, like stainless steel, titanium, and stellite. As a result, it might seem like an expensive piece of equipment to some, but it is definitely worth the money in the long run.
It is an investment that you want to make, as it will save you from the trouble of buying a new suppressor every couple of years as you would do were you to opt for a cheaper one.
It Has A .46 Diameter End Cap
This suppressor has a .46 diameter end cap. This is one of its characteristics that makes it great simply because it maintains the decibels at a desirable level.
In addition to that, there is a variety of 6 different end caps so you can go for whichever one you prefer.
Compatible With Most Guns
This silencer is one of the most compatible ones, which is one of the main reasons behind its popularity. Unlike other silencer models like the Omega 300 which are better with larger calibers, the Hybrid 46's overall compatibility is simply unrivaled.
Indeed, the SilencerCo Hybrid is the best on the market in terms of compatibility with most ammo accessories.
Moreover, by adding a couple of suitable attachments, the SilencerCo Hybrid 46 can be easily transformed into the best accessory for all rifles.
This suppressor is also available in a variety of coatings, so you can have it in white, black, grey, and Flat Dark Earth.
Which Accessories Are Compatible? 
As we said, the SilencerCo Hybrid 46 suppressor is compatible with most guns, but not all of there, and it will probably not work with some guns once you get it delivered to you.
As a result, you might have to attach additional accessories to your muzzle to adjust this silencer.
If you are wondering what those might be and if you can find them on the market, let me reassure you that this will be an easy quest.
All you need is things like an Aero Survival Rifle hider, a muzzle brake, and a single port brake, all of which are available to purchase:
Aero Survival Rifle hider, muzzle brake, and single port brake
Bravo flat front caps and an Anchor brake
A Bravo direct thread mount, an Aero Survival Rifle QD Mount, a Plan-B by Q, and a Dead Air Keymo
SilencerCo Pistons, 3-Lug, and fixed barrel mounts, as well as a spacer
A Bravo Booster Housing Assembly
What Does The Package Include?
 This product includes a couple of the accessories that are required to suppress your rifle.
The fixed barrel mount
The Booster Assembly
A flat front cap (46 calibers)
A suppressor pouch
The tools to install them, as well as a manual for the pouch
For those people who own mid or long-range rifles, this silencer is an absolute must-have that is essential for the gun.
The SilencerCo Hybrid 46 features a cutting-edge design to keep your gun's sound just in the right decibel range that is good and preferable for your ears.
Pros
Outstanding titanium creation
Compact and easy to handle
Amazing dimensions for adaptability
Awesome look
Cons
For beginners, installing this suppressor can be difficult.
Buyer's Guide
What Should I Be Looking For When Purchasing A Silencer?
Suppressors are popular among firearm enthusiasts. They are great because of their compatibility with a wide range of guns.
Regardless of what you are using a silencer for – other people use it when going for a hunt while others use it with their guns when they want to self-defend themselves – they are available in a variety of ranges, with manufacturers constantly working to improve their effectiveness. 
If you're not sure what you should be looking for when purchasing a silencer, consider some of the important factors listed below.
Silencers For Specific Calibers Vs. Silencer For All Calibers 
There are many silencers on the market that you can go for when deciding which is best for your pistol or rifle.
Several of the models are made to make sure that they will be compatible with most, if not all, calibers.
And, because the market need for suppressors is growing day by day, the manufacturers keep on innovating to produce silencers that are even more effective.
Caliber-Specific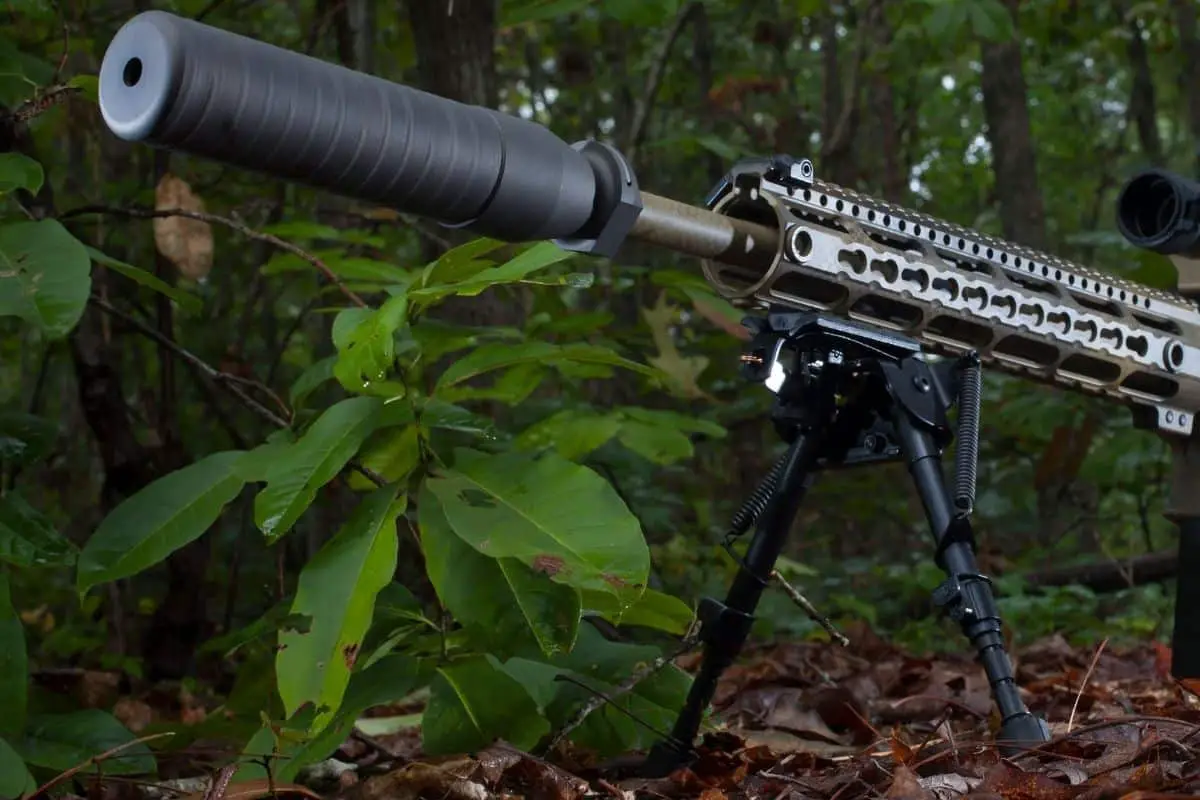 Originally, silencers were designed for a particular caliber, something that made their compatibility very low. Each gun was only compatible with one silencer, so you kind of had to buy them in pairs.
This caliber-specific model is still followed by some people, so you can always opt for that to save you time from choosing from a wider range.
Multiple Calibers
Finding a silencer that has compatibility with more than one caliber is very common these days.
These products can withstand a wide range of calibers without being damaged. Even though they might seem ideal, they do not adjust to all rifles.
A silencer's compatibility with the majority of weapons is critical for those with more than one gun who do not want to spend more money for different silencers to attach to each one of their guns.
Essentially, a multi-caliber ensures that even beginners can easily attach the silencer from one gun to the other. 
Nonetheless, what matters the most is for you to see what's more convenient for you. For example, while silencers that go with different calibers are simple to use, you need to constantly change them, whereas, with a caliber-specific suppressor, you can constantly keep it on your gun the whole time.
Type Of Mounting Method
Furthermore, it is important to consider the mounting method, as this is critical for the silencer to function properly. Silencers can be installed in a weapon in two ways.
Direct Thread
The direct thread is one method of mounting, and it is the easiest way to install your suppressor because it is free of complications.
It includes threaded firearm barrels that allow for easy installation. They can, however, become unscrewed if you shoot very often.
Quick Detach Method
Another option for mounting your silencer in a weapon is the quick detach mount. In contrast to the direct thread, this method allows for the attachment of additional accessories before the suppressor. Typically, these accessories are threaded, allowing the user to install suppressors.
Typically, these devices are threaded, allowing the user to install suppressors. Quick detach mounts come in a variety of styles.
Because the silencer is not attached directly to the nose, the locking quick-detach is great and acts as a mount that connects the silencer via brakes and flash finders.
Type Of Gun And Purpose
Different weapons have various levels of power, force, and caliber. The most notable change is the lengthening of the weapon.
Adding a suppressor usually results in a long gun and using a suppressor can make it harder for you to hide your gun. 
Even though these devices are available in a variety of sizes, long and short models are available.
As a result, and based on where and what you use them for, you need to get a silencer that has the perfect length for you.
For example, if you are working as a security man in closed spaces, you need to get a short silencer. On the other hand, if you are out hunting, you can go with as big of a silencer as you want.
Noise Minimization
The only reason to attach a silencer to your gun is to reduce the noise produced when firing. However, a silencer does not completely reduce sound, so you can still hear the gunfire.
The higher a suppressor's caliber rating is, the better the noise minimization to a gun with a smaller caliber size.
This makes suppressors a great piece of equipment, particularly if you have a multi-silencer that can make sure that the sound will be equally reduced for low-caliber weapons. 
Summary
It is without a doubt that the SilencerCo Hybrid 46 is very effective at dampening the noise produced by different weapons.
This piece of equipment is of exceptional quality due to the use of premium titanium combined with ultra-high-grade stainless steel, while it has a wide range of compatibility.
It is definitely a silencer that is worth investing money in, so do not think twice about it!