The Stribog SP9 A1 is a brand new semi automatic pistol. It is unique in many ways and is a great performing overall gun. There are many reasons why the pistol might have caught your eye.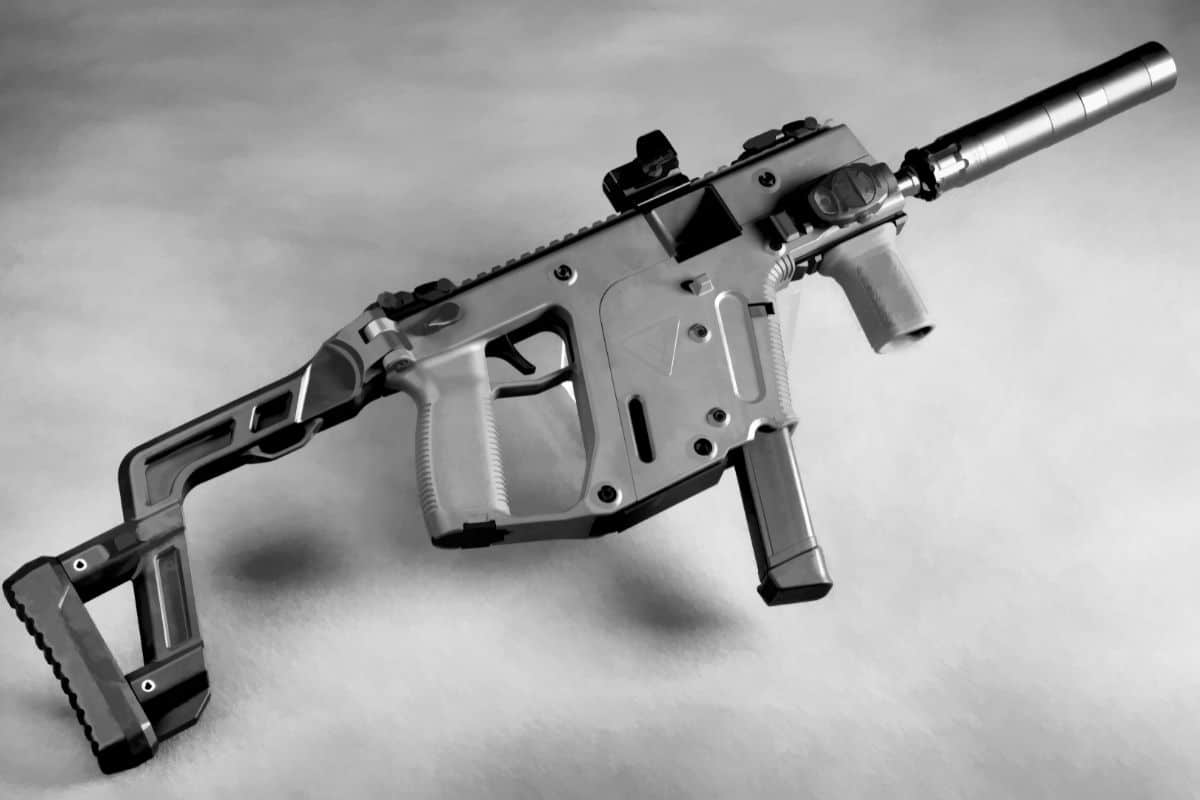 Are you considering purchasing the Stribog SP9 A1, but you're not sure if it's the best option for you? This review will explore all features of this gun and I'm confident it will really help you to reach your decision!
Why A Stribog SP9 A1? 
There are many reasons as to why this pistol may have caught your eye. It is a very good version of other guns of the same caliber.
We will go into further details about these positive attributes of the Stribog SP9 A1 later on.
While this gun has many great qualities, it is not particularly exceptional when compared to other guns, however it is very affordable and may tick all the boxes you need. Read on to find out where this gun comes out on top!
For the price of the handgun, the Stribog SP9A1 is a great pistol. It is a 9mm gun and is in competition with many others of its kind.
In  many areas, however, this gun comes out on top! Read on to find out where this gun flourishes.
High Quality 
This Stribog SP9 A1 is very high quality. The upper receiver is made from aluminum and the lower receiver is the lower part of the gun is made from polymer.
The pistol grip and the trigger pack are both also made from polymer. It feels really high-quality and so seems like a great product when you take it out of the box. 
The materials of the gun make a big difference, as a metal gun feels very specific. This gun is very affordable for a metal gun, and feels a lot better than fully polymer alternatives. 
Compact
This gun is fairly compact. It has an eight inch barrel, and its overall length is around 16 inches. This is great because it manages to fit in a longer barrel while still maintaining a compact length. 
Style And Design 
The Stribog SP9 A1 is fantastically designed. It looks the part, looking like the type of gun you would get in a movie set. It is quite unique and not recognised by everyone, making you stand out from the crowd!
Safety 
One of the most important features of a firearm is the safety of the gun itself. The safety of the Stribog SP9 A1 is great. It has many safety features to improve the safety of the gun. 
For instance, the firearm's safety system is intuitive and easy to use. The safety selector uses a more ergonomically designed shape which doesn't cut into your hand when the gun is fired.
The gun also has a safety brace which is very well placed. It doesn't interfere with any other part of the gun.
Features Of The Stribog SP9 A1
Pistol Grip 
The pistol grip of this gun is intertwined with the lower receiver. Because of this, you can't choose a pistol grip that is best for you, you instead have to use the one that is provided with the gun.
This is a shame if you prefer a certain type of firearm pistol grip. However, the grip that they have added to the gun is perfectly fine if you're not too fussy on certain types of pistol grips. For the price of the Stribog, this feature is fine. 
The grip itself is not very modern, as its angle is more slanted and doesn't sit flat. Allowing you to install your own pistol grip would have been useful here, if you wanted to change this factor about the gun.
The texture on the grip as well as the look of the grip are great, no complaints there!
Magazine Release
Whether you are left or right handed, the magazine release can be used easily. It is easy to use and can easily be reached with your fingers, no matter their length.
This means the gun can be easily and effectively used by anyone with any hand size and finger strength.
Bolt Release 
The bolt release, in contrast to the magazine release, is slightly harder to reach with your index finger. This should have been put a little bit further down for ease of use.
Apart from that, though, the bolt release is great. It is in a good position, above the magazine release. It is made of metal and so looks great. 
Because it is quite hard to reach, it can be quite difficult to use with the part of your finger that can reach it as it is relatively stiff. You can use your thumb instead which is much easier.
The Trigger 
The trigger of this handgun is fine. It works well, but does feel slightly plasticy. For the price of the gun, you couldn't expect much more than this mid range trigger.
Charging Handle 
The charging handle is a great feature of this gun. It can be switched from the right hand side to the left hand side of the gun, making it suitable for both left and right handed people.
The charging handle is simple and not over complicated and it works just fine for what it is needed for. 
Handguard 
The handguard is quite tall in comparison to the rest of the firearm and, for this reason, the guard is slightly more difficult to use.
The height of the handguard also makes it difficult to find any mounting accessories that fit the gun.
While the features mentioned previously make the gun great to use for ambidextrous users, the Stribog's handguard limits it in that way because it makes it difficult to set up in a way that works well for both.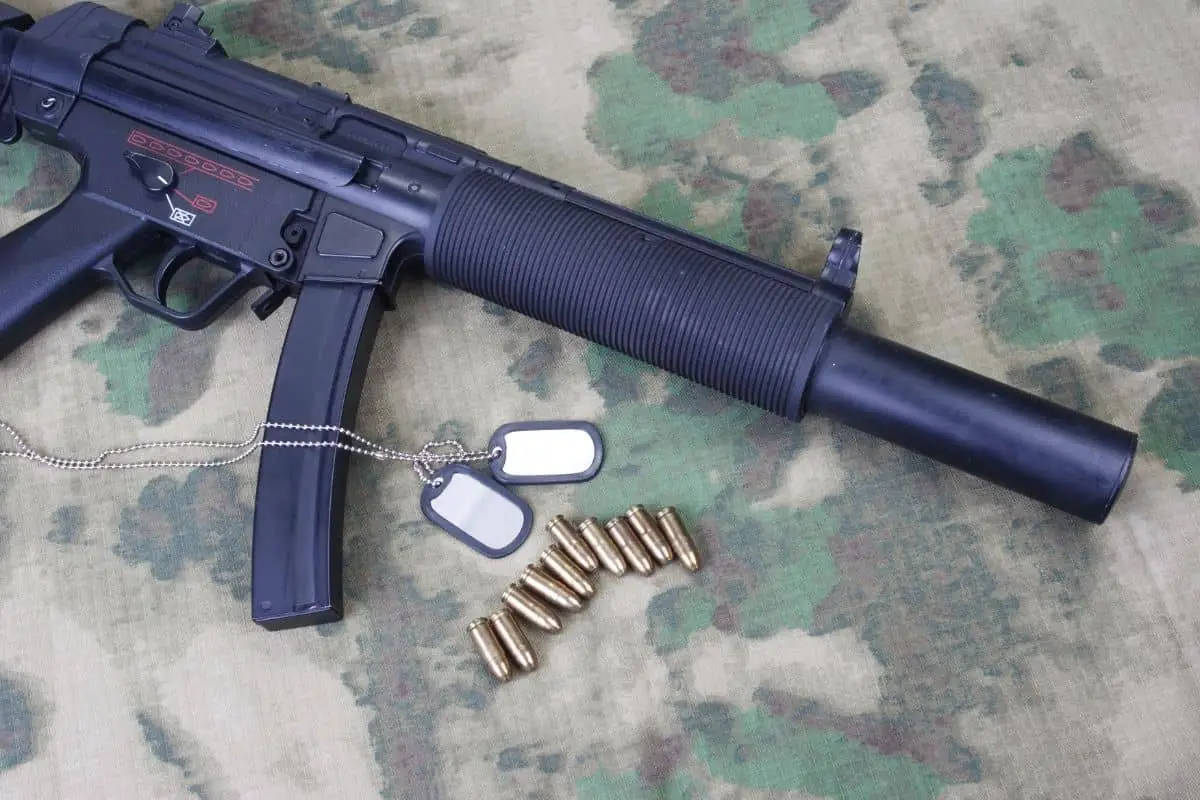 Suppressor 
When you use this gun with a suppressor, it goes really quiet. The suppressors work very well with this particular gun and stop the sound from traveling. This makes this gun an even more fun one to use!
What Accessories Work With The Stribog SP9 A1?
Many companies make accessories that are compatible with the Stribog SP9 A1 and we all know that accessories and additions really can make or break the experience.
There are also many mounting accessories that work great with this gun, so you won't be short on accessory choice. 
Adding a light to this gun is one of the hardest parts about it. Because of the layout of the gun, anywhere that you can secure a light accessory is quite difficult to reach.
This is due to the position of the handguard which is not far enough forward. If you can, try to attach the light to the other side of the gun to the hand you usually use.
For example, if you are right handed, attach it so that you can flick the switch with your left hand so as to free up some more hand usage.
The Shooting Experience 
You can study a product for hours and hours online but still not really know what it would feel like to shoot. I'm here to tell you that this gun feels great! It has a very soft recoil and it is extremely safe and reliable. 
The overall experience is fantastic. From inserting a mag into the magazine well, to pulling back the bolt, each step is very smooth.
There is a lot of weight behind the shot. The design of the gun is great to make it very smooth to flick off the safety.
It is much lighter than others of its kind which comes as a big surprise. The light recoil is a great feature and one that other competitors have struggled to achieve.
Overall, shooting this gun feels very comfortable, safe and easy to use. 
Frequently Asked Questions
What Size Barrel Does The Stribog SP9 A1 Have? 
This pistol is fitted with an 8 inch barrel.
Does The Stribog Sp9A1 Have A Safety Brace? 
Yes, this pistol does have a safety brace which is well designed and fitted so as to not cause any interference with other parts of the gun.
How Many Rounds Does A Stribog Hold? 
Stribog's hold 20 rounds.
Is The Stribog Reliable?
The Stribog SP9 A1 is a good pistol on the market. It is very reliable and is a very safe handgun. For the price, this gun is great.
Final Thoughts 
Naturally there are some flaws to the Stribog SP9 A1. You might not even call them flaws, simply some personal preferences that slightly missed the mark in my opinion.
Overall, however, this gun offers great value for the price. You will not be dissapointed!
The look and design of the gun is great and the metal that it is made from is a real pro! After reading this review, you should now know all the great features of this gun, and whether or not it has what you are looking for!
So, if you've found everything you need to know (and more, we hope) , get purchasing so you can begin enjoying this pistol in no time.