Once you have obtained your concealed carry license, you will then need to figure out how you want to carry your gun where it is concealed or hidden, yet still comfortable to wear. Concealed carry belts help you to carry your gun with you comfortably and effectively without the hassle of knowing where to hold your gun while you travel. 
No matter if you wear your gun every single day or only every so often, a concealed carry belt will allow you to have easy access to your gun if you are in a situation where you need to defend yourself or others quickly. 
The best belts for concealed carry depend on a variety of qualities that simply come down to what you need for your day today. Qualities that include fit, comfort, durability, material and more will affect what belt you choose. Fabric is another quality that will affect your decision, choosing between leather and nylon and what is more comfortable for you. 
When it comes to choosing a  belt for concealed carry, there are multiple factors that you want to think about before you move forward and purchase one. We have researched what to look for in concealed carry belts, the best material, as well as some top-rated products so you can know exactly what you need to look for when buying a concealed carry belt. In the article below, you will find the information you need to make an informed decision on buying a new concealed carry belt.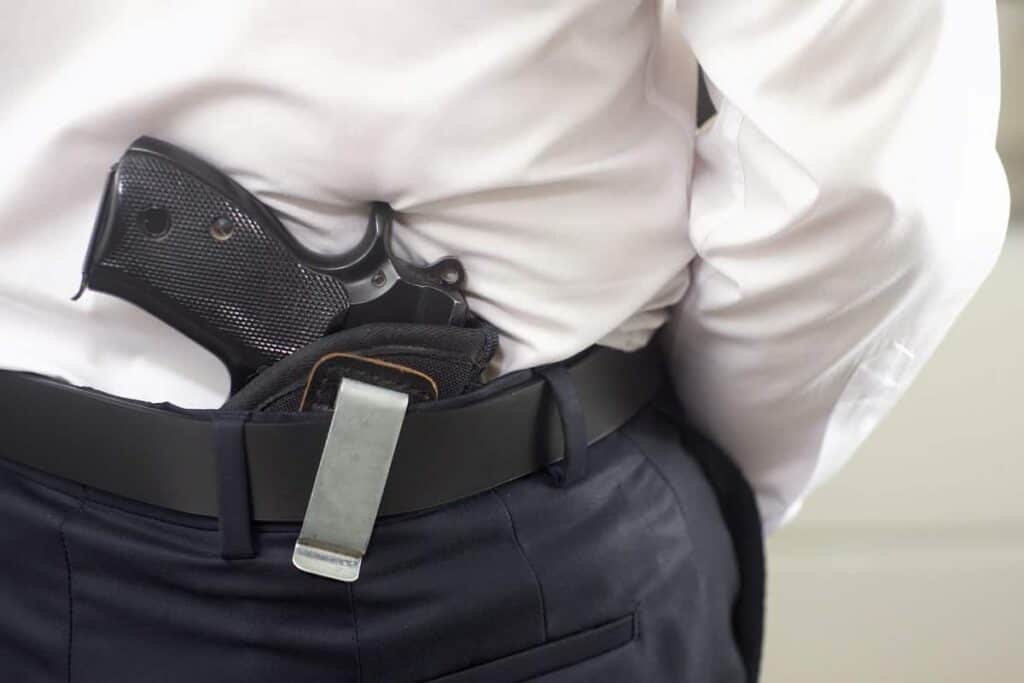 What Are The Best Belts for Concealed Carry?
The best belts for concealed carry truly comes down to personal preference and comfort. A leather belt for someone may be totally uncomfortable and in the way for someone else. Everyone has different body shapes that require different types of belt fit, so trying different styles and designs will help you decide which belt to go with. 
You may be thinking, why can't I just use a normal belt for concealed carry and add a holster. The difference between a belt made specifically for concealed carry and a regular belt is that concealed carry belts are made out of more durable fabric that will last for years. Concealed carry belts are tested and designed to carry the weight of your gun, so they are made to be more durable with added weight. 
There are multiple types of concealed carry belts that are made out of a variety of materials and each one has its pros and cons. We will go into detail about the different types of materials as well as the advantages and disadvantages of both below. 
What should I Look for in a Concealed Carry Belt? 
When it comes to the different attributes of a concealed carry belt and what exactly you need as the one wearing the belt, a lot of your options truly come down to personal preference. 
Comfortable
Fit
Durability 
All-day wear
Sturdy
Can hold different sizes of guns 
Comfortable 
If you are wearing your concealed carry belt all day every day, you want it to be comfortable and almost forget you are wearing it. Choosing a belt that is comfortable yet useful will help you to have the protection you need while still being comfortable. 
Fit 
Another factor is how a belt fits you and if you can easily access it quickly and effectively. While you are wearing a concealed carry belt all day, you need something that will fit well and not rub on your side all day long. 
The last thing you want is a belt that doesn't fit right and causes your gun to sag which may put you in a dangerous situation.
Durable 
When purchasing a concealed carry belt, it is an investment that should be able to be used for years to come. You never want your belt to start to fall apart, especially because it is carrying your gun which needs to be secured at all times. 
Taking the time to read reviews on the belt you want to buy will help you to narrow down what belt will hold up for the long haul and which ones are not durable or dependable.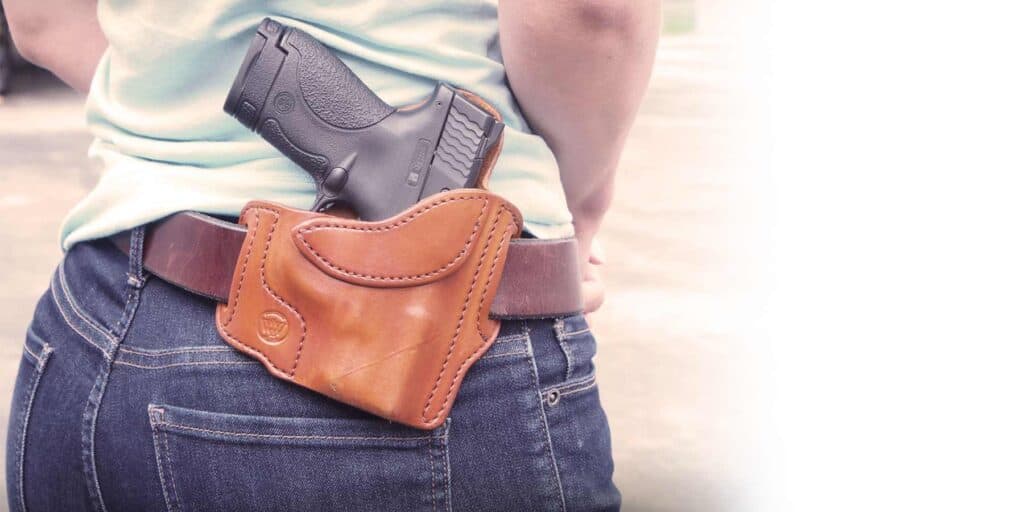 What Materials Are Available for a Concealed Carry Belt? 
As you are searching for your concealed carry belt, it is helpful to know what types of material are best for what you need as well as hold up for years to come. 
Nylon
Nylon material comes in a variety of thickness and durability. When looking for a Nylon belt, you need to look for nylon that is used for heavy-duty use, and not nylon that is made cheaply and sold cheaply. 
Nylon will hold up well for your concealed carry, but you also need to remember that it will be holding a good amount of weight so it needs to hold tension well. Gun belts made of high-quality nylon should be a great investment that will be able to be used for everyday use. 
Leather 

There is a variety of leather options when it comes to concealed carry belts and knowing the benefit of each is imperative to select one that will hold up with your every need. 
Leather belts should be judged based on the thickness of the leather. The thicker the leather belt, the better hold and guarantee that your belt will be comfortable throughout the day. 
If you are having a hard time finding a belt with thicker leather, you can also find leather belts that are doubled up with two pieces of leather put together. Having doubled up leather will provide the same comfort and durability as a thicker piece of leather. 
Leather is a great option to wear every day if you need to dress up for day to day, the leather looks better with any outfit and many will not even know you are wearing your gun. 
Recommended Concealed Carry Belts 2021 
As you continue to search for your concealed carry belts, we have rounded up our top recommended belts that will ensure you purchase a belt that will hold up to whatever you may need. We took the time to research the best-concealed carry belts for you to choose between for your 2021 shopping list. 
Klik Belts Tactical 
PROS:
Quick Release 
Multiple Color Options 
Durable Nylon
CONS:
Nylon, which may not be best for more dressy outfits 
A bit more pricey than most  
Sample numbered list.
Where to buy it: https://www.klikbelts.com/collections/1-5-2-ply-tactical-belts
Hanks Gunner Belt 
PROS:
Durable Leather 
Reasonably Priced
Fashionable and Functional 
CONS:
No small sizes 
Thicker than most
More expensive 
Where to buy it: https://www.hanksbelts.com/products/hanks-gunner-leather-gun-belt
Steel Core Belt 
PROS:
Tough and Durable 
Strong steel core
Will not sag
CONS:
Few color options
Smaller than 1.5-inch thickness
Steel core may shift over time
Where to buy it: https://www.amazon.com/dp/B07DXG1Q6T?tag=legionary-20
Bigfoot Gun Belts 
PROS:
Comfortable for everyday use
Strong steel core
Accommodates multiple gun sizes
CONS:
Few color options
More expensive 
Steel core may shift over time
Where to buy it: https://gunbelts.com/
Blue Alpha Belt 
PROS:
Low profile option 
Two layers of Nylon
Lifetime Warranty
CONS:
Nylon may not look as nice for fancier outfits 
Made to order, may take a while to arrive
Few color options
Where to buy it: https://www.bluealphabelts.com/product/hybrid-edc-belt/
Wolf Tactical Belt 
PROS:
Two-ply
Rip resistant
Will not sag
CONS:
Few size options
Few colors to choose from 
Steel core may shift over time
Where to buy it: https://www.wolftacticalusa.com/collections/heavy-duty-belts
Kore Essentials Reinforced Belt 
PROS:
Reinforced
Adjustable track, multiple sizing options 
Durable leather and nylon options
CONS:
More pricey 
Few colors to choose from 
The adjustable track may wear down over time
Where to buy it: https://www.koreessentials.com/collections/gun-belts
Daltech Force Belt 
PROS:
Reasonably Priced 
Lifetime Warranty 
Strong Leather 
CONS:
Some belts more pricey 
Different smell 
Not as rigid as most
Where to buy it: https://www.daltechforce.com/collections/gun-belts
Relentless Tactical Gun Belt
PROS:
Lifetime Warranty
Durable leather 
Won't  sag 
CONS:
Few colors to choose from 
Few small sizes
More pricey
Where to buy it: https://relentless-tactical.com/collections/gun-belts
CrossBreed Holsters & Belts 
PROS:
Fashionable
Holds a variety of gun sizes
Durable leather 
CONS:
More pricey 
Hard to lock to size 
Noisy buckles
Where to buy it: https://www.crossbreedholsters.com/crossover-gun-belt.html
Frequently Asked Questions
Why do I need a concealed carry belt?  
More and more people are deciding to obtain their concealed carry license in order for their family to always be protected. Many people feel more confident when they have the ability to protect themselves and their families in the case of an emergency. 
What should I look for in a concealed carry belt?
When you are searching for a concealed carry belt, it truly comes down to what belt fits you best, and the durability of how long the belt will hold your gun safely and effectively. 
Can I replace my concealed carry belt if I have an issue?
Most of the companies mentioned above offer a lifetime warranty on your concealed carry belt, allowing you to have confidence that if you have an issue you can get it fixed easily. 
Conclusion
Whether you are choosing to buy a concealed carry belt that you will wear every single day or one you will only use on special occasions, deciding the exact reason you want to conceal carry your gun will help you narrow down exactly what you need. Leather and Nylon are the typical fabrics that concealed carry belts are created out of and each has its own benefit. Both fabrics hold up well, leather is more fashionable and can be worn with all outfits. Nylon is incredibly strong and durable, but if it is cheaply made it will deteriorate quickly. Fit, comfort, and durability are what you should look for in a concealed carry belt, and you ultimately have to decide what belt feels best to you.
---
OUR RECOMMENDED TACTICAL GEAR LIST:
---