In this tumultuous world of ours, protecting yourself from deadly threats is a vital part of life. While you may consider ceramic body armor to protect from knives and guns, it can become cumbersome and pronounced. To better protect yourself while maintaining a discreet level of armor, you should consider bulletproof clothing. 
In recent years a large number of brands offering differing layers of protection have popped up. Non-intrusive and comfortable, no one will know a layer of armor protects you. Here we will take an in-depth look at the top five bulletproof clothing brands. 
Understanding NIJ Levels
The National Institute of justice creates the standards for quickly labeling what types of rounds a particular set of armor can defeat. The armor is extensively tested and must stop three rounds of a specific caliber from being rated. 
Before you can set off in search of the perfect defensive shirt, you must first understand NIJ Levels and what protections bulletproof clothing offers. 
Level I: The lowest level of protection can defeat only the smallest rounds, such as a .22 handgun. You Will not often see Level I protection offered any longer. 
Level II: Another rating that is going out of style within the market, Level II armor can stop most common handguns like 9mm and .357.
Level IIIa: Level IIIa is the most common you will see for soft and concealable armors. It is rated to defeat handgun rounds of nearly all sizes, up to a .44 Magnum.
Level III: The first level to offer rifle protection against standard rounds like a 5.56, Level III is where you start to need ceramic or steel plates for defense. 
Level IV: The highest level of protection available Level IV has been NIJ rated to defeat armor-piercing rounds. This level of protection comes at a premium and is exclusively plates.
Most of the products discussed here will be level IIIa or III as anything higher rated often sacrifices discretion for protection. 
MC-Armor by Miguel Caballero
First up on our list is the collection of exquisite armor available in MC-Armor's online store. Beginning operation in 1992, Miguel Caballero has provided high-quality armor crafted in Florida and Colombia for almost three decades. With an emphasis on protection, this fashionable brand comes at a slightly higher price but beats the competition in comfort and review ratings. 
It may sound strange as the founder Miguel Caballero has a habit of shooting volunteers and partners who wear his armor. This extreme level of confidence held by Mr.Caballero has not been shaken, as over 230 volunteers have taken the chance with the armor not failing a single time. With first responders and law enforcement in mind, MC-Armor is a tested brand that has saved lives. 
The online store has a general focus upon easily concealable underclothes armor. The undershirt and soft armor would appear to be their specialty. There are a few jackets and even a blazer or two available with the intention of having a simple few high-quality items. That is not to say they do not offer more than is shown on the storefront as tailor-made suits and jackets are their featured service. 
Getting a tailor-fit bulletproof jacket may seem excessive, but it can offer peace of mind while still looking incredibly good. Not only are suits available at MC-armor but also incredibly comfortable and colorful garments for ladies as well. Downloading their online fitting guide and brochure can help inform your choice of whether to go with this luxury brand. A few of our favorites from MC-Armor include:
The Perfect Tanktop
Stellar Armored Jacket
The Tailor-Made Collection
Up next, we'll detail each of these popular pieces of protective body armor from Miguel Caballero's collection. 
The Perfect Tanktop 
Slim fitting and lightweight, this tank top comes in male and female cuts. It is ballistic rated by the NIJ at Level IIIa. Discreet and with front and back plates, you can not go wrong for under-the-radar protection. There is even a model that has soft side plating, at a slightly higher cost. The Perfect Tanktop is available in both white and black. Purchasing this shirt will set you back in the neighborhood of 799$.
Stellar Armored Jacket
Much bulkier than a tank top, the armored jacked offers a greater degree of protection from gunfire and the cold. Level IIIa this bulky coat creates a considerable barrier for slashing and stabbing weapons as well. The Stellar Armored Jacket retails for 999$. Protective and stylish, their Tailor-Made collection is the most extensive catalog available from MC-Armor. The prices vary depending on the style and size you want. It can range from 700$ to upwards of 10,000$ for a full suit.
Talos Ballistics
One of the largest collections on this list, Talos Ballistics, has a wide variety of armored clothing options. Their website offers other things such as bulletproof backpacks and ballistic plates. With their primary focus on clothing, Talos does not slack when it comes to providing a variety. 
Stated to have over 30 years working with law enforcement and government contracts, they have the experience to provide armor for nearly any person. Talos' collection includes:
Bulletproof Clothing
Ballistic Inserts
Bulletproof Bags and Backpacks
Boys and Girls Bulletproof Fleece Vests
Less focused on high-end products than MC-Armor, Talos had various armored clothing options for children and teens. They are committed to ensuring armor fits well and can protect anyone. 
Talos Bulletproof Clothing  
With everything from undershirts to jackets and vests, they have every type of wear you could need. The  Talos Hooded Raptor Jacket is my personal favorite as its simple hoody design can go with nearly any outfit. Their ballistic fleece vests even offer the option to get "full wrap" protection. This option has ballistic protection go all around the torso and is perfect for younger wearers to provide the highest level of defense.
Ballistic Inserts 
If you already have a set of armor, Talos has several different sized soft and rigid armor inserts. With SAPI cut front and Full Cut backplates, you can fill in the gaps of your armor. You can also use the small rectangular inserts for K-9 armor should you need to protect a four-legged officer. 
Bulletproof Bags and Backpacks
Rounding out the extensive Talos store is their collection of armored bags. Accepting Level IIIa armor inserts the backpacks and messenger bags can be a less obvious form of protection. The bags retail for 290$ and up, but this price does not include the additional bulletproof panels.
Boys and Girls Bulletproof Fleece Vest 
Protection for your little one is offered by Talos in four different sizes and five distinct colors. The Panels can be easily slid out for cleaning the fabric portion of the vest. This subtle and warm vest has the same Level IIIa protection as other soft body armors.
Bullet Blocker Brand
Similar to Talos, the Bullet Blocker store offers a wide range of various products intended for both civilians and law enforcement. Started in 2007 by army veteran Joe Curran, this is one of the newer brands on this list. Since beginning in Massachusetts as a small shop, they have grown to be featured on programs such as the Boston Herald, ABC News, CNN, CNBC, Fox News, and The New York Times.
Mr. Curran was inspired to create the Bullet Blocker brand of clothing by the unfortunate Virginia Tech Massacre. As he wanted to protect his children, Joe set out to create something unique. This brand has a family focus not found in other stores that provide excellent protection for everyone. If you do not want to order online, they have many Dealer Locations throughout the United States. They even have international dealers, offering slash proof clothing throughout Europe and Southern America. Here are some pieces available from Bullet Blocker Brand:
The Bug Out Vest
School Safety
Bulletproof Collar
Custom Projects
Holding to their ethos of protecting all, the Bullet Blocker Brand is one of the most widely available bulletproof clothing brands. Let's dive into the details of Bullet Blocker's latest and greatest innovations on the body armor market.
The Bug Out Vest
Taking guidance from those known as "Preppers," they developed a soft body armor solution that has all of the carrying capacity you would ever need. With ten pockets that vary in size from ammunition storage to large enough for a first aid kit, you can store the essentials on your person. A concealed carry friendly handgun pocket ensures you will never be without protection.  
Bulletproof Collar 
An example of the niche things available on Bullet Blocker, this collar protects the neck, base of the spine, and upper torso. The bulletproof collar goes best when paired with a set of torso protecting plates. 
School Safety
Due to the timeline we live in, there is a genuine concern for ballistic protection within high schools across the nation. At Bullet Blocker, they expand upon the bulletproof backpack by offering a large assortment of options. Most retailers stick to primary colors and one or two styles. Here they have at least twelve different types, all with armored insert pockets. Even if they don't carry what you want, Bulletproof Blocker will custom tailor a bag.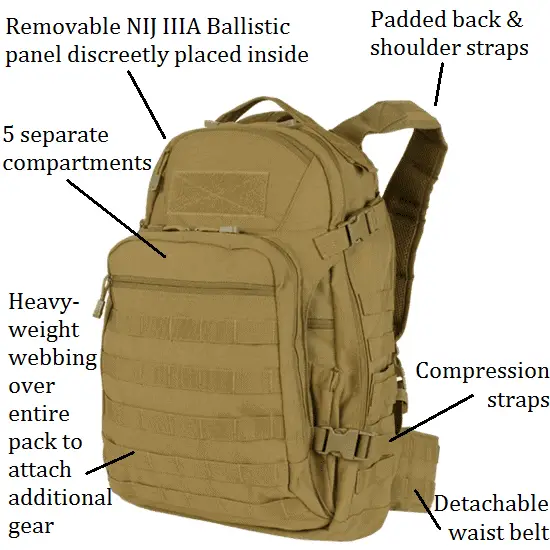 Custom Projects
When they say they will make anything custom-tailored, they are not kidding. Everything from a preacher lectern to an armored office chair inserts nothing is out of reach. Their custom prices are not as extreme as others. Offering a suit for around only 1500$ is nearly half of the other creators.
Bladerunner Slashproof Clothing
Stepping away from the purely bulletproof is the British company Bladerunner. Offering slash proof clothing, they help defend you while not being as expensive as Level IIIa protection. The clothes provided here are considered more everyday wear and to protect against knife attacks. 
While they focus upon anti slash clothing, Bladerunner has a small offering of bulletproof options. Slashproof clothing is often an underrated type of body armor, although it shouldn't be. Some important components in this collection include:
Anti-Slash Jacket
Cut Resistant Gloves
Head, Neck, and Knee Protection
The stock is limited to concealable vests and jackets, as their protection is not as robust as others with Level II and Level IIIa options available. Additionally, they also have stab-resistant plates, meant to be worn underneath the clothing, offering a thin profile and not revealing your armor. 
Anti-Slash Jacket 
With a slash-resistant jacket protecting your entire torso, it can save you from a nasty confrontation while being worn as regular streetwear. Retailing for 124 £ (about 165$), the most common jacket is not much more expensive than most high-end retailers. 
Cut Resistant Gloves
Protecting your hands can be just as important as protecting your vital organs. If your hands become disabled in a dangerous scenario, then the likelihood of death increases dramatically. Made with Kevlar and steel mesh, the gloves offered by Bladerunner are guaranteed to defeat the cutting edge of a knife and keep your precious fingers safe. Like most everything in their store, the cut resistant gloves are a fair price ranging from 20£- 38£ (26$- 50$ USD).
Head, Neck, Knee, and Wrist Protection 
Protecting your vital areas such as your neck or the back of your knees, they have a unique offering of products specifically for each. With a stylish scarf or forearm protecting slash-resistant sleeves, you can find protection for most of your body.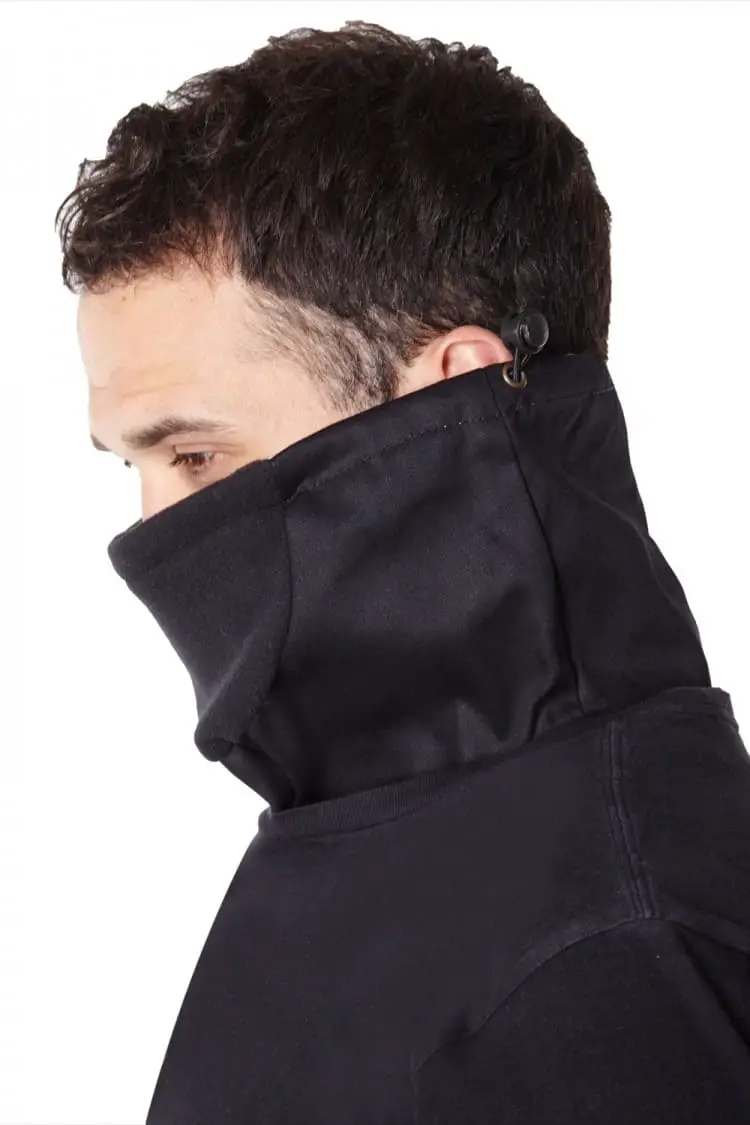 EnGarde
Available in numerous retailers, EnGarde is a standard for concealable body armor. They do not offer much traditional clothing like other manufacturers on this list, only offering a tank top that can accept soft plates. They make up for this by providing high-quality flexible plates and thin concealable body armor made to go underneath your professional clothing, like the:
Soft Armor
Hard Armor
Flak Jackets
Specialist Gear
Engarde has spent almost twenty years providing armor for law enforcement and doctors and relief workers for use in the most dangerous climates. Still owned by the same people who started it in 2003, EnGarde operates out the Netherlands, shipping worldwide. 
Soft Armor
Level II and IIIa armor is available in their specific cut. Please note that they have specifically designed the soft armor of EnGarde for wear within their concealable vests. Some brands will be able to fit the EnGarde soft inserts; however, they do not come in the standard sizes or cuts. 
Due to its soft body armor's uniqueness, the EnGarde brand is well known for its incredible durability and unmatched flexibility. EnGarde concealable armor is intended by the manufacturer to be worn daily by professionals and thus is harder than other soft armors on the market. 
Hard Armor
EnGarde is one of the few manufacturers to offer Level III protection with a concealable vest. The Dual-Use Series is a pair of layered inserts allowing for a soft concealable insert to be changed into a hard Level III plate. They also offer a Level IV plate you can place into most standard size plate carriers. 
Flak Jackets 
With added neck, shoulder, and groin protection, the "Panter" and "Leopard" series are overt armor for non-combatants and specialists, respectively. With inherent Level IIIa protection, you can upgrade these models to Level III or IV with more cumbersome ceramic or steel inserts.
Specialist Gear
The "Puma Series" is a set of high visibility gear intended for police use and comes with a large number of convenient frontal pockets. However, the real star of the specialist is their "Executive Series" of body armor. Made to resemble that of a high-quality button-down vest, EnGarde designed the Executive to protect VIP's and their entourage while not appearing to overt. NIJ Level III rated this appealing bit of armor has been tested to defeat small rifle rounds.
Special Contender, Garrison Bespoke
If your bulletproof clothing price is of no object, then perhaps you should consider purchasing a bulletproof suit from Garrison Bespoke. The Toronto based upscale tailor has begun to offer a specially made NIJ Level IIIa Bulletproof and Slashproof suit. You can live your dreams of being a real-life John Wick, or go with confidence that you are looking good while also being protected by a later of advanced bullet defeating fabric. 
Working alongside US special forces, they created a new type of nanotube technology that is light but powerful. Flexible and roughly 50% more lightweight than Kevlar, the proprietary material used in Garrison Bespoke suits is unmatched. The entire suite comprises the nanotube fibers, creating a full-body armor akin to old knights.
The Garrison Bespoke bulletproof suit is no joke as it offers some of the most consistent protection on the market. This level of luxury woven into armor does not come cheaply as the company estimates a price tag of 20,000$ for the average suit. This suit is for the bigshot international businessman or security-conscious world leader, as Garrison Bespoke suits would be out of the realm of possibility for most of us. However, this newly developed armor shows just how far protective clothing has come in recent years. 
Bulletproof Accessories
While the heart and lungs are the most important places to protect with body armor, there are quite a few niche operations and accessory manufacturers with broken traditional armor mold. 
Bulletproof Baseball Cap
The Bulletproof Baseball cap is a product of armor manufacturer Bulletsafe. With an armored plate centered on the front of the head, the ballcap protects your brain from projectiles. Priced at 129$ and weighing just 8 ounces, the cap is made to NIJ Level II standards, meaning it protects from most types of handguns. This product gives police and frontline workers a little extra protection without seeming unapproachable or having to wear a heavy military-style helmet.
Bulletproof Backpack
Offering the "World's Safest Backpacks," Leatherback Gear has a very unique take on the armored backpack concept. Some of their models offer a two-panel protection option that allows you to convert the bag into a bulletproof vest. While having a backpack for a vest may seem comical, it can be lifesaving as you can purchase backpack plates with armor ratings all the way to Level IV.
Guard Dog Security is unique on this list as their only bulletproof option is for many different backpack styles and has a wide array of self-defense and protection products. Focused upon non-lethal protection Guard Dog has a wide range of stun guns, pepper spray holders, steel batons, and many more accessories to ensure you are safe while out. 
Bulletproof Safety
The Bulletproof Safety Seat is another one of Bullet Blocker's novel bulletproof accessories. This seat cushion is intended to be used within the office or classroom, acts as a shield of sorts with thin bands to slide your arms into and protect your upper body. 
Honorable Mentions
Bulletproof Clothing FAQs
Any of the brands listed above will provide quality bulletproof clothing for you and your family. However, there are a few other things to consider when choosing the right pieces and where to make your investment.
Can I Bring My Bullet Proof Clothing onto an Airplane?
Within the US, it is acceptable to wear bulletproof clothing in an airport and on a plane. That said, you will most likely stand out if wearing overt armor or attempting to go through a metal detector with plates rigid plated inserted. Being able to fly with comfort is precisely the scenario where bullet and slash-proof clothing excels. 
Are the Sleeves of Bulletproof Clothing Protected?
The sleeves of a jacket are not armored. As for any level of bullet protection, there needs to be a plate inserted. There are slash resistant sleeves that you can wear underneath clothing. Some places, such as Bullet Blocker, will do custom orders and may be able to protect some portions of your arm. 
Is Bulletproof Armor Stab Resistant?
Bulletproof inserts are resistant to puncturing weapons but are not rated to be so. Rigid body armor plates will do a much better job of stopping stabbing attacks but can deflect the blade into areas that are not protected. In short, they will save you but are not by design, intended to do so.
How Long Does Bulletproof Clothing Last?
Most armor plates, both soft and rigid, tend to have a life of around five years. Some retailers, such as MC-Armor, offer guarantees for upwards of ten years, but this is an exception. Before donning your armor, you should always check for cracks or marks that indicate wear. Wearing a damaged or outdated piece of armor can sometimes be about as useful as not wearing it in the first place. 
Final Thoughts
Bulletproof clothing fills a necessary niche in the market, offering concealable protection and a variety of prices. For those in law enforcement going undercover and any first responders or reporters in the line of fire, it can be a literal lifesaver. 
The world is ever-changing and swiftly becoming a more dangerous place in some areas. Many bulletproof manufacturers have taken into account the entire family, providing solutions for men and women alike. 
It is crucial to keep in mind that no armor is genuinely bulletproof, and most soft plates will only defeat rounds fired from handguns. If you perceive the threat to be greater than a street thug with a revolver, perhaps you should consider purchasing a more overt set of armor. For those operating overseas, where anonymity is a must, soft armor may be the only protection they can afford to wear. 
By purchasing a set of armor, you are taking your life into your own hands. Everyday wear hoodies and undershirts make it possible for you to go almost anywhere while still being protected. Investing in armor, even in a slash-proof shirt, can bring peace of mind and is an investment in your future.