Ever since the first humans discovered fire, we've been obsessed with light. In fact, it wouldn't be an exaggeration to say that without light, there is no civilization. Ancient people used fire to keep warm and to frighten away predators. Virtually every religious tradition, from the Egyptians to the Hebrew Bible, begins with the light being separated from the darkness. Times have changed, and we no longer use fire for everyday illumination. But we do rely on electricity, which raises the question of what you do when the power goes out. A good flashlight can help you get by. A flashlight is also portable; you can take one camping, or use it to find your way to your hunting blind. But not all flashlights are equally worth owning. If you want a light that lasts, you'll want one with a rugged aluminum body and a water-resistant design. That's why we've set out to find the world's best large tactical flashlight. Let's get started!
Large Tactical Flashlight Buying Guide
Before we go any further, it's important to talk about what makes a tactical flashlight worth buying — or worth passing up on. Keep in mind that not everyone has the same needs. For instance, you might prefer a larger or a smaller light for better power or portability respectively. Since we're focusing on large tactical flashlights, we'll be looking primarily for more power. Here are some of the factors you should consider when choosing your light.
Light Output
From a larger flashlight, you expect to get more overall illumination. This much should be a no-brainer. But how much is enough? Light output is typically measured in lumens. Anything over 1,000 lumens could be considered very bright. Anything over 500 lumens will be usable in most outdoor situations. 200 lumens is fine for most indoor settings. Less than that, and you're looking at a small reading lamp or night light. But there's more to light output than just having a large maximum. Ideally, you want to have a variety of settings. 1,000 lumens might be great if you're scouting for a campsite after dark. But if you're walking to the bathroom in the middle of the night, it's going to be blindingly bright. Not only that, but brighter settings will drain your battery faster. If you want to maximize your battery life, you'll want to use the dimmest setting that's good enough for the job.
Bulb Modes
During normal use, your flashlight is either on or off. But there are situations where you might want your light to flash in a pattern. In that case, there are a few options you should be looking for. First, most tactical flashlights have an SOS mode. This can be used to signal for help in an emergency. Similarly, you'll often see an ordinary strobe mode. This is useful for non-emergency signaling since it won't cause strangers to panic. Moreover, some tactical lights have a full-lumen burst mode. In this mode, the bulb briefly exceeds its ordinary maximum brightness to release a brilliant flash of light. Typically, a full-lumen burst is used to blind an assailant. It's not foolproof, but it can give you a critical advantage in a sticky situation.
Beam Profile
There's no ideal one-size-fits-all beam profile. A narrower beam is better for focusing on details, like working on an engine. A wider beam is better for surveying large areas, or for lighting up a room. A good tactical flashlight should allow you to switch between different beam profiles. In most cases, you can do this either by pulling or twisting on the lens housing. If a flashlight's beam isn't adjustable, you should give it a hard pass.
Battery Life and Type
It should go without saying that more battery life is better. But having a long-lasting battery is only part of the equation. It also matters how easy the battery is to charge or replace. Some tactical flashlights use standard AA or AAA batteries, although this is becoming less common. These batteries are easy to replace, but replacement costs can add up over time. Other tactical flashlights use replaceable rechargeable batteries. Depending on the design, these can be charged via USB, or the batteries may need to be removed for recharging. The advantage of this design is that you can buy extra batteries if need be, and swap them in as needed. Finally, some tactical flashlights have built-in custom batteries. These charge via USB, and the batteries tend to last longer than others. However, they can't be replaced when they eventually fail.
Physical Construction
So, besides being large, what else do we want from our tactical flashlight's design? To start with, we want durable anodized aluminum construction. We'd also like the light to be waterproof, so you can safely use it outdoors. Another thing to look for is the bezel, and whether or not it's designed for striking. Many people think that toothed bezels are designed as weapons, but that's only a secondary function. Their primary purpose is for survival since they can be used to safely break auto glass in an emergency.
ZeroHour Relic XR2
The ZeroHour Relic XR2 is constructed from black anodized aluminum and measures 6.25 inches long. This puts it on the larger side for a tactical flashlight, which is what we're looking for. The main barrel of the body is fairly slim, with wider portions at the back and the front. The rear housing sports a rubber tail cap light, which makes it easy to control the unit. At the front, you can twist the bulb housing to adjust the brightness, or pull to change the shape of the beam. The Relic XR2 has a water-resistance rating of IPX8. This is the highest water-resistance rating available, and requires custom testing. Because the testing requirements are custom, it's hard to say exactly how water-resistant it is. However, it must exceed IPX7, which means it can be submerged at at least one meter of depth for a minimum of 30 minutes.
Clicking the button on the back of the light will cycle through four different modes. The first two are a bright strobe and a bright blink, which both work at the maximum brightness of 2,000 lumens. The difference is that the strobe is faster, while the blink is slower. The third setting is variable brightness, which you'll want to use most of the time. In this mode, you can adjust the brightness anywhere from 0 to 2,000 lumens. This makes it easy to get exactly the amount of light you need. The fourth mode is what makes the Relic XR2 really shine, no pun intended. In this mode, it works as a power bank, so you can use it to charge your smartphone. The 3,100mAh battery only holds enough juice for about a single charge on most modern phones. Still, it can be used to get you out of a jam. On other settings, the USB Type-C port is used to charge the battery.
SOG DE-06 Dark Energy 750A Tactical Flashlight
The SOG DE-06 Dark Energy 750A Tactical Flashlight has perhaps the most unique texturing of any flashlight on our list. Instead of a simple diamond or grid pattern, the texture at the front and rear of the light is spiraled. This is more a cosmetic choice than anything else, but it's also easy to hold onto. The overall length of the light is six inches, with a wide lens housing and narrower grip and back. The front sports a toothed bezel, which is ideal for smashing auto glass. The DE-06's water-resistance rating is IPX7. This isn't quite as good as the XR2, but it's still pretty effective. This flashlight can be submerged for three meters for 30 minutes, so dropping it in a puddle isn't going to do any damage.
The battery is a rechargeable 18650, which is a standard size that's easy to source. They're commonly used in cameras and vape pens, among other devices. This means you can easily source more batteries if you want spares. On the minimum light setting, a battery will last for just over four days. On higher settings, it will last for a few hours. That said, the flashlight itself doesn't plugin. Instead, it comes with an external charger for topping up your battery. The DE-06's maximum brightness is 687 lumens, but you can cycle between different modes by tapping the button. A second tap will lower it to 40 percent, and a third will drop it further for use as a night light or reading light. Additional taps will put it into flash or strobe mode respectively. Overall, the maximum brightness isn't as high as our other lights, but it's plenty for indoor use, or for short-distance outdoor use.
Nitecore TM03 Tiny Monster Tactical Flashlight
At 6.25 inches in length, the Nitecore TM03 Tiny Monster Tactical Flashlight is fairly long, but it's also slender, with a very narrow grip. This design widens out significantly towards the front, where the lens is housed. The housing is textured for an easy grip and constructed from black anodized aluminum. The lens is also very durable, constructed from scratch-resistant mineral glass. This flashlight is rated IPX8 for water-resistance. In fact, Nitecore even tells us their testing standard; the TM03 can be submerged at a full two meters for at least 30 minutes.
The maximum brightness is 2,800 lumens, which is glaringly bright. However, you can tap the rubberized tail button to cycle through three lower settings as well. There's also a metal mode button that activates a bright, 2,800-lumen strobe for blinding attackers. The light is powered by a 18650 battery, which is included in the package. However, there is no USB charging capability, and no charger included. Since 18650 batteries are expensive to replace, you'll definitely want to invest in a charger.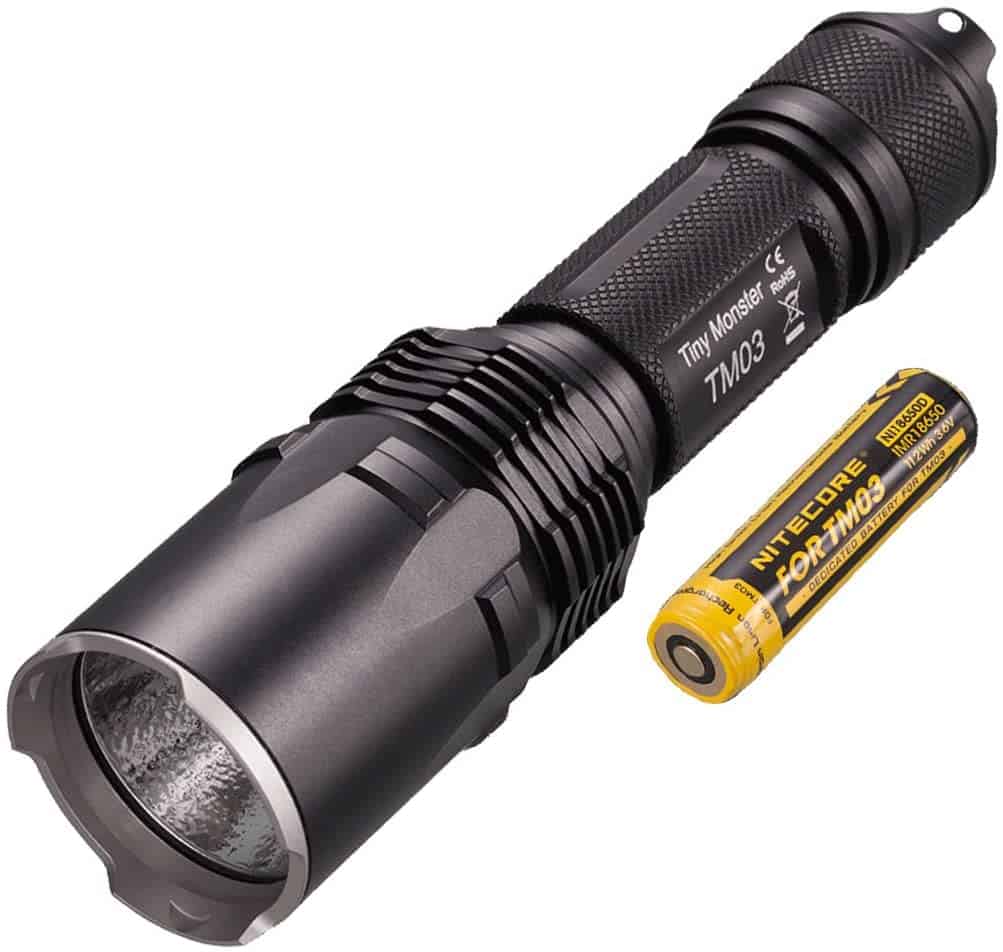 Pelican 7600 Rechargeable Tactical Flashlight
The Pelican 7600 Rechargeable Tactical Flashlight has a smooth body rather than textured, with a slender housing that measures 6.19 inches in length. It's engineered from anodized aluminum, with grooves on the barrel for a better grip. There's also a toothed bezel on the front. The water-resistance rating is IPX8, so it can easily withstand full submersion. It's also covered by a lifetime warranty, so you're protected from any failures.
The 7600 is powered by an internal rechargeable battery, which charges via Micro USB. At its lowest setting, it will run for 29 hours, while it will run for just over three hours at the highest setting. There are three brightness settings in all: 944 lumens, 479 lumens, and 37 lumens.  This gives you a reasonably wide working range, without being overcomplicated. Cycling through the modes is easy, by tapping on the button. You can also cycle between three different LED colors: white, red, and green. This is done by twisting a rotating collar on the rear of the lens housing.
When most people think of a large tactical flashlight, they think of one that's longer than average. The Olight X7R Marauder Flashlight goes the opposite direction. Its length is only medium, at just over five inches. However, it has a large, 2.67-inch diameter, which makes it ideal for people with larger hands. The aluminum finish is smooth, rather than textured, but it's still easy to hold on to, thanks to milled finger grooves that run vertically along the barrel. The water-resistance rating of the X7R is lower than the other lights on our list, at "only" IPX7. But IPX7 still means it's rated for full submersion. Rain won't damage it, nor will be dropping it into a creek. The internal battery is completely sealed, so it will stay dry under virtually any conditions. It recharges via USB Type-C, so it's easy to plug in and top off anywhere. It also offers up to 30 days of runtime, albeit on the lowest "firefly" setting. At higher power levels, this quickly drops to more normal levels in the order of a few hours.
The X7R's maximum brightness is 12,000 lumens, which is absolutely insane. Forget about lighting up a football field. This beam will cast as far as a quarter-mile, more than you'll ever need to see. On the other hand, if you're trying to blind an assailant, 12,000 lumens should do the job. Tapping the button on the base will cycle through light settings, and can also activate the strobe setting. There are also proximity sensors built into the front of the housing. These will automatically adjust light output as needed. So when you suddenly light up a nearby object, the bulb will dim accordingly. Better yet, a thermal management system will automatically decrease brightness if the flashlight starts to overheat.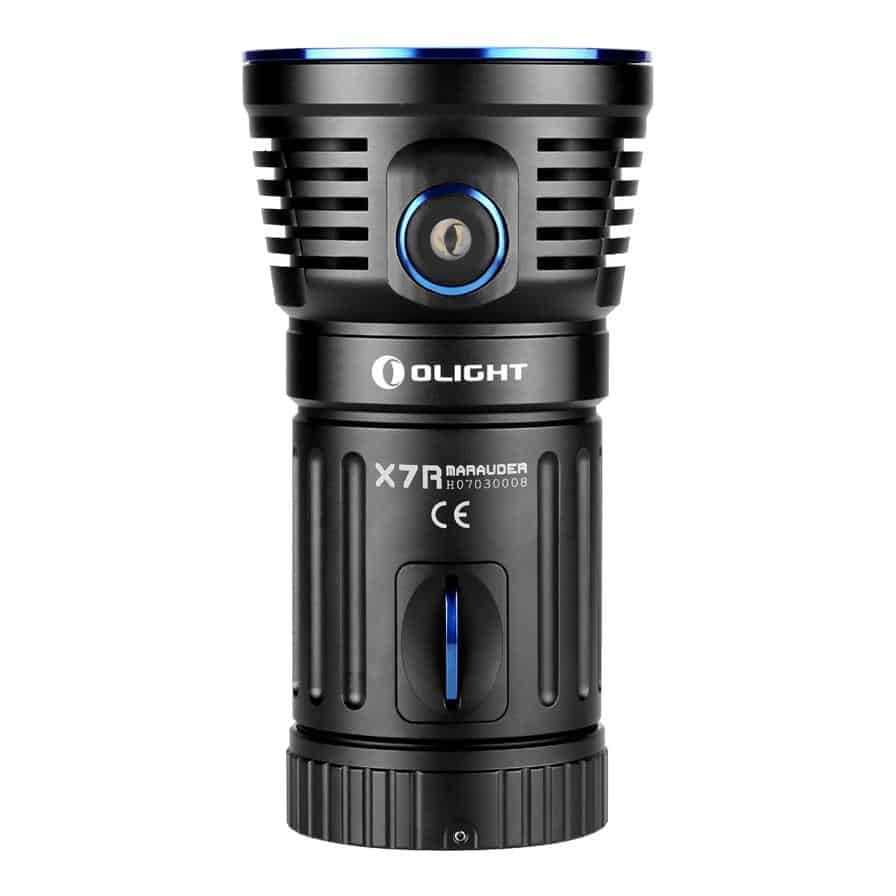 Final Verdict
For our money, the ZeroHour Relic XR2 is the best large tactical flashlight available. To begin with, it provides up to 2,000 lumens. However, the variable adjustment means you aren't tied into a limited number of settings. You'll always have exactly the amount of light you need, while maximizing your battery life. The ability to use the Relic XR2 as a power bank is just icing on the cake. Of course, a traditional, slim tactical flashlight can be tough to grip if you've got larger hands. In that case, the Olight X7R Marauder Flashlight is an excellent choice. It's big and beefy, made for linebacker hands. It also has some smart features to keep from wasting your battery.