If you are considering carrying your firearm concealed within your purse, there are many things you need to consider and research before making your decision. You need to consider whether you want to carry in your purse in general and which purse you want to use for concealed carry. When selecting a concealed carry purse, you need to think about much more than a simple holster. Selecting the proper purse will ensure gun security, safety, and the overall practical use of the firearm. In addition, you need to make sure to select the right firearm for your purse. This is the complete guide to selecting a concealed carry purse and what you need to consider before purchasing one. Keep reading to learn details about the various options you have, security considerations, and what a concealed carry purse should include.
What is a Concealed Carry Purse? 
A concealed carry purse is when you use a specific purse to carry your firearm or accessories such as holsters that you can attach within your purse for the purpose of concealed carry. If you choose to concealed carry using a purse, the best option is to purchase a purse specifically made for this process as it will be the safest option. Concealed carry purses have many questions behind them as far as their: 
Safety 
Accessibility
Overall use 
The truth is, they aren't as convenient as a side holster. However, you can train yourself you be able to use the purse safely and efficiently. Concealed carry purses require you to conduct heavy research about the products and train yourself to carry the purse and use your firearm before actually using the handbag for concealed carrying. While some individuals find them questionable, there is a lot you can do to ensure that you conceal your firearm using a purse safely and responsibly.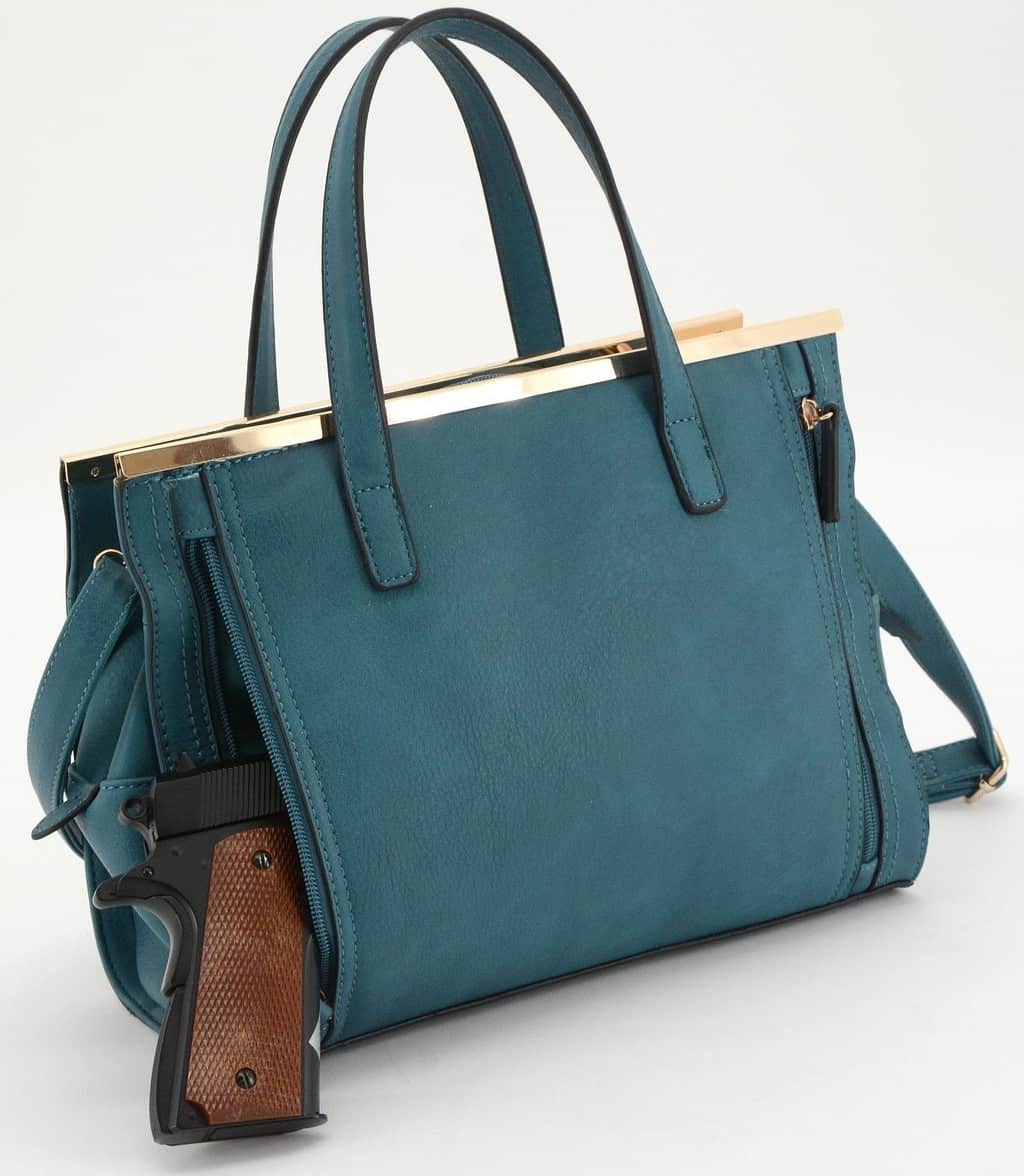 What Should a Concealed Carry Purse Have? 
When looking for a concealed carry purse, there are several specific things you will want to ensure are included. Apart from style, there are several useful compartments and additions for accessibility and safety for your purse. The biggest thing you are going to want to look for is a dedicated carry compartment. You cannot just drop a loaded firearm into a purse. This is a huge safety issue that can be resolved by having a dedicated carry compartment. 
Another thing you are going to want to look for is a holder for your firearm, either one that is built into the purse or as an added accessory. Carry compartments and holders are different, which is why you need both of them in your purse to be safe. You will need a properly fitted holster for your firearm. This will ensure protection as well as easier and safer accessibility. For comfortability, you will want to both have the proper-sized purse and a comfortable strap that creates easy access for your firearm. Comfortability is one of the most important features you can consider when it comes to a concealed carry purse, as you are going to have the pocketbook on your body whenever you are out and about. 
Sizes of Concealed Carry Purses and General Cost
There are several different types of concealed carry purses. The most important things to look for are that they are durable and comfortable to carry around. Good quality concealed carry purse could cost anywhere from $80-$300, depending on the size and quality you are interested in purchasing. Size is a huge factor when determining if a concealed carry purse is going to work for you.
Smaller concealed carry purses are a great option as they are easy to grab and go, and they limit the number of other things you can fit in the purse. Fewer items in the purse create fewer obstacles when you need to draw the gun. 
Medium-sized purses offer a bit more room but are still easy to carry. 
Larger purses tend to be a bit of a drawback when it comes to concealed carry purses as there could be more in the purse to act as obstacles when drawing as well as the fact they will be heavier to carry.
Overall, when looking for a concealed carry purse, you need to take into account the purse's;
Size 
Cost 
Materials used to construct it 
Below are several options in a range of sizes and prices that make for great concealed carry purses. 
Concealed Carry Purse Options: 
There are many options for concealed carry purses. With such a variety, you can be sure to find one that is compatible with your gun and your body. These purses can be found in different: 
Finding a good quality concealed carry purse that's right for you might take some time. Here are a few options to get you started: 
The GTM Tooled Cowhide Gun Holster Purse is a small, concealed carry purse that is a slash-resistant purse with a strap that can both be a shoulder strap or extend to be a crossbody strap. This purse is made with soft leather and has several compartments to separate your phone, credit cards, sunglasses, and gun from each other. This option retails at around $100. 
The Browning Alexandria Concealed Carry Purse is an option that provides a significant amount of protection for your weapon with the ease of quick access. This purse is larger with a large base so that you will have a significant amount of storage. A fantastic feature of this concealed carry purse is that it comes with a lockable zipper and a hidden key ring attached to the purse strap. The downside is that this purse only comes with a shoulder strap option, but the same company provides a crossbody strap in the Catrina or Sierra version of the Alexandria bag. This option retails at about $79.99. 
Roma Leathers Locking Concealment Purse is made to look like you are not carrying. There are no markings on the bag that would indicate you are carrying, and the zippers on the gun compartment are covered with a leather strip. The purse itself is designed very well and made with real leather. In addition, it has a lockable zipper to ensure security for your firearm. This option retails at about $62.99. 
The Bulldog Satchel Style Purse with Holster is a durable and well-made concealed carry purse with different compartments to separate what's in your bag. This purse comes with a lock and key compartment for added safety. However, there, unfortunately, is no hidden area for a key. This is a smaller purse, so that means it would work great for a smaller size firearm. This option retails at about $68.99. 
The Montana West Large Concealed Carry Leather Hobo Purse is an affordable option made of high-quality faux leather. This purse can be carried hobo style or with the crossbody strap, which is adjustable to make sure it fits right for you. With this purse, it is somewhat difficult to tell you are carrying a firearm, and there is plenty of room for your other daily items. This option retails at about $59.99. 
The 5.11 Women's Sarah Satchel is an affordable bag built using durable, waterproof material. This design is very versatile and is meant for everyday use. In addition, the pistol compartment is very secure as it uses a magnet for quick access and closure, and it is compatible with the TacTec System by 5.11. Currently, the price is unavailable for this product; however, you can find it using the Amazon link. These are just a few of the many options for concealed carry purses. However, they are some of the most highly rated and popular options. Finding the right concealed carry purse is very important as this will matter for comfortability and safety. 
Gun Security Matters More in a Purse
In a purse, you will want to make sure your gun is significantly more secure than you would in a holster. Experts recommend that you never carry your firearm in a purse unless you have one specifically made for concealed carry. For the most part, it is recommended to carry your handgun concealed using a holster on another part of your body. Still, many experts understand why many women might want to carry their firearms in their purses. In this case, there is a lot to consider when it comes to both security and safety. Concealed carrying in a purse takes preparation as a gun isn't something you can just "toss" in a handbag. You will need to prepare yourself differently if you choose to concealed carry using a purse. 
Preparing to Concealed Carry In a Purse 
When carrying a concealed carry purse, you will need to take it with you everywhere, so holding it in a way that is comfortable and accessible. For the most part, you are going to hold the purse as you would with any other. It's the behavior that you need that is going to be different. Before actually storing the gun in your purse, you need to spend about a week practicing holding your purse with you at all times. While you are doing this practice session, take notice of how often you put down your purse, as this will be an indicator of how much you will need to practice changing your behavior. Before actually putting the gun in your purse, you want to make sure you will consistently hold your purse.  Next, practice holding the purse with an unloaded gun for a week or so, and make sure you're comfortable with the added weight it will have when you carry it with your handgun. The final step is to concealed carry with a loaded gun, but only when you are truly ready to do so. Only when you are fully ready and trained should you conceal carry your firearm within a purse. Once you are at this stage, it increases the safety for everyone to concealed carry in a purse. 
Gun Accessibility and Speed of Draw 
Purses are not the most accessible when it comes to drawing your gun quickly, but with a concealed carry purse, drawing can be significantly easier. Even in a concealed carry purse, it is important to note that other objects in your purse could affect your ease of access, and so having fewer items in your purse will be safer than having a gun. If you choose to carry in a purse, the best way to prepare yourself is to practice drawing your gun on your own time so that if the situation ever comes up where you need it, you will be ready. Carrying your gun is only going to be beneficial if you can easily access it, so practicing this will be one of the most important things to do when preparing to concealed carry your handgun in a purse. If you can find a range that allows you to draw from the holster, this would be a great way to practice both drawing and shooting your gun. Putting yourself in a semi-realistic scenario will allow you to gain confidence carrying, drawing, and shooting your gun if necessary. 
Practicing the Draw Using a Concealed Carry Purse
When you have a concealed carry purse, the draw of your gun will be a lot different from that of a hip side-holster. Practicing your draw will be very important to increase your confidence regarding the accessibility of your gun and ensure you have safe gun handling practices. Training your body to make the correct motions when drawing the gun will give you confidence in the event that you actually need to use the gun. Here is a list of motions you should practice when learning how to draw with your concealed carry purse:
Grasp the gun using your stronger hand while keeping your trigger finger along the side of the gun and not on the trigger guard. Then, simultaneously pull the purse away while removing the gun from the holster  
Make sure your purse is turned correctly with the gun pointed in the right direction. There will be a right and wrong direction to wear your purse.
Turn slightly when drawing and point the muzzle corner of the purse away from you and in a safe direction, not in a direction where it is aimed at others.
Practice zipping and unzipping the compartment for your holster in the same way, every time. 
When practicing drawing, you will want to practice numerous times, both drawing the gun and bringing it into its firing position. In addition, you will want to practice shooting through the purse in the case that you are ever put into that position. Both learnings on how to point and shoot within the purse are extremely important and require practice before concealed carrying in public areas. 
Having a Concealed Carry Purse Around Children
Having a concealed carry purse means you need to have a heightened level of security at all times regarding your firearm, as well as the location of your purse. It's even more important than normal to ensure that your firearm is secure in a holster around kids to prevent accidental discharge. Many concealed carry purses have quick access panels and are made for quick access. This means they are not childproof in any way. If you are around kids often but still want to conceal carry using a purse, it's best to avoid purses with quick access panels. The biggest safety point to keep in mind when you are going to be around kids is always to have the bag on you and never put the bag down. You need to remain in firsthand possession of the bag, with it on your body at all times. If you have your firearm, then your children don't. 
Universal Purse Holder Inserts 
If you are someone who does not want to get a specific purse for concealed carry, although they are recommended, there are options to modify your current purse or purse of choice to be modified for concealed carry. This Universal purse holder insert is an option for almost any sized handbag and can fit handguns anywhere from 10 to 16 inches in length. The holster platform sits on the inside wall of your purse and leaves plenty of room for the rest of your belongings. The holster carries your firearm horizontally, with the barrel facing downward. If needed, you will be able to draw from this holster quickly. For an upward draw, carry the purse on your dominant shoulder, while as for a cross-draw, you will hold the purse on your non-dominant shoulder. 
Concealed Carry Purse vs. Other Holster Options
For the most part, it really depends on the individual and how they want to carry their firearm. With a concealed carry purse, you have an easy way to both store and carry your firearm along with your other personal belongings all in one area. With other holster options such as one on your hip, the biggest benefit will be the quicker speed of draw and somewhat easier access. If you choose your concealed carry purse correctly, you should be able to find something with a short speed of drawing as well as quick accessibility. As far as safety goes, concealed carry purses can be just as safe as a holster. However, the difficult part with this is that the user is in complete control of the safety. Having the gun in a separate safe compartment than the rest of the users' belongings and having proper etiquette with the purse will make for a significantly safer experience. 
Purses with Hidden Gun Compartments
The point of concealed carry is for the firearm to be concealed. When using a purse, this is often always achieved; however, some purses take it a step further. When choosing a concealed carry purse, you will always want to have a separate compartment for your firearm. Some options have hidden gun compartments to ensure that nobody knows you are carrying. Hidden firearm compartments are slightly different on every purse. Still, they do have similar features, such as hidden keys attached to a different area of your purse that, when used properly, only you know about them. The benefits of having a hidden gun compartment include both the concealment of your weapon and increased safety as the compartment for your firearm is very separate from the rest of your purse. Hidden gun compartments are not essential in a concealed carry purse, but they provide better security for both you and your firearm. 
Firearm Selection for Concealed Carry in a Purse
When choosing a firearm for your concealed carry purse, there are several things to consider. Size is the largest limiting factor when it comes to a concealed carry purse as you can't have anything very large or heavy. In a purse, the weight will matter even more than the size, which means you will want the lightest handgun that you can find. If you want a smoother shot, heavier handguns offer less noticeable recoil, which means you might want to select a larger purse that you can use to carry a heavier gun. Choosing to carry in your purse means bringing your purse with you everywhere. If you already do this, then it wouldn't be too big of an adjustment unless you significantly change the weight of your purse. If you don't regularly carry a purse but regularly want the security of concealed carry, a purse might not be the right option for you. 
With a concealed carry purse, the best type of firearm for you to use is a revolver. The reasoning for this is that if you are carrying with a round in the chamber, you may only have one shot, and with no round in the chamber, you have zero shot. If you carry a revolver, this solves that issue. Overall, you want to choose a firearm that you are comfortable shooting, isn't too heavy to carry around, and is easily and safely accessible within your concealed carry purse. 
Accidental Discharges
Safety is a huge thing in a concealed carry purse, and accidental discharges are the number one thing you do not want ever to happen. You need to have a separate compartment for your firearm in your purse, and absolutely nothing can be sharing that space. If anything were to be in the space of the gun and potentially get lodged by the trigger, it could be extremely dangerous. In addition, dropping the purse is a very large concern as dropping it could result in an accidental discharge as well. 
Overall, suppose you choose to concealed carry in a purse. In that case, you need to make sure that you have the purse securely on your body to avoid dropping it, and you need to make sure your firearm is alone in its compartment to avoid accidental discharges that could be disastrous. 
Gun Security and Retention
Choosing to concealed carry your pistol in a purse means that you will have to have your purse by your side wherever you go. This is one of the biggest security problems with concealed carry purses as it's human nature to simply leave a purse or jacket somewhere designated, especially at social events. It's important to understand that there is absolutely no safe place to set a concealed carry purse if the gun is not locked up. While locking up the gun inside is an option and increases security, it takes away the quick access that concealed carry is meant to provide. 
It doesn't seem like it would be a super large issue, but when it comes down to it, carrying your purse around all the time isn't the most comfortable thing to do. This is a large factor to consider when choosing a concealed carry purse, but if it's something you think you can handle, then you will have solved one of the largest safety concerns. 
Know the Concealed Carry Laws of Your Area 
When it comes to concealed carry, most states are very different from each other as far as their laws go. If you choose to concealed carry in a purse, it is essential to research the laws of your state to make sure that you are legally able to conceal carry in a purse. Most concealed carry laws can be found on the government website for your state. 
Conclusion: 
Overall, choosing to concealed carry your firearm in a purse is a big decision that takes a significant amount of research before committing to this decision. You will want to practice having proper concealed carry habits before you actually concealed carry your gun in a purse. Making this move requires training for carrying your purse, drawing your weapon, firing your weapon, and even practicing aiming through the purse itself is all essential before concealed carrying in a purse. When it comes to choosing the right purse for you, there is a lot to consider regarding the concealed carry purse's:
Comfortability
Ease of access 
Safety
Price 
Safety is the top priority, as you will want a purse that conceals your firearm in a safe way for both you and those surrounding you. If you think that concealed carrying in a purse is the right option for you, make sure to take your time training and not rush into it. If you are ever in a situation where you need to use your concealed carry purse, you want to make sure you are confident and prepared to use your firearm.
---
OUR RECOMMENDED TACTICAL GEAR LIST:
---