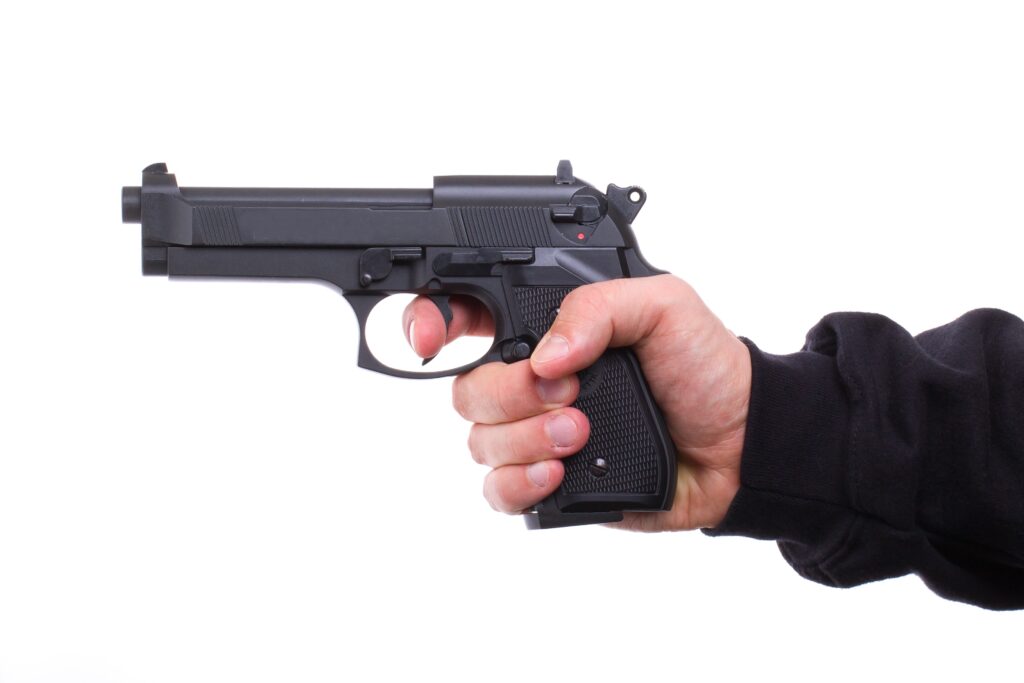 The top reason for purchasing a gun in the United States is for self-defense and protection. The other main reasons include hunting or recreational shooting. If you're interested in buying a gun for self-defense, you'll want to pick a model that is light and easy to use, and many recreational guns don't work for this purpose. So what are the best guns to look at?
The top guns for self-protection are the Glock 17/19, Mossberg 500/590, AR-15, Ruger GP100, Smith & Wesson 686, Taurus Judge, and a Smith & Wesson Governor. Most guns purchased are for self-defense purposes and these guns are pistols, rifles, shotguns, and revolvers.
People value being able to exercise their 2nd Amendment rights. The FBI has stated that one home burglary occurs every 22.6 seconds in the United States. Knowing that the rate is that high has caused many adults to buy firearms for peace of mind knowing that if someone broke into their home, they could defend themselves against it.
Handgun vs. AR-15
Buying a handgun or a larger gun like a rifle is dependant on personal preference. It may be more convenient to buy one over the other because of the overall size, power, length, bullet capacity, and price. If you want a gun that is easy to keep on hand or store in a nearby safe, then you should look into handguns. You may want a revolver or pistol. If you want one that is bigger, looks more intimidating, holds more bullets, and has more overall power in it, then you might want to look at rifles or shotguns.
Handguns are also cheaper than long guns like the AR-15. This is because of their size. Bigger guns cost more because they are more complex, hold more bullets, have better accuracy, have better range, and more. Handguns are still great options, but they are smaller, have a smaller accuracy range, and hold fewer bullets.
Heavy-duty rifles are very powerful and aren't usually necessary for personal defense. They are quite a bit longer and heavier than handguns and are not easy to transport. However, if you really want to have some extra power on hand, you could consider buying an AR-15. These can be stored in a home or car, but they're less portable overall.
One main thing people look at when you're deciding between the gun size you want is where you will store it. It is a lot easier to store a handgun, and safes made for that size are cheaper too because of the size. If you want to keep a rifle on hand, you'll need a bigger safe to safely store it. This could be a bit of a hassle, but a good safe is definitely worth the price!
When it comes to choosing a gun for self-defense, it really just depends on what works best for you. Many people have an easier time handling handguns, but if you feel more comfortable with a larger gun, you could try that as well. Just make sure you always keep safety in mind!
Some people want a gun at a few different points in their house so that they can access one nearby in case of an emergency, so make sure it is in an area that you are aware of but is not accessible to children or outsiders. As long as you are satisfied with your first firearm purchase, and it suits your needs, then you are off to a perfectly fine start. Then you can have peace of mind knowing you can protect and defend your home if you ever need to. But the best self-defense gun is the one you never need to fire!
Glock 17 and Glock 19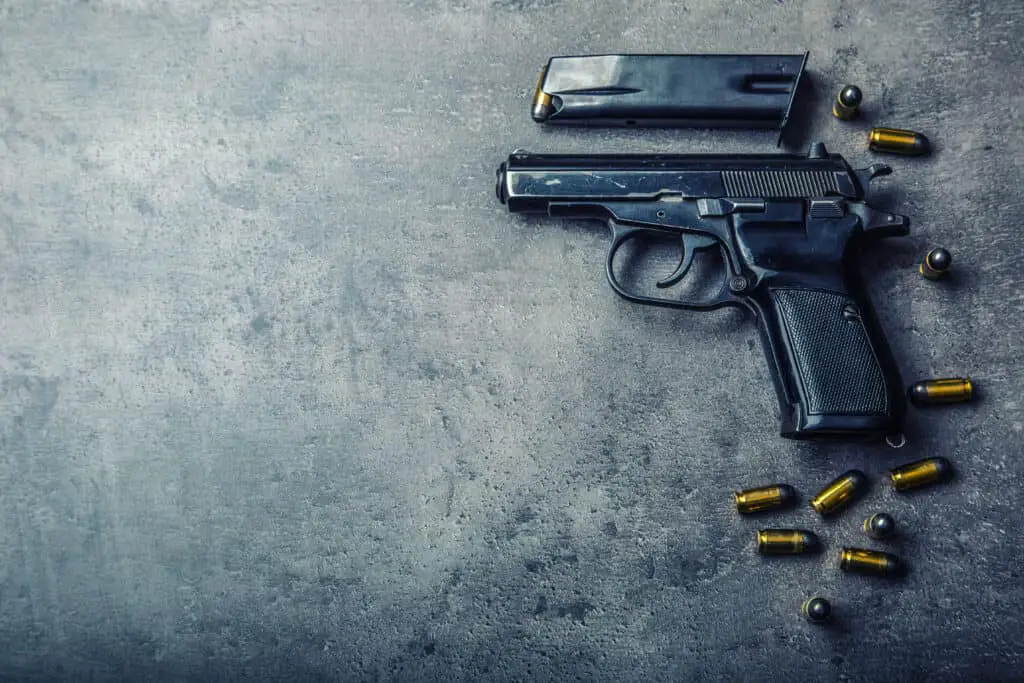 The Glock 17 and the Glock 19 are very similar and are often bought at similar rates. These are pistols and they are also popular for people who are getting or who already hold a concealed carry license.
Both of these guns have a 9x19mm caliber and a 28 N trigger pull. The rest of their features are extremely similar to each other.
Glock 17
Glock 19
Magazine Capacity
Standard: 17
Optional: 19, 24, 31, 33
Standard: 15
Optional: 17, 19, 24, 31, 33
Barrel Length
114mm. / 4.49in.
102mm. / 4.02in.
Weight without Magazine
625g / 22.05oz
600g / 21.16oz
Weight with Empty Magazine
705g / 24.87oz
670g / 23.63oz
Weight with Loaded Magazine
915g / 32.28oz
855g / 30.16oz
Comparison of Glock 17 and Glock 19
Deciding between either of these guns is a matter of personal preference and price. The Glock 17 ranges from $499.00-$726.00. The Glock 19 ranges from $499.00-$649.00. The price changes depending on what magazine capacity you purchase. By changing the magazine capacity, the size and weight of the gun change which will cost more.
Mossberg 500 and Mossberg 590
These two guns are similar, yet have their differences like the Glock guns above. The overall look is almost the same, but the Mossberg 500 All-Purpose is longer than the Mossberg 590 7-Shot.
| | | |
| --- | --- | --- |
| | Mossberg 500 All-Purpose | Mossberg 590 7-Shot |
| Gauge | 12 | 12 |
| Capacity | 5+1 | 6+1 |
| Barrel Length | 28in. | 18.5in. |
| Barrel Type | Vent Rib | n/a |
| Chokes | Accu-Set | Cylinder Bore |
| Sights/Bases | Dual Bead | Bead |
| LOP | 14.25in. | 10.75in. – 14.25in. |
| Barrel Finish | Matte Blued | Matte Blued |
| Length | 48.25in. | 36.37in. |
| Weight | 7.5 | 6.75 |
Mossberg 500 and Mossberg 590 Comparison
The Mossberg 500 costs $536.00, and the Mossberg 590 costs $659.00. These guns are priced at about $120 difference. With their similar features and prices, picking one of these comes down to personal preference.
Ruger GP100
A Ruger GP100 is a revolver. You might recognize this gun as the type you see cowboys using in old western movies. The different models range in price from $769.00-$900.00. These guns are smaller than a pistol and can come as five-shot, six-shot, seven-shot, or ten-shot revolvers.
A Ruger GP100 costs about $829.00. It has good accuracy and is enjoyed by many firearm holders who like to buy guns for self-protection. The barrel ranges from 2.5 inches to 6 inches, and the total length ranges from 8 inches to 11.5 inches. The gun weighs an average of 45 oz, which can vary depending on the size and length of the barrel. The max range is 550 yards, and the effective firing range (range of most accuracy) is 55-110 yards.
It's quite lightweight and this gun could be useful if you just need something small and compact. In many cases of self-defense, you won't need to shoot many bullets (if any) so a revolver could be a fine choice for this scenario.
Smith & Wesson 686
The Smith & Wesson 686 is also a revolver. It prices at $853.00, fits 6 rounds, weighs 44.8 oz, and is 11.94 in length. This gun is easy to use, lightweight, and small so it is easy to store.
Many people like to keep a small safe in their room, by their bed, in their closet, or in other places depending on the level of convenience they need. If you have a couple of self-protection guns, then you may consider what other people like to do. Many people like to have a small safe for each small gun they have and plant those in different areas around their homes. They are hidden but easy to get to in case of an emergency.
If you have or are looking into buying the 11.94 length Smith & Wesson 686 revolver, then you should think about where you will store it. The safest way to keep it safe and hidden from kids or guests is to get a safe for it. Then, you can plant the gun wherever you find is the best fit for it. Just be sure it is secure, safe, out of sight, and easy for you to get into.
AR-15
An AR-15 is a very popular firearm in America. It is a rifle, which will cost more than the pistols above. AR-15 stands for ArmaLite Rifle. A common mistake made among people who do not know much about guns is that the AR-15 stands for Automatic Rifle.
Automatic guns (such as machine guns, battle rifles, and automatic shotguns), have been restricted from civilian ownership since 1934. This should bring peace to your mind if this is new information for you. When you hear people talking about AR-15's, you will know it doesn't mean they are talking about automatic rifles, they are talking about a type of rifle.
The AR-15 comes in many different versions and models, with varying prices. With so many options to choose from, you should definitely do some research about which type of AR-15 works best for you. Consider your uses for it, the price you're willing to pay, and cross-compare to see which gun is a fit for you.
Smith & Wesson Governor
This gun is a 6 round Z-frame revolver. It weighs 29.6 oz and is 8.5 inches in length. This gun is favored by people who want a simple gun that is easy to use. It costs $885.00, so it is on the pricer end when comparing other handguns and revolvers.
You may not get much use out of this gun for self-defense, so make sure that the high price is worth it to you. On the other hand, people do love the accuracy and range that this model produces, especially considering how small the gun is.
Taurus Judge
The Taurus Judge sells for $512.11 and is available in over a dozen different models. This revolver can chamber both 410 shotshells and 45 Colts. It can have either double or single action and has five rounds.
The Taurus Judge is a compact revolver, perfect for storing close by in case of a home intruder. Just 9.50 inches long and 5.10 inches high, it can be stored in small, easy to access spaces. It weighs 29 ounces and has an extended ejector rod.
The entire gun is made of a steel alloy with a matte black oxide finish, making it look sleek. The rubber grip ensures you a secure grasp, even if you might not have the driest of hands. Even the smooth trigger is designed to help you fire easily, making this gun great for self-defense.
The handle is designed to be ambidextrous, meaning you can be either right or left-handed to fire it comfortably. Like all Taurus guns, the Judge comes with the Taurus Security System, which renders the gun useless with the turn of a key, making this gun great to keep in your house in the case of intruders. You'll be able to unlock it when you need to use it and relock it if you're worried that someone might try to use it against you.
With all of these safety features, the Taurus Judge is a pretty good choice for a self-defense gun.
Some Reviews:
Some customers have noticed that the matte black finish might not be as great in practicality as it is in looks. It tends to rust quickly and requires more maintenance.
Another customer loves this gun to keep in the car, since it is a bit heavy for him to carry around in his day to day life.
Many customers have purchased this gun for their wives to use as self-defense, and they have loved it and wanted to buy one for themselves. This is a gun that is fairly easy to use and has gained popularity among many buyers.
Why Get a Firearm?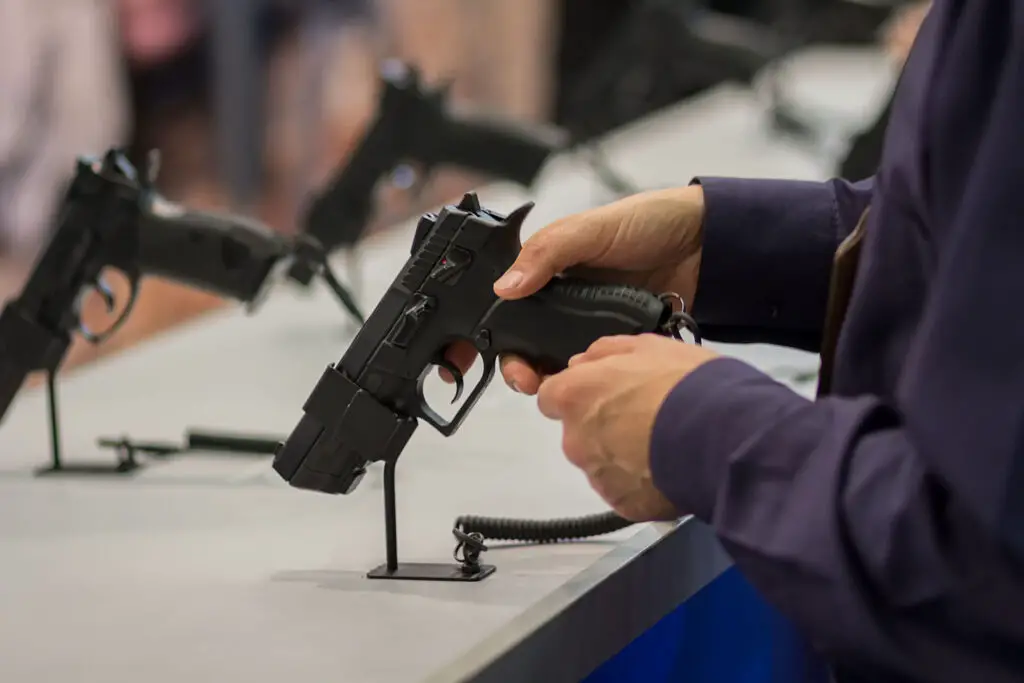 The first and most important answer to get a firearm is for personal protection. Whether it's at home or out in public, it's possible to face threats every day. Whether people actually need them or not, having a gun gives many people a sense of security. Many people also like to take firearms with them when they travel out in nature. Guns can be useful weapons against wild animals. In fact, guns are the second most effective deterrent against bears (after bear spray that is used correctly).
Regardless of the reason, one thing we all understand is that people want to protect the things that they love. People want to protect their cars, so they buy insurance. People want to protect their houses, so they buy insurance, security, locks, and guns. Parents want to protect their children, so they prepare and teach them for what they may face in the world.
While many people are confident to buy security cameras, locks, gates, one item people are more hesitant to buy is a firearm. The reason for this is that if you do have someone break in and you need to use the firearm, you would probably end up using it. Using a firearm against someone in self-defense is lawful, but the fear of actually shooting someone can feel like too much for people.
Firearms are not ideal for everyone, and sometimes they can cause more harm than good. If you don't know how to use it or keep it in an unsafe area, it's better to not have one at home at all. Other security measures can help a lot if you don't feel confident in your ability to wield a gun.
But if your existing security measures still don't give you the peace of mind you're looking for, it may be helpful to invest in self-defense firearms. If someone gets in past all your security measures then you're defenseless. Thieves look for easy targets. If you're able to competently wield a gun, this could be a good deterrent, even if you never have to fire it. The situation can end with the intruder running away, in the back of a cop car, or the back of an ambulance. But in any case, those outcomes are better than you being the one hurt or killed.
---
OUR RECOMMENDED TACTICAL GEAR LIST:
---