Finding the best optic sight for your firearm can be a difficult challenge, and with so many different options on the market, it can be confusing as to what sight would work best for you.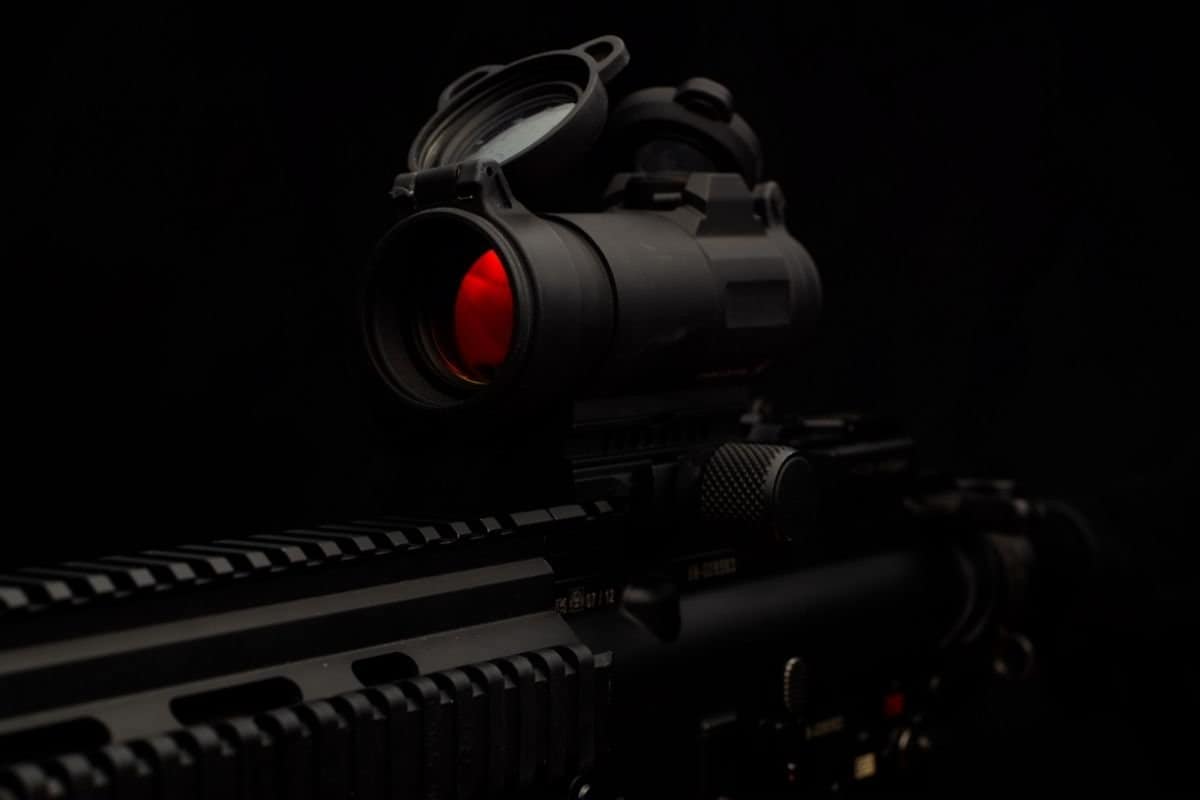 Today, we'll be covering the Trijicon MRO Optic Sight, known for their reliability and high quality, the MRO is yet another one of Trijicon's offerings that has become a popular choice for those looking for an optic sight that is going to provide all the features with the least amount of fuss possible.
Throughout the article, we'll be looking over its features and specs, and highlighting what makes the MRO such a popular choice, so that you can decide whether this offering from Trijicon is right for you and your rifle.
About The Manufacturer – Trijicon
Trijicon is a company that specializes in the manufacturing and distribution of sighting devices for firearms, producing sights for everything from pistols to rifles and shotguns.
Trijicon's specialty is self-luminous sighting and optics, often utilizing Tritium, Fiber Optic, and LED batteries as a way of illuminating their sighting options.
Since its inception in 1981, they have become unanimous with high quality, military grade optics and sights worldwide, and Trijicon is also, most notable, a contractor for the United States' military, which already begins to give you a hint into just how well regarded they are in the industry. 
Who's It For?
The MRO sight is an excellent addition to any rifle, but it's perfect for those seeking a simple yet effective 1x optic for their rifle, shotgun, or carbines.
With its lack of magnification, it's best suited to short range shooters, and it is easy to use ethos means that it makes an excellent optic sight for new shooters too.
The MRO is an extremely ergonomic sight and is packed full of features that make it an excellent choice.
So whether it's for target shooting or home defense, the MRO provides fast target acquisition and an almost unbeatable reliability that makes it clear to see why the military trust Trijicon to make their sights. 
Overview
The MRO, which stands for 'Miniature Rifle Optic', is available in two different variants, red dot or green dot, which is useful for those who struggle with seeing red dots during the daytime, especially as green is 30 times more visible to the human eye in the daytime.
At an initial glance, the MRO is a fairly simplistic offering at first glance, visibly smaller than most holographic sights, however, it still remains bigger than the average red dot sight. 
Its slight appearance may seem somewhat discerning at first, however, what it lacks in size it more than makes up for in quality and features, which we explore further below.
Features 
The MRO fits into a very specific niche in the world of optic sights, combining functionality, durability, and affordability, sounds like the perfect package then, right?
The MRO is somewhat of a surprise package, with a plentiful amount of features for such a small sight, and certainly wants to try and compete with some of the big boys that sit alongside it on the market, let's begin to take a closer look at what this little treat has to offer. 
Mounting
The MRO comes with three different mounting options of varying heights right of the box, a lower ⅓ co-witness, co-witness, and low.
These should make it easy for the sight to match up to fit your head position, and will also match perfectly with a standard arm mount too – and there's even a plentiful amount of aftermarket options available too.
Mounting the MRO is simple, and all the tools required are right there in the box for you, and a user's manual is even included too to ensure that your sight is fitted correctly too.
So from the second you open the box, your new MRO sight should be ready to go straight on for you to put it to use as soon as necessary.
Adjustments And Control
Adjustments on the MRO are simple as mounting it, with the option to adjust for elevation, wind, and brightness.
Even zeroing the sight is easy, simply use a small screwdriver to adjust the dot in correlation to your point of aim and point of impact.
Another neat trick to the MRO is that it maintains its zero incredibly well, which it achieves through its sub-flush adjusters.
And with its capless design, you won't find yourself losing caps or snagging yourself against objects – preventing any inadvertent loss of zero. 
The brightness control on the MRO is in an extremely convenient position, located on top of the optic sight, it allows for ambidextrous control of the optic's brightness and also allows the user to adjust the brightness setting without any compromise in the ability to shoot.
The brightness settings are pretty impressive as well, with the sight containing 8 different brightness settings, as well as two night vision compatible settings.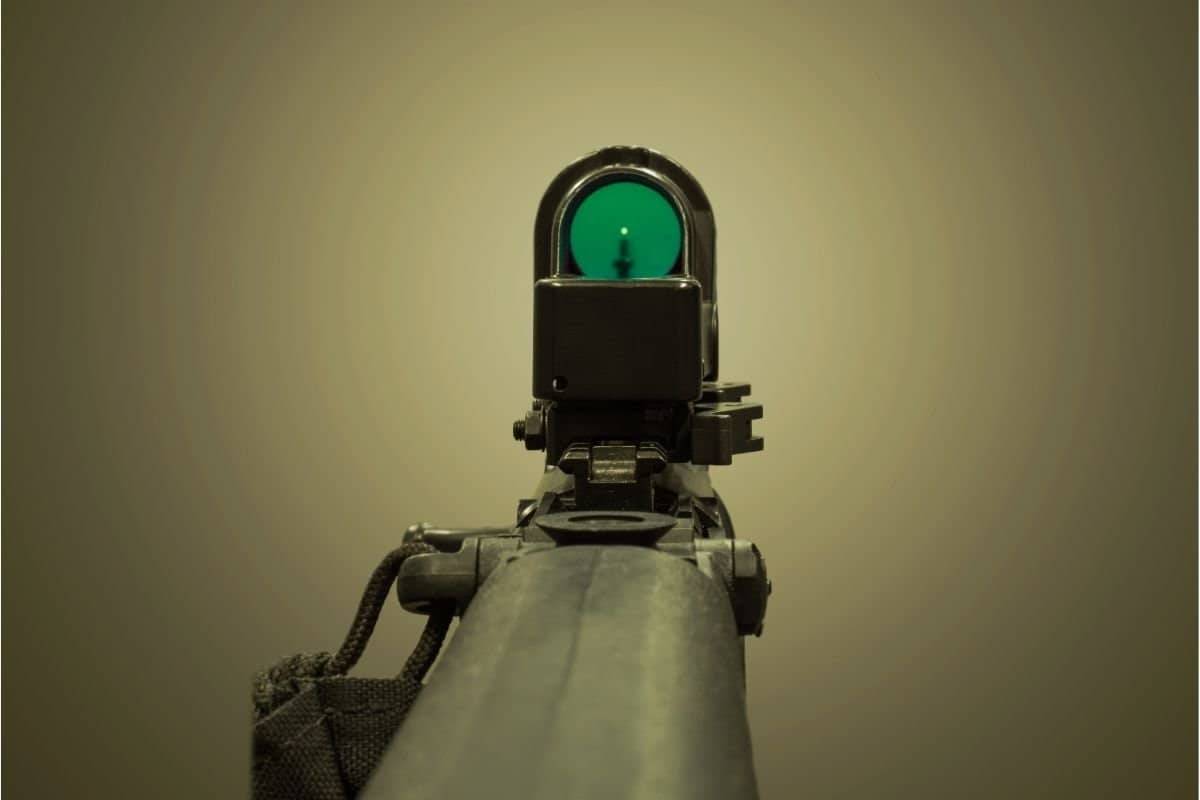 Overall the MRO excels in being an incredible ergonomic option when looking for a new sight, ambidextrous control and the controls being located in places that mean that you won't impede your firing ensure that the MRO is an extremely dependable option and is certainly a sensible choice when deciding to swap out your iron sights for something more fancy. 
Durability
Durability is such an important thing to factor when looking for a new optic sight, the last thing you'll want is your optic's lenses being scratched or snagged when you traversing difficult terrain or even wrose, accidentally dropping your gun and the optic itself breaking. This shouldn't be a problem with the MRO however.
As the MRO is constructed with Trijicon's tried and tested forged 7075 aluminum housing – the same material they use in the construction of their ACOG sights, and the quality of Trijicon's ACOG sights has never once been in question, especially as the military still use them to this day.
The MRO should be able to withstand whatever battering you're able to deal it, and since it's waterproof, you don't have to worry about being rained on or spilling any liquids over it either.
Battery Duration 
The battery duration on your electronic optic is one of the important features, the last thing you want is your optic's battery dying when you need it most, thankfully, the MRO excels in this field, utilizing a CR2032 battery, which plays host to an absolutely incredible lifespan.
When left on 24 hours a day, 7 days a week, for 365 days a year, the green dot variant's lifespan is up to 1 year of continuous usage, whereas the red dot variant's lifespan reaches an incredible 5 years of continuous usage.
Putting the Trijicon MRO near the top of the market for lifespans. This sort of duration means that even if you accidentally leave it on for a few days your battery life won't suffer too drastically, and it means that you're safe in the knowledge that your battery won't run out anytime soon, ensuring that no matter the situation, you know that the MRO is going to work every time. 
Using The MRO
As you can probably understand by now, Trijicon's ethos when designing the MRO was centered around simplicity and ease of use, it provides a perfectly crisp picture with no unwanted distortion.
Its 2.0 MOA dot sight and 25mm lens means that target acquisition is quick and your field of view is unimpeded whilst aiming, with the lens being around 5mm bigger than its closest competitor.
The brightness may not be too astonishing, but for the CR2032 battery it is certainly bright enough to be effective.
And as previously mentioned, all of the controls necessary for adjustments are in easy to reach places and are adjustable with minimal fuss required.
One problem that may arise is if you have astigmatism – with some complaining that the red dot appears blurry in use, so it is best to ensure that you are wearing suitable prescription eyewear when using the MRO. 
Conclusion
To conclude, the Trijicon MRO is an extremely effective piece of kit that combines both effortless simplicity with unparalleled durability thanks to its high quality materials, and an abundance of features that ultimately make it one of the most dependable options, and certainly one of the best 'bang for buck' optic sights on the market right now.
So if you're in the market for a new sight that is going to be reliable, easy to use, and effortless to adjust, then the MRO is certainly a top contender. If you're looking to purchase one, they are available on Amazon here.