Stray bullets are an occupational hazard for some professionals in law enforcement, security, military, and related fields. When this is the case, it is essential that you are protected, especially in areas of the chest, abdomen, and groin that are home to some of the body's most sensitive organs. For protecting the groin, the best bulletproof product to use is the BulletSafe Bulletproof Crotch Protector. This unobtrusive addition to the bulletproof vest can absorb the impact of bullet fire from close range and keep this region of the body well protected.
Unless you are in the military and dressing for a mission that is likely to see significant gunfire and require full tactical gear, bulletproof groin protection generally comes as an add-on to the bulletproof vest you purchase. Therefore, when reviewing the items on the list of best bulletproof products for groin protection, be sure to confirm that they will be compatible with the vest that you own or plan on purchasing.
The Best Bulletproof Vests for Groin Protection
When looking into groin protection to beef up your defense accouterment, there are several attractive options. While many bulletproof groin protectors come with an initial absorbency layer, they are also designed to switch out, increase, or replace damaged armor as necessary, giving the owner the ability to customize their protective armor as needed. Let's look at some of the best products on the market for bulletproof groin protection:
BulletSafe Bulletproof Crotch Protector
As mentioned in the introduction, the BulletSafe Bulletproof Crotch Protector is the premier choice for groin protection in the line of fire. Understated and lightweight, it gives the owner a sense of security without making them feel like they are walking around like a robocop.
When speaking on groin protection, most people immediately think about the importance of keeping the reproductive organs safe and secure. While this is undoubtedly critical, this crotch protector also sheaths the internal and external iliac arteries, which, when severed, can lead to a rapid and potentially fatal loss of blood.
The BulletSafe Bulletproof Crotch Protector is compatible with any BulletSafe vest ever created, requiring nothing more than a quick adhesion to a Velcro strap to make it seem like the crotch protector is part of the vest itself. While it should be compatible with any other type of bulletproof vest that uses Velcro to secure the armor-access slot, it is best to confirm if your vest is a brand other than BulletSafe. To install the crotch protector to your bulletproof vest, take the following simple steps:
Turn the vest inside out for easier access to the armor-access slot.
Open the armor-access slot. This is essentially a Velcro pouch that houses the armor. The armor from a bulletproof vest will occasionally need to be removed to wash the vest, giving rise to the need for such access slots.
Attach the BulletSafe Bulletproof Crotch Protector. This add-on will contain a lip ending in double-sided Velcro, allowing you to ostensibly make a sandwich with this feature once the Velcro of the armor-access slot is sealed back into place.
Once attached, the add-on creates a non-obstructive crotch protector. It also has its very own armor-access slot, so if you want to beef it up with an added layer of armor, you should be able to do so without adding much weight to your vest, thanks to the relatively small dimensions of the crotch protector. Even if you do not choose to take this added precaution, the IIIA materials used in this crotch protector are the same as those used in BulletSafe's vests, so you will still be adequately safe from high-powered gunfire.
Dimensions: 11×13 inches, ½-inch thick, 19 ounces
Price: $99
BestSafetyApparel Ballistic Groin Protector Level IIIA
If you are willing to spend a little more on groin protection but be assured of universal compatibility with any bulletproof vest, then the BestSafetyApparel Ballistic Groin Protector Level IIIA could be the accessory for you. 
Like the BulletSafe Bulletproof Crotch Protector, this model is an accessory that protects the groin in a drop-down apron style. However, unlike the BulletSafe that is only compatible with Velcro-sealed armor-access slots, this product features an adjustable belt system that will make it compatible with any type of bulletproof vest. 
While it is not overly large or encumbering, the fact that it does not fit snugly into the armor-access slots may make it a bit more noticeable to the user, which can cause distraction. It is also much pricier for a similar product than the flagship choice on our list.
Dimensions: Not specified
Price: $261
SecPro Gladiator Beast Package
There is arguably no more comprehensive bulletproof vest and body armor package than the SecPro Gladiator Beast Package. If you have a pretty penny to spend to ensure that the entirety of your upper extremities has the best protection possible, then this package should definitely be given consideration. Offered by Security Pro USA, this elite package meets or exceeds the National Institute of Justice (NIJ) standards for IIIA body armor and is a preferred option for those professionals in high-risk environments. 
The groin protection offered in the beast package is extremely similar to the apron-style protectors listed earlier in this review. Using a double-sided Velcro lip ending, it inserts into the armor-access slot in the SecPro Bulletproof Vest to securely hang down and protect the crotch area. Also, snaps used to hold the kidney protectors in place cover the top of this insertion to add an additional layer of security. When choosing the SecPro Gladiator Beast Package, you do not only get an elite bulletproof vest and groin protection, but you will also be provided with the following benefits:
Two 10×12 Level IV Ceramic Hard Armor Plates
Two 6×8 Level IV Ceramic Side Plates
Level IIIA, which meets or exceeds the NIJ standard 0101.06 for body armor
MOLLE design (this is an acronym for Modular Lightweight Load-Carrying Equipment, a military specification that defines the load-bearing structure of equipment used by armed forces)
Padded spacer mesh on the interior for maximum cooling 
The band around the waist (cummerbund) of the bulletproof vest has bungee cord adjustability
Fully adjustable foam-padded shoulder straps
Adjustable sizing points in the shoulders and waist to allow you to customize it to fit you best
Side opening for easy wear and removal 
Reinforced drag strap
Ballistic accessories 
While the SecPro Gladiator Beast Package's perks are plentiful, it does not come without a steep price that will set the buyer back a couple of grand. However, if you want military-grade protection, this could very well be the package for you. It is also worth mentioning that it could be a good idea to buy the essential components of this package, such as the bulletproof vest and groin protection, and piece together the rest of your accouterment with the items you prefer to potentially help save on the bottom line. 
Dimensions (for the vest): 10×12 inches on the front and back, 6×8 inches on the sides; 1-inch thickness; 7.8 pounds on the front and back, 3.8 pounds on the sides
Price: $1,999.99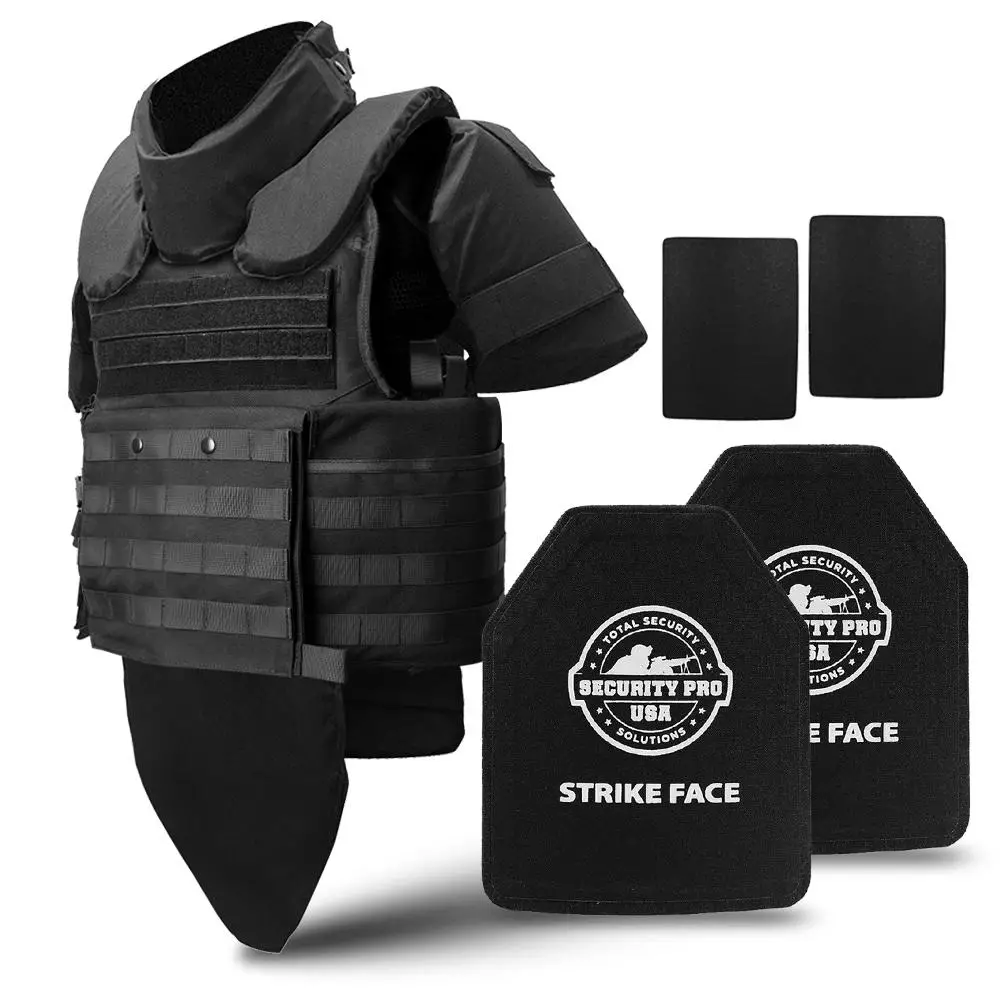 Mars Armor Quick Release Vest Alpha
The Mars Armor Quick Release Vest Alpha provides military-grade protection to the user. What sets this vest apart is that while many bulletproof and tactical vests ostensibly mummify the user, this model can be removed with a simple pull of a strap. This feature can be beneficial when excess weight needs to be shed in the heat of the moment, such as when running out of danger to reduce the risk of fatigue.
Specially designed for military and special troops use, this cut-away vest system offers the same front, back, side, neck, throat, pelvis, and groin protection of the SecPro Gladiator Bast Package. While the groin protection on this vest is in the same apron style as other products on this list, it does not appear to be an accessory, with the groin protector actually attached to the vest itself.
In addition to fully-integrated side protection, communication channels, and an increased MOLLE attachment system, the Mars Armor Quick Release Vest Alpha provides the following benefits:
Security strap quick release system
Upper arms protection
Side armor and internal plate pockets
Multi-point adjustability
Waterproof ballistic panel cover
Reinforced drag handle
Custom sizes and colors
One point to note about this vest is that the price is not readily advertised, with shoppers urged to buy for a quote. This may suggest that it is a difficult system to obtain without the presence of a military purchase order or contract. 
If available for civilian purchase, it should be expected that the price will be similar to that of the SecPro Gladiator beast pack (roughly $2,000), as this appears to be a very comprehensive armor system.
Dimensions: Not specified
Price: Not specified 
Testudo Gen 2 Build Your Own Bundle
As its name implies, the Testudo Gen 2 Build Your Own Bundle can be ordered as sparse or comprehensive as the user desires, with a high degree of customizability in between. This includes the addition of groin protection to the base vest, offered as a "hanger," similar to the apron-style protection used by other vests in this list. 
Marketed as Testudo's flagship product, the Gen 2 Build Your Own Bundle is meant to provide the most elite framework on the market for housing armor. This makes it a great product when looking to piece a vest together with the armor of your choice.
When ordering this product, you start with the base "plate carrier" and then make your additions from there. Among the extras that can be paired with this elite armor-carrying vest include:
A hanger for groin protection (+$20)
FragLock Coating, a special layer of paint on the armor to help reduce the risks associated with bullet fragmentation (+$98 for the built-up coat)
Side plates (+$72)
Trauma pads (+$70)
Loadouts, which offer varying amounts of armor for the pouches to increase protection (+$78 for the deluxe pouch kit and +$157 for the ultimate pouch kit)
While the base vest of the Testudo Gen 2 Build Your Own Bundle is relatively affordable at $284, the cost can accumulate quickly, ending up in a product that runs well over $500. Above and beyond the costs associated with the additions listed above, the user can expect to pay extra for the following features:
Camouflage color (+$35)
A size increase from 10×12 inches to 11×14 inches for the front and back armor (+$50)
The quality of protection (+$68 for level III+ and +$100 for level III+ lightweight)
A change from flat form to multi-curve (+$58)
While this may not be the ideal vest for the beginner or someone with minimal protective needs, if you are experienced in the realm of body armor and want to build a customized package that provides you protection at the level you desire, then the cost of adding the upgrades could be well worth the price.
Dimensions: Variable, based on custom choices
Price: $284 for the base vest, with upcharges added for the customizations listed above
Mars Armor Model 55 Modular Police Design
Another quality vest that offers reliable groin protection and is also manufactured by Mars Armor is the Model 55 Modular Police Design. While not as innovative or comprehensive as the Quick-Release Vest Alpha made by the same parent company, the Model 55 Modular Police Design provides excellent value for those working in law enforcement. While it can be worn by any user seeking protection from errant bullets, it is ideal for police, law enforcement troops, and any other professionals who will be wearing their bulletproof vest frequently, thanks to its easy-care durable outer shell made of Cordura, Nylon 6.6, Polyamide, or Polyester. 
Among its protective qualities include solid coverage of the front, back, sides, neck, and groin areas. The overlapping sides ensure full torso protection, with the ability to add more security through the insertion of additional armor plates. Other features include:
Size adjustment on the shoulders and sides 
Pockets for additional armor plates
Removable neck and groin protection, ballistic panels, and waterproof panels
MOLLE webbing on the front
Like the Quick-Release Vest Alpha, Mars Armor does not list a price for this vest and requests that shoppers call for a quote. This could imply that civilian distribution of these vests may be limited.
Dimensions: Not specified
Price: Not specified
Wenzhou Brilliance Full Body Armor
If you are looking for a full-coverage solution at a fraction of the cost of the SecPro and Mars Armor Options on this list, the Wenzhou Brilliance Full Body Armor may be an outstanding choice. Imported from China, this product consists of an outcover, bulletproof soft armor panels, and a protective cover. The outcover provides a plethora of features, such as waterproofing, flame retardant, and tear resistance. The bulletproof soft armor panels are "made of high molecular weight polyethylene or Dupont Kevlar materials. The cover is sealed with black nylon fabric with coatings for waterproof and UV protection" (Source: Ballistic Armor). 
The groin protection is attached via a Velcro lip to the bottom of the tactical vest to give apron style protection to the crotch area. While the protective area covers more surface area than some of the other options on this list, it is not overly cumbersome. While all aspects of this body armor are rated at least NIJ Standard IIIA, some may be concerned that this product's lower price point may raise a red flag about protective quality. Rest assured that the rating is indicative of a quality vest, but you may feel more comfortable swapping the soft armor that comes with the base product with NIJ Standard IV ceramic options.
Dimensions: .55 square meters of protective area, weight 2.8 kilograms
Price: $189
How to Choose the Best Bulletproof Vests for Groin Protection
The bulletproof vests and accessories outlined in this article are undoubtedly quality options for protecting you in the line of duty, giving you peace of mind should a precarious situation arise. However, if you are still relatively new to the world of body armor, you may have some questions about how you should proceed in selecting the best vest with groin protection. Consider the following features when choosing your bulletproof vest:
NIJ Safety Standards 
The first place to start when choosing a bulletproof vest for groin protection is to look at the NIJ safety standards and see if the item you are considering will provide adequate protection. As mentioned earlier in the article, NIJ stands for the National Institute of Justice. This agency will rate protective gear based on its bulletproofing capabilities, with five different levels indicating a vest's protective qualities:
Level IIA 
This is a type of soft body armor, meaning that it is made from layers of high-strength woven fibers. Some examples include aramid fibers, such as Kevlar or Goldflex, or polyethylene fibers, such as Spectra or Dyneema. This vest is meant to stop a .9 mm full metal jacket (FMJ) round traveling at a speed of 1,165 feet per second and a .40 FMJ round traveling at 1,065 feet per second. As it is typically found in soft armor vests, this is generally the lightest, most flexible, most comfortable, and easiest to conceal.
Level II 
Another mostly soft type of body armor, the Level II is a step above Level IIA. This armor is designed to protect against .9 mm rounds traveling at 1,245 feet per second and a .357 jacketed soft point (JSP) traveling at 1,430 feet per second. Like level IIA, this armor is very light, flexible, comfortable, and easy to conceal. However, since it offers significantly more blunt force trauma than Level IIA, it is more commonly used in contemporary bulletproof vests, with Level IIA models largely falling out of style.
Level IIIA 
This is the rating you see associated with many contemporary bulletproof vests. This armor can be either soft or hard armor, with many hard armor plates and ballistic shields carrying this rating. It is designed to stop a .357 FMJ flat nose bullet traveling at a speed of 1,470 feet per second and a .44 magnum semi-jacketed hollow point traveling at 1,430 feet per second. As this rating will protect users from the most powerful handguns on the market, it is generally the highest level of protection needed for non-military use.
Level III
This level of protection moves away from soft armor vests and moves entirely into ballistic plate protection. Ballistic plates are alternately referred to as rifle plates or hard armor plates. Level III protection is meant to stop six spaced rounds from a hunting rifle-type gun traveling at a speed of 2,780 feet per second. The cheapest and heaviest steel armor plates will weigh between eight and 10 pounds, while polyethylene and ceramic options can weigh as little as three pounds.
Level IV
These are the highest-rated hard armor plates under the NIJ 101.06 standards. These plates are designed to take one hit from an armor-piercing rifle. They can reject 7.62 mm armor-piercing bullets (also known as 30 to 6) traveling at a speed of 2,880 feet per second. Since Level IV armor is only tested to stop one round instead of six spaced rounds, it is not always a better option than Level III armor. However, for stopping a single shot, vests lined with this armor are definitely the best that money can buy.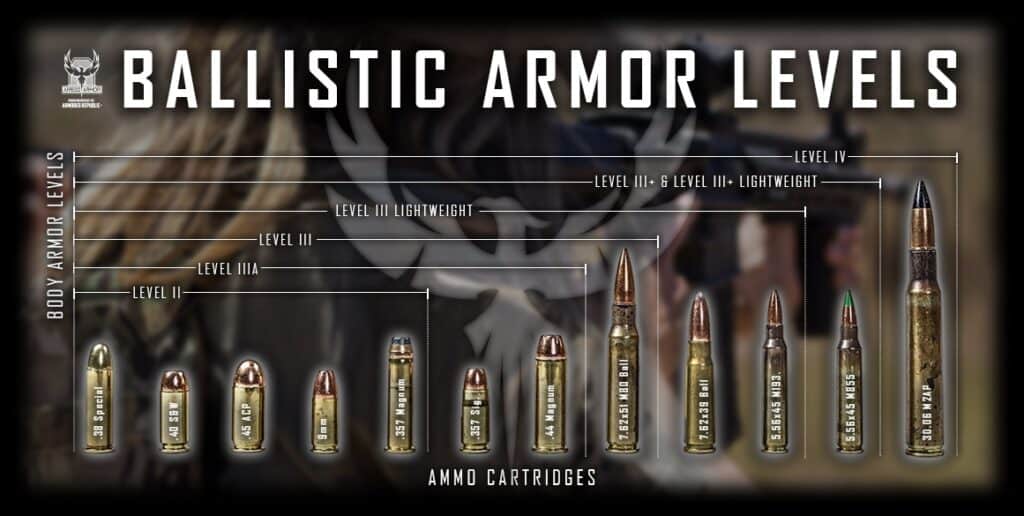 Bulletproof Materials
Although there are several quality hard armor plates that will save your life from the most high-powered guns, the vests themselves and their constituent accessories are commonly made of woven layers of softer materials. Fear not, though, as these softer materials are well-suited to stop the impact. Therefore, when shopping for bulletproof vests, look for any of the following names mentioned in the product description:
Kevlar – This is the most well-known product in the world of bullet resistance. Originally developed by DuPont in 1965 for steel belt tires, its utility in defense became readily apparent. Kevlar has the ideal combination of light weight and high strength.
Spectra – Spectra body armor materials have been used for over 20 years and are a product of the Honeywell Corporation. Their quality armor has become increasingly popular with military and law enforcement agencies.
Dyneema – The newest and most innovative of all bulletproofing materials, Dyneema came about during attempts to rearrange polyethylene molecules. The result, polyethylene crystals, created the "world's strongest fiber" that is used in some of the world's most expensive body armor designs.
Are Bulletproof Vests with Groin Protection Completely Bulletproof?
Although bulletproof vests with groin protection will go a long way toward ensuring your safety, they will not make you entirely bulletproof. Caution must continue to be exercised, regardless of the strength of your accouterment. Therefore, it is essential to know how much protection you need—and what the different NIJ levels provide–when doing your shopping.
As you will likely be donning vests with a rating of IIIA or lower, you should feel confident that a normal shot from any type of handgun will not prove fatal. However, if someone is firing at you with a .44 from very close range or an armor-piercing rifle at any distance, then it is likely that your vest will not be able to stop the inevitable. This is why it is recommended to consider hard armor upgrades to insert into your groin protector's armor-access slots.
The other important consideration for bulletproof vests is that even though it will prevent bullets from piercing and fatally damaging your internal organs, there is still a strong possibility that the heavy impact will lead to broken ribs or significant bruising. As such, while bulletproof vests will greatly improve your chances of survival from gunfire, it will not make you completely invincible.
Conclusion
Although it is ideal to go through life without ever being on the receiving end of a bullet, there are some occupations, such as law enforcement, security, and military, where bullets are a hazard of the job. When this is the case, it is essential that the professional be well-protected, especially in sensitive areas of the torso and groin, to minimize the risk.
Most bulletproof vests that offer groin protection use an apron-style add-on to help guard this sensitive region. In this respect, the BulletSafe Bulletproof Crotch Protector is the best choice on the market, as it seamlessly joins with vests that feature Velcro armor-access slots to provide protection at an affordable price.
However, if you are willing to spend more for a comprehensive protection system, the SecPro Gladiator Beast Package can keep you shielded from the groin up. By browsing through all the items in this listing, you are sure to find the perfect balance to meet all your security needs.