What exactly is a tactical belt? It's an essential piece of gear for camping or hiking outdoors. But what is a tactical belt on a practical level? Does it have to carry guns and other combat tools only?
Carrying a firearm is not the only purpose of a tactical belt. In its current form, it's marketed as a belt that can carry almost anything from radios to knives and other EMS gear. Here's an overview of what it can carry and do.
Tactical Belts: General Information
Essentially, any belt built with durable webbing that is sold to members of the gun community is a tactical-style belt. In the initial set-up, this type of belt would be incorporated into the combat uniform. A variety of gear pieces can be added or removed for various missions, including handcuffs and radios.
Similar to the Roman sword belt, tactical belts were often made of leather. These utility belts are typically worn over uniforms by military and law enforcement personnel. As a fashion accessory or as a belt, this type of belt can be used by civilians.
Today, a tactical belt is largely composed of a nylon web belt, made from strong nylon webbing and fashioned with sturdy hardware. There are either quick-release or simple lock buckles available. Other features include a cargo rigging V-ring and a Velcro-lined belt.
The purpose of tactical belts
Generally used in military settings, tactical belts can be customized, depending on the implementation.
The word "tactical" has lost its true meaning as everything has turned "tactical." A tactical style belt is most commonly associated with a specific style of belt, and you can use a tactical belt for nearly any purpose.
Depending on what kind of tactical style belt you get, you can do different things. The belt can be used for competition and range shooting, and everyday carry (EDC). Some even offer all three functions.
There are several tactical belt types available today, and each has its advantages and disadvantages. Identifying their height/width or thickness is the most straightforward way to categorize them.
Wearing a duty belt
The widest belts are duty belts, measuring at least two inches wide. Duty belts aren't meant to hold pants up. You can wear these durable belt units around your waist to carry gear outside your clothing.
Due to its large size, this belt type is not suitable for training or outdoor activities. A uniformed officer or armed civilian should use this style.
Rigger Belts
Typically, rigger belts measure 1.75 inches wide. Despite its strength, it isn't as strong as a duty belt. Most pants have belt loops, so they can be worn with them.
You'll get the best of both worlds with this belt since it falls between a duty belt and a typical belt. A belt like this can be used for competitions, range training, and carrying magazines. It can be worn as an EDC belt if you're not wearing dress pants and can still carry heavy equipment.
EDC belt for tactical use
For those who prefer a minimalist design, the tactical EDC belt is ideal. Belts of this type measure approximately 1.5 inches wide, so they leave a small footprint when worn. Leather tactical belts are much stronger than their nylon counterparts.
Styles like this are actually stronger than they seem. A holster, firearm, and other items you like to carry every day are ideal for carrying in this bag. As a military battle belt, this style can be worn with a kidney pad.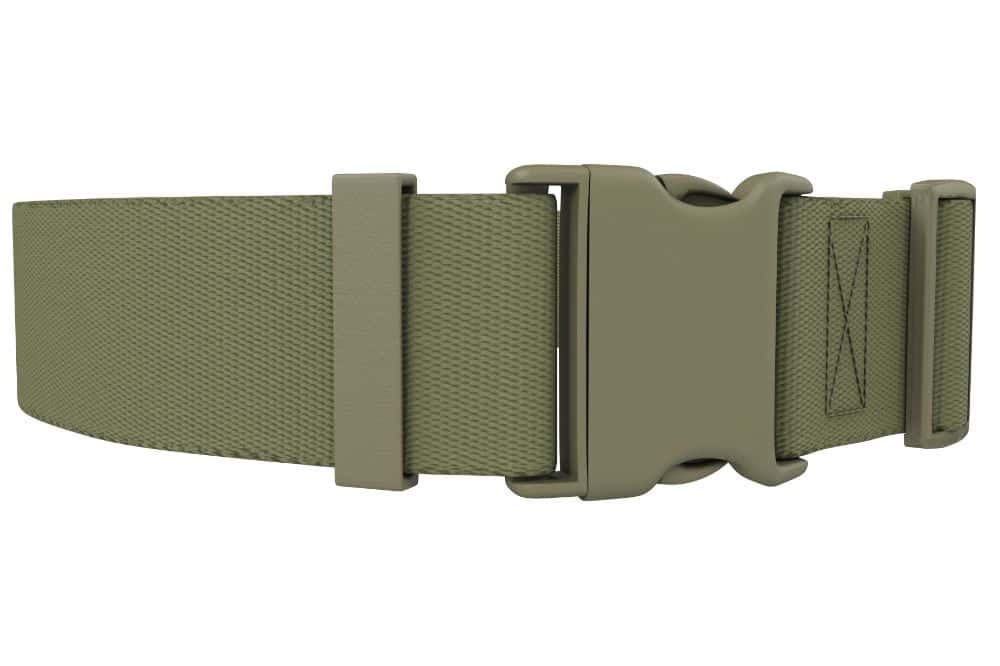 Strength And Durability
You should choose a belt style according to how heavy the load you plan to carry is. You should use a wider belt if you plan to carry a heavy load.
Choosing the right tactical belt calls for a keen eye, as not all tactical belts are created equal.
The presence of dual layers of webbing on a tactical belt indicates its durability. Sewn together, not glued, the webbing is more durable. To increase its hardness, it should be reinforced with a hook and loop liner.
Make sure the buckle hardware is genuine if you choose a quick-release buckle. 
Additional Features
The best tactical belts can usually be used as carry straps or tie-downs. The use of tie-downs can provide more stability to mobile homes and other equipment during high winds.
Make sure your belt has MOLLE-compatible loops, as they can add extra storage. You can use these pouches or loops to carry pepper spray, a flashlight, or other tools. They are typically secured to the belt by straps or speed clips.
A good fit
Choosing the right tactical belt is important because anything loose will make your belt more burdensome. Select a belt that fits perfectly. It needs to be adjustable and of sufficient length.
In order to ensure that your tactical belt is durable enough to secure your holster and other tools without slipping down your tactical pants, it should be flexible enough for easy movement. While it should be tight, it shouldn't restrict your breathing when you're running or walking.
Pricing
A cheap tactical belt might seem like a good deal, but most are of poor quality.
Cheap belts that are not made in the United States might be stronger than a regular department store belt, but they can be unreliable when carrying heavy loads. 
Ensure that your gun belt is stabilized and strong to ensure quality. Most gun belts are constructed from tougher, premium-quality materials, enabling them to hold their shape for longer periods. Investing in a quality gun belt may cost more in the beginning, but it is worth it in the long run.
Tactical belts are usually expensive since they leave a small footprint on your waist.
Summary
How does a tactical belt work? You can use it to carry other equipment besides firearms. Law enforcement personnel are no longer the only ones who use tactical belts.
Look for a tactical belt that is made of two layers of webbing and has buckles that fit snugly on your body to secure the best results and get the most out of your purchase.
---
OUR RECOMMENDED TACTICAL GEAR LIST:
---