To ensure maximum body protection from your bulletproof vest, it's important to make sure that it fits properly- the fit could be the difference between life and death. Yet, many find it difficult to determine how to select a good-fitting bulletproof vest – especially if it's the first time trying one on. 
A bulletproof vest should cover all of the wearer's vital organs. The wearer should be adequately covered from the front, but the sides as well. The vest should fit snugly but not too tight, as this could cause the vest to ride up. Failure to follow these guidelines can result in serious injury. If you're interested in learning more about how a bulletproof vest should fit, then keep on reading. 
This is How a Bulletproof Vest Should Fit
There are several important guidelines to follow when making sure that your bulletproof vest is the right size for your body. See below for a quick list: 
Coverage – The front and sides of your body should be covered. 
Length – Your midsection should not be exposed.
Tightness – The vest should be flush to your body but should not be too tight.
Panel Overlap – The panels on the inside of the vest shouldn't have much overlap.
The following sections will go into greater detail about each of the above guidelines. 
Coverage of Front and Sides of the Bulletproof Vest
This is one of the most crucial aspects of your bulletproof vest fit. The front and sides of the vest are meant to cover you totally from the front and the sides. 
The top of the vest should reach the top of your suprasternal notch, which is located at the bottom of your neck. 
The bottom of the vest should come down to about an inch from your belt. If you are not wearing a belt, you can use your imagination. However, it is best to wear a belt for accurate fitting.
Length – No Exposed Midsection 
Your midsection houses many life-sustaining organs, so it must be adequately protected. Your vest should cover the majority of your midsection- if it does not, this increases your risk of serious injury or death. 
Tightness of the Bulletproof Vest
The vest should not be so tight that you can't breathe efficiently, but it should also not be so loose that there are gaps—any gaps between your body and the present vest opportunities for grave injury. 
Panel Overlap
One aspect of vest fitting that many ignore is the fact that there should not be excessive panel overlap. This is because when the panels of the vest overlap too far, this can cause the entire vest to fit improperly, creating gaps and more opportunities for injury. There will be more on this later in the article.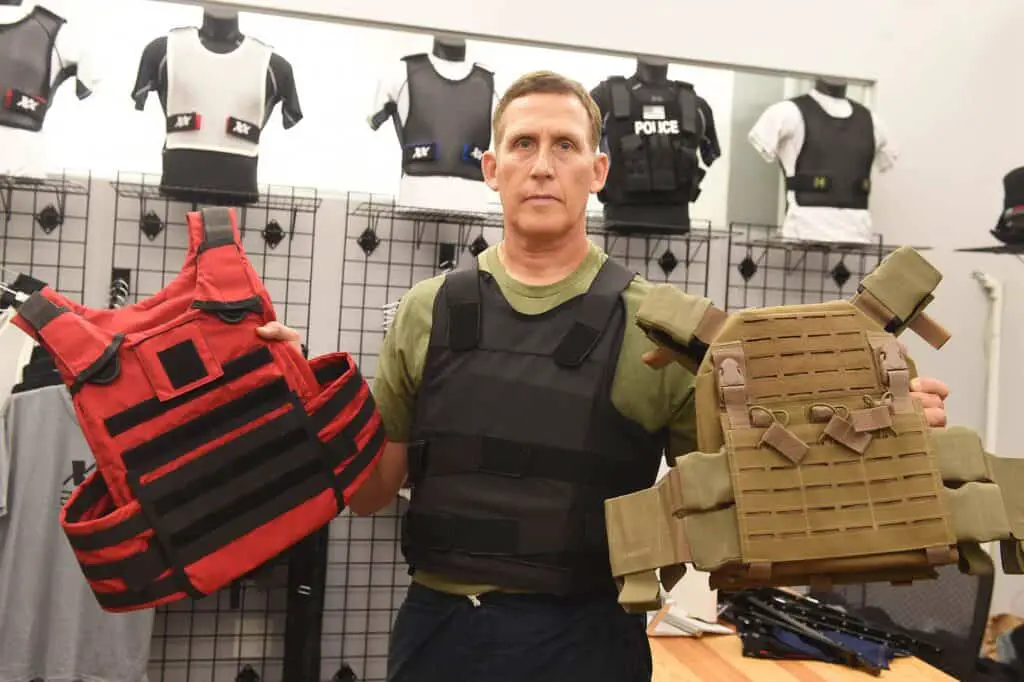 Adjusting Your Bulletproof Vest for a Proper Fit
If you've never purchased a new bulletproof vest, you may be surprised to know that most new bulletproof vests will not fit you properly right out of the box. You will need to make some adjustments. 
Standard bulletproof vests come with Velcro straps that the user can adjust for a tailored fit. When you unbox your new bulletproof vest, you should begin adjusting it to your body. 
Take the following steps for making your bulletproof vest fit:
Adjust the shoulder straps at the top of the vest. You should make sure that you have adequate coverage at the top and bottom of the vest. 
Adjust the torso straps on the sides of the vest. Tighten the Velcro straps just enough to snugly fit your torso.
Sit down and see whether the vest shifts. The vest should fit well whether you're in a sitting or upright position. Make sure that it is tight enough that it does not shift and expose any vital organs. 
Galls Body Armor created a YouTube video demonstrating these steps. 
Assess Whether Your Bulletproof Vest Fits Properly
After you've adjusted your vest for proper fit, you may think that you're done and ready to go. That's not true. There are a few more checks that you should go through to ensure that your vest fits properly. 
Take Deep Breaths
While you're wearing your vest, take several deep breaths. If you have any difficulty, your vest is too tight and should be loosened. After you loosen up the vest, you should be able to breathe freely. This is important in the case that you need to run fast. If you can't breathe properly, your stamina will be reduced, and exhaustion can set in. 
Sit and See How You Feel
While you are sitting in a chair, assess how you feel. While you will feel the pressure of something being wrapped around you, you should still feel comfortable. 
Use Your Hands
While you are standing, you can check to see if your bulletproof vest is fitting properly by doing the following:
Touch the area where the top-middle part of your vest ends. It should rest right under the bottom of your neck. 
Check for any gaps between your body and the vest. 
Use your fingers to check whether there are more than two finger-widths of the distance between the bottom of your vest and the top of your belt. If the distance is greater than this, you should adjust the vest accordingly.
Check the back of the vest at the top to see if it extends to your largest vertebrae at the uppermost part of your spine. If it does not, the vest is sitting too low. 
After completing this step, if you find that your vest does not fit properly, you should take the vest off and get your hands on a vest that fits you better.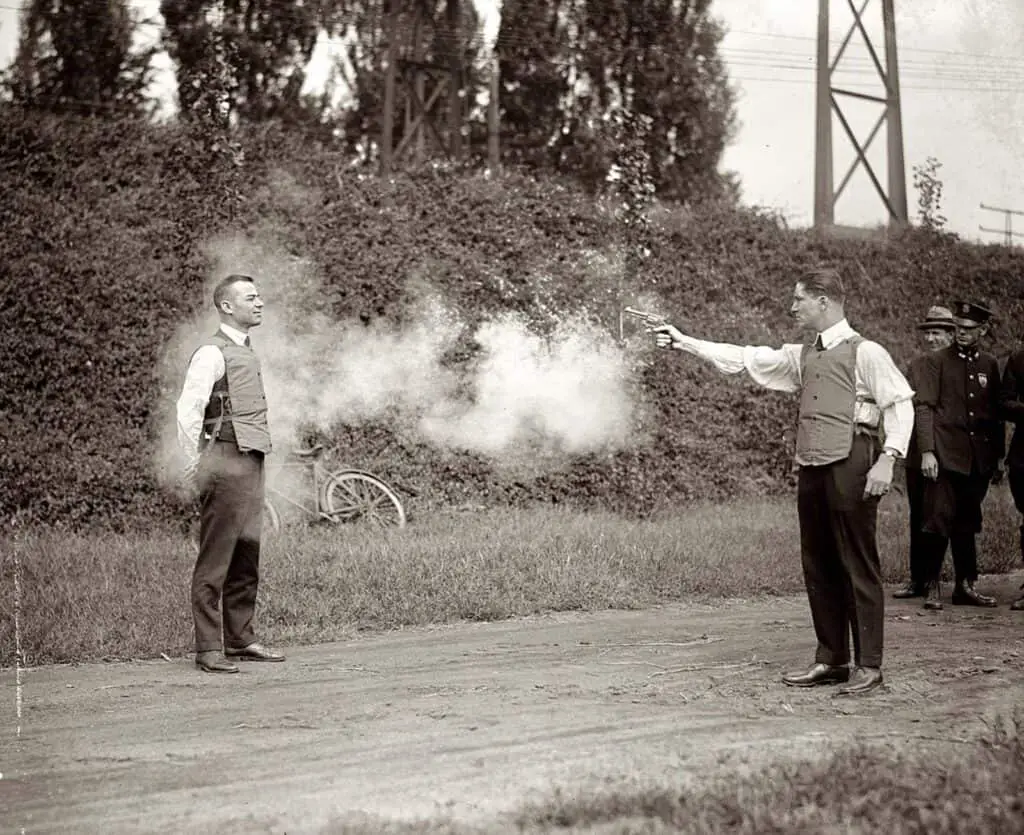 Use Measuring Tape for a Precise Fit
The previous guidelines for making sure that your vest fits are both widely used and generally dependable. However, the only way to know with 100% certainty whether your vest fits properly is to put it on and have someone else measure you with a flexible tape measure.
Note: You should not measure yourself, as this will produce inaccurate measurements.
Here are some measuring instructions to follow:
Measure the area between the armpit and the top of the vest. This measurement should be approximately 3 inches. 
The front and back panels should have a maximum of 2 inches of overlap. 
Get Measured by a Professional
If you are going to a physical location to purchase a vest, you can ask a professional to measure you first. Make sure that you're wearing a belt for these measurements. 
The following steps should be followed to get the most accurate measurements:
Chest Measurement. The chest should be measured with the arms down. 
Waist Measurement. The widest portion of your torso should be measured while standing. 
Sternal Measurement. While sitting in a relaxed position, a measurement should be taken from the top of the sternum to the belt. The measurement should also be done while standing. 
Back Measurement. While standing up, a measurement should be taken from the top of your shoulder blades to about 1 inch above the top of your belt. 
Arm Pit Measurement. With one arm lifted at a 90-degree angle, the professional should measure from the armpit to 1 inch above the top of your belt (Source: Officer.com).
The professional should take note of all of these measurements and recommend a vest that will provide the best fit. 
Final Thoughts
Now you know exactly how to make sure that your bulletproof vest fits properly and what to expect when getting measured for a new vest. Feel free to use this article as a quick reference guide for your vest fitting needs.
---
OUR RECOMMENDED TACTICAL GEAR LIST:
---