The original War Poet Pistol is a 9mm handgun created by Shadow Systems for the Warrior Poet Society. It is based on the MR920 from Shadow Systems, built like a Glock 19. You can think of this as a Glock on steroids, or as some like to call it, a Gucci Glock. The newest addition to the War Poet family is the CR920 Subcompact. More on that is below.

It's important to note Shadow System does not use any parts from Glock in this weapon, just the rough dimensions to fit common Glock 19 accessories.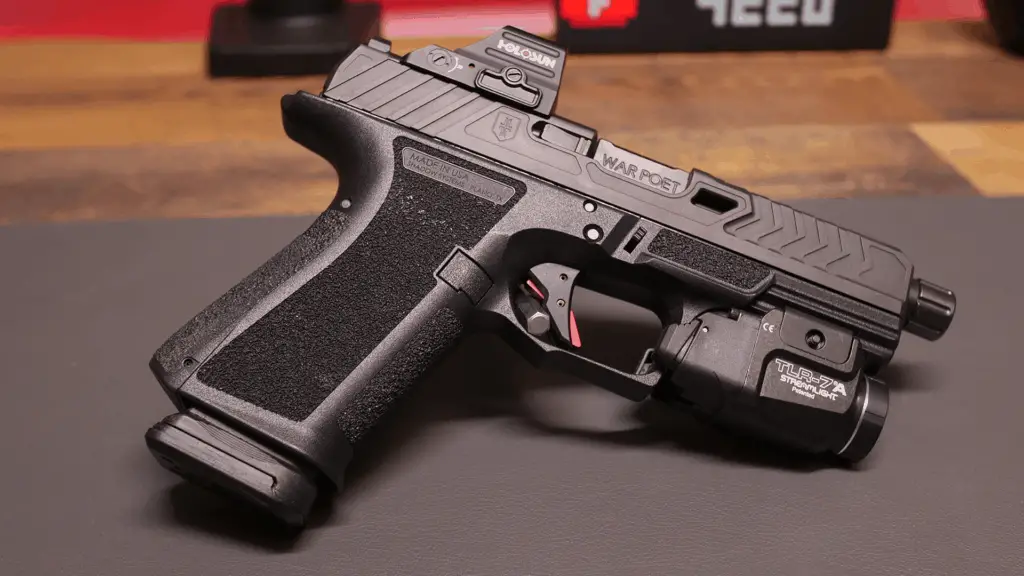 I purchased the MR920 version of the War Poet pistol a few years back, and now that I've had significant time to shoot and carry it, I wanted to create an in-depth look at it and explain the pros and cons for anyone on the fence about purchasing it. I also wanted to break down all the upgrades and show their individual cost to see how much this gun would cost if you made the upgrades yourself to a standard Glock 19. Does it provide enough value for the money?

Lastly, I will cover the newest War Poet Pistol by Shadow Systems, the CR920 Subcompact. With any luck, I might be able to do a hands-on review of the CR920 soon as well (hint-hint Shadow Systems 😉)
War Poet Pistol Vs. Upgraded Glock 19
| War Poet Vs. Upgraded Glock | War Poet Pistol | Glock 19 |
| --- | --- | --- |
| Base Pistol Cost | $1,200 | $499 |
| Iron Sights | ✓ | $129 |
| Optic Cut | ✓ | $125 |
| Red Dot Sight | ✓ | $309 |
| Upgraded Barrel | ✓ | $234 |
| Upgraded Trigger | ✓ | $151 |
| Upgraded Slide Work | ✓ | $215 |
| Upgraded Mag Well | ✓ | $89 |
| Upgraded Stippling | ✓ | $100 |
| TOTAL COST | $1,200 | $1,851 |
Customized Glock 19 price compared to the Shadow Systems War Poet Pistol Build On The MR920 Platform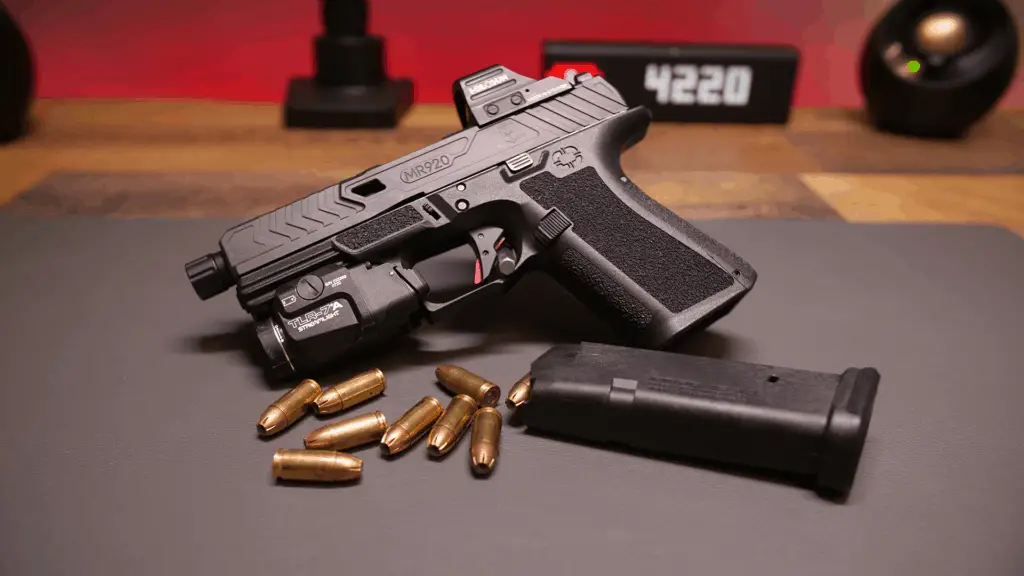 What is the War Poet Pistol?
The War Poet pistol was first introduced in January 2020 in partnership with Shadow Systems and the Warrior Poet Society. The initial release of the War Poet gun was based on the Shadow Systems MR918 platform and was soon after upgraded to the MR920 platform with multiple improvements to the pistol based on customer feedback.
How is the War Poet Pistol different from a Glock 19?
The War Poet Pistol is not a Glock 19 with modifications, it is a platform manufactured independently of Glock entirely. While it's not based on the Glock 19, it was designed to be compatible with Glock 19 holsters, magazines, and accessories.
Iron Sights – $129
The iron sights included on the pistol are a big upgrade from the standard Glock 19 iron sights. These metal sights feature a solid black rear sight and a high-visibility green outline tritium front sight.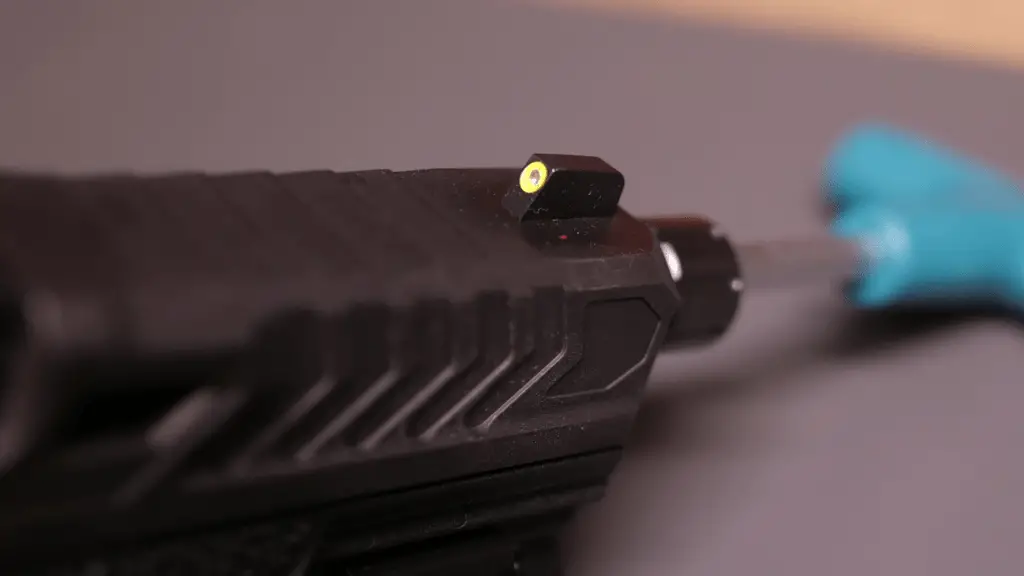 This green tritium front sight really pops in all lighting conditions, but especially in low light. It makes it extremely easy to find your front sight quickly when presenting your weapon. I also like that there is no color on the rear sight to distract from picking up the front sight.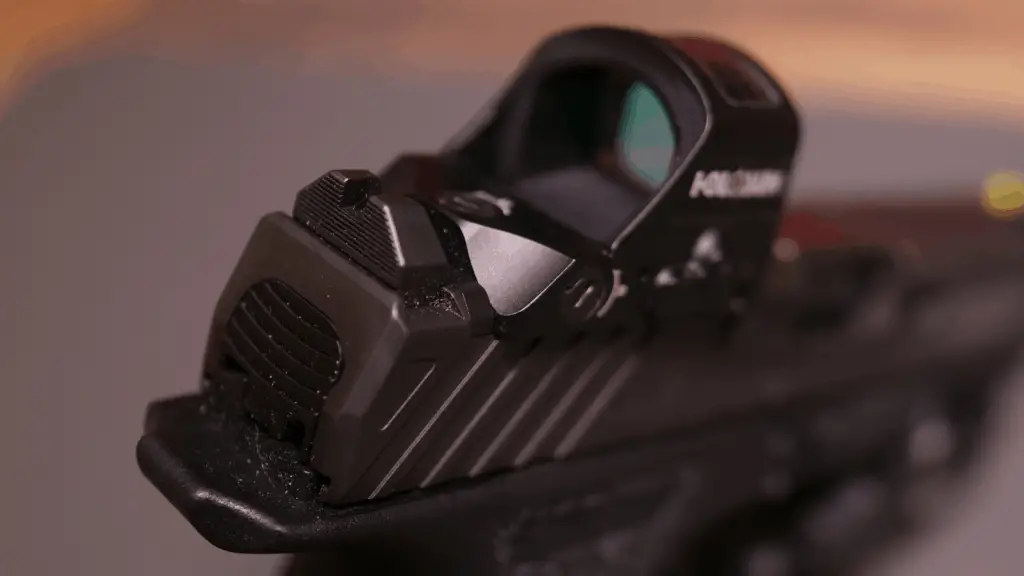 The standard iron sights that come with the War Poet Pistol are high enough to be seen through the Holosun 507C as a backup. Since the optic cut is built into the gun, and no adapters are needed, red dot sights sit lower on the handgun allowing for better visibility of the fixed sights.
Optic Cut – $125
The optic cut on the War Poet Pistol is the same that is in the MR920 and is one of the most unique features of the platform. Due to a new design of the internal structure of the slide, Shadow Systems was able to make the cut deep enough to accommodate nearly all red dot sights without any extra plates or adapters. It is truly a plug and play system.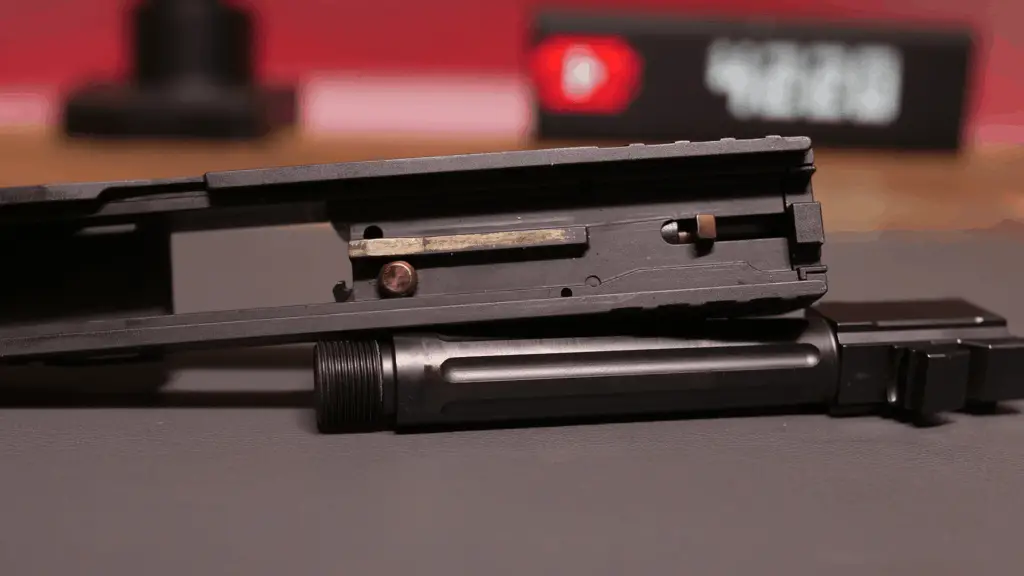 Red Dot Sight – $309
The stock War Poet Pistol has two option, one with a red dot sight, and another model that is optic ready. The red dot sight that comes standard on the War Poet Pistol is the Holosun 507C X2. This optic has been my favorite for a variety of reasons.
First being the battery life. This red dot boasts a 50k hour battery life which is an insane claim. I haven't been able to verify if its true since I'm no where near 50k hours and won't be for many years. I can say the battery hasn't had any issues to date and I don't foresee it having issues anytime soon. In addition, the optic features a backup solar failsafe to ensure you have a functioning optic in nearly any situation.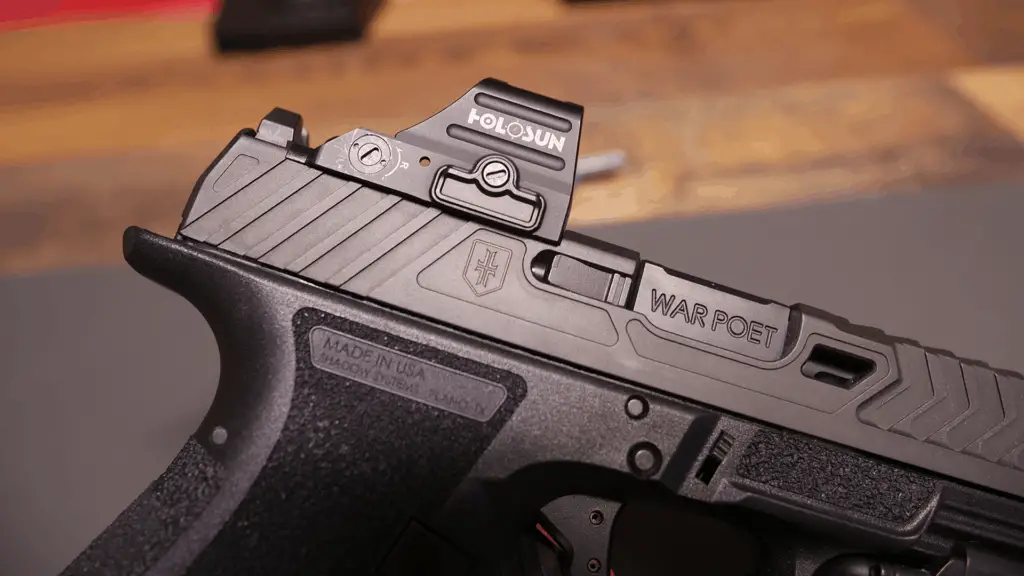 With the Holosun programmable "Shake Awake" feature, you can set a delay for the optic to go into sleep mode and it will only light back up when there is motion. This can extend the battery life up to 100k hours.
One of the major upgrades to this version of the Holosun 507c is a battery tray on the side of the unit. This allows you to change the battery (if you ever need to), without removing the optic from the handgun like was required with previous models. This red dot uses CR1632 style batteries which are available on Amazon for only $6 for two batteries.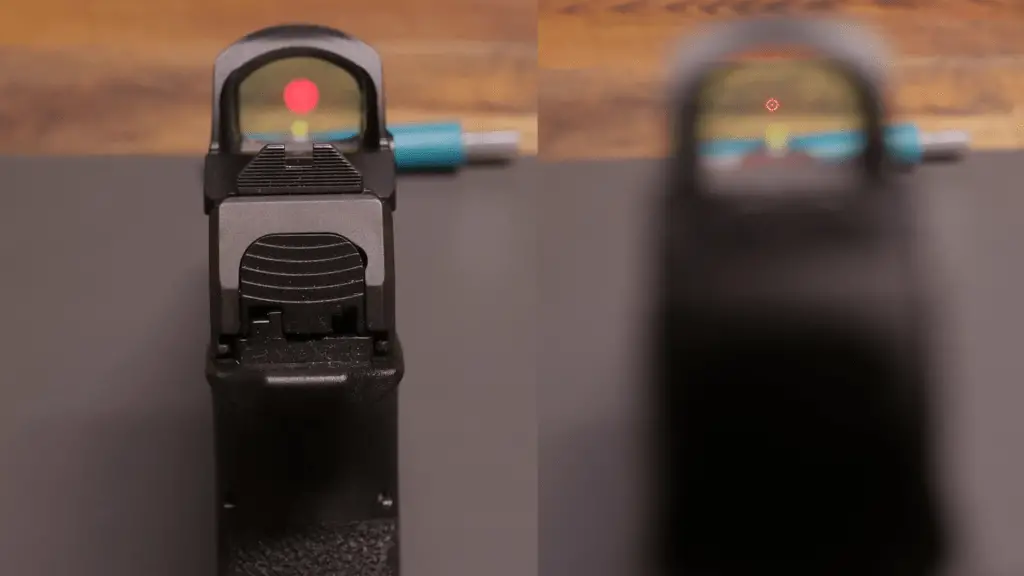 The unit is made from aluminum making it light weight yet still giving it an extremely durable feel and function. With 12 brightness settings, you can easily adjust the reticle to your liking for indoor or outdoor use in addition to dim settings specifically for use with night vision. There are also three different style of reticles to choose from and you don't need to re-zero the sight when switching between them.
Upgraded Match-grade Barrel – $234
The pistol comes standard with an upgraded Match-grade, threaded barrel which comes from machined 416R stainless steel. Using a tighter lug and barrel hood fitment there is an increased accuracy with this barrel without sacrificing any reliability.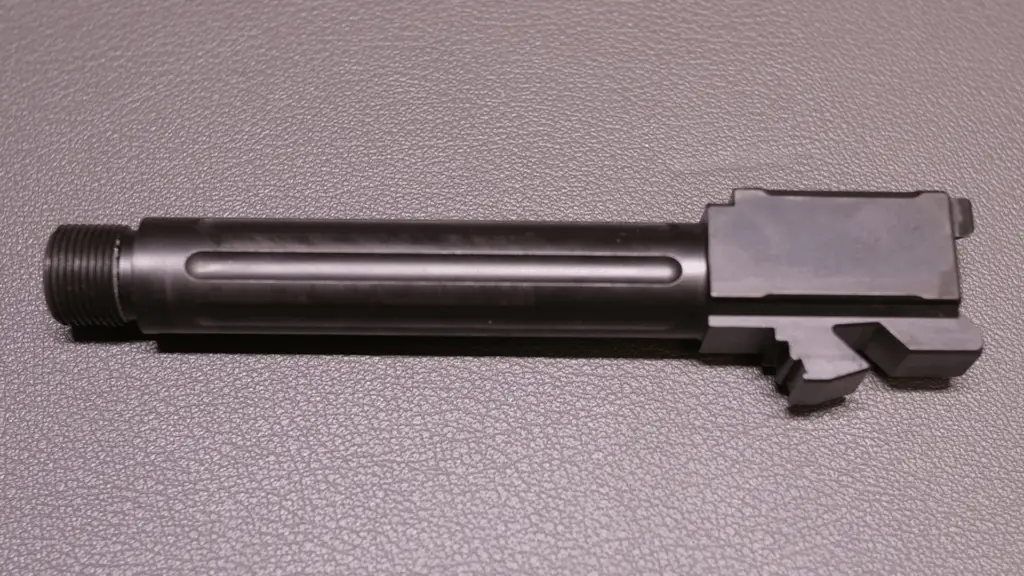 If you plan on running a suppressor or any barrel accessories, this barrel is threaded with 1/2X28.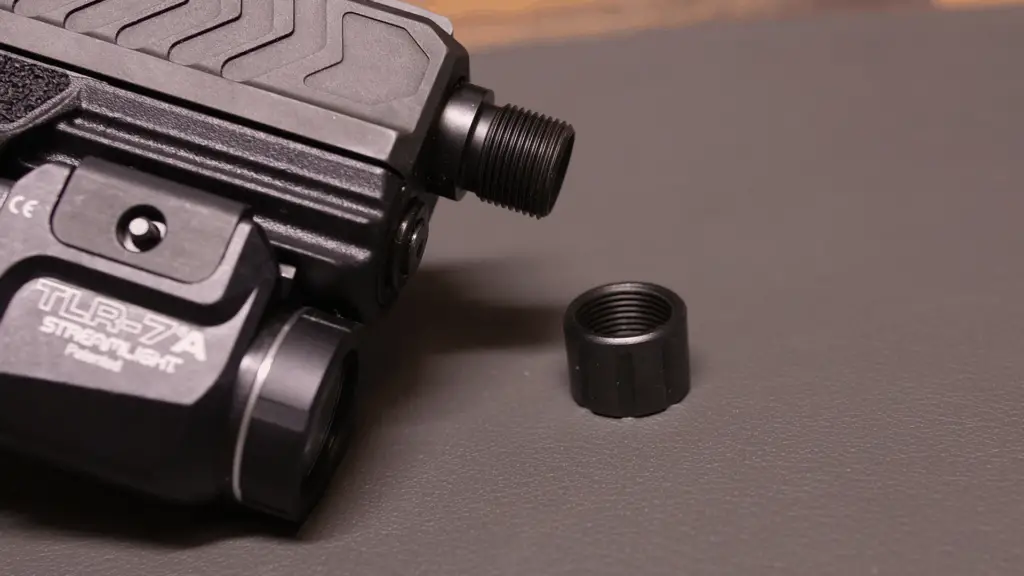 Upgraded Trigger – $151
The trigger included with the War Poet Pistol is flat-faced and designed with accuracy and daily carry in mind. While the take-up has been reduced compared to a stock Glock 19 trigger, there is still a 4-4.5 trigger pull weight. This give an easy and smoother trigger pull (providing higher accuracy) while still remaining safe enough for daily carry.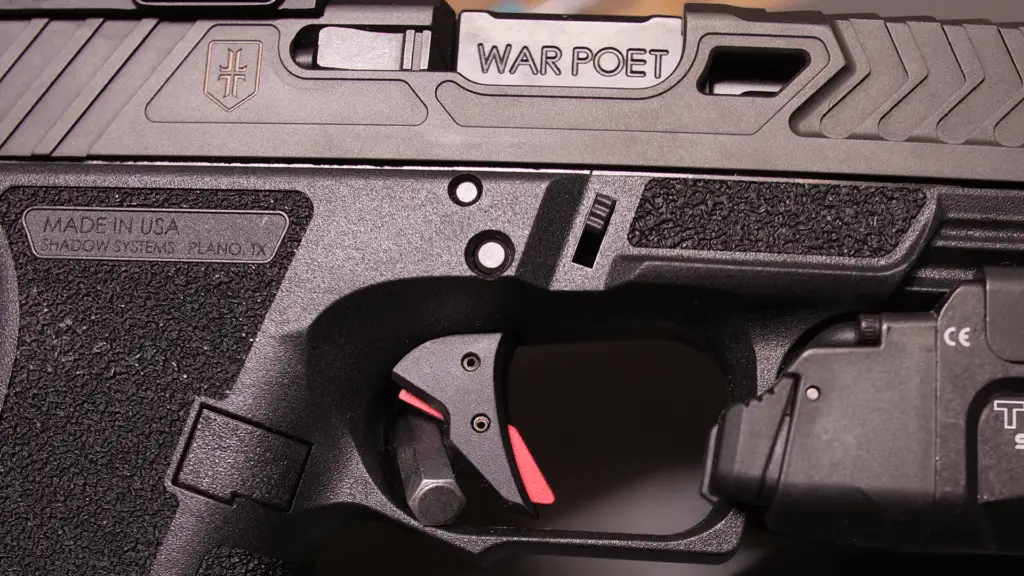 This is a drop-safe trigger that has been tested by Shadow Systems for falls up to 22 feet. There is also a high degree of reliability and durability with this trigger. Shadow Systems has put 15,000+ rounds on this trigger in testing without any issue.
Customizable Grip – $N/A – No Aftermarket Equivalent
The grip on this pistol is a custom design by Shadow Systems and completely changes the standard grip angle to meet the shooters point of aim. The technical name for this grip style is the Shadow Systems NPOA backstrap system. The gun comes with three interchangeable backstraps to even further customize the grip angle to your liking.
Upgraded Slide Work – $215
One of the most visually appealing portions of the War Poet Pistol is the mill work on the slide. This mill work is not just for looks (even though I think it looks amazing), it is also for function. The deeper cuts on the front and rear of the slide provide a much better grip for racking the gun or doing press-checks.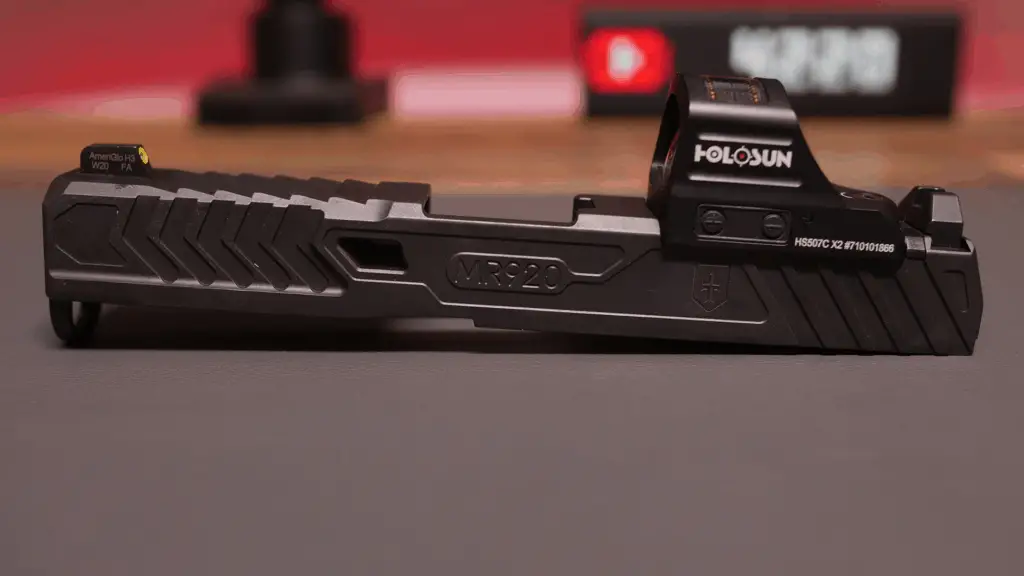 The small windows placed on either side of the magazine help with barrel cooling and ejection of debris.
Upgraded Mag Well – $89
A flared magazine well is standard on this pistol and provides extremely easy reloading even if you don't have the magazine perfectly aligned. The flared edges guide the magazine into the firearm in a smoother fashion with no hang-ups. Not an extremely expensive after-market upgrade, but it is nice to see it come standard on the War Poet Pistol.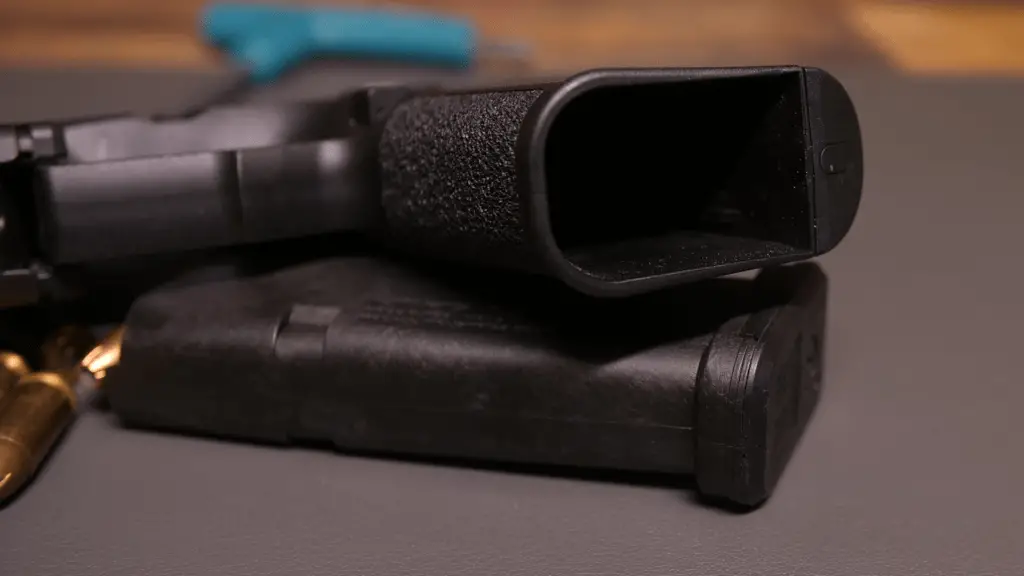 Upgraded Stippling – $100
Stippling is a very common upgrade for added grip. Stippling can help you hold the handgun with increased grip allowing for more consistent and accurate shots. Stippling on the grip is the most common location, except the War Poet pistol takes it further. As you can see in the image below, there is stippling for your thumb when using a thumb forward grip. This little pad with stippling is amazing. I never knew how much I needed it until I was able to shoot with it. Not only does it provide extra grip, it also is confirmation of proper hand placement. When I grip the pistol and feel my thumb align with the pad I know my hand is in a consistent placement.
While you can pay to have stippling added to a standard Glock 19, you wont have the ability for the added thumb pad which is a downside in my opinion.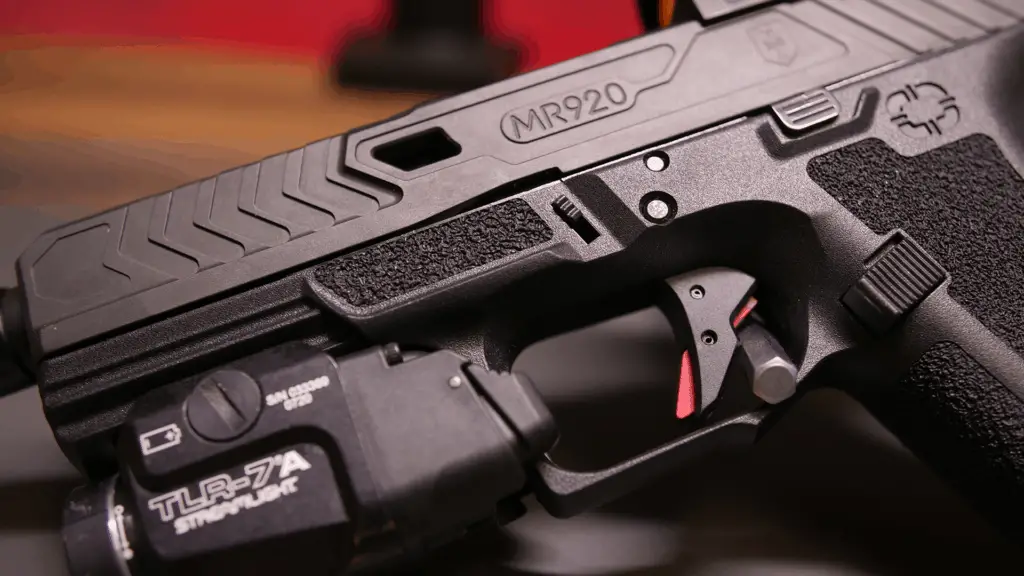 How Does The War Poet Pistol Shoot?
The first time I took the War Poet Pistol out to the range, I was expecting a learning curve since it was my first time with a red dot sight on a handgun. I knew from what others had told me that you need near perfect presentation of the firearm in order to see the reticle. If you are slightly skewed in your presentation, you might not see the reticle at all.
In my experience, as soon as I started shooting it felt completely natural. I actually liked it much better than using my iron sights because I could look through to the target while only having one focus point on the gun instead of two. My first 5 shots at 7 yards all touched each other dead center of the target. I was expecting to have to zero in the sight, but it was perfect out of the box. I was extremely happy to see that.
The trigger is crisp with a defined wall and break point allowing for quick resets. I also really liked the added stippling in front of the trigger under the slide for my left thumb to grip.
Is The War Poet Pistol Good For Concealed Carry?
I was extremely hesitant about the size of the War Poet Pistol for every day concealed carry at first. I was carrying a smaller 9mm before and at times it seemed too big. Not in weight though, just in the amount of printing that could be seen.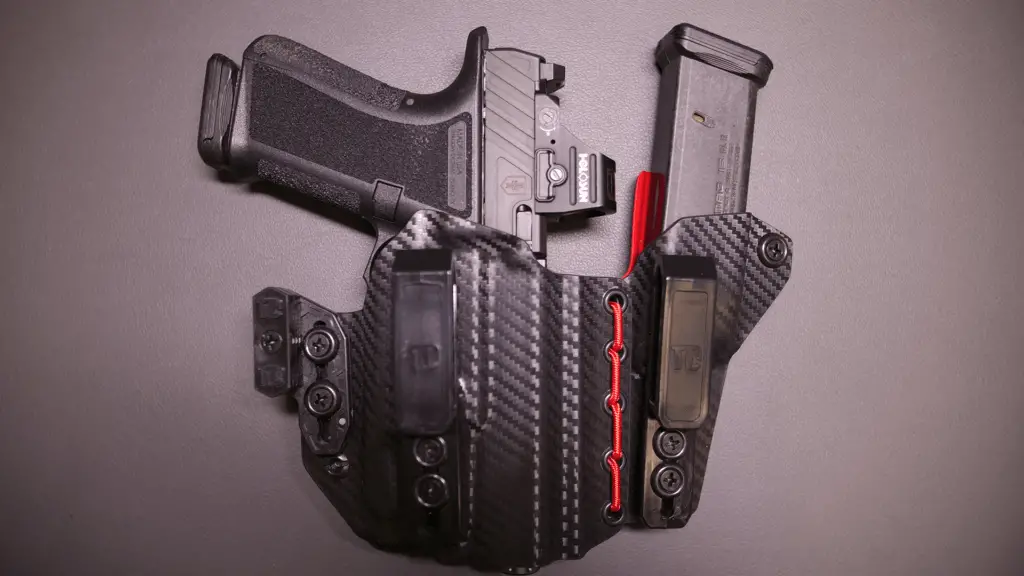 I liked the idea of having the higher capacity of the War Poet along with an extra mag. So I purchased the Axis Slim holster by Tier One Concealed. After waiting about a month and a half, the holster finally came and I was awestruck at how well the holster concealed the gun on my body.
I'm not even sure how, but I can comfortably conceal the War Poet Pistol with the red dot and TLR-7A light along with a second magazine easier than I could with a much smaller 9mm by itself. This really showed me the importance of purchasing a quality IWB holster.
I am 6 foot, 175 pounds, and I normally wear fitted t-shirts. Even with fitted t-shirts the gun conceals perfectly. I found myself much more comfortable carrying in public since I was as worried about printing like I was before.
War Poet Pistol Disassembly and Breakdown
The War Poet Pistol breaks down just like the standard Shadow Systems MR920, with is very similar to the process for the Glock 19. There are a few subtle differences though that might make you hang up. Here's the way Shadow Systems recommends you break down the MR920″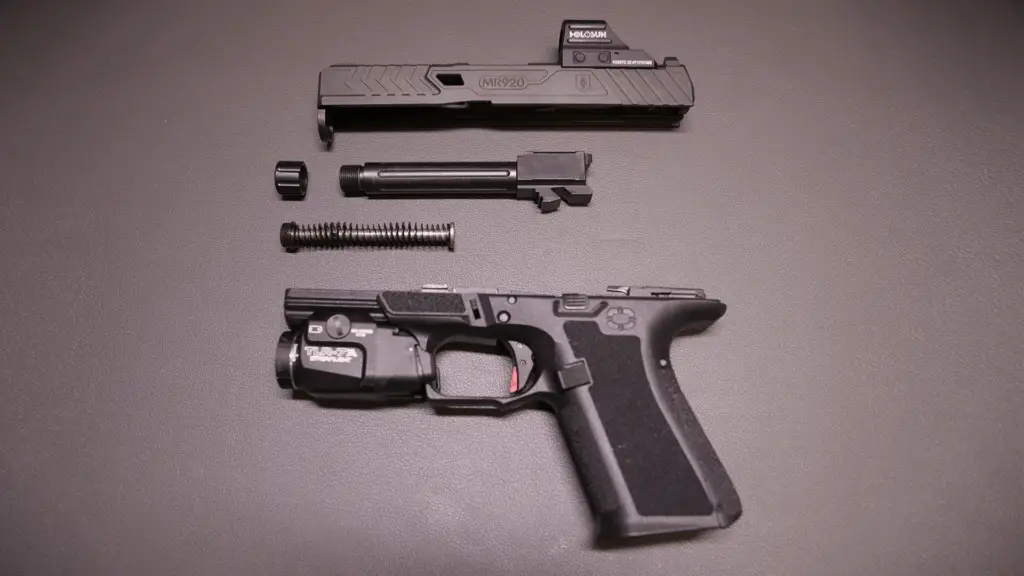 First, ensure all ammunition is removed from the firearm. Drop the magazine and then lock the slide back to inspect the chamber. If your gun is clear, release the slide to the closed position.
Next, point the gun in a safe direction, and then pull the trigger. You should hear the click of the firing pin.
Hold the gun in either hand so that your fingers grasp the top of the slide.
You then want to pull and hold the slide back approximately 1/16 of an inch. Just barely move the slide back to release the pressure from the slide locks.
Simultaneously, pull down and hold both sides of the slide lock using the thumb and index finger of your free hand.
Push the slide forward until it is fully separated from the receiver.
What Holsters Fit The War Poet?
Shadow Systems has built the MR920 Platform so that it can be used with all Glock 19 holsters and accessories. So, any Glock 19 specific holster can work. There are, however, a few holster manufacturers that make holsters specific to the MR920.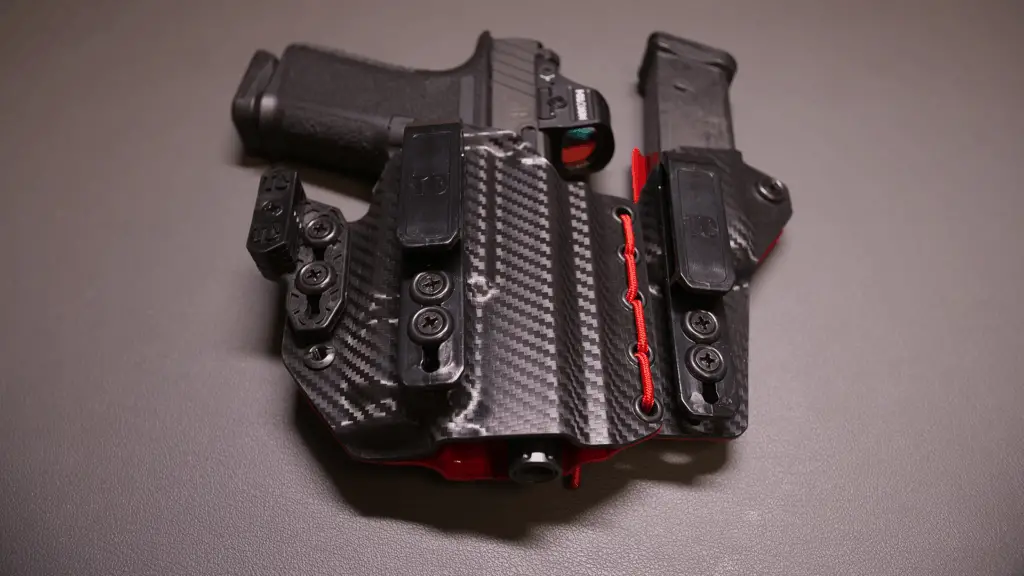 I purchased one of these holsters from Tier One Concealed called the Axis Slim and had it made with sight cut out and and to be compatible with a TLR-7a light. I highly recommend this holster for anyone with the War Poet Pistol or the Shadow Systems MR920. It is made with quality materials, looks great, feels great, and conceals great.
A few other holster manufacturers that make holsters specific to the MR920 are:
Red Dot Sights Compatible With War Poet Pistol
Shadow Systems has a unique proprietary optic mounting cut, which fits most major brands of RDS optics directly mounted to the slide. There is no need for additional plates or adapters to make these red dot sights work.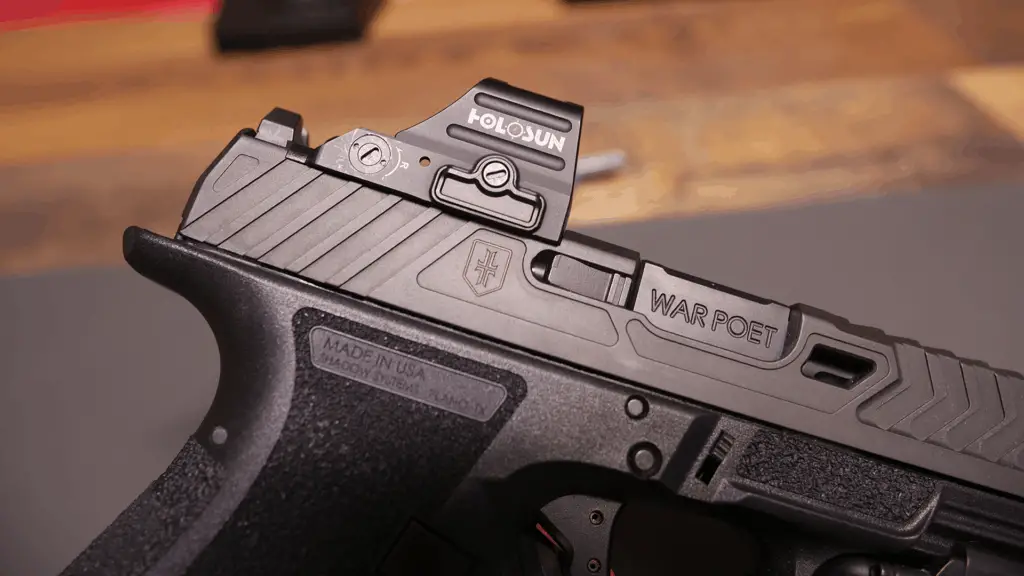 Holosun: 407c, 507c, 508-T
The HS507C X2 is an open reflex optical sight designed for pistol applications. The X2 Series of pistol optics feature two improvements: Lock Mode, which locks the buttons preventing inadvertent setting changes; and a redesigned button layout that decreases interference with the lock mode's operation by placing them lower on the optic body to avoid accidental activation while carrying or manipulating your firearm during use. Additional features include Holosun's Super LED with up to 50k hours battery life, Solar Failsafe (which allows you to maintain full visibility even in low-light environments), Multi-Reticle System, and Shake Awake™ technology (a motion sensor designed so it will only activate when shaken)
Leupold: DeltaPoint Pro
If you are looking for a sight that is versatile and robust, the DeltaPoint Pro will not disappoint. This small yet powerful sight has an easy-access battery compartment so your zero doesn't shift when changing batteries as well 8 different brightness settings ensuring maximum visibility in any scenario with this handy little gadget!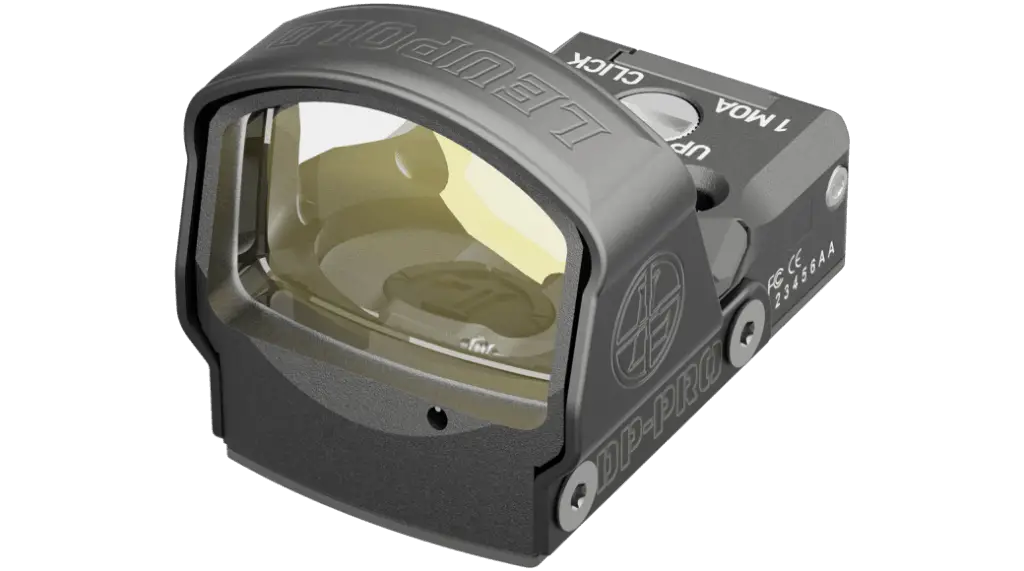 Shield: RMSc
The RMS sight from Leupold gives you a clear and clean optic with an excellent durability. Unlike many competing products, the red filter is removed to ensure minimal visual signature for stealth operations. The body of this product is made out of aerospace-grade aluminum that has been anodized in matte black finish – which will not only be resistant to scratches but also help keep your scope looking good no matter what environment you're using it in! Finished off nicely on top, there are variable intensity drive circuits that sense different levels of light within its surroundings—which means as soon as targets come into view at night time or during low visibility conditions, they can see a bright dot right away; optimized for both day AND nighttime shooting needs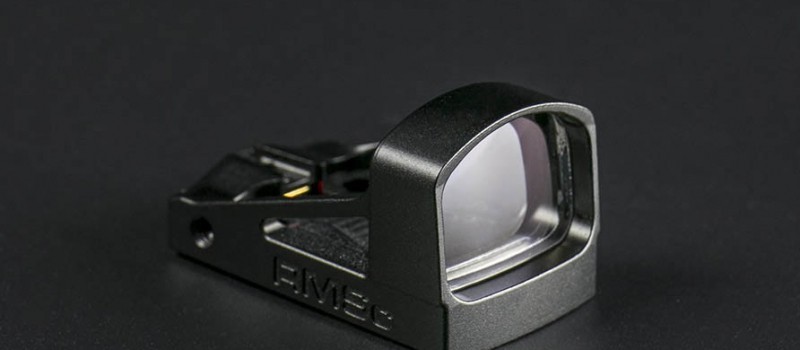 SIG: Romeo 1 Pro
The Romeo 1Pro is a new, durable miniature open-reflex red dot sight that has 12 brightness settings. The aircraft grade aluminum housing ensures corrosion resistance and durability in the harshest of environments while also providing increased brightness with its upgraded point-source emitter; which means it can be used day or night conditions without distortion to give you fast target acquisition for accuracy. The glass aspheric lens offers superior light transmittance so you'll have clear vision when shooting targets from afar, all backed by high performance coatings for better visibility and bright illumination on your small scope screen at any time
1)The Romeo 1pro features an ultra lightweight design (under 5 oz.), making assembly easy no matter what type of firearm it's attached to 2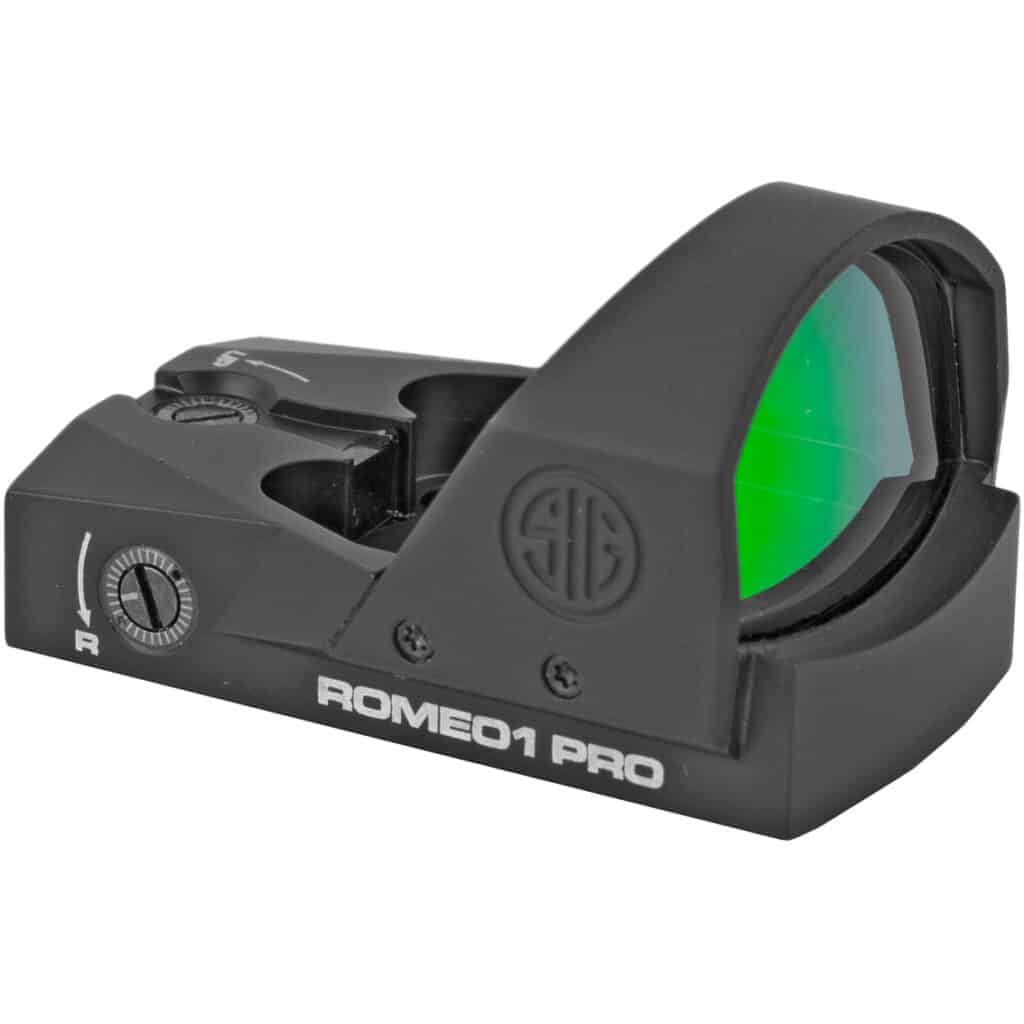 Swampfox: Liberty, Justice, Kingslayer
Do you want to take your shooting skills up a notch? Check out the new Liberty and Justice second generation Swampfox Optics open reflex sights. They're perfect for everyday concealed carry and law enforcement duty use, featuring tough 7075 aluminum construction with Shake 'N Wake Illumination to give you the best clarity possible in any conditions! Plus these optics have improved battery life so they'll be ready day after day – no matter what Mother Nature throws at them!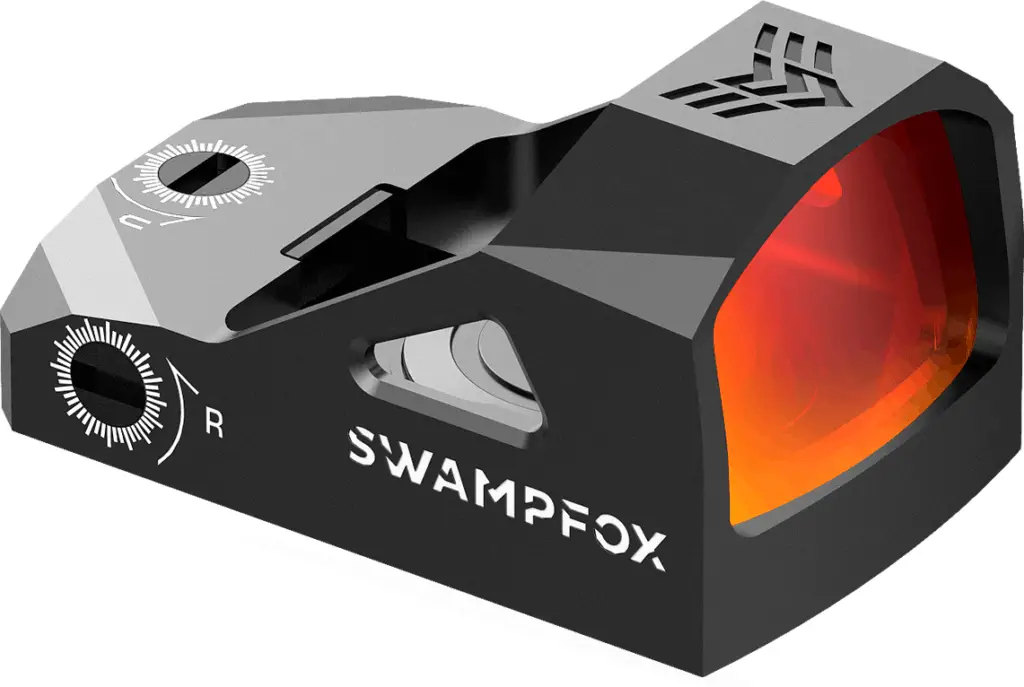 Trijicon: RMR, SRO
The Trijicon RMR sight is the most rugged miniature Red dot sight available. It has a patented shape that absorbs impacts and diverts stresses away from the lens, increasing durability. The new type 2 model features upgraded electronics which have proven through extensive testing to properly function when mounted on slide ride pistols or all other small arms; this versatility makes it perfect for any gun owner!
TruGlo: Trutec
Whether riding the slide of an optic-ready handgun or outfitting a rifle or shotgun with ultra-lightweight accessories, the new TRU-TEC MICRO is here to help. The MICRO incorporates favorite features of the TRU-TEC line in an ultra-lightweight and versatile profile, including digital push-button brightness control and an idle auto-off system to save battery life.
Vortex: Vip
The Viper Red Dot is the perfect solution for handguns with cutout slides. The super-low mounting height makes it simple and fast to use, while co-witnessing with suppressor height iron sights. With a 6 MOA dot diameter that gets shooters on target quickly, there's no sacrifice involved in choosing this sight over traditional ones!
So, is the War Poet Pistol Worth It?
So, is the War Poet pistol worth it? In my opinion, most definitely! I have been pleasantly surprised with this purchase and ended up liking the whole setup much more than I thought I would. Initially, I had heard good things about Shadow Systems, and knew of the Warrior Poet Society, but I wasn't convinced the upgrades on this compared to upgrading a standard Glcok 19 was worth it. After using it, I can say that it feels like a compelete package that is reliable.
One downside of piecing together different parts from across the internet to upgrade a standard Glock 19 is that you can run into quality issues, reliability issues, and a host of other potential problems. With the War Poet Pistol, it has all the upgrades I'd want in a handgun made from the factory without aftermarket accessories.
This exact gun, with the except specs, have been tested vigorously by Shadow Systems and have proven reliable. This is not something you can say as confidently for an upgraded Glock 19 with a lot of aftermarket accessories.
This is currently my daily carry gun and I have no plans to switch in the foreseeable future.
Common War Poet Pistol Q&As
Is The War Poet Pistol a Glock?
No, the War Poet Pistol is not a Glock. It is made by Shadow Systems and can accept most holsters and accessories from a Glock 19.
Does Shadow Systems Make Quality Handguns?
The overwhelming number of reviews for Shadow Systems are positive. Searching Google and YouTube, you will find very few negative comments about the gun manufacturer.

When you see negative reviews, it usually has to do with the gun failing to go into battery. This is something Shadow Systems outlines in their manual as the "break-in" period. You should expect to fire 500 rounds through the War Poet Pistol to get it past the break-in period, where jams can occur.

Shadow Systems is also well known for taking customer feedback and implementing changes when updated pistols are released.
What is the Warrior Poet Society?
John Lovell created the Warrior Poet Society to help train and equip others to use their minds and bodies to protect others to make our communities and our world a safer place. The society's YouTube channel has a wide variety of training videos, and their WPSN network has even more training videos.

I highly recommend the Pistol 1 and 2 training series that can be found on the Warrior Poet Society Network. I am currently a subscriber myself.
What's Included in the War Poet Pistol Box?
When you purchase a War Poet Pistol, it will come in a cardboard box with a soft case inside. The soft case is nothing special, but it features the Shadow Systems logo and will hold the gun/accessories.

The gun comes with two 15-round magazines, three interchangeable backstraps, a gun lock, and a few spacing adjusters to fill up the gap behind some red dot sights when attached to the gun.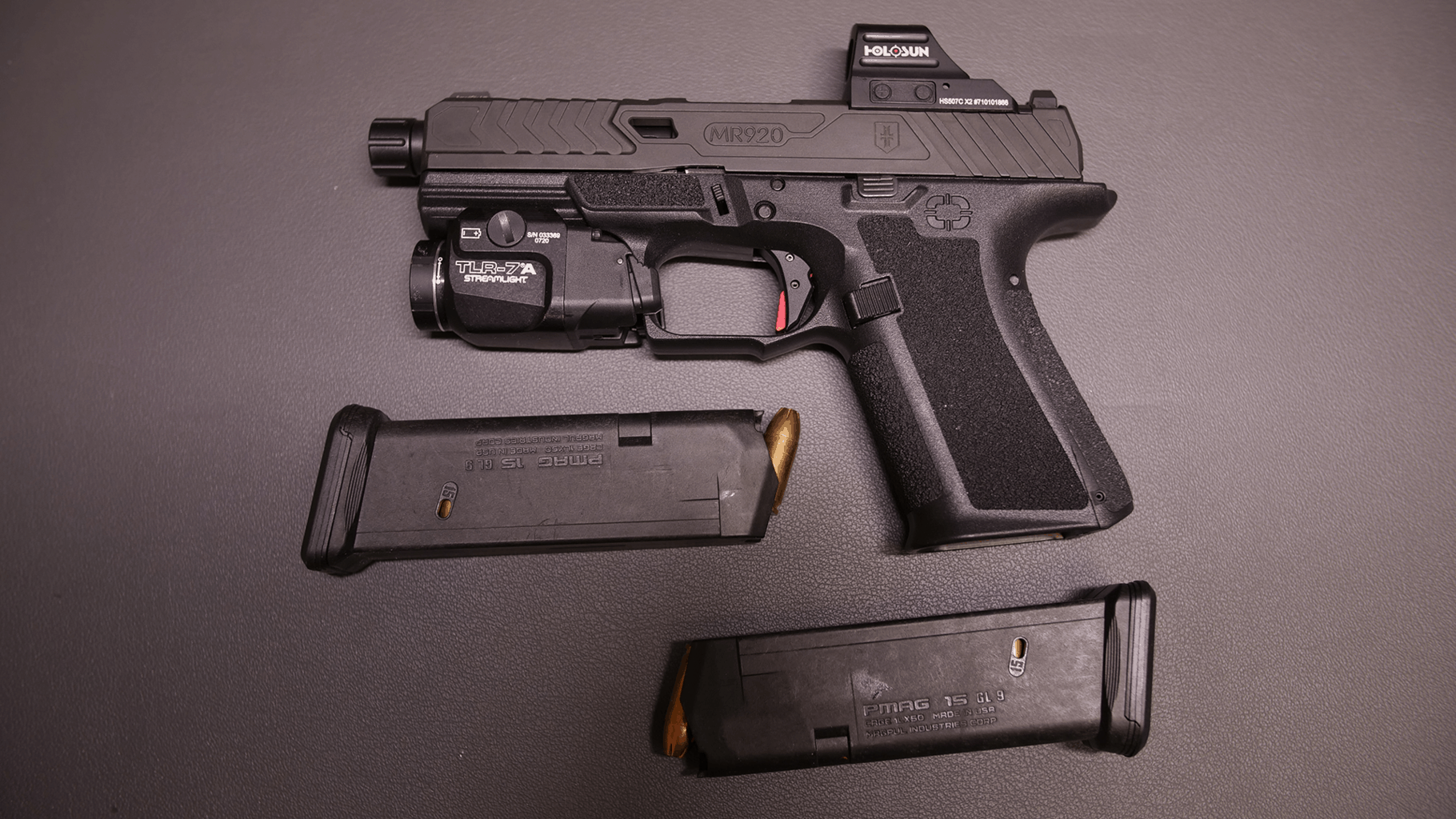 ---
OUR RECOMMENDED TACTICAL GEAR LIST:
---