I needed a quicker, more reliable way to get to my handgun in the event of an emergency while still keeping my firearm away from my children. The StopBox was my answer. Here is my review after3 years of use. *This review has been fully updated for 2023

In the year 2023, there exists a wide range of handgun safes, along with a few retention devices such as the StopBox, available in the market. Making an informed decision can be challenging when you haven't had the opportunity to personally test most of them.
Having utilized the StopBox for nearly three years, I wholeheartedly endorse this handgun retention device if you seek a discreet storage solution for your weapon while on the move, without compromising the safety of younger children. It effectively fulfills that purpose and has proven to be reliable, with the exception of a singular issue mentioned below, which has since been rectified. I have personally recommended the StopBox to multiple individuals, including my own father, all of whom have provided positive feedback.
However, it would be unfair to claim that all feedback has been exclusively positive. If you peruse the comments section of my video review on the StopBox, you will find a few negative remarks from individuals who own the product. In my perspective, overall satisfaction with the device hinges on your specific intended use and your expectations from it. I will address both of these aspects in the following review.
What is it?
The StopBox is a polymer (plastic) handgun retention device, not to be confused with a safe, that uses a hand-operated lock. There are six possible combinations on the standard box. The box is opened by placing downward pressure and applying force to the correct finger tabs. The StopBox does not use any batteries.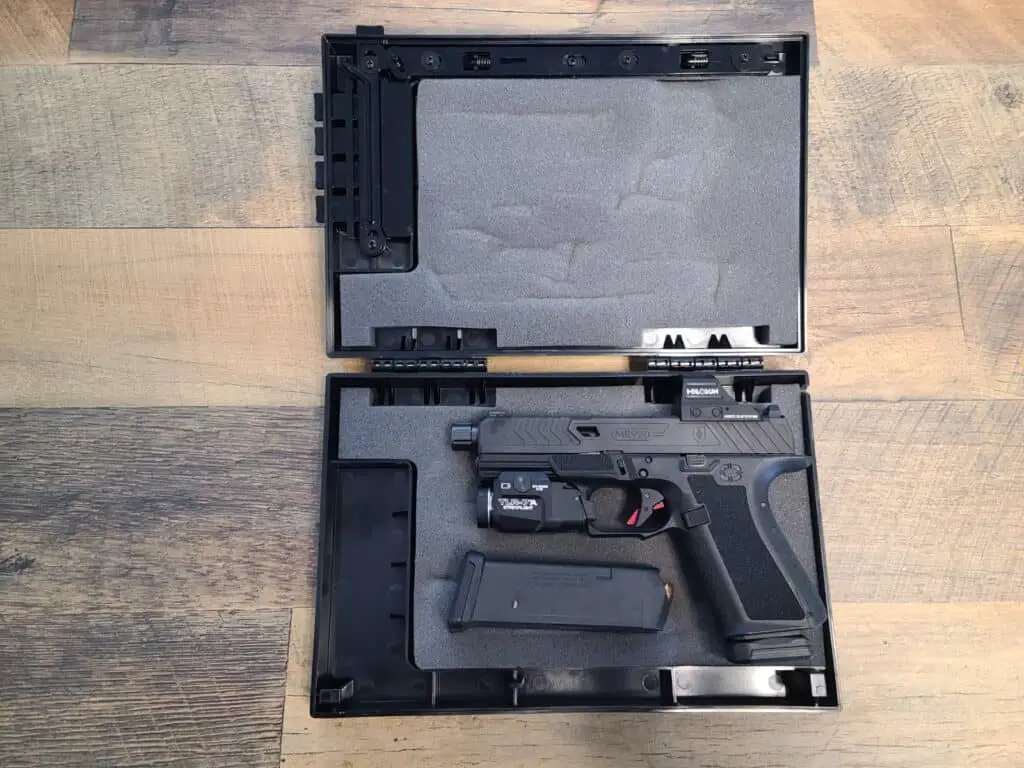 Who is this "safe" made for? 
Allow me to begin by emphasizing that the StopBox should not be regarded as a safe, but rather as a handgun retention device. Now, you might wonder, what sets the two apart? Well, the distinction lies in their intended purposes.
A safe is designed primarily to impede unauthorized individuals from obtaining access to your firearm. Equipped with digital and fingerprint locks in numerous models, its primary function is to safeguard your handgun and create formidable barriers that would make it exceptionally challenging for anyone to gain entry, even if they were to attempt to do so.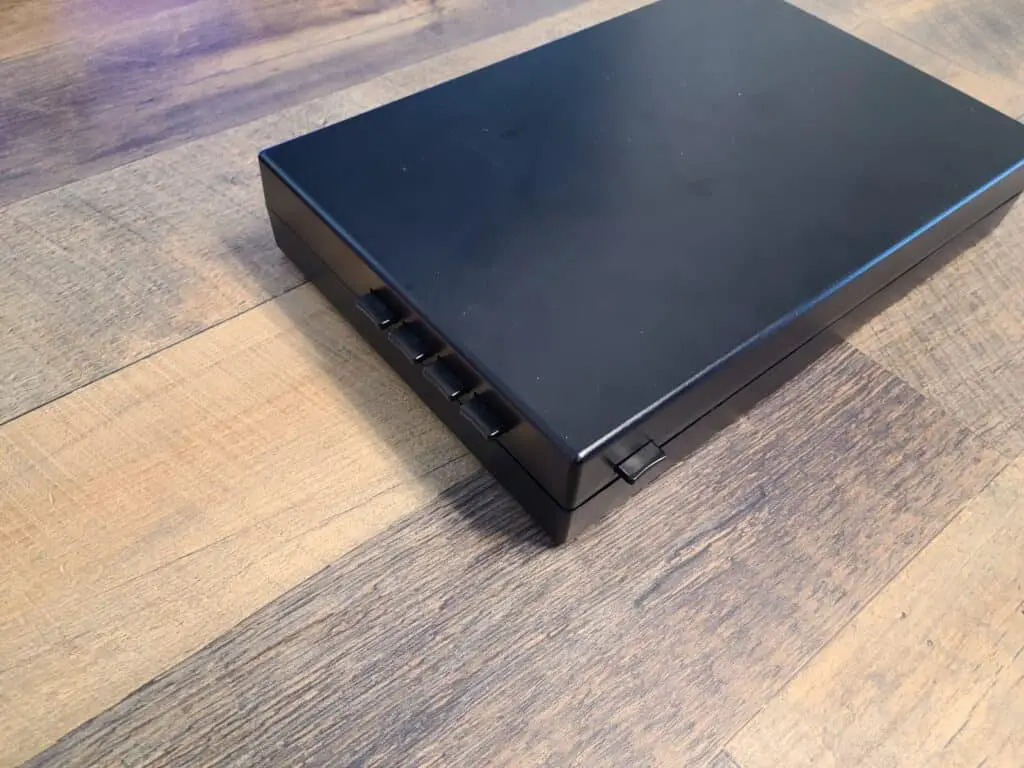 In contrast, a retention box serves the purpose of securely concealing your firearm while ensuring quick accessibility. Its primary objective is to keep your gun discreetly stored and out of sight, providing protection against accidental access by young children. For instance, the StopBox is crafted from durable ABS plastic and incorporates a mechanism that allows for only six potential finger combinations, enabling any adult to open the box within a few minutes of trying, if necessary. It is worth noting that there is an optional accessory pack available for purchase, which expands the number of combination options to a total of 15.
Personally, my motivation for acquiring the StopBox was to have my gun conveniently located next to my bed at night, or even in the office or kitchen during the day, while assuring that my children, aged 6, 4, and 2, would not be able to access it inadvertently.
I wanted to make sure that I could quickly get my gun if something bad happened, without worrying about using a fingerprint reader, a code, or the batteries running out in the safe.
When I saw an ad for StopBox and learned about it, I thought it could do everything I needed. So I decided to try it out. The StopBox opens when you put your fingers in the right place, so it's really fast to open.
It doesn't need batteries because you don't have to use electricity. And you don't need a key either, so you don't have to keep track of extra things.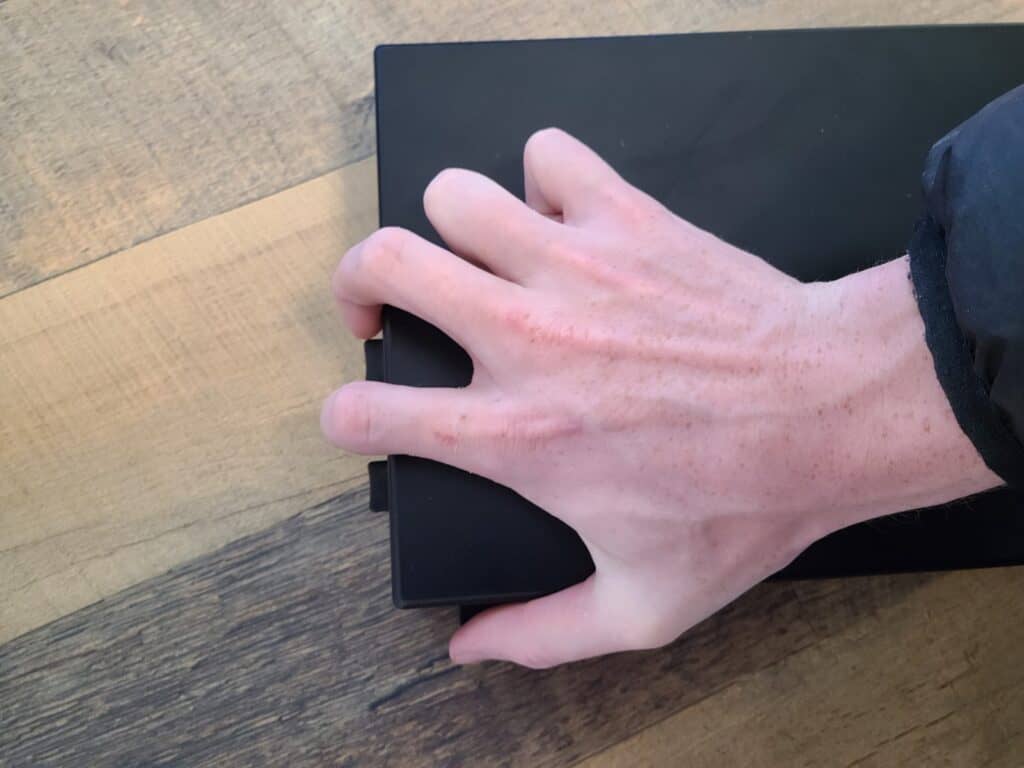 The finger tabs on the box are spaced apart enough that only an adult-sized hand can open it. To unlock the safe, you have to press the correct combination of the front four tabs. Once you press the right tabs, you can then press the thumb tab on the side.
As an extra safety measure, you need to apply downward pressure from your palm on the box for any of the tabs to work. Otherwise, the tabs remain locked in place.
This setup makes it nearly impossible for small children to open the box, even if they know the right finger combination. But it allows you to quickly access your firearm because you can open the safe in one smooth motion.
Construction and Quality of the StopBox
The StopBox is made from a Polycarbonate-ABS Construction (plastic). It is light in weight but feels rigid and robust to the touch. There are four rubber spacers on the underside of the box to give the box grip when placed on a hard surface and prevent any scratches. 
The locking tabs are made from plastic, as are most of the internal components. Aside from some screws and a spring, all the parts of my box are ABS.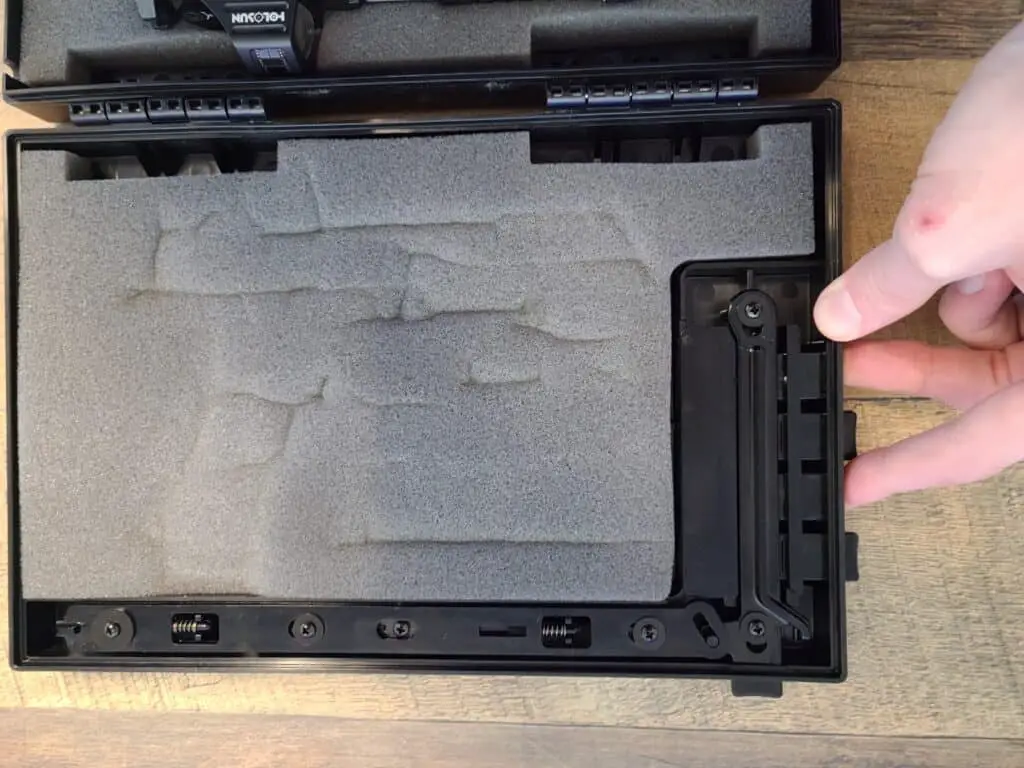 Inside the StopBox there are two pieces of foam. One on the top and one on the bottom. These foam pieces are glued to the box to prevent movement when opening. There is very little space between the foam pieces when the box is closed, making your gun snug between the foam. 
This prevents all movement of the gun while the box is closed. Whether I place my Shadow Systems MR920 in there or my wife's Ruger LCP, the guns are set in place with the pressure from the foam. 
After my two years of use, the foam has some indents and printing from the guns but continues to hold them in place securely. 
Daily use of the StopBox

When I got my StopBox for the first time, it took a little bit of practice to learn how to open it. Initially, it felt a bit tricky, but once you figure out where to put your fingers and how to press down with your palm while opening it, it becomes easy and natural.
I can easily open the safe and grab the firearm within 1-2 seconds every time.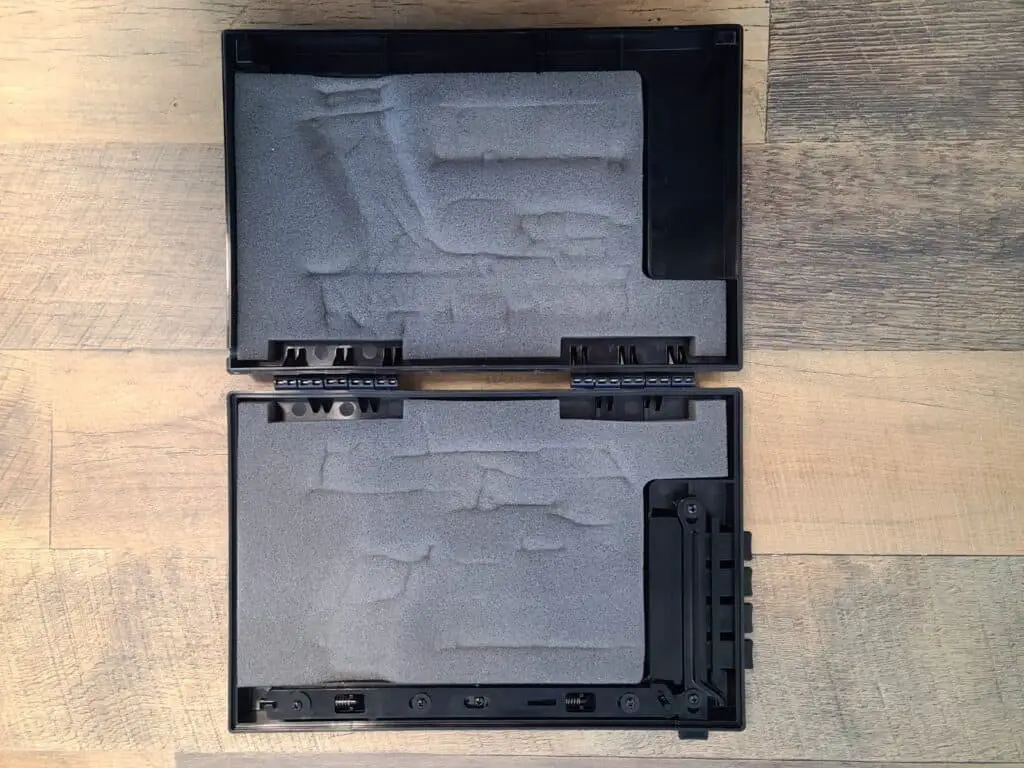 Since the buttons on the safe are spread out, it makes it nearly impossible for small children to open it. If they knew the combination and used both hands, they would still have a difficult time applying the downward force needed to unlock the finger tabs. 

When it comes to young children, typically between the ages of 1 and 6, I don't have any concerns about them being able to open the box. However, as children reach the age of seven and older, it might be a different story. Fortunately, I still have some time before my own children reach that age, giving me an opportunity to teach them about firearm safety.
Apart from keeping the box beside my bed at night, I find another practical use for it in my car. There are certain places where carrying a concealed firearm is not allowed. If I ever need to leave my gun in the car, the last thing I want is to leave a loaded weapon in the glove box or center console where my children could access it. The StopBox works perfectly for securely storing the gun and placing it in the center console.
Moreover, the box offers an additional layer of security since even if someone were to look into my vehicle, they would likely not be able to identify the box or its purpose. This provides extra peace of mind.
What I like about the StopBox
I take extreme comfort in that I can have quick access to my firearm in the event of an emergency without the need for any codes, fingerprint readers, or keys. 
I like the fact I can have my gun near me throughout the day when not carrying it and not be worried about my children gaining access. I do want to note that while I don't think my 2, 3, or 5-year-old can open the StopBox, I still try and keep it out of reach on the countertop or in a drawer and have told them not to touch the box many times (they know this rule exceptionally well). I have yet to have either of them even attempt to mess with the box, much less get close to opening it. 
I like that the box is discreet, and it is not easy to tell what it is. I can take the StopBox out of the car and carry it into the house without neighbors seeing a prominent gun safe in my hands.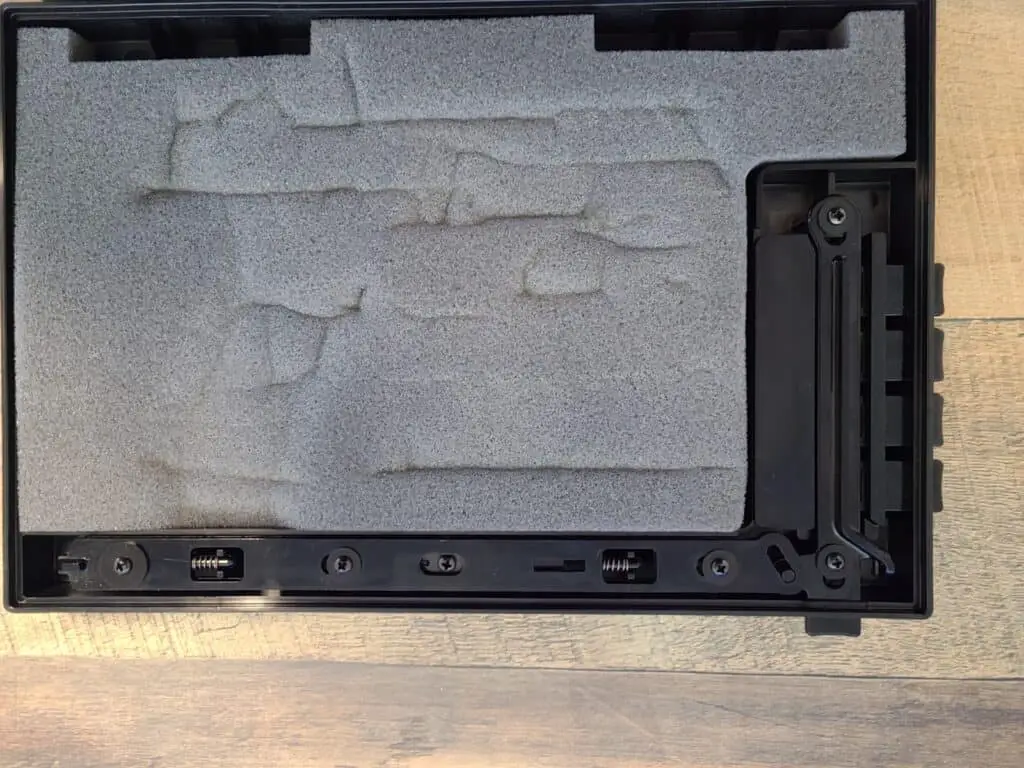 What I don't like about it
Shortly after receiving the box, I noticed that when I went to close the box, it wouldn't close. I would need to suppress the finger tabs again with it open in order to get the box to close. This wasn't extremely alarming to me since I wanted speed in opening the box, not closing it. But it was an annoyance. 
After digging around and calling StopBox customer support, I found they knew about the issue and had changed one of the internal components from plastic to metal to prevent this problem on all new boxes. 
They offered to send me the piece completely free to fix the issue on my box. This fix solved the problem, and I very much respect their customer service for sending the part at no cost. Anyone purchasing the box as of this writing should not worry about this issue. 
I also would have liked to see, especially for the price of the StopBox, internal metal components and finger tabs instead of plastic. While the locking mechanism works, it feels cheap. 
I understand the box needs to be ABS to save on weight and cost, but making the locking mechanism more robust would give the product a much better overall feel and a longer lifespan.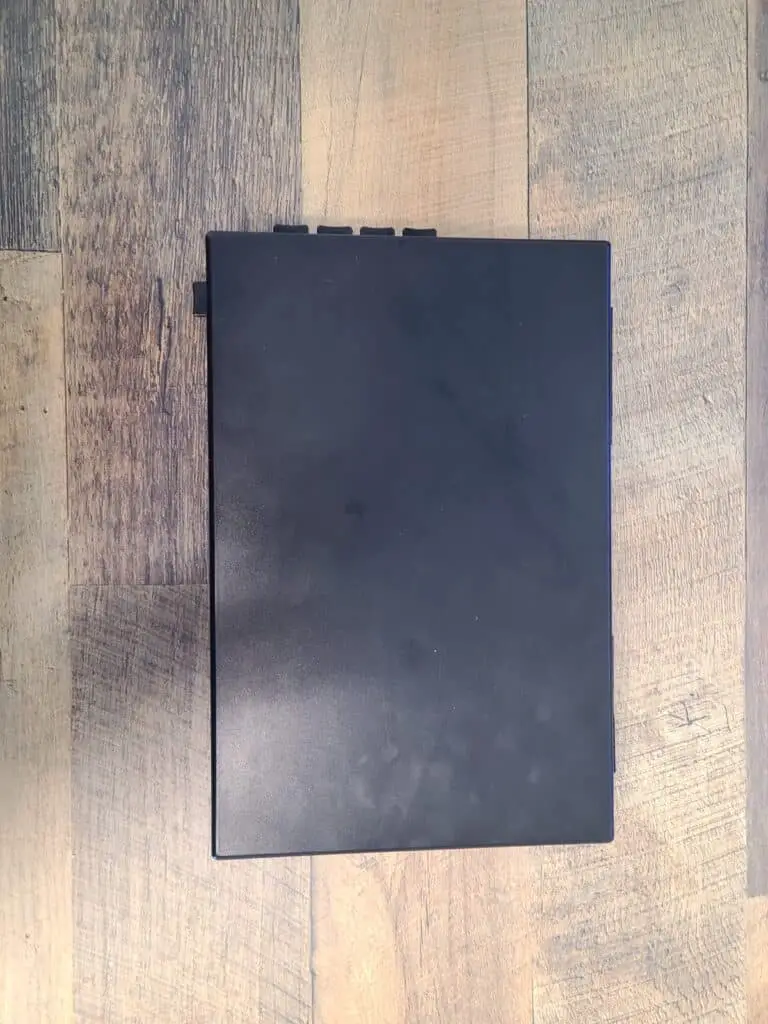 Conclusion 
For the purpose the StopBox fills for me, there's nothing else I've found that does it better even three years later. It's solid, works as it's supposed to, and does the job I need. I highly recommend this box and the company itself for anyone needing quick access to their firearm while keeping it out of the reach of children. Three years in with regular use and it still operates exactly as it should!
StopBox FAQ
Can this work for left-handed people? 
Yes, it can. It might work better. You will still need to use your right hand to open the box, but as the box is opening, you can grab your firearm with your left hand. For right-handed users they need to open the box entirely and then reach in with the same hand to retrieve their weapon. 
How big of a gun will fit in the StopBox? 
Almost all full-size handguns can fit even with a large light, such as the X300. I actually place my wife's Ruger LCP AND my Taurus PT111 in the box together, and they fit.

My Shadow Systems MR920 (equivalent to a Glock 19) with a red dot, extra mag, and light fit without issue.  
How does the StopBox combination work? 
The box comes preset with a standard combination. It can be opened by pressing the first and last of the four top tabs and the thumb tab on the side while applying downward pressure with your palm. With a screwdriver, you can follow the instructions and quickly switch out the combination for something else. 
Does the box wear out easily
No, the box really stands up to daily use well. I've owned it now for three years and it's never had anything issues that have caused me to think it's wearing out. It still operates as it did the day I purchased it.
Since I purchased the StopBox, I have also purchased their AR-15 Chamber Lock and the Strike Vehicle box. I will be releasing detailed reviews on these two devices shortly.
---
OUR RECOMMENDED TACTICAL GEAR LIST:
---