Statistics show that more and more women are purchasing pistols and qualifying for their concealed carry permits. Concealed carry holsters that attach to a bra are becoming more and more popular. Variations on the clip-on bra holster are also available in various sizes, styles, and colors for almost any situation. Understanding the challenges of carrying concealed is not much different for women than for men. Anyone, male or female, must choose a gun, find the right holster, and decide which type of concealed carry is best for you. However, women do face a few different problems when carrying a concealed pistol. The following guide will help every woman choose what works when carrying concealed.
The New Niche Market – Concealed Carry for Women
Fortunately, entrepreneurship is not dead. Several companies have answered the needs of women who wish to carry a concealed pistol without sacrificing fashion. We look at several options on the market for women to carry a concealed pistol easily and effectively. The old standbys consist of purses with concealed carry systems built-in or more traditional inside and outside the waistband holsters. Specialized leg and ankle holsters are also available. However, these can all pose different sorts of problems for some women. We have chosen several bra and upper body concealed carry holsters that provide access without sacrificing fashion and style.
Flashbang Bra Holster – The Teddy
Flashbang is probably the leading maker and distributor of bra holsters. The Flashbang Teddy model is our top pick. This simple to use and comfortable design makes carrying a small pistol or revolver comfortable and easy without fashion or style suffering. Comfort is always an issue for women when choosing a concealed carry holster. Flashbang is aware of this and produces the Teddy style holster to address these comfort issues. These holsters use natural suede leather for a soft touch with a Kydex inner structure for security and strength. Other features include:
Easy to use design fits comfortably under the front of the bra band
Completely washable
These well-designed holsters feature a covered trigger guard
Each holster includes three different straps for a perfect fit
These holsters are hand made in Oklahoma City, USA
Flashbang holsters are available to fit a variety of small pistols and revolvers. The Flashbang Teddy design offers nine different colors and is available for either right or left-hand shooters.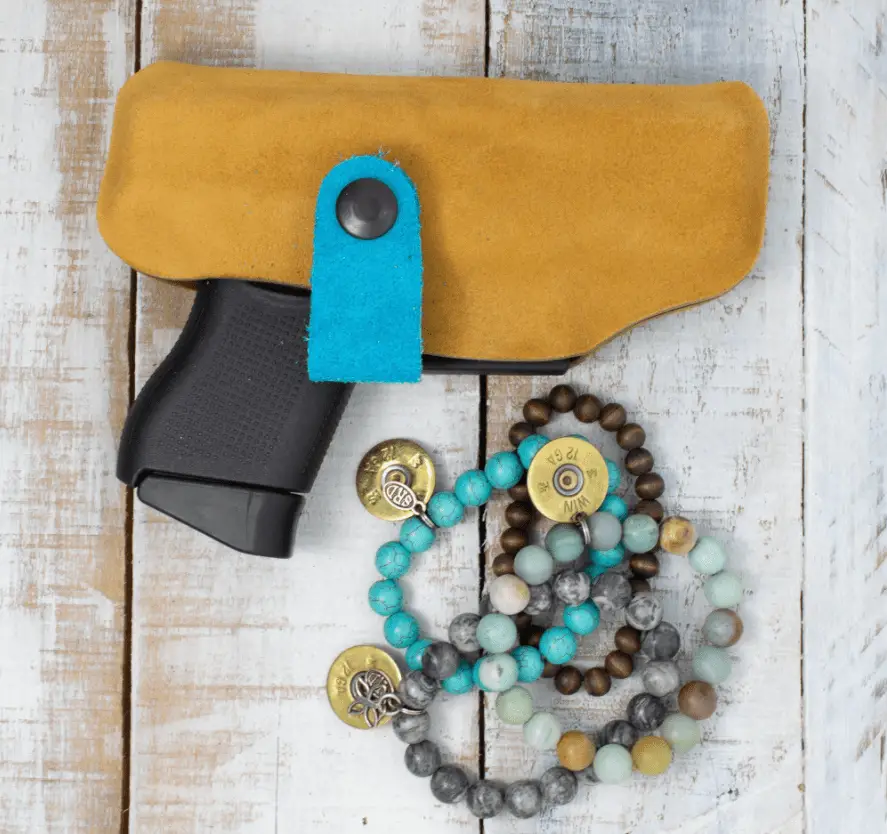 The Flashbang Traditional Bra Holster
The original Flashbang bra holster became an instant hit in the market after its introduction. The Traditional Flashbang holster is a clamshell Kydex design that offers both security and concealability for women. Flashbang designs several different holsters aimed specifically at women who want to conceal carry a pistol or revolver. The original Flashbang Kydex holster remains the best-selling model of the entire line. There are several good reasons for this popularity.
These holsters offer a secure and safe design.
Made from high-quality Kydex and molded for a perfect fit for your chosen pistol or revolver
Kydex is impervious to moisture and protects your gun from perspiration and body oils.
Each Flashbang Kydex holster includes a short, medium, and long strap to ensure a perfect fit no matter your body style or size.
Made in the USA in Oklahoma City, Oklahoma
Flashbang Kydex-style holsters can make a fashion statement as well. Flashbang offers the traditional Kydex holster in fifteen different colors with straps to match. When you order your Flashbang bra holster, you can choose your shooting hand and other accessories to match your new holster.
The Marilyn Bra Holster by Flashbang
If a center of the chest bra holster design doesn't work for you, Flashbang has an alternative. The Marilyn Bra Holster fits the bra's side in a fashion like under the arm shoulder holster designs. The Kydex holster design is a perfect fit for your chosen gun. Flashbang keeps safety in mind. The full trigger cover of the Marilyn Bra Holster always provides security. Flashbang has incorporated various features to make the Marilyn bra holster an attractive alternative for many women who conceal carry.
Side of the bra design is a better alternative for some women and some fashions
The design allows easy access to your concealed firearm through the neckline of a blouse or dress
Women design these holsters for women
The Marilyn bra holster is compatible with standard bras or sports bras
Each Marilyn bra holster comes with two straps for complete adjustability
Each Marilyn holster is crafted in the USA
You can order your Marilyn bra holster and choose from fifteen different colors with matching color straps. Additional straps are available as accessories. Straps fit any bra with a band up to five inches wide. Choose which side you wish to carry your pistol for a custom fit when your order your Marilyn holster from Flashbang.
ConcealmentClothes Women's Concealed Carry Holster Tank Top
Our next selection is not a bra but offers an option to women who want to conceal carry with comfort and ease of access to their pistol. ConcealmentClothes offers a full line of concealed carry tank tops, compression shirts and other accessories for both men and women. Opting for a compression-style tank top with a built-in underarm holster can solve many problems associated with traditional bra holsters. Features that make the Concealment Clothes women's concealed carry holster tank top stand out include:
Each ConcealmentClothes tank top includes holsters for right or left-hand carry. 
A tank top holster may be a better option for petite frames
The design of these compression tank top holsters allows carrying larger frame revolvers and pistols
The 95 percent polyester material combined with 5% Spandex creates a breathable, moisture-wicking design that can be machine washed and tumble dried
These conceal carry tank top holster shirts are suitable for year-round wear under almost any style of garment.
You can order your ConcealmentClothes concealed carry holster tank top in black or white or as a two-pack containing one of each color. A wide range of sizes is available from small to XX-large. 
Undertech Concealed Carry Convertible Sports Bra
Undertech specializes in concealed carry clothing for both men and women. The Undertech concealed carry convertible sports bra design allows women to conceal carry a small frame pistol or revolver while exercising or working out. Each of these sports bras features an integral holster on the left side for right-handed draw and a zipper pocket on the right side for carrying your extras such as keys, wallets, or credit cards. Other features that make this holster bra a standout include:
Holster with retention strap for safe and secure carry
Four-way stretch fabric for comfort with support
Interchangeable bra straps for a customized fit
Machine washable
The Undertech concealed carry sports bra is available in all black or a pink and black design. Unfortunately, currently, this concealed carry sports bra is only available in right-hand configurations.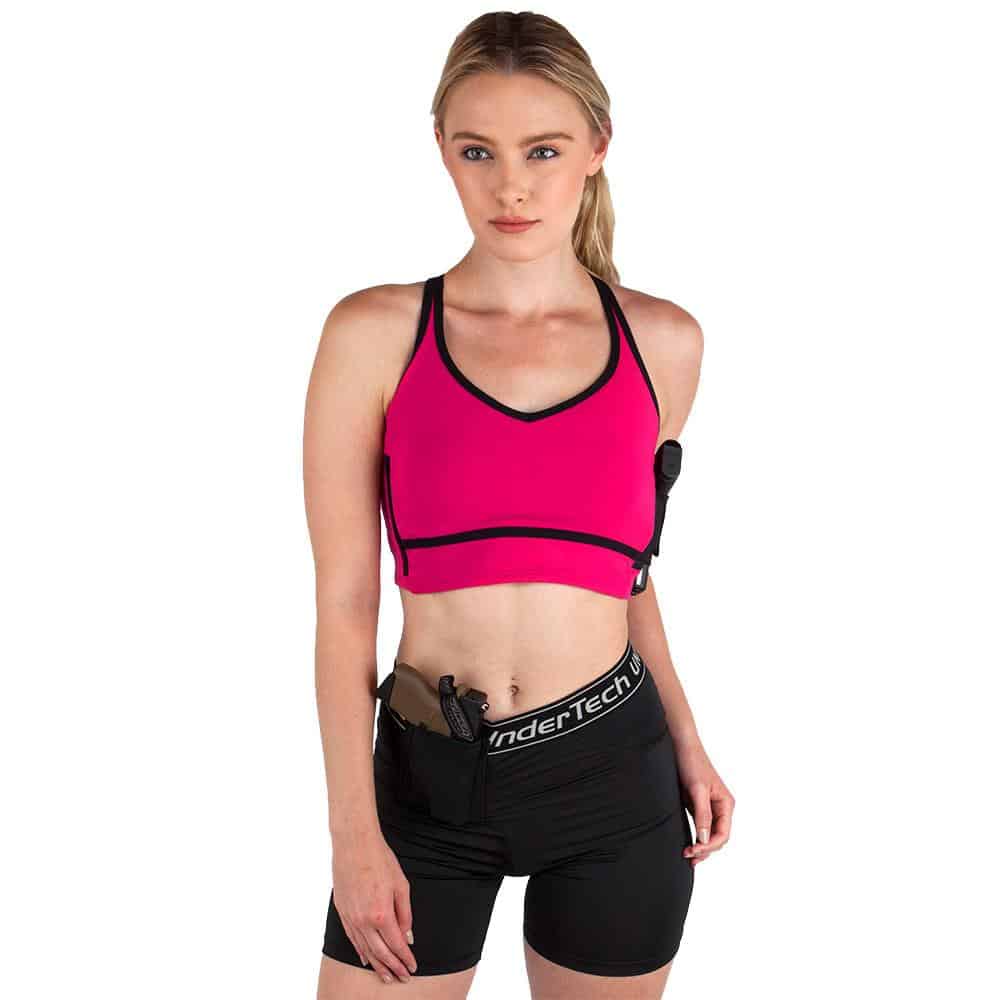 The Challenges for Women – How and Where to Carry
Carrying concealed for a woman poses some unique problems and challenges. There are several things any woman who wants to conceal carry a pistol must consider.
Fashion and clothing design. Women's fashions tend to be sleeker, closer fitting, and more defined than many men's fashions, making concealed carry a greater challenge.
Body size and build create different challenges. Men tend toward larger body sizes. Smaller body size poses a challenge in carrying a concealed pistol and holster
Ease of access to your pistol is critical in most emergencies. Finding a way to carry an easily accessible concealed firearm while being fashionable can pose a challenge.
There are many options and ways for a woman to conceal carry despite these obstacles.  A bra holster or some similar design is one of those options.  In some ways, women have more choices and more ways to carry concealed than men.  The challenge is finding ways to take advantage of those different options.
Carrying Concealed – A Choice and A Lifestyle
The decision to carry a concealed pistol or revolver is as much a lifestyle choice as it is a matter of personal protection. You must adopt certain attitudes and accept additional responsibilities. Fortunately, you don't need to sacrifice comfort or fashion style with your decision to carry a concealed pistol.
---
OUR RECOMMENDED TACTICAL GEAR LIST:
---