When we're looking at the market for rifles, few are as futuristic and glorious as this one. Since their arrival in 2007, Desert Tech has pushed the boundaries of what we expect with modern rifles.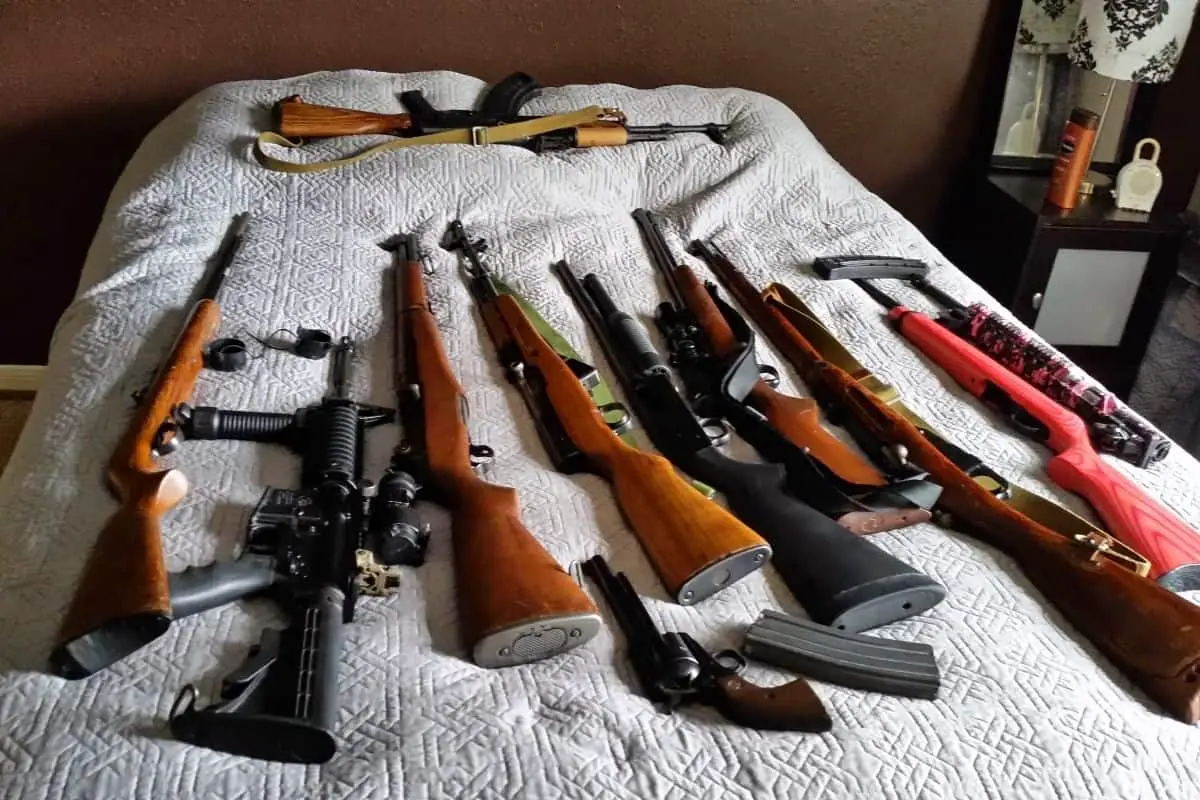 This is perhaps unsurprising when we consider that Desert Tech's slogan is "Tomorrow's Weapons".
If you've ever shopped for a Desert Tech before, you might already be familiar with their previous model, the MDR. 
However, this model has many differences from its predecessor, so it's worth us exploring them in much more detail. 
If you're considering purchasing the Desert Tech MDRX, read our extensive review first! We've tried and tested it and come up with our take on it – hopefully trying to answer all your most important questions. 
The MDRX – A Basic Answer 
If you're wondering what the MDRX is and want the shortest possible answer – here it is. 
The Desert Tech MDRX is a short stroke, piston operated, semi-automatic bullpup rifle. Behind the trigger, you'll find the magazine, action and all other firing mechanics that you need. 
What this means for you is, while the overall length of the rifle is now much shorter – its design means it can maintain the same barrel length. 
But this is far from the whole picture. Let's take a look at this weapon's features in separate sections. 
Features 
Modularity is the clear focus of this rifle, as are most rifles that come from Desert Tech for that matter.
Almost all aspects can be reconfigured or altered to suit your needs including multi caliber chassis and barrel combination. 
The options for shooting are all there. Want to add yourself a muzzle or compensator? No problem. 
The rifle itself is ideal for both left and right handed shooters as the controls are located on both sides of the weapon – with the option to move the ejecting system. We see a focus on safety here, allowing for a quick change of direction option. 
When you fire the last shot from the magazine, the rifle will lock and, because the bolt release is centralized, you can easily and simply reload. 
Speaking of reloading, this rifle will accept most cartridges, specifically AR 15, so you'll have no trouble there. 
The trigger is pretty much ideal too, not ideal "because it's a bullpup", but ideal in general. 
However, despite all of its positives, nothing is without criticism. We found that it may get a little bothersome to sit the cartridge correctly in the ejection chute. 
This is one of very few downsides to this rifle though and you'll be hard pressed to find many more problems. 
Using The Rifle 
Of course, it's all well and good describing how good a rifle feels and moves, but how good is it at firing? Well, taking it onto the range, we notice that the firing is incredibly crisp and fluent. 
The recoil isn't too harsh, which can be slightly surprising with a rifle of this kind. Trialing out several different types of ammunition, we found that the action was perfect from start to finish – and when we wanted to change ammo – it took seconds to do so. 
We also tested out the capabilities for this rifle to be long range, and boy were we surprised.
For a bullpup, we didn't have the greatest expectations for this rifle's distance shooting – but we are happy to say that it was a pleasant surprise. 
Firing at over 100 yards and moving to as much as 800 yards, we could perfectly land some shots that we really didn't expect to land.
Of course, there will always be the question over accuracy being the shooter or the rifle itself – but we measure accuracy based on MOA. 
With consistent target shooting, we can safely say that accuracy is not something to worry about with this rifle if you were planning it to be a long range weapon. 
Because you can use multiple ammunition, we were pleased that you can have plenty of time with this rifle and learn what works best for you.
Any person who has used a rifle before, or any firearm for that matter, will know the value of this. 
If you're wondering how we managed to make this MDRX ready for long range shooting, the answer is pretty simple.
We added a 10x riflescope with corrective aiming. You may argue that this takes away from the point, and makes it "less truly accurate", but we argue it's worth it. 
What Improvements Have We Seen From The MDR? 
Prior to use, we also checked out the Desert Tech MDR and compared and contrasted the two models. We notice the clear advances when it comes to the following areas: 
Improved trigger
Improved sights
Better gas block
Impact resistant polymer design
Ratchet compensator
These improvements, while they may not sound like much, do make a huge difference with the overall performance.
This is not just restricted to short distance shooting either, if you try firing the same way we did (as explained above), the accuracy is way off. 
With the new and improved polymer, the recoil is much better and no longer does it strike back aggressively, as the previous model felt as though it did. 
With the gas block, while we didn't purposely do this – the drainage is much more improved, allowing for your rifle to not be too badly affected by mud and water even if fully submerged prior. 
What About Disassembly?
One of the most important things about your firearm is knowing how to disassemble it and clean it correctly.
You'll probably be asking if disassembling the MDRX is a simple process or not – and whether or not it takes too long. 
We can happily say that the design has been created in such a way that disassembly and modifications etc. not only have plenty of options and in many ways, they're encouraged – but the speed of doing so is rapid. 
We'll start by talking about the barrel length. It's one of the easiest things to alter on the rifle. Simply rotate the screws at the front of the ejection port and tailor it to your needs. 
In fact, it's that easy to remove the handguard too – basically, most of the areas on this firearm can be removed and reset at the drop of a hat, and you'll find absolutely minimal time being spent doing so.
Who Is The Desert Tech MDRX Perfect For?
We can see plenty of positives for this rifle, but that does not mean that it's the ideal firearm for everybody.
Although the recoil is now reduced from its predecessor, we'd argue that it's still pretty strong. 
Therefore, if you have weak arms, hands, a medical condition or simply a lack of strength – we'd consider looking elsewhere. However, if you can take a little kickback, then you should certainly consider this rifle. 
Whilst it can be used for long range hunting, you'd probably be better off with a different rifle for longer range. Having said that, there's nothing to stop you from doing so. Remember, this is a bullpup! 
It's one of the best rifles for quick reload and ammunition changes, along with multiple personalizations with little time constraints.
So, when it comes to who this would be perfect for – someone with little time to spare would be the answer!
Therefore, it's probably best used as a defense rifle, if you can accommodate this at home. Hunting and target practice can probably be better with other rifles – but that's not to say you wouldn't fare well with this. 
Frequently Asked Questions 
What Does MDR Mean?
MDR stands for micro dynamic rifle and is one of the product ranges from Desert Tech, based in Utah. 
Do The Army Use MDR Xs?
Although the initial intention was for these firearms to be shipped to United States Forces, they became solely for civilian use.
Additionally, the President refused a contract from Pakistan in the worry that the weapons would be used by Pakistani forces on the US. 
Is The Desert Tech MDRX Good For Beginners?
No. At least, not in our opinion. With the strong recoil and some confusing elements for people unclear with Desert Tech's products in the past, we can't see this being a wise choice for beginners to get to grips with rifles. 
Having said that, given enough time – beginners might get to know this rifle much better, but you'd likely need some experience with rifles before using this one. 
The Bottom Line 
After trying and testing this rifle, we can say that the Desert Tech MDRX is one of the most interesting firearms we've ever come across. 
Its design is clearly focused on individualizing itself – giving you, the user, the full control as to where this rifle is going. 
The speed in which you can change some of the components is really surprising and it has little downsides.
However, this rifle does require some strength and a little knowhow – so beginners should avoid this one.