The Sig Romeo 5 solves many of the problems you face when you're looking for a red dot optic for your lightweight pistol or rifle.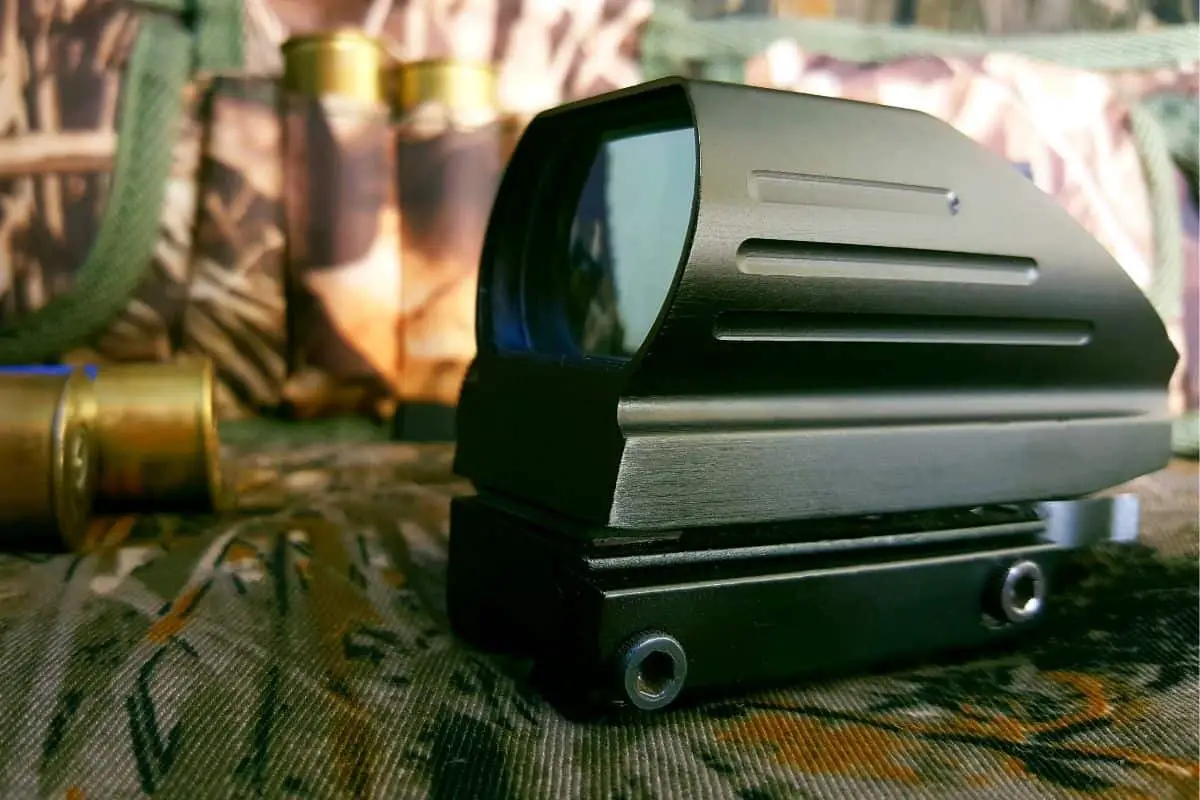 While some red dot optics struggle to contain all the best features, this one hits the mark in every area. 
So, if you're looking to purchase a red dot optic and you're not sure if the Sig Romeo 5 is the best one for you, read on to find out!
What Is Red Dot Optics
Red dot optics offer to add a fantastic feature to your firearm. The red dot allows you to focus on a target. It can usually do this to moderate ranges.
It allows you to get close to your target quickly because you can line up the red dot with the target! 
Red dot optics work using a reticle which is designed pretty simply and is easy to use. 
Common Problems Of Red Dot Optic Guns  
Red dot sights do have some problems associated with them. When you're using a red dot sight for lightweight guns (either pistols or rifles), there are some sacrifices you will have to make.
A lot of red dot optics are quite heavy, making your pistol or rifle a lot heavier than those without. They can also be difficult to install, or they are not very clear or accurate. 
However, the Sig Romeo 5 red dot optics seem to have very few problems, as well as providing many benefits.
The Sig Romeo 5 provides changeable illumination settings as well as having a great mounting system. It is lightweight but sturdy and so is very easy to set up in the field.
About Sig Sauer
Sig Sauer is a company that has been providing and manufacturing great quality arms for over 100 years. They have built up a fantastic reputation for themselves in the firearm industry.
Established in 1853 in New Hampshire, the company is famous for their handguns. They produce excellent quality products, but they are sometimes quite high in price.
This is not always the case as they have some very affordable products. The Sig Romeo 5 red dot sight is one of those affordable, yet high-quality products. 
Specifications
This product has great specifications. It has 1x zoom magnification and a 20mm objective lens.
It has 10 different illumination settings and settings for elevation and adjustments because of wind. It has 2 MOA red dot reticles and it also includes a CR2032 battery.
If, like me, specifications don't mean much to you, then read on for the pros and cons of this product!
Pros Of The Sigma Romeo 5
The Sigma Romeo 5 is a great product, so let's start with having a look at the great features this product provides you with! 
Waterproof 
The Sigma Romeo 5 is a waterproof product up to 1 meter. This is great for those who often go out shooting in unpredictable weather.
It means that if it starts to rain, your product is not in danger and it will keep working in the rain. It also works in the fog. 
Shock Resistant 
This product is shock resistant, which is quite important for a red dot optic. It is great to know that even if your Sigma Romeo 5 gets knocked around a bit, it will remain usable. 
Durable 
This product is extremely durable. It will be fine being left outside and, as mentioned before, is waterproof. This product will stand anything without any problems. 
Long Battery Life 
The battery life on this product is second to none! When you purchase the product, it comes with a CR2032 battery which contains up to 50,000 hours worth of battery!
This is great and you know you can rely on the product keeping its battery when you take it out. It also has a battery saving feature.
This is called motion activated illumination. The product turns on when its motion is sensed and turns off again after around three minutes of there being no use or motion.
This means that when you pick up your gun, it will turn on automatically and it will turn off on its own too! 
The design of the Sig Romeo 5 is great, it is really easy to change the batteries.
All you have to do is unscrew the cap on the side of the product and then switch over the batteries and screw it back in. You don't need to unmount your product in order to do this. 
Clarity Of The Reticle 
The reticle and the clarity of the lens are great. It offers fast and accurate firing. It has 2 MOA dots, which means you are able to aim much more precisely.
This product has 8 daylight brightness settings for daylight conditions, as well as two night vision settings, meaning you can use this product any time. 
Strong Build 
This product is made out of aluminum, making it very durable. It is quite lightweight compared to others of its kind, but it is still very strong.
It can withstand a lot of different weather conditions, including strong winds. Because the product focuses on being durable and easy to use, it is likely to be designed for everyday use, as well as military use.
Eye Relief 
The Sig Romeo 5 provides unlimited eye relief due to its great lens clarity. You don't have to worry about damage to your eye with this product as long as you set it up correctly.
Ensure you mount the product away from where you rest your cheek to be sure.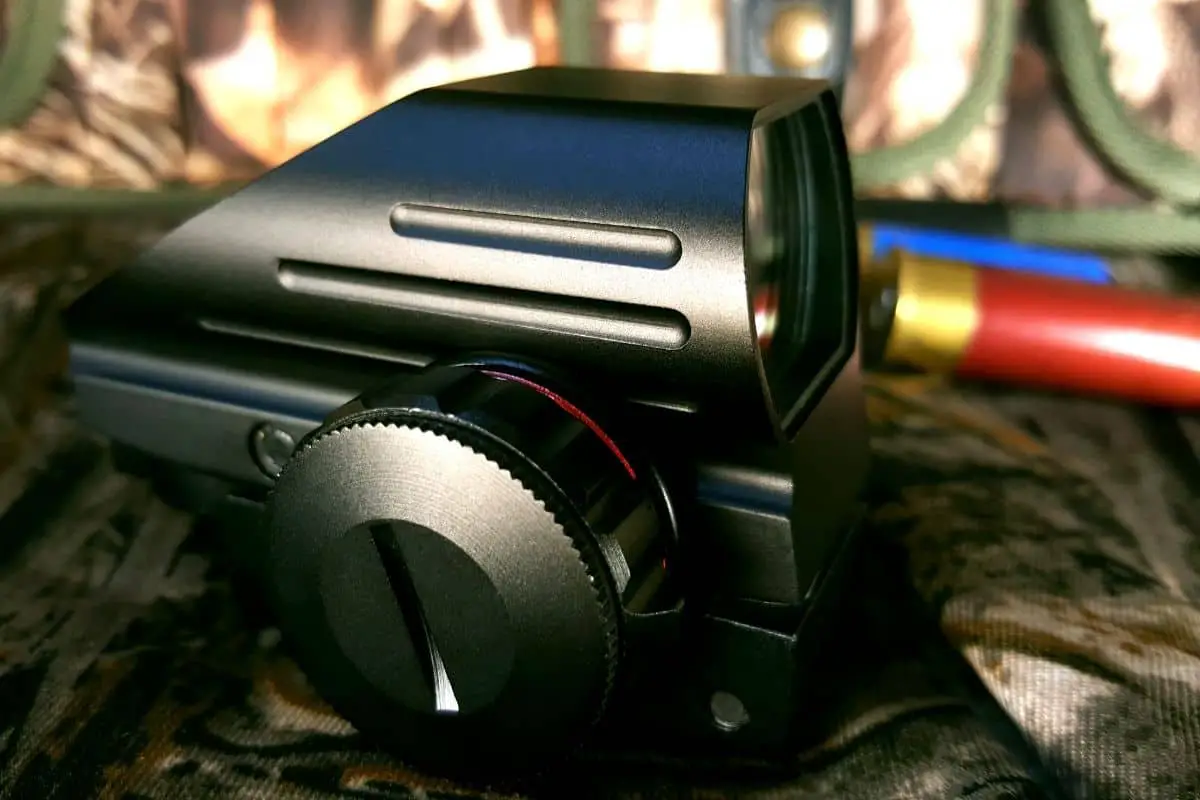 Low And High Mount Included 
This product comes with both a low mount and a high mount meaning you can tailor the product to whatever you are looking for. 
These mounts are also very easy to use. Lots of the best red dot optics are difficult to use due to the difficulty mounting the product. This product allows for very easy mounting.
This product comes with a built-in M1913 Picatinny Interface which allows your product to automatically attach to mounting systems or guns. 
You can adjust the mounting systems to whatever height best suits you using a screwdriver. This is quick and easy to do. The design is fantastic and provides fantastic ease of use and versatility.
Affordable 
This product is also a great price when compared to others of its kind. With all the features it brings to the table, this product really is an all-round winner!
Great Warranty 
This red dot optic comes with a 5 year warranty. This gives you great protection if you encounter an issue with the product that is not your fault.
Cons
This product does not have many cons. It is a great product and brings plenty of features and benefits to the table. 
Some people think that the mounts could be slightly more durable. The product itself is very durable but some think the mounts may not withstand all weather conditions.
Others disagree with this though, thinking that the product is durable and very reliable. 
It is also not ideal for long range shooting, but is great for medium and short ranges. Other products may be better for the longer ranges.
What Does The Product Come With? 
When you purchase this product, you can expect it to also come with some extra little bonuses! You will get the following along with your product: 
A CR2032 Battery
A cleaning cloth for the lens
A cap cover
A low mount
A high mount
A wrench that helps you with mounting the product
What Guns Work Best With This Product? 
The Sig Romeo 5 works best with the following guns: 
Pistols
Shotguns
Crossbows
Rifles (but it only works with certain rifles, so look into this further if you are a rifle owner!)
Frequently Asked Questions
Does The Sig Romeo 5 Turn Off When Not In Use?
Yes, this product turns on when it senses motion, and when it is not in use for around 3 minutes, it will turn off again. 
How Many Illumination Settings Does The Product Have?
It has 10 illumination settings overall, 2 night time settings and 8 day time settings. 
What Is A Red Dot Sight?
A red dot sight is a reflector which does not magnify, it is used for firearms or aiming. It gives the user the ability to point and aim by lining it up with a red dot. 
Final Thoughts 
I think it's quite clear from this review that the Sig Romeo 5 has very few flaws. There are barely any criticisms of this product, which implies it is a fantastic, flawless product. 
This red dot optic is top of the range in every possible way, it is a fantastic choice for so many different firearms!
It is durable, waterproof and has great features which you won't find on many other red dot optics.
It is quick and easy to set up, lightweight and simple to use. I highly recommend this product over others of its kind!