Durability, strength, weight, sharpness, ease of use, comfortable grip are all things to consider when searching for a great EDC pocket knife. The Benchmade Barrage encompasses all these things and more, but there were a few surprises in my first month of use.
The Benchmade Barrage is one of Benchmade's most popular assisted opening knives. The variant I tested featured a black handle with a black reverse-tanto blade. This knife looks impressive.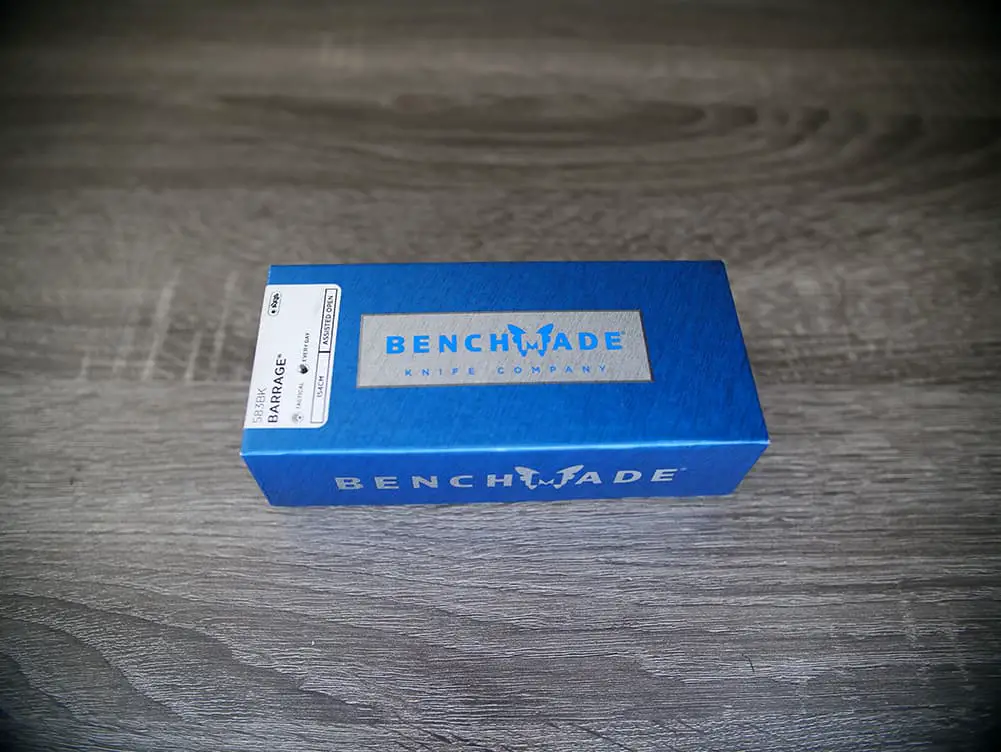 Barrage Unboxing
The Benchmade Barrage comes in a sturdy carboard box. The box is so thick and well made I actually kept it to store the knife in while not in use. They stack easily and have the name on the outside so it makes storage and finding the right knife easier.
When opening the box you'll find the knife, a protective sleeve, and a small card letting you know the clip can be mounted on either side of the knife for ambidextrous use.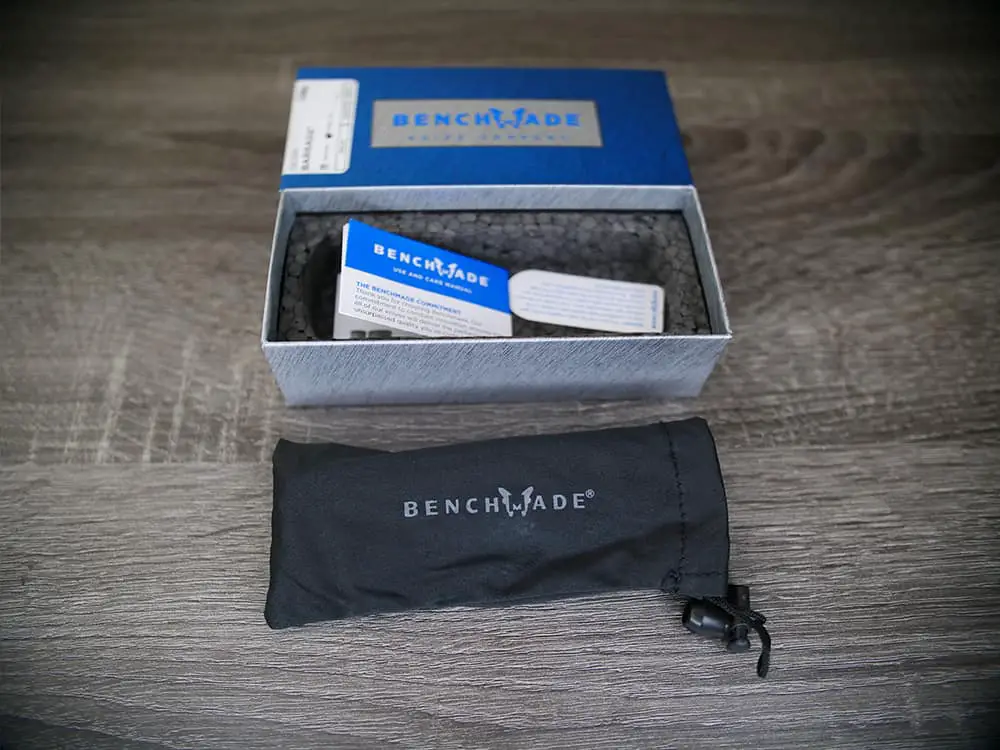 The Knife Handle
A thick and durable polymer (referred to as Valox) makes up the handle. While this material doesn't scream high-cost, it does feel exceptionally durable. The surface has a very light "roughness" that gives extra grip and prevents the handle from feeling slippery.
The handle's interior is metal lined, giving the grip virtually no flex, unlike the Benchmade Bugout with a fair amount of flex. The handle's added stiffness gives me full confidence this knife will last a long time and take on challenging tasks with ease.
To gain a better grip, Benchmade added finger "indents" on the edges of the handle. I wasn't sure what I thought of these when first looking at the knife, but upon holding it, my fingers naturally fit right into the groves and made the knife feel like a glove that was designed for my hands.
At the bottom of the handle, like most knives, it has a small hole where a lanyard can be attached. I have never used this feature, but it can be useful if it is something you want.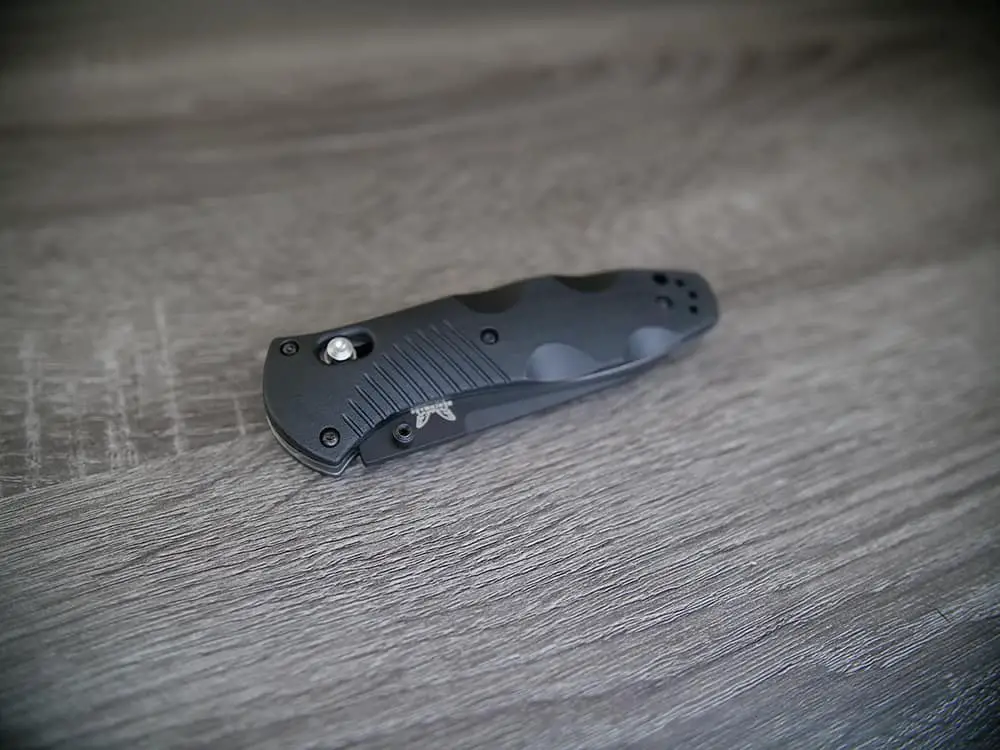 Knife Blade
The blade steel is made from 154CM, which has a perfect blend of stiffness without being so hard that it struggles to keep a sharp edge. Throughout the entire month, I've daily carried this knife, and the blade still feels as sharp as it did on day one.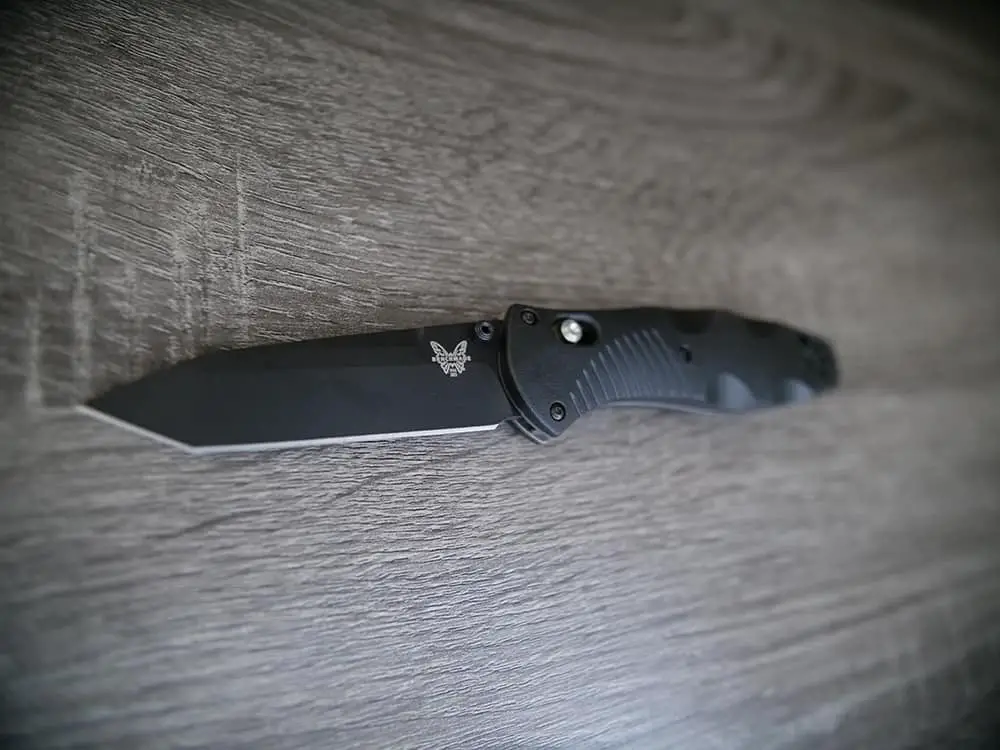 Locking Axis Mechanism
While the opening system is Benchmade's acclaimed Axis-Opening, it features an extra safety switch on the handle's rear. This switch is there to prevent accidentally assisted openings since the blade is under constant spring tension. When I first unboxed the knife, I could not get the switch to slide into the unlocked position.
I would push hard, and the switch would barely budge. After giving the button a very light tap with a flathead screwdriver, it moved to the unlock position and loosened up. After sliding it back and forth a few more times, it loosened up to the point I could slide it into place with relative ease.
During my time with this knife, I left the lock switch in the "unlocked" position all the time. I didn't see much need for it since the blade appeared to lock in place well by itself, and I felt the chance it would randomly spring open on me was unlikely.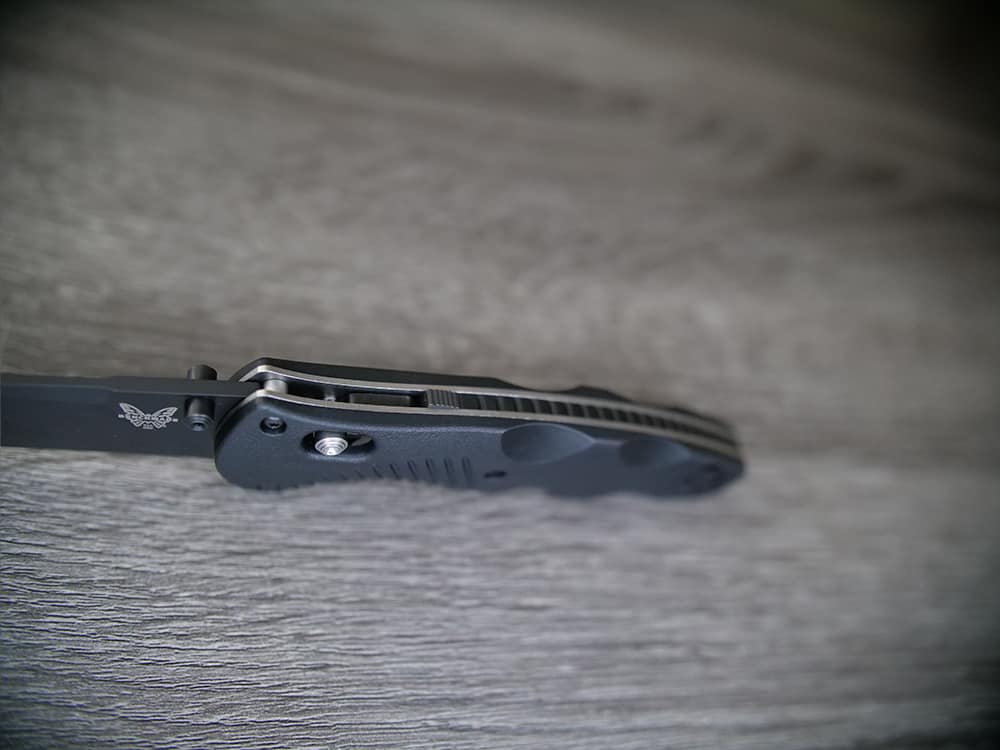 Assisted Opening Mechanism
This knife was my very first assisted opening variety I've owned. Using my thumb, one small but firm press on the blade peg swung the knife into the open position where it locked firmly into palce.
The blade has nearly no movement from front to back or side to side in the open position. The tolerances have been perfected by Benchmade in the manufacturing of this knife. For comparison, the Benchmade Osborn 940 had a fair amount of play in the blade when locked in the open position.
To close the knife, you must move the "pegs" on the side of the handle down to allow the blade to close. Since these pegs are under constant tension by the spring that helps the knife open, they were EXTREMELY stiff initially. It took both hands to get the knife closed. One hand to hold down the pegs, and my other hand to actually close the knife.
After opening and closing the knife 30-40 times in a row, the pegs loosened up enough that I could just barely close the knife with one hand.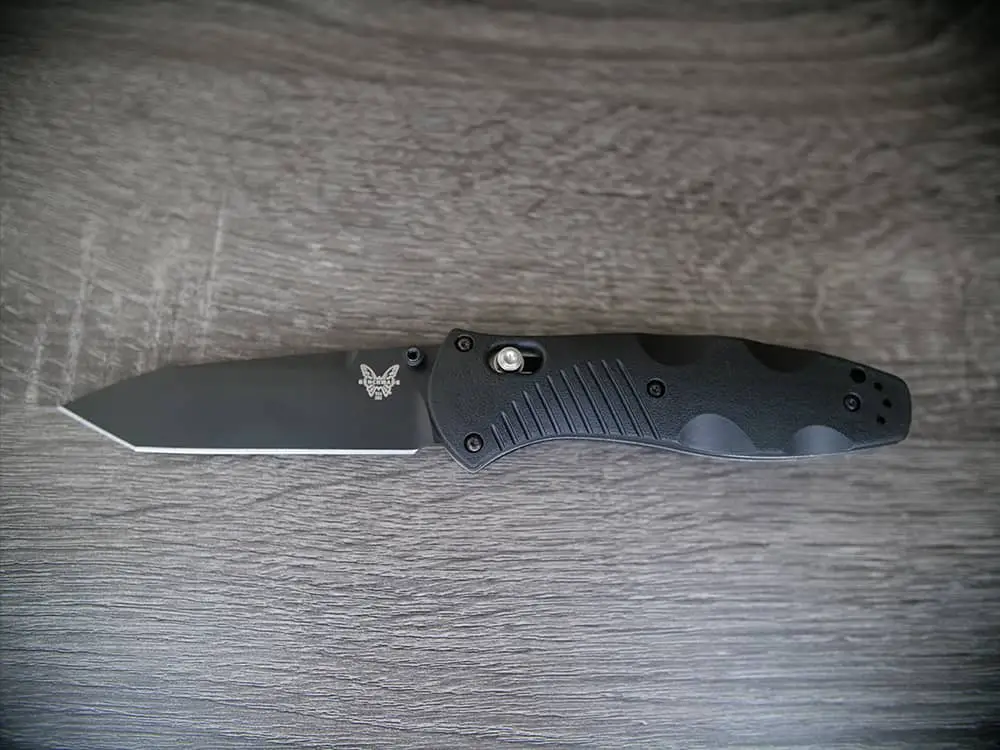 Everyday Use
The size of this knife is perfect for a daily carry, in my opinion. It is large enough that it feels substantial in your hand and heavy-duty enough to stand up to the work you throw at it while not feeling so large that it becomes cumbersome to carry all day, every day.
I like knives that have a little bit of weight to them. They feel better in my hand, and I'm more confident while using them. The Barrage weighs just under 4.3oz and closed it is only 4.75″. Once opened, it is 8.3″.
Pros and Cons
Pro:
I probably dropped this knife on the cement or asphalt 5-6 times and barely saw so much as a scratch. After continuous use it still looks like it did when it was brand new.
Pro:
The blade's black finish looks fantastic, but I was nervous it would show scratches easily and begin looking worn. After cutting everything from boxes to wire, the blade's black finish has no noticeable scratches revealing the metal underneath.
Pro:
This is the most comfortable knife to hold and use that I have ever owned. It just fits my hand perfectly and has an exceptional balance built it. I feel like the added confidence this brings while using the knife limits potential injuries from a knife that is not as comfortable to work with.
Pro:
The assisted opening is fantastic and useful. It allows a knife like this to open much smoother and quicker than a manually operated counterpart. The solid "click" that you hear each time it opens is unmistakable and always sounds solid. It gives me the confidence that the knife is locked in place just by listening to it as it openes.
Con:
At around $180 dollars, this knife isn't cheap. While I love this knife's durability, seeing a slightly higher-end material on the handle other than polymer would make the cost more justifiable.
Con:
The extreme stiffness of the opening mechanism make this knife difficult to close quickly. It can be done with one hand, but I found it easier to always use two hands to close it. This wasn't a deal-breaker for me by any means, but it did annoy me a little each time I went to close the knife.
Conclusion
All-in-all, this knife has become my new EDC. I take this with me everywhere, and it fits my needs to a T. If you are in the market for a higher-end knife that you want to last for years to come, this is 100% the knife for you.
While the price might be a little steep, it does come with Benchmade's lifetime warranty and sharpening service if the knife ever dulls too much. This is something I've never taken advantage of, but I like having the option should I ever want to.
Benchmade has been in the game for a while, and they make high-quality knives consistently. You can push this knife knowing full-well you will receive a tool you can use for years to come.
---
OUR RECOMMENDED TACTICAL GEAR LIST:
---