What is the best OTF knife under $100?
The best OTF (out the front) knife for under $100 is the Smith and Wesson M&P OTF. This knife tops the charts due to its affordability, reliability, and durability. Coming in at $50, this is the best value for your money. 
Smith and Wesson M&P OTF Knife
Should I buy the Smith and Wesson M&P OTF Knife? At this price point, I think this is a knife that can be used by anyone and can serve its purpose perfectly. Having a solid self-defense knife can save your life, and/or the life of someone else. I always carry an OTF knife on me, wherever I go, just in case the unthinkable were to happen. It's in the moment when you need one, and the assurance of having this knife at your disposal can be invaluable. So overall, yes, I'd highly recommend picking one of these up, especially at this very affordable price point.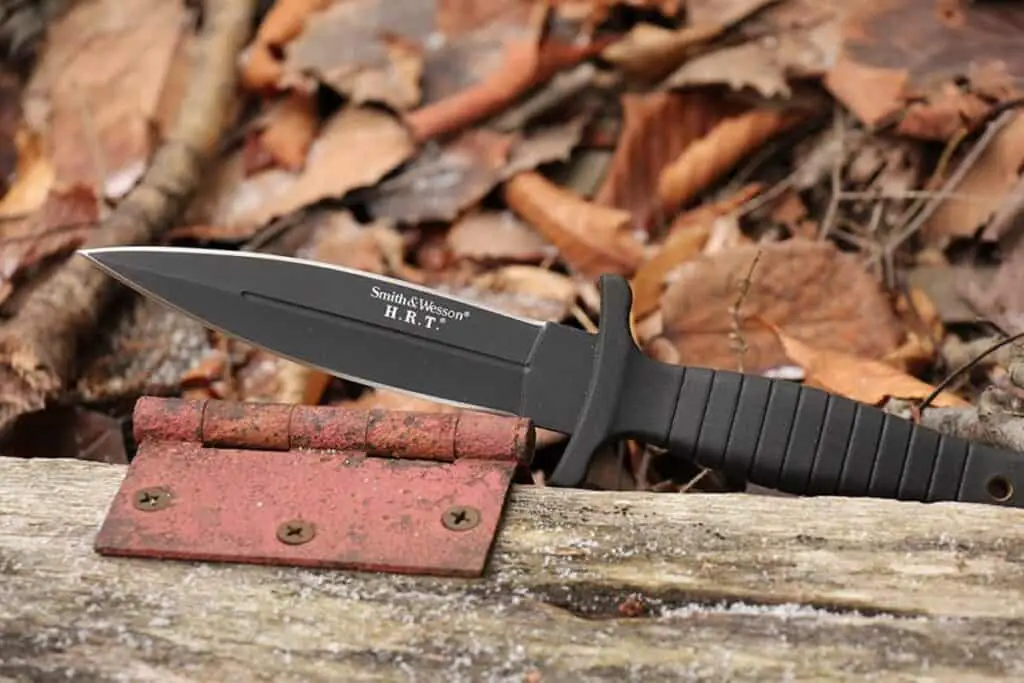 Why Buy an Out the Front Knife?
Many factors are taken into consideration when I buy a new knife, and out the front knives are no exception. The first question is, what is the purpose of the new knife going to be? Well, in this case, with an OTF knife, self-defense and hunting uses are the first to come to mind. Quick access and easy handling are the best qualities of a good OTF knife and should be considered heavily when making a purchase.
Being able to have it readily accessible and the blade extended in one swift motion is imperative in the self-defense world. Also, unlike your typical folding knife, you have for everyday tasks, this is much safer in the self-defense field. There are many things that can go wrong when using a folding blade, especially in a struggle type situation, the kind of scenario where the OTF knife shines.
First off, it doesn't require opening or getting "ready" the same way, making it quicker to access off the bat. The big risk of the knife closing on you is also taken away, making it a lot safer for the wielder in a high-risk situation. The attacker can't force the blade to close, inflicting damage on you with this type of knife. 
Cost of a Typical Out the Front Knife?
Prices of OTF knives can vary greatly, and often hit ranges that might be impractical for some first-time buyers. I have provided a very cost-efficient option for the buyer wanting to try out an OTF knife, without sacrificing quality in any way. This knife will satisfy your everyday needs and give you peace of mind in case that rare situation was to occur, in which you would need to use it to defend yourself or others from potential danger. There are, of course, higher-priced OTF knives, with better quality and other features, but the value here is giant and worth every cent.
Is There Any Downside to Buying an OTF Knife?
A good out the front knife is an amazing addition to any collection and has its uses in various scenarios. That being said, it is an addition, and won't replace that typical pocket knife for you. It isn't built to take on every situation and doesn't have the durability in most cases to do so. It's mainly there if needed, but at the same time, always good to have available.
Smith and Wesson M&P OTF Knife
I see this being one of the best options of any knife in this price range, especially an out the front knife. It features a blade length of 3.5 inches, plenty long enough to get any job done without the bulkiness that might come with a longer blade. The blade is also serrated, giving it some extra cutting power a lot of the competitors don't offer in an OTF knife. The clip allows it to be attached at the waist or boot, making it readily accessible in case it needs to be available immediately to you. Out of the box, it comes with a sheath, that like most, can be attached to your belt. Although not necessary with an OTF knife, this is a nice addition if you worry about the safety of it being visible or obtainable by passersby.
One of the best features is the sturdiness of the knife. Even though labeled as a "value" buy, this knife feels wonderful in your hand, unlike some flimsy feeling knives in the same price range. The "double-action" feature is also an amazing asset when it comes to extending and retracting the blade. Sliding the button forward to extend, and back to retract with your thumb, all while having a firm grab in your hand makes for a comfortable and seamless transition. The main attraction to this knife, especially for new knife owners is the price.
You can pick this knife up online for about $50, far less than many other options very similar. As with most knives, there are some downsides, but in this case, they seem arbitrary. The knife is 9 inches total, which is a little large for the 3.5-inch blade, but that is more of a personal preference. Also, the knife probably won't stand up to the everyday use provided with a typical pocket knife, but that is going to be the same with any OTF knife. Being built for self-defense, it isn't going to be your go-to knife in all scenarios.
Pros of the Smith and Wesson M&P OTF Knife
Double action trigger makes extending the blade and retracting it a cinch for quick accessibility.
3.5 inch serrated blade for a little more cutting power than your typical OTF blade.
Includes a safety sheath, attachable to your belt, in case of safety concerns you may have.
Amazing value buy at around $50, much cheaper than similar knives of the same quality and build.
Cons of the Smith and Wesson M&P OTF Knife
Not suitable in all situations and not recommended to "replace" your everyday blade.
A little on the big side compared to the blade size. 9 inches in total, with a 3.5 blade.
Not the highest quality available when compared to much pricier OTF knives.
---
OUR RECOMMENDED TACTICAL GEAR LIST:
---