You may have heard the term "Mexican Carry". What is it and should you be using it?
Mexican Carry is the term used to describe carrying a pistol inside your waistband without a holster. This kind of carry is typically done on the front where an appendix carry holster would go.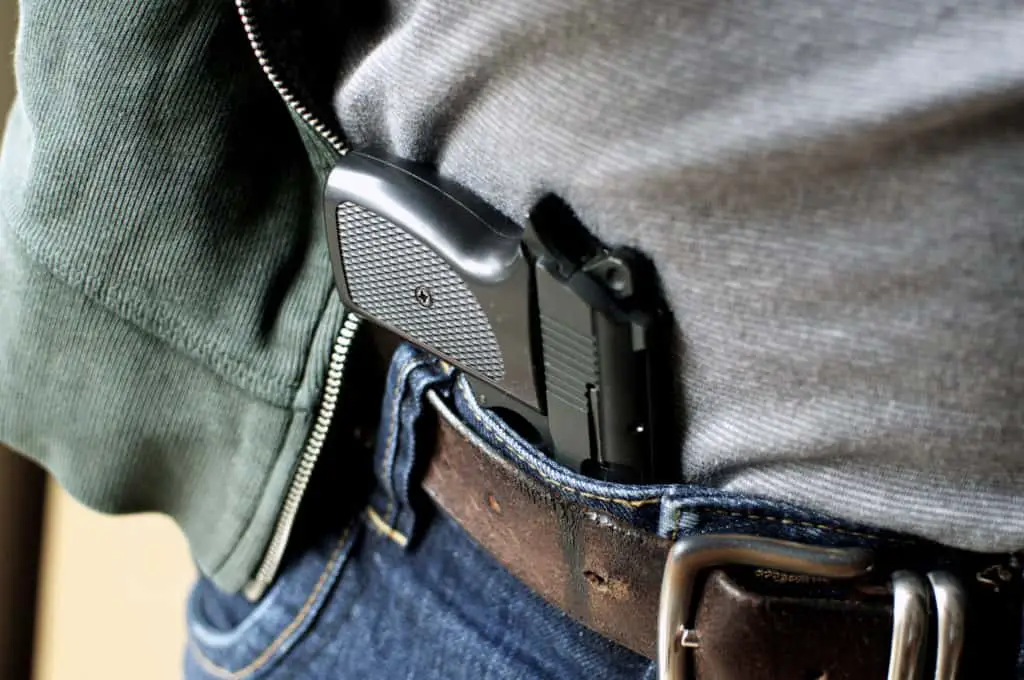 How did Mexican carry get started?
Mexican carry has a deep history in Mexican culture. Mexican vaqueros (think cowboys) used to carry holstered handguns regularly. As with most cowboys, they were very self-sufficient and independent; not keen on having anyone tell them what they could and could not do.
When tyrannical governments started popping up in Mexico and restricting the ability for citizens to own guns, the vaqueros began tucking their pistols in their waistband under their vest to maintain their arms without drawing the unneeded attention of an exposed holster.
One reason they placed their handguns in their waistband without a modern style concealed carry holster was to avoid having evidence of carrying or owning a firearm. Quickly throwing a gun to the side was much easier than completely removing a holster attached to you.
The vaqueros would also sometimes attach a string to their handgun to have the ability to conceal the gun deeper in their pants while still being able to retrieve it.
This is where the term "Mexican Carry" comes from, and why it is called as such.
Is Mexican Carry Safe?
The short answer to this is no, it's not safe. At least not with modern weapons. It does not provide the protections nearly any other style of carrying a pistol does. If you were in a pinch and needed a way to quickly conceal a gun, sure, Mexican would probably work without issue.
Daily carrying a firearm this way is a different story. Back in the days of the Vaqueros, they were using single-action revolvers. Today, most people concealed carrying will have double-action handguns with much lighter triggers.
One of the biggest risks that come with Mexican Carry is the exposed trigger with no guard to prevent it from being accidentally pulled. Having a safety on your gun can help, but many modern-day handguns do not have safeties.
Even guns that do have safeties also have the possibility of the safety being switched off without anything guarding it.
Another risk is how secured (or lack thereof) the gun is. Inside your waistband, unattached to anything specifically, allows the gun to move and shift as you do. This can either lead to an accidental discharge, or the possibility of the gun sliding deeper into your pants, or even worse, falling out onto the floor.
Should you use Mexican Carry?
While it's understandable how this style of concealed carry came about, there are many reasons this style of concealed carry is largely not used anymore, specifically in America. The first of which is the fact that U.S. citizens can legally own guns and in most states get a concealed carry license.
There is no need to be worried about being "found" with a holster (at least not yet…). There are many safer options for concealed carry that have a whole host of advantages over Mexican Style Carry. Concealed carry holsters come in literally all shapes, sizes, materials, and styles. There is a concealed carry holster out there that will work for your needs.
In addition, there are holster options on the market that closely resemble Mexican-style carry while still providing some protection.

If you must Mexican carry, it's high advised (but highly unpopular as well) that you carry without a round in the chamber. This limits nearly all the risks that would otherwise be associated with this style of carrying.

Best Alternatives to Mexican Carry
Option 1: Minimalist Holsters
In recent years, a company by the name of Q-Series began developing a Minimalist inside the waistband "holster" for concealed carry.
This is called a minimalist holster since it's really just a trigger guard with a belt clip. This gives the look and feel of traditional Mexican style carry while fixing the gun to your body and preventing the trigger from an accidental discharge.
This specific holster is not made of Kydex, but of an injection molded polymer (plastic). This has the benefit of not deforming over time and maintaining its shape; something Kydex holsters might struggle with.
Option 2: 3D Printed trigger guard/belt clip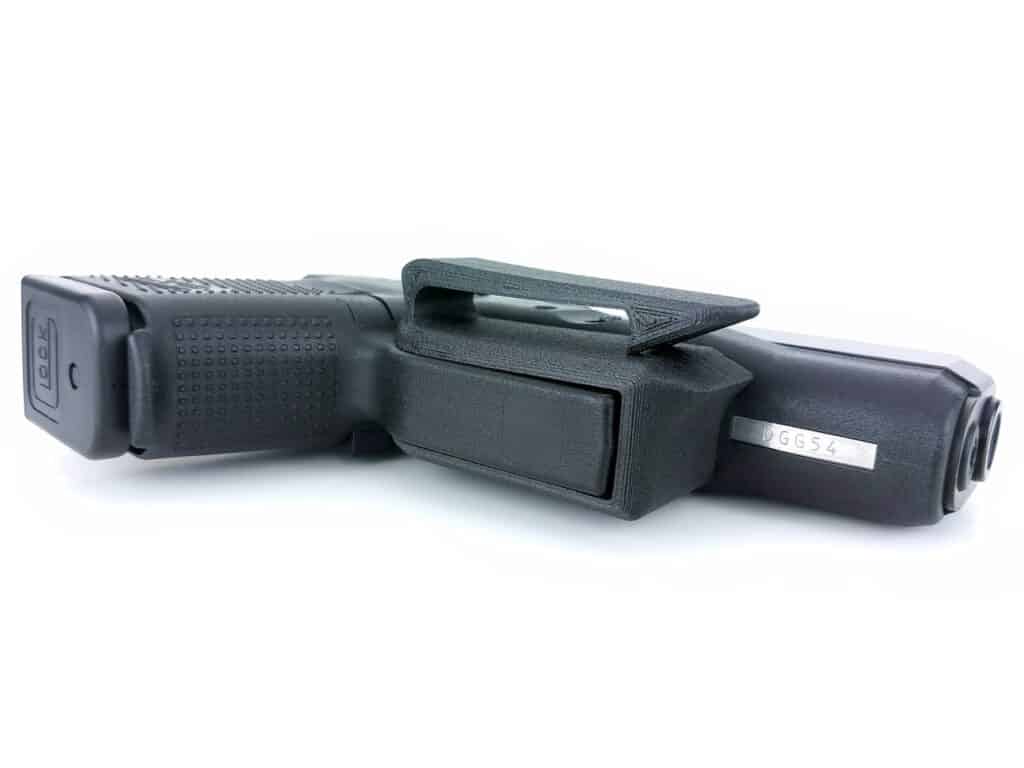 If you are in the mood for an even more simplified carry style that closely resembles Mexican carry while still providing some protection, check out the 3D-printed trigger guard/belt clip.
This is something you can make from home if you have a 3D printer with a free file download. If you do not have a 3D printer, you should, since there are now a lot of gun accessories that can be made with them.
If you want to go down the rabbit hole of 3D printing gun parts and accessories, I recommend the Ender 3 Printer that we've found the best price on here.
In addition, here is a list of our top 25 different accessories that can be made on a basic 3d printer.
This clip snaps around the trigger and holds it in place to prevent an accidental discharge. It had a clip on the back to clip to a 2" belt or just your pants. It's so small you wouldn't be able to tell your gun was even in a "holster".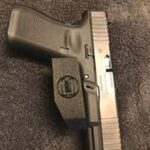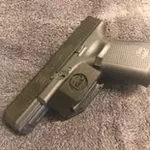 If you like the idea of a 3D printed holster, but don't want to do it yourself, there is a company called Essential Holsters that sells what they call a "naked holster". It is basically a slightly refined version of the 3D print above, and costs around $28. You can find those 3D printed clip holsters here.
Option 3: Clip Style Holster
This option is the closest to Mexican carry. Made from a variety of manufacturers, these metal clips can be mounted on the side of the most popular handgun models to easily and discreetly clip your gun to your belt.
This will add the safety of securing your firearm from dropping or sliding out but it lacks any trigger guard. Some models of this clip come with an added, but separate, trigger guard that can be placed over the trigger.
In my opinion, this completely ruins the accessibility of your concealed weapon if you have to first draw the gun, then pull a trigger guard off of the trigger, before being able to actually shoot.
If you are wanting a true Mexican style carry with a slight bit of added protection, this is what you want. This clip comes in at only $19 and can be found here.
Is Mexican Style Carry Legal?
Yes, Mexican-style concealed carry is legal in all 50 states where you are legally permitted to carry a concealed firearm. While it's legal, it's not recommended due to the safety concerns that come with carrying a firearm in a waistband without a holster to prevent accidental drops or discharges.
---
OUR RECOMMENDED TACTICAL GEAR LIST:
---