Today I am doing a review of the Olight Baldr weapon light series to figure out which light is best in the line-up.

If you're short on time, here are my final thoughts on each light:

Olight Baldr Mini – This light is perfect for users that want as small of a weapon light as possible, without sacrificing power. At 600-lumens with a green laser, adjustable rail, and magnetic charger, this weapon light gives you plenty of bang for your buck.

Olight Baldr S – This light is the best of both worlds. With a slightly larger size, you get a few more features. In addition to the 800-lumen high beam, you get a 300-lumen low beam, a green laser, adjustable rail, and magnetic charger.

Olight Baldr IR – This light is large and in charge, but still packs a punch well above its weight class. The Baldr IR is a 1,350-lumen weapon light with a 300-lumen low-beam option. The light also features an IR (infrared) laser to be used with night-vision goggles. This laser is able to be seen with night vision but is invisible to the naked eye.

If you would rather watch and listen than read, check out the full video review below. If reading is your thing, skip down below and dive in!

Alright, let's first dive in with a break down on the key specs and features of each light, then we'll do some comparing and contrasting.

| | | | |
| --- | --- | --- | --- |
| | Baldr Mini | Baldr S | Baldr IR |
| Cost (at the time of writing) | $110 ($129) | $103 ($129) | $95 ($159) |
| Weight | 3.07 oz | 3.35 oz | 4.55 oz |
| Lumens High | 600 | 800 | 1,350 |
| Lumens Low | N/A | 300 | 300 |
| Battery | Olight Magnetic Rechargable | Olight Magnetic Rechargable | CR123A x2 |
| Runtime | 40 minutes | 140 minutes | 4 hours |
| Max Throw | 130 meters (142 yards) | 130 meters (142 yards) | 260 meters (284 yards) |
| Laser Beam | Internal Green Laser | Internal Green Laser | External IR Laser |
| Adjustable Rail | Yes | Yes | No |
| Best Place To Purchase | Buy Here | Buy Here | Buy Here |
Now that we've reviewed the basic specs, let's dive into each light, unbox it, and get some hands-on first impressions.

Olight Baldr Mini Review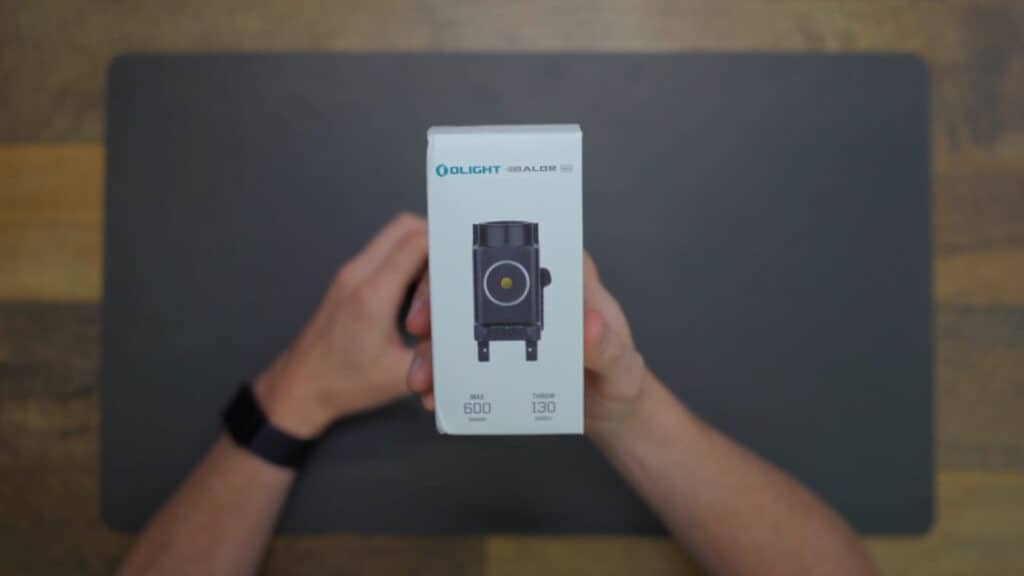 When you purchase a light from Olight, it will come in a box like this. This is the Baldr Mini and within the box, you'll find the light, a megnetic charger, and a rail adapter for either a GL rail or a 1913 rail.

One of the best features of the Olight mini is the magnetic charging capability. With a simple usb magnetic charger, you can snap it to the bottom of the light while it remains on your pistol and charge it up. No need to remove from the gun, take off batteries, or even plug it in.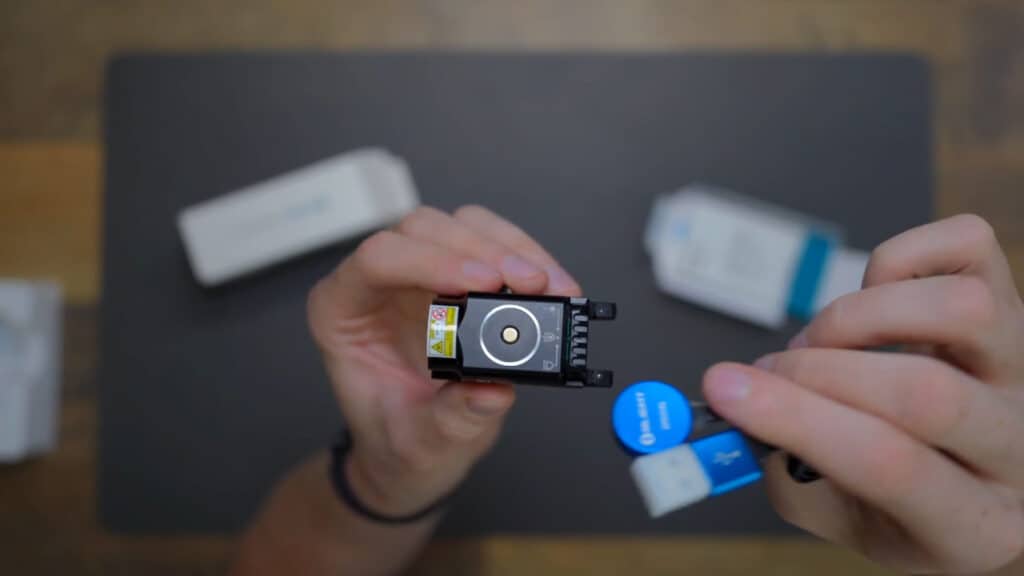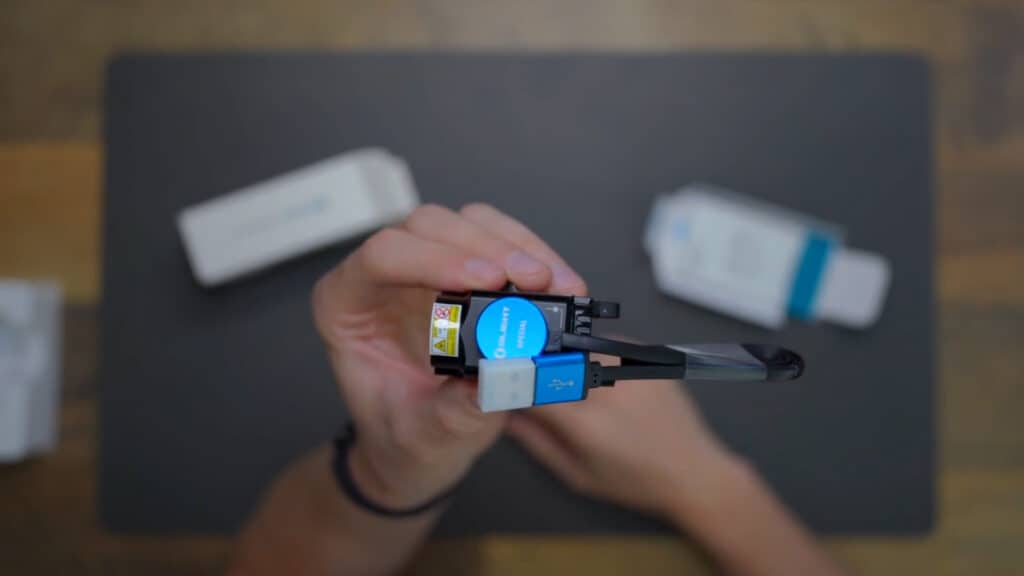 Another thing that makes Olight unique is its adjustable rail system. On my currently daily carry handgun, I am using a TLR-7A Streamlight. This light is great, but it screws onto the rail. It's secure, but not easy to take on and off, and not at all adjustable. Olight fixes this.

With Olight's adjustable rail with a quick release, you can not only take the light on and off in seconds but adjust the light from the front of the gun all the way back into the trigger guard.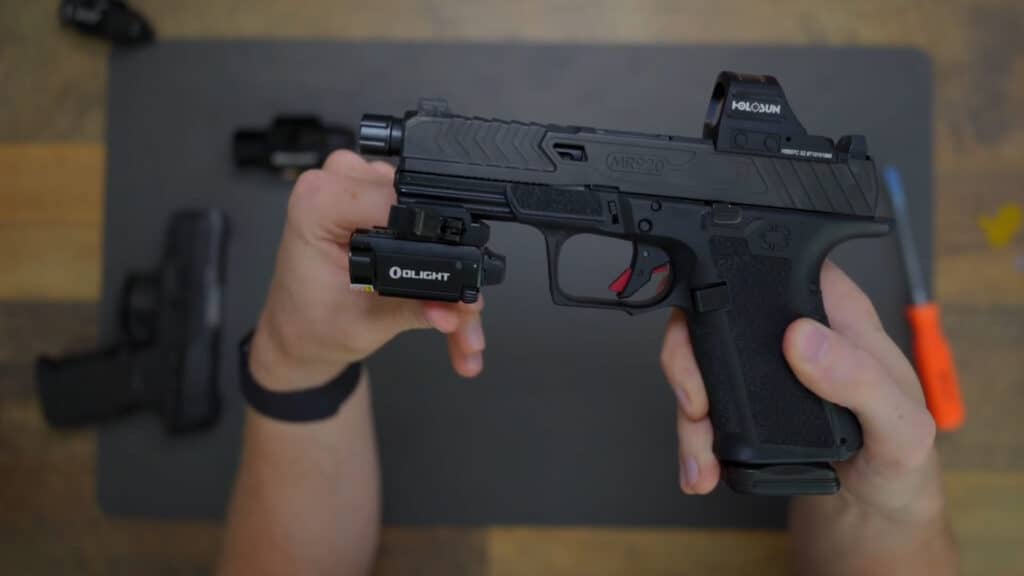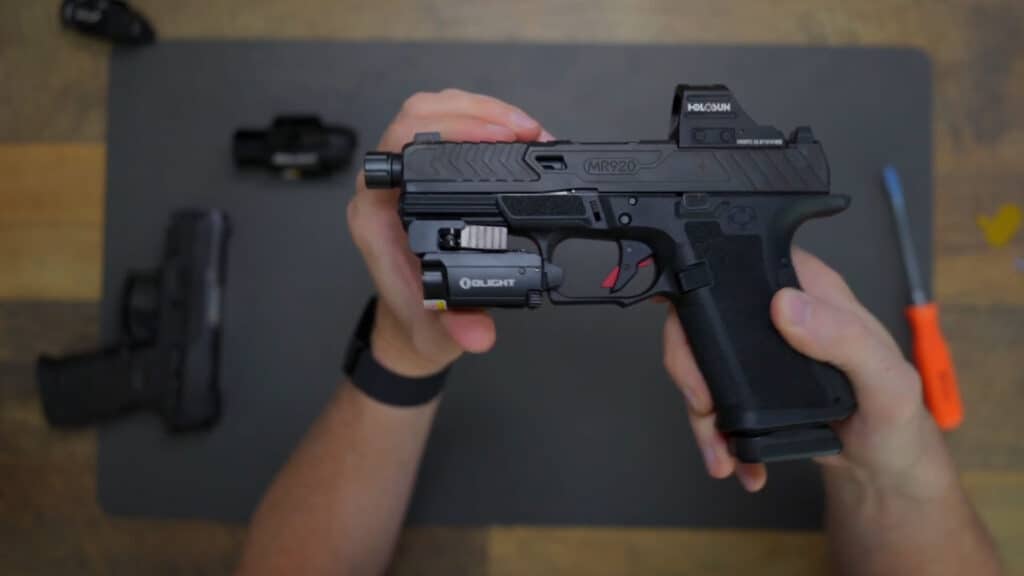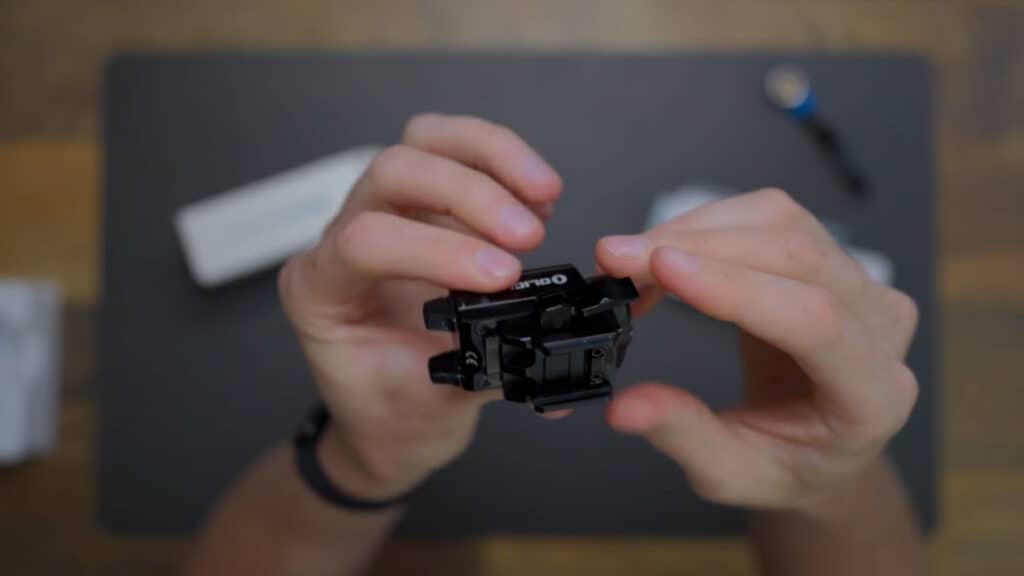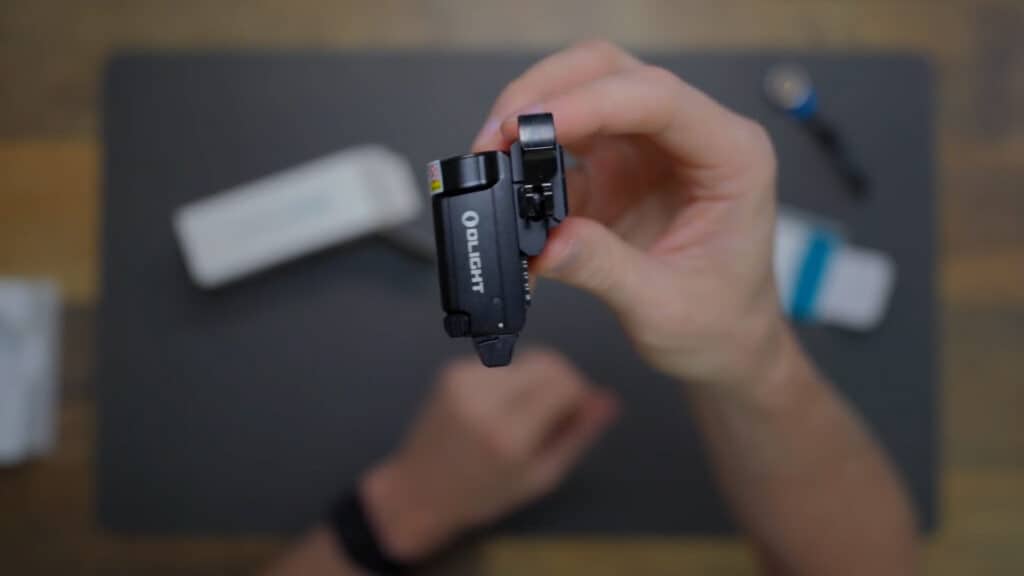 The light gives you multiple different selections to choose from via a selection switch on the underside of the light. The three options you have are light only, light+laser, and laser only.

These options are easy to switch between, and the switch is tight enough you can't accidentally bump it out of your desired settings.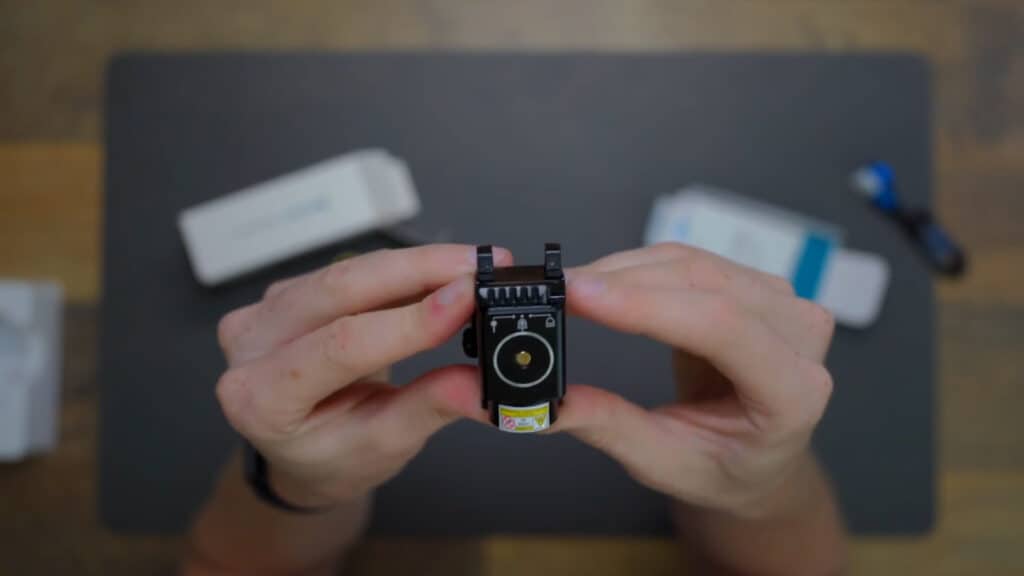 The Mini does not have a high/low beam setting, so you are stuck with 600 lumens at all times. 600 lumens is more than powerful enough, especially if we are talking about a home defense situation.

Unless you've got a 14,000 sq ft living room, 600 lumens in the middle of the night will light up the whole room. Here is a nighttime example from the mini.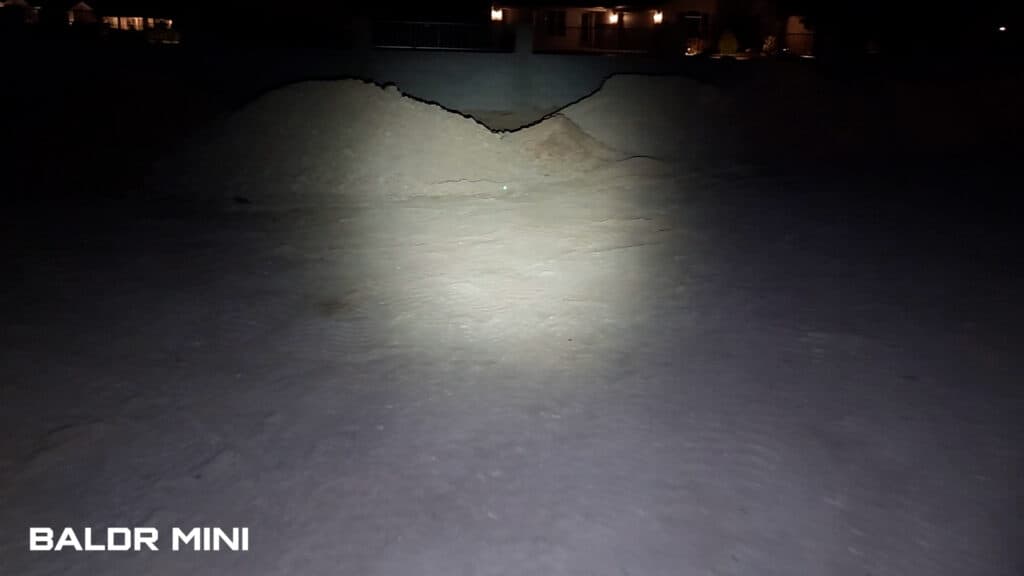 Pros:
Extremely small form factor
Extremely durable aluminum construction
600 lumens with green laser
wireless recharging with magnetic adaptor

Cons:
Only a 40 minute run time
Does not have high/low beam settings
---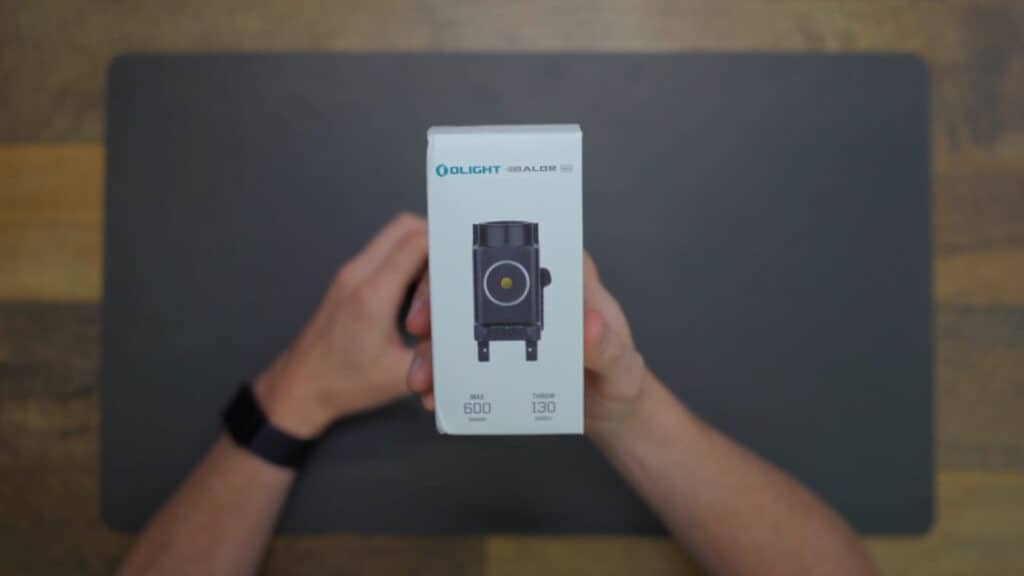 Get the best deals on the Baldr Mini Below
Think the Baldr Mini is right for you? Check out more details and get the current pricing below.
---
Olight Baldr S Review
The Baldr S hits the sweet spot for me. It is light, small, and compact, while not sacraficing any key features.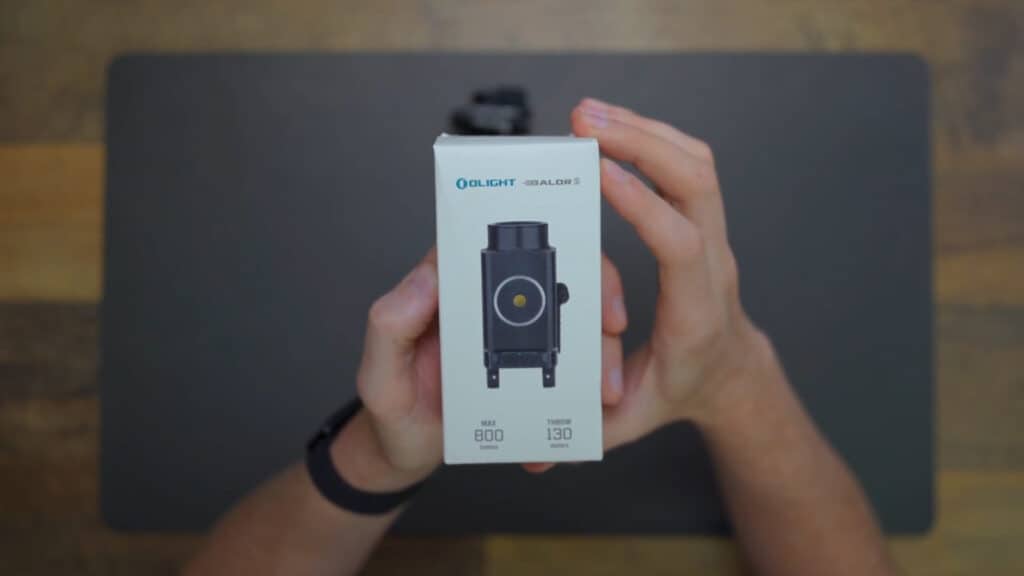 Many of the Baldr S features are identical to the Baldr Mini, so we won't cover all of those in detail here. In summary, the features that are identical between the S and Mini are:
Light/Laser housing
Selector Switch
charging
Adjustable rail with Quick Release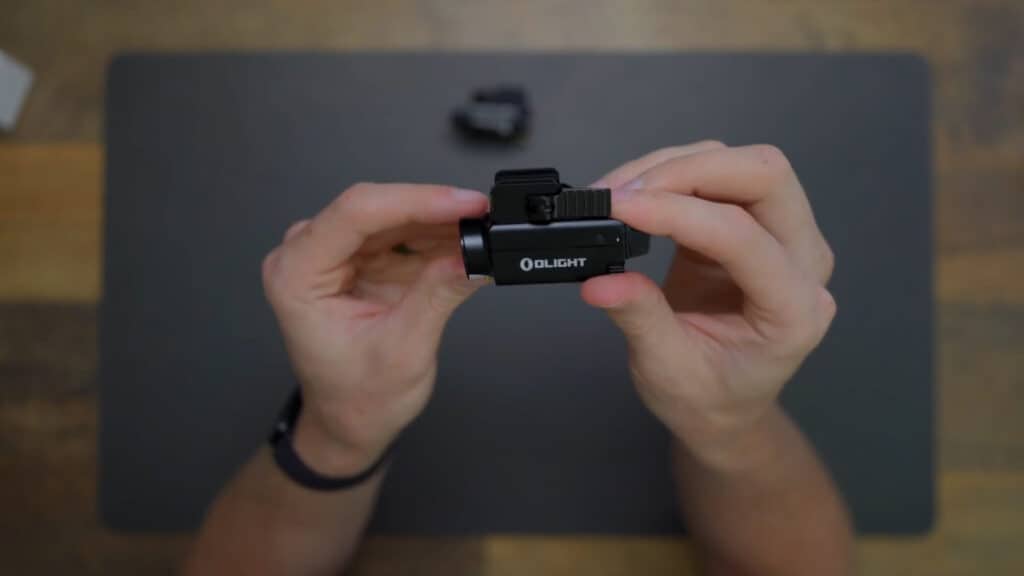 Even though the Baldr S is remarkably similar to the mini, there are a few key differences. First, it's heavier and larger in size (although not by much).

The mini weighs 3.07 ounces while the S weighs 3.35 ounces. This is a small enough difference that I couldn't feel a weight difference in my hands.

As for size differences, they are identical (or so close I can't tell the difference) in width and height. The only main difference is in length with the Baldr S coming out about 1/8th inch further. See the comparison pictures below.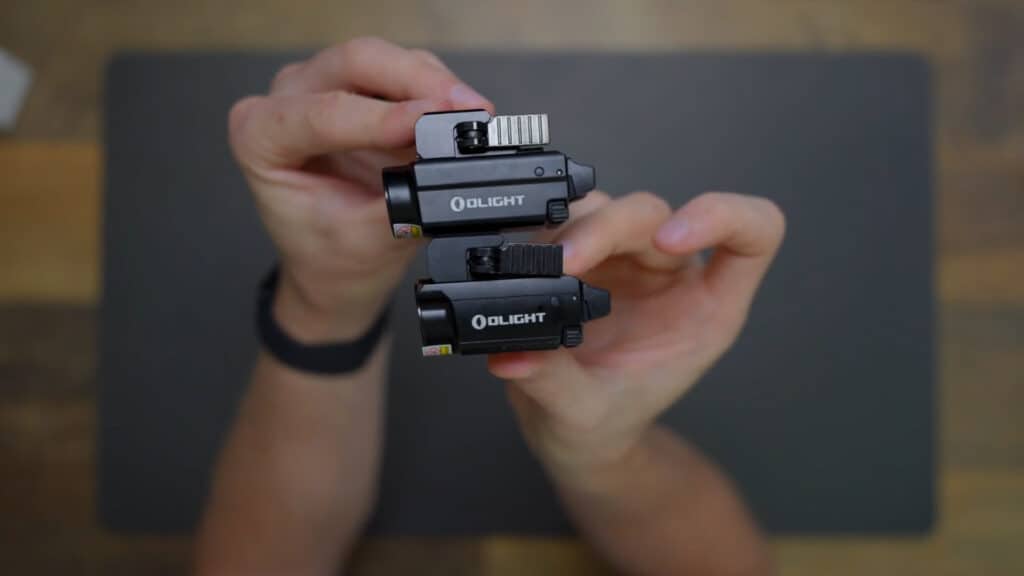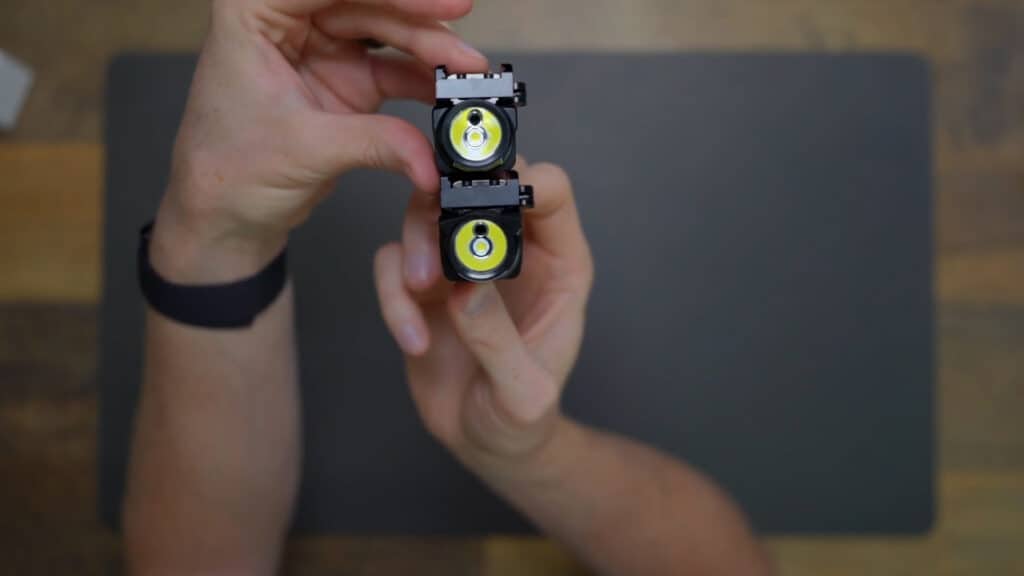 When these two lights are on a gun, the size difference becomes more apparent, but not to an extreme (in my opinion). Here are the two lights on two different handguns for comparison.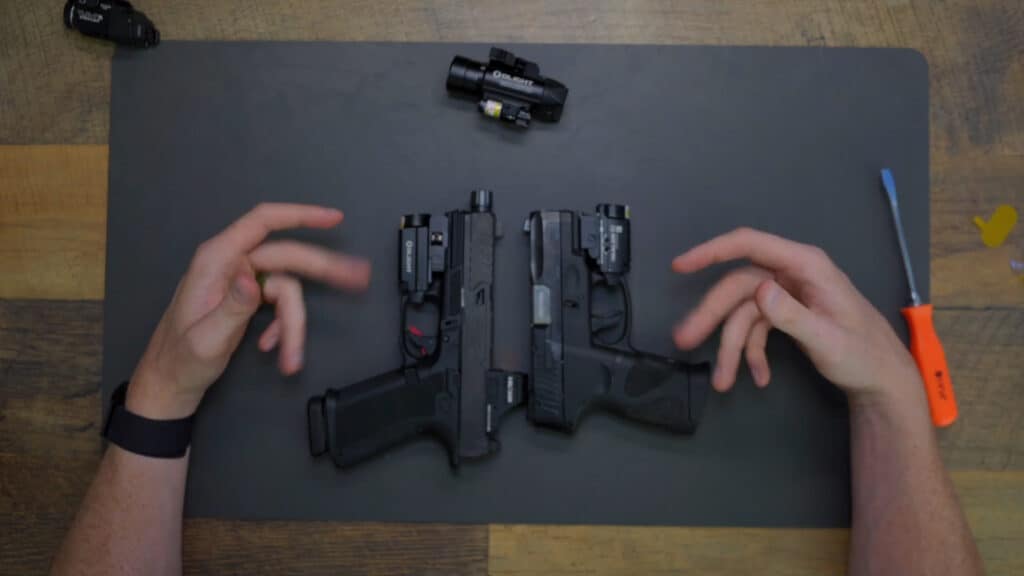 Another difference is that the Baldr S has an adjustable beam. You can choose from a high beam of 800 lumens or a low beam of 300 lumens. I personally find this to be an extremely valuable feature.

Not only does it have the two different beam settings, but it will remember what you were using last and default to that beam until you change it. Here is an example of the high/low beam at night with the Baldr S: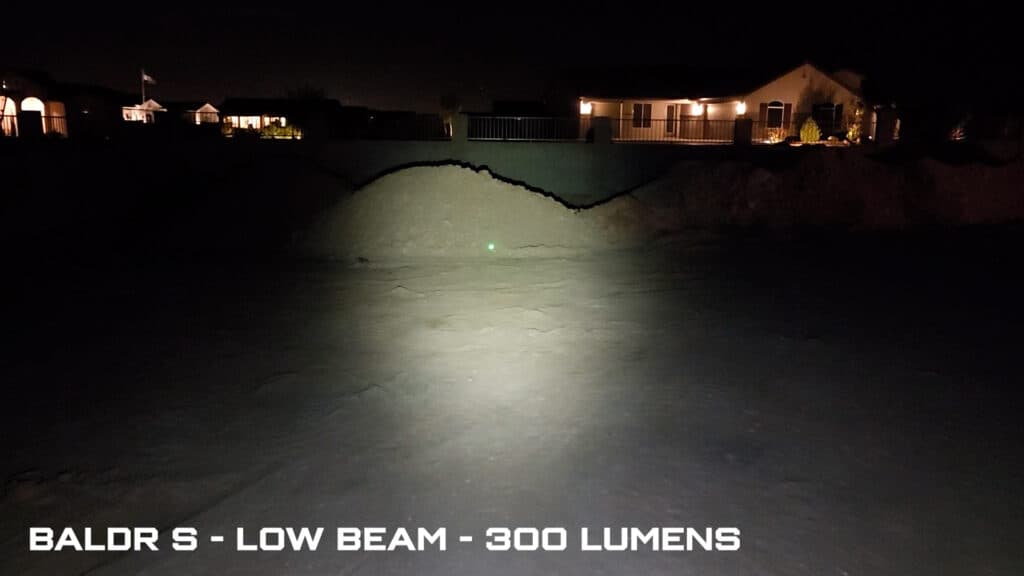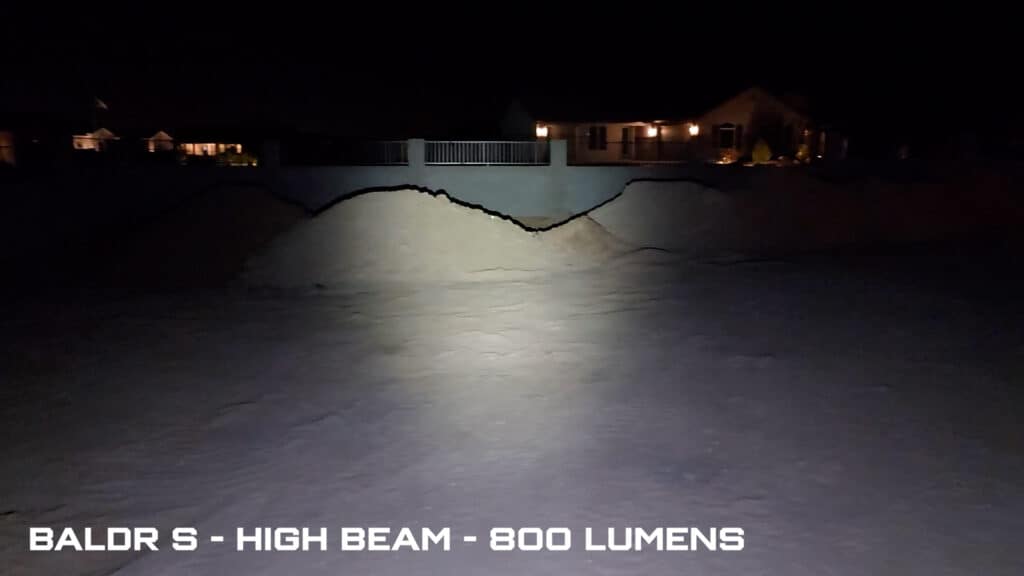 Pros:
High/Low beam settings
140 minutes run time
magnetic charger
adjustable rail with quick release
laser/light combo
Cons:
---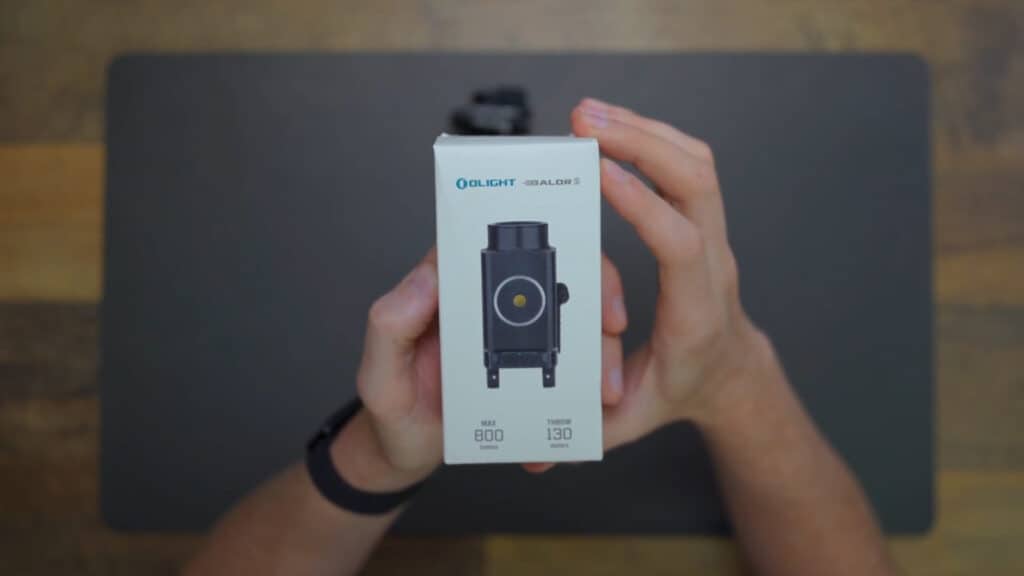 Get the best deals on the Baldr S Below
Think the Baldr S is right for you? Check out more details and get the current pricing below.
---
Olight Baldr IR Review
Out of the three lights being reviewed, the Baldr IR is in a different class. While the mini and S are designed to be compact weapon lights, the Baldr IR is built for durability and performance.

Weighing over an ounce more than the S, the size difference is very evident. While some people may daily carry with a light this size, it's too big for my liking as a daily carry. Although it does have a purpose and it will be added to my collection and you might want to consider the same as I'll explain below.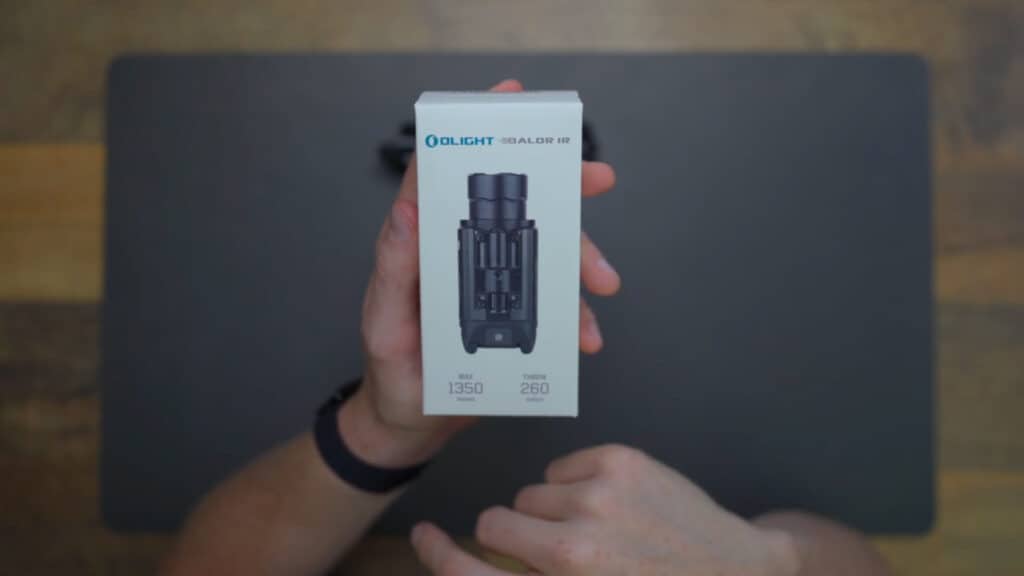 The Baldr IR comes in a similar-looking box to the S and Mini but displays a very different form factor when removed from the box. Most notably, the magnetic charger is not included because the Baldr IR is not a rechargeable light.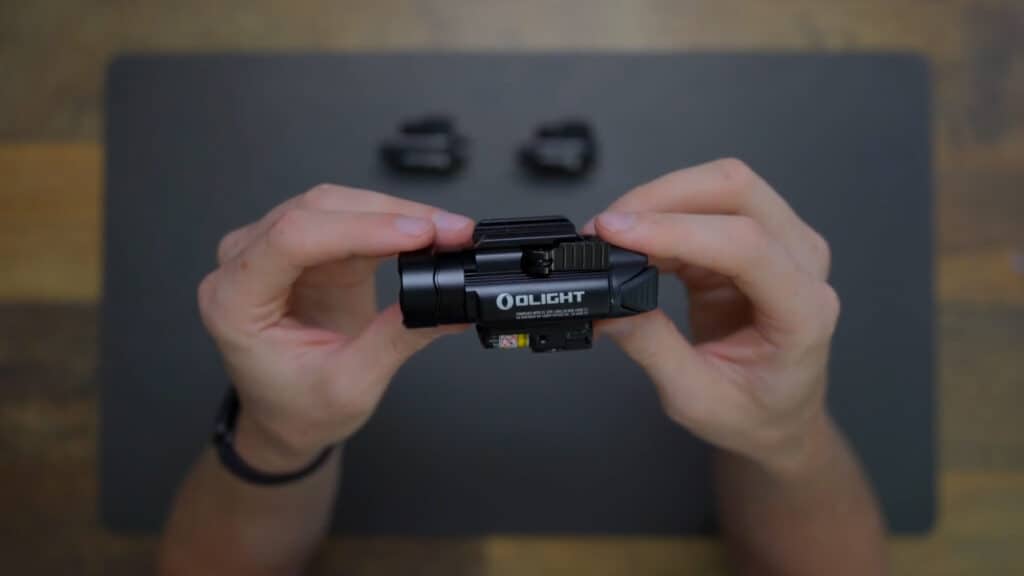 Instead, it operates off two CR123A batteries. The cons are obviously that the light can't be recharged and needs to be taken off the weapon to replace the batteries, but the main benefit is a 4-hour run time. That is over 3x as long as the S and nearly 5x as long as the mini.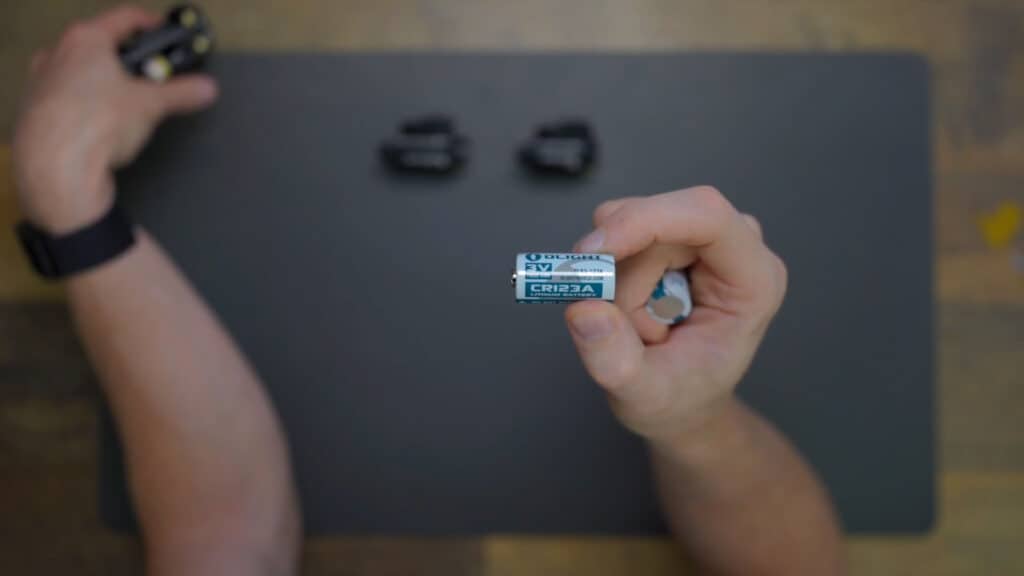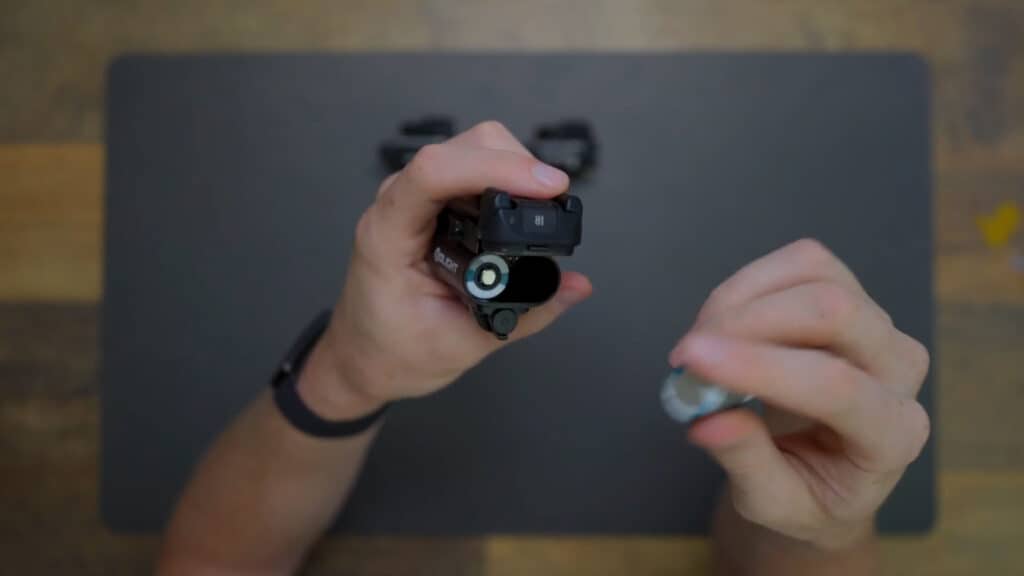 Now, one of the main differences with this light, aside from the size and power, is that it does not have a green laser, but rather an IR laser.
An IR (Infrared Laser) is not visible to the naked eye. Instead, it is designed to only be visible with night vision. This laser won't do anything for you if you do not have a nigh vision setup (which most of us do not). Although, I don't think that should stop you from getting this light…quite the opposite actually.

I personally don't like to shoot with lasers (the visible kind). In my view, I'd rather default to my iron sights or my red dot sight. I'd rather be relying on something built into the gun, rather than trying to find a spec of light on my target to adjust my aim with.
Now I understand this comes down to shooting style and preference, but for me, a visible laser is not something I'd plan on using. An IR laser, however, is something I could see my self using in the future if/when I get a night vision setup.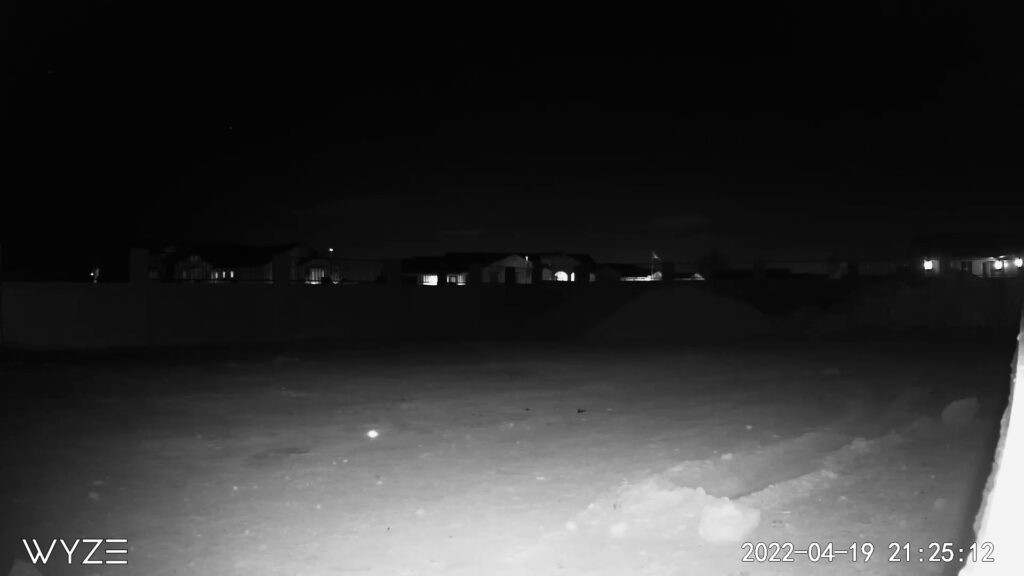 In the above image, you'll see a dot from the IR laser. This isn't a great example of what an IR laser looks like with night vision, but it's a method to see the light that can't be seen with your eye (it was pitch black out when this image was taken).
An IR camera emits a flood of IR light. This drowns out the IR laser whereas true night vision is not emitting a floor of IR light, so any IR light that is visible is extremely transparent. It would look more like a green laser in the middle of the night where the whole beam can be seen, not just the point at the end.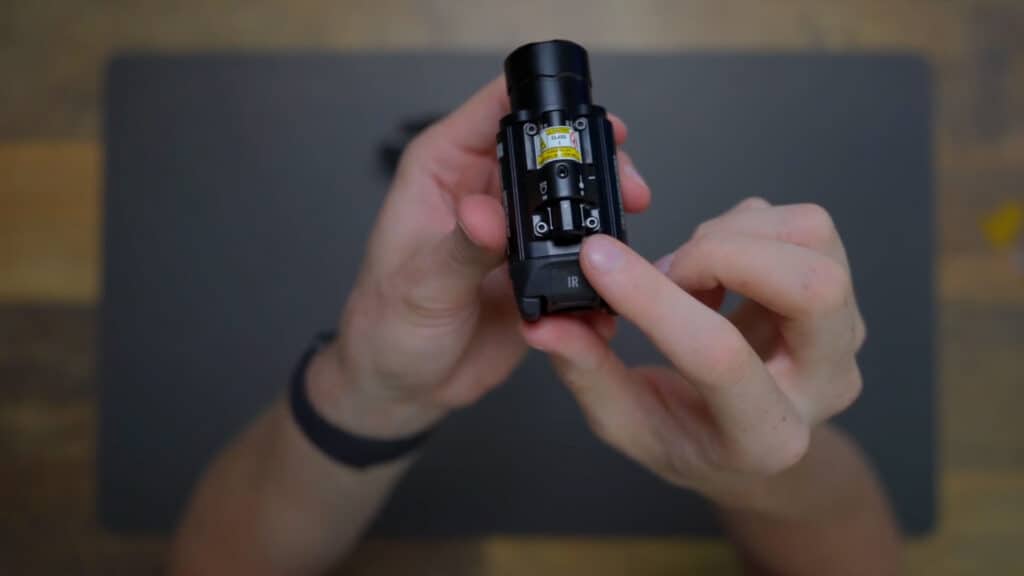 I like the idea of having an IR laser because normally, I'd just be using the light. Even if it had a green laser, I wouldn't be using it. However, I like the idea of having the option of an IR laser if I ever invest in a night vision setup. It's a way to future proof so to speak.

The Baldr IR features a different selector switch than the Mini or S models. As seen above, you have three options: Light, Off, IR Laser.
There is not an option for a light+laser combo since the purpose of an IR laser is to not be seen. There are no use cases an IR laser would effectively be used with a light that I am aware of (please correct me in the comments of the video above if I'm wrong on this point).

Having an off switch is great for preventing the batteries from being drained, but also comes at the cost of possibly not remembering the light is in the off position when you need to use it quickly. I personally would have it set to the light mode and be extra careful when storing the weapon that the light is not being accidentally activated.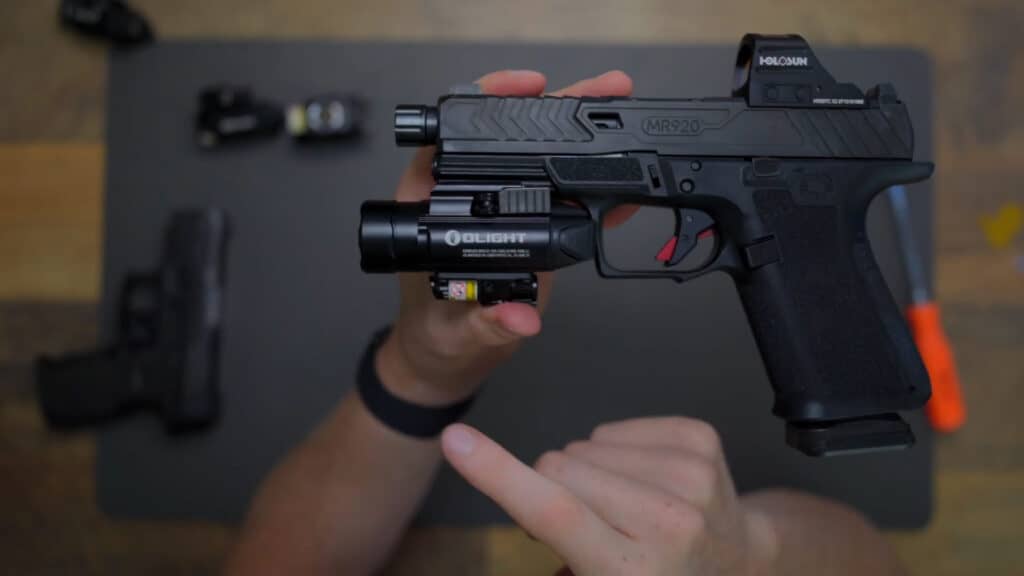 As you can see, the Baldr IR is significantly large on the gun than the mini or S as expected. Some people choose to daily carry with a light this size, I personally wouldn't when there are plenty of lights much smaller with more than adequate power.

I see this light as being great for a home defense gun, or even mounted to the side or top of an AR 15 pistol for use with the IR laser.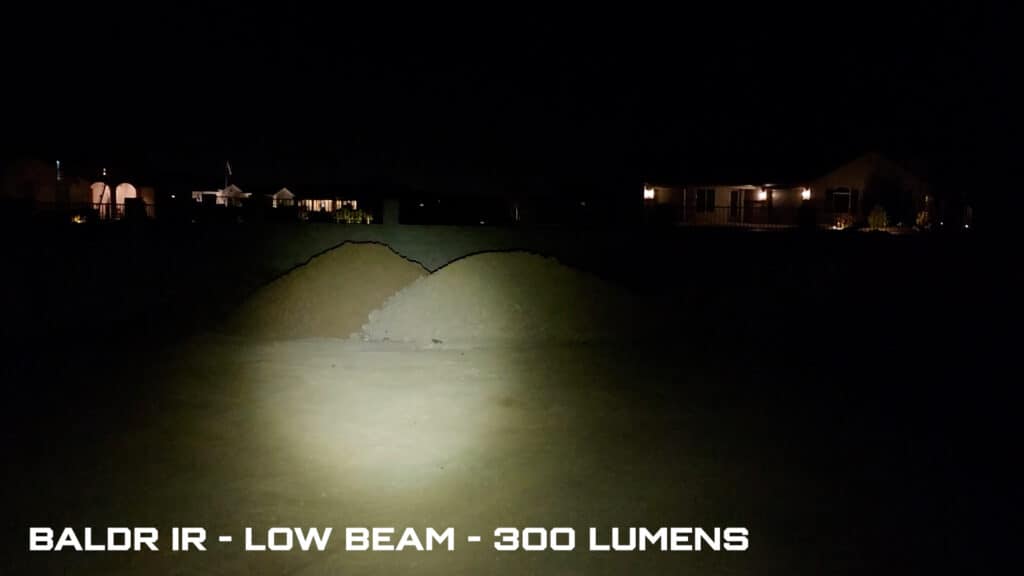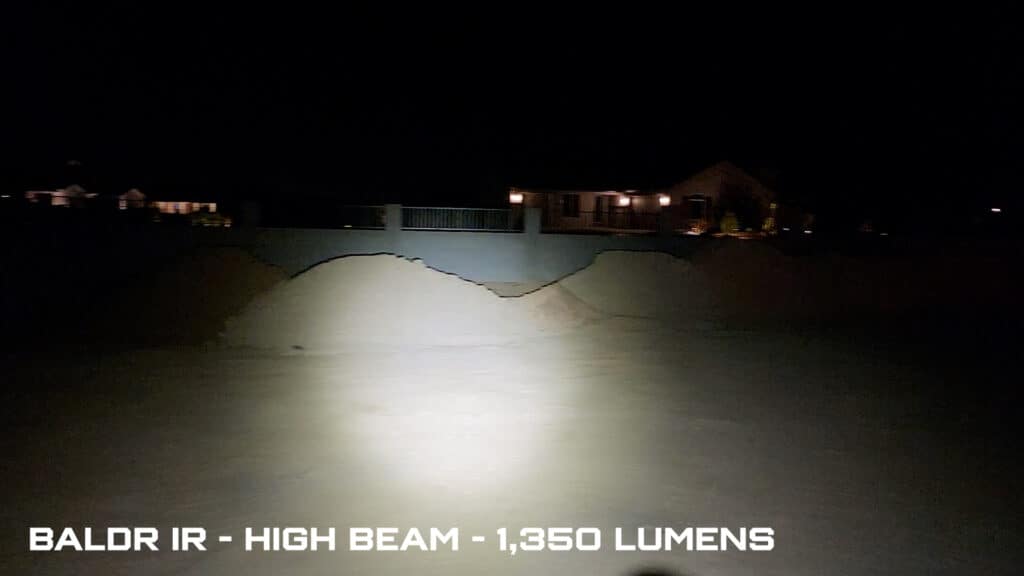 Pros:
1,350 lumens
High/Low beam settings
4 hour run time
IR laser
Extreme durability
Quick-release
Cons:
Not rechargeable (must be taken off the weapon to change batteries)
Large in size
On/Off buttons need to be pushed IN rather than DOWN like most weapon lights.
---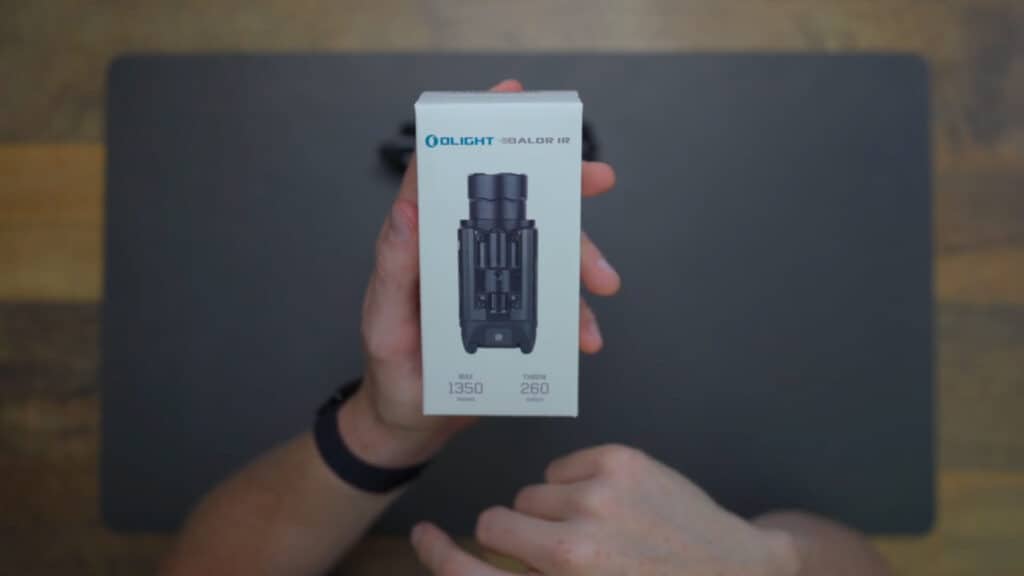 Get the best deals on the Baldr IR Below
Think the Baldr IR is right for you? Check out more details and get the current pricing below.
---
Comparison
The Mini, S, and IR are all great lights that serve slightly different purposes. I think real comparison comes down to the Mini and S for the best compact weapon light, while if you are considering the IR, it's for different reasons.
Here are some side-by-side photos for you to compare: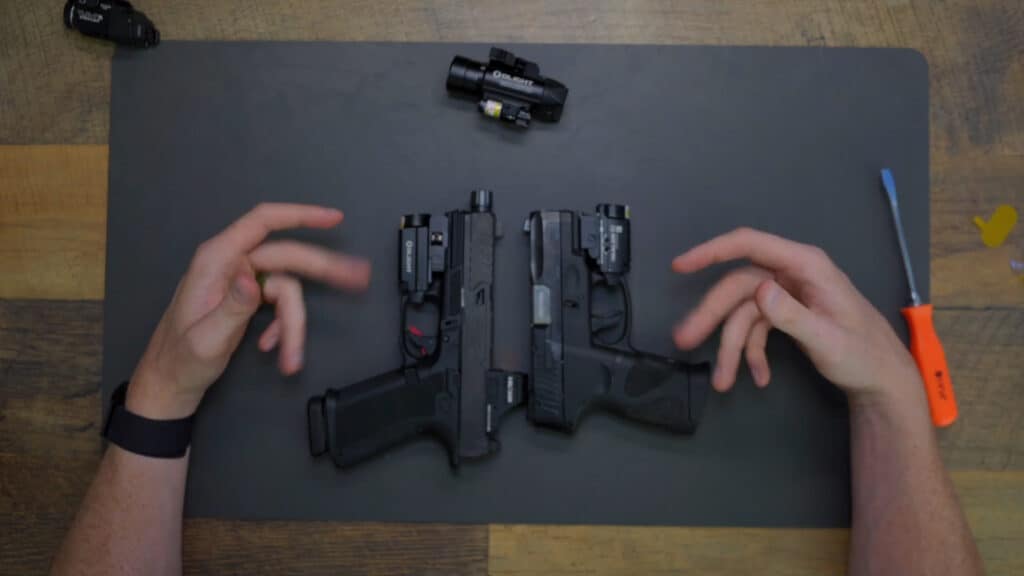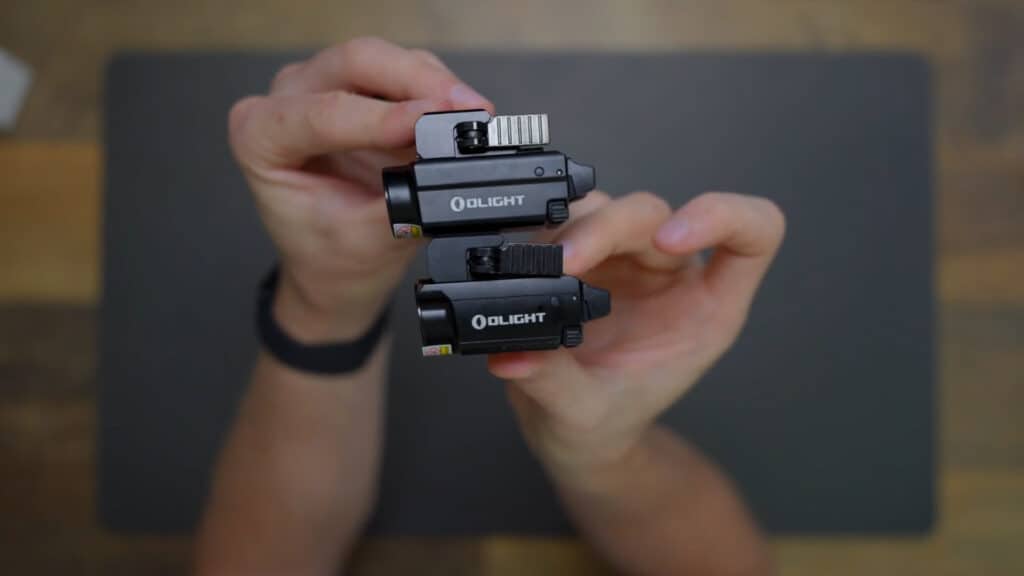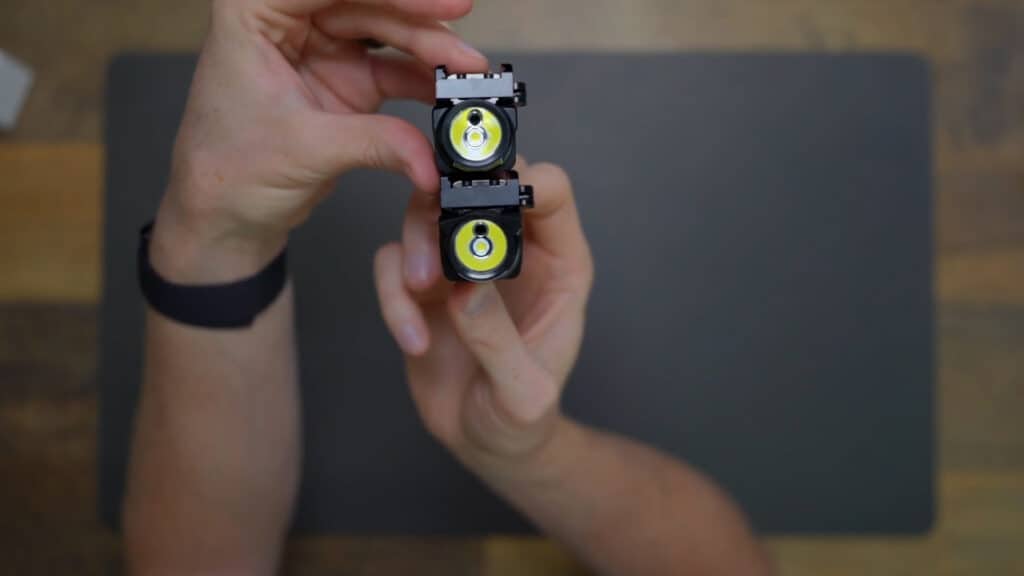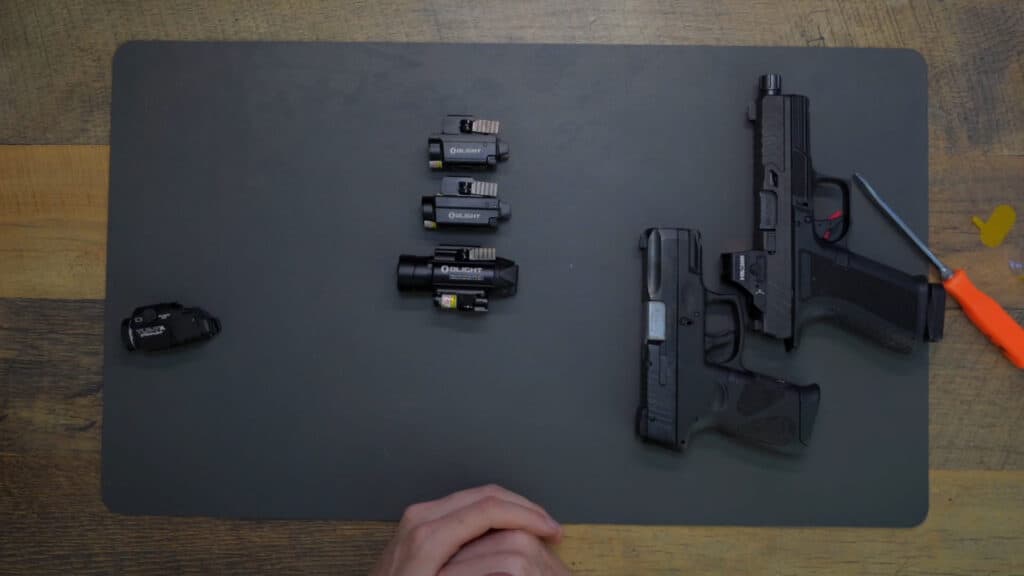 Here is an example of all three lights at night time side by side for comparison: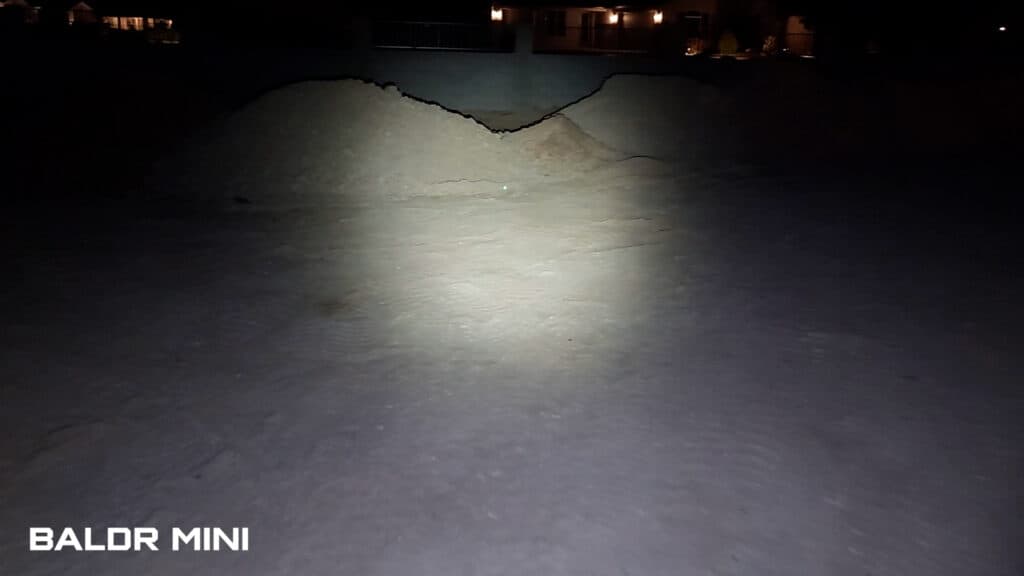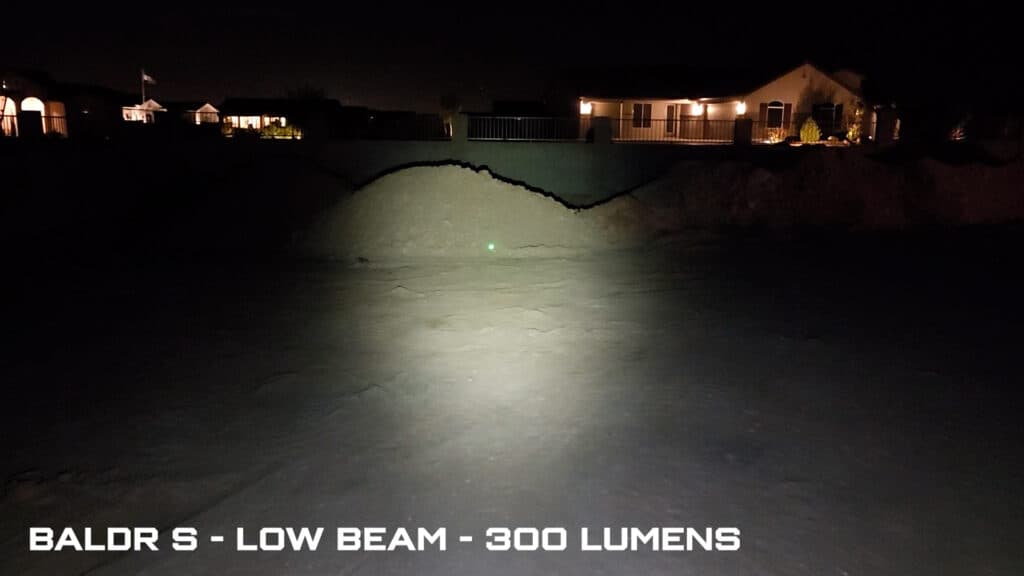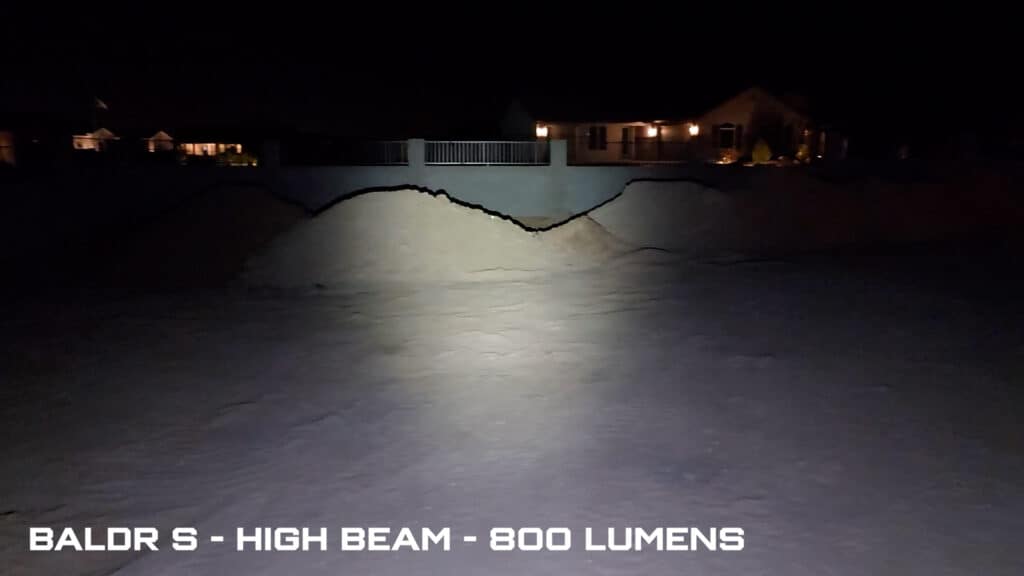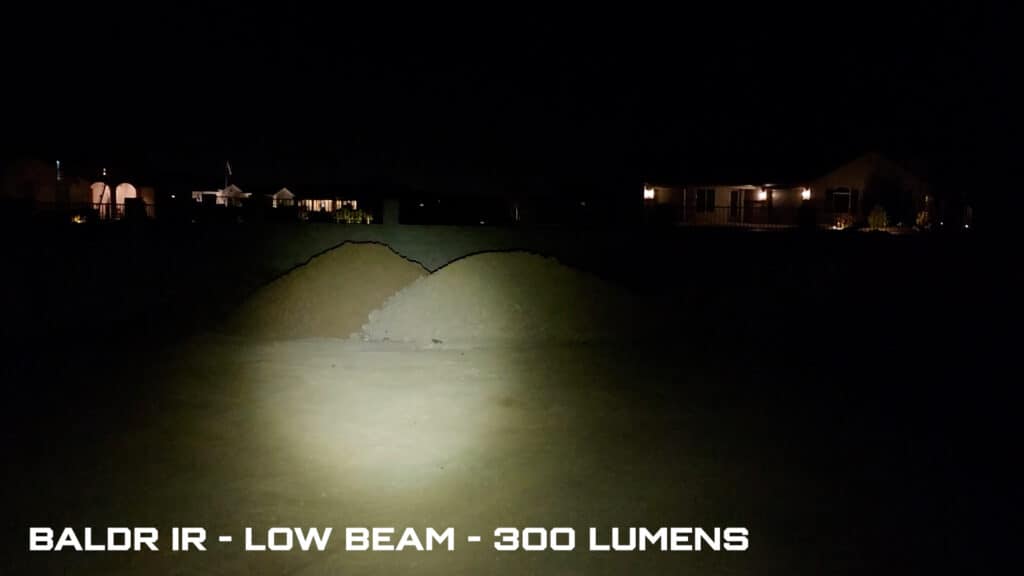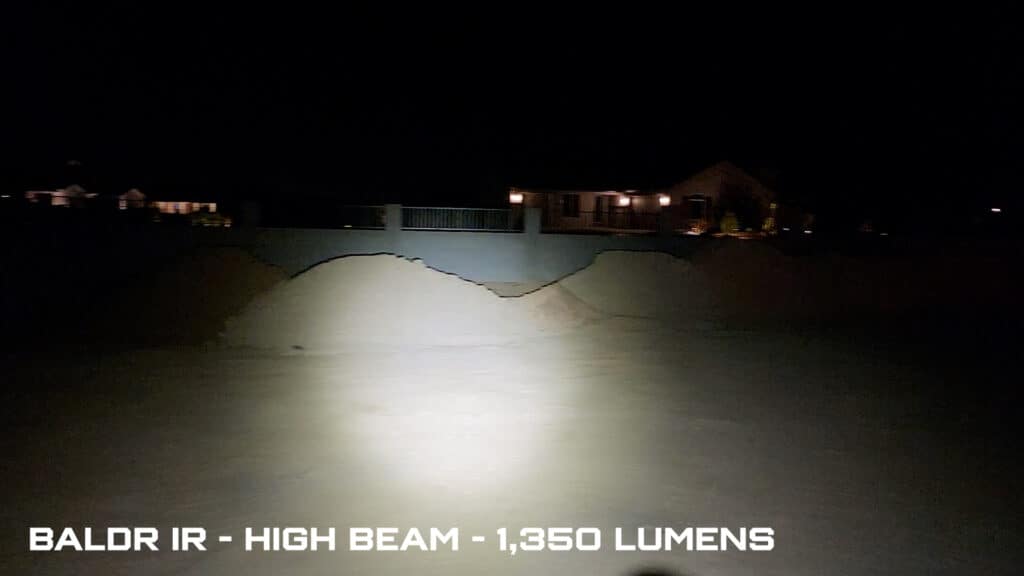 I currently have the TLR-7A on my daily carry. It's a great light, but I've noticed some disadvantages after looking over the Olights. For one, the TLR-7A is 500 lumens (less than all three Olights above), it is not rechargable, and it's not adjustable lacking a quick disconnect as well.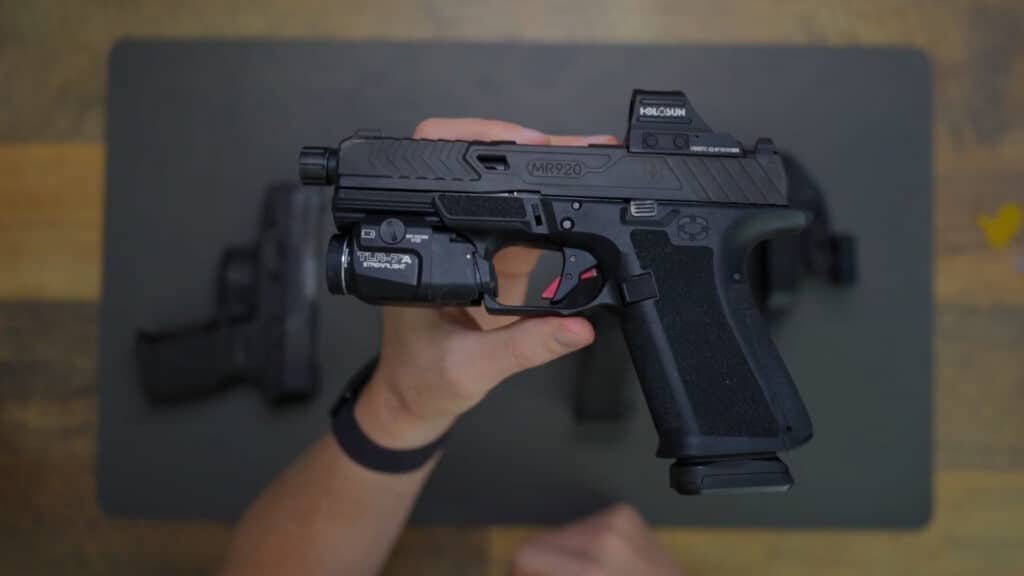 I'll be using this light for the time being since my holster is custom-made to fit this light. I will, however, be ordering a custom holster for my smaller daily carry and will be putting the Baldr S on that. I like the adjustability, chargeability (is that a word?), and variability in the light that the Baldr S has to offer.

What light are you most interested in? Drop a comment in the video at the top of the page. In addition, subscribe to our YouTube channel above to be entered into gear giveaways where you can win gear just like these lights.
---
OUR RECOMMENDED TACTICAL GEAR LIST:
---