Law enforcement, security guards, military personnel, and carry enough of a load and shouldn't have to worry about the weight and safety of their tactical belt. A tactical belt should be comfortable, light, durable, and easy to access what you need when trying to organize pieces of equipment and looking for the one item you need to keep you or someone else safe. 
Safe Life Defense makes a tactical belt simply called the Tactical Defense belt that can help solve many of the problems with other belts that are not as comfortable, flexible, or durable. We will review some of the main features of the Safe Life Tactical Defense belt, understand some of it's pros and cons, show how others have used the belt,  and help you decide if it's right one for you.
A Bit More About the Belt
We will go into functional details later, but let's start with some basics. The Safe Life Defense belt comes in two colors, black and coyote tan. The belt also has a range of six sizes starting with small (24-29 inches) to 3XL (55-60 inches). The larger range is especially nice because not many companies offer belts above 2XL though you will pay a bit more for the extra large size. You also get free size exchanges for 30 days after purchase in case the first try doesn't fit, so don't worry about choosing the wrong size and going through a lengthy process to return.
Some users have wished for more color variety in the belt, including camouflage, green, or something else since not all users are seeking dark colors. Brighter colors are fine with people who are not wearing the Safelife Tactical Belt in areas where remaining obscured isn't that important, as the gun range or as a paramedic. This also comes from the same company that will replace your body armor if you are shot and can provide a police report.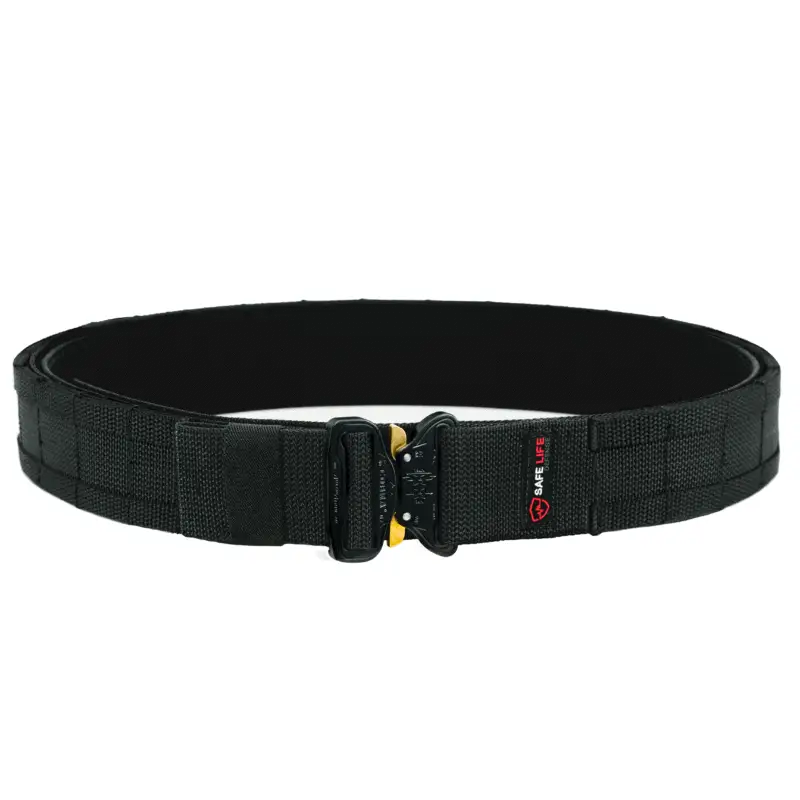 Lifetime Warranty
The Safe Life website describes the warranty very simply: Lifetime warranty. If the belt breaks, wears, or has problems they will make it right. All you need is a receipt and a picture of the damage to the product. This is an impressive guarantee as to its not limited in years for people who will likely wear their belts a lot. Safe Lite also processes their returns and warranty claims quickly in the event you somehow break something.
Comfort
One very simple thing tactical defense belt users have is comfort. Most people who need a defense belt spend long hours doing a combination of sitting, standing, running, climbing and maybe even a few more. During these times, the belt needs to not chafe and provide support. 
Did you know that 62% of police officers experience back pain throughout their careers, and only a handful of them had back pain before beginning their careers? Between the amount of sitting, and standing, the duty belt and all the things emergency personnel carry can have an impact on spinal and back muscle health. Some police officers use simple leather belts with holsters and attachment slid on, and they will likely have back pain or eventual discomfort from using the belt as nothing more than a holder.
The Safe Life Tactical Defense uses exclusive Safe Life double layer extra rigid nylon webbing. Safe Life claims their double layer is as durable as a steel-reinforced belt without the additional weight or thickness. Your belt does not need to be flexible on your hips, because if your belt is flexible on your hips, it's not doing its job of distributing and absorbing the weight of the things you carry.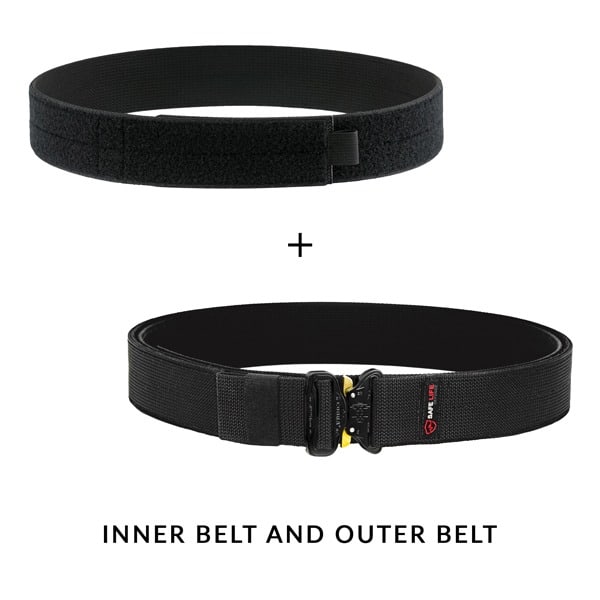 Why is this different?
The purpose of the extra rigid nylon is to keep your tactical belt in place. A sliding tactical belt makes your weight unbalanced and reduces the effectiveness of the belt as a weight carrying system. You will get tired faster and are more likely to have long term problems with an unbalanced belt.
How does Safe Life Fix this?
The rigid belt simply doesn't move. The Safe Life Tactical Belt is made of two belts.
Inner Belt
The inner belt is 2" tall of nylon scuba webbing that fits through any pants loop holes 2" or smaller while offering tapered ends that are easy to put through holes. The inner belt does not have or need a buckle. The inner belt has loop velcro that allows the rear of the outer belt to directly attach to the already secure inner belt.
Outer Belt
The Outer Belt locks into the inner belt with a hook and loop, allowing you to carry many items on the also 2" nylon webbing while keeping the entire belt rigid. The outer belt has velcro on the inside to easily secure it to the velcro on the exterior of the inner belt, making a very secure hold with the same size belt to ensure proper balance too.
What pants should I wear?
You don't need special pants. The belt size works with most any belt, so wearing literally anything with belt loops will allow you to wear this belt. 
The entire system stays rigid and solid, which you need to keep the belt in right place while the nylon absorbs as much weight as possible instead of becoming unbalanced and forcing your hips and legs to carry the load.
How is it buckled?
The Safe Life Tactical Defense has a genuine AustriAlpin Cobra Belt Buckle. These belt buckles lock on and are quite difficult, if not impossible to take off by accident or even have slip. The good news here is that a potential thief or assaulter is rather unlikely to remove your belt quickly without first knowing the method to remove it. The buckles are meant to be safe and secure on your body while also helping carry the load. The buckle itself is meant to work in all weather and is military tested to not wear or cause any problems, even in extreme heat, cold or other weather.
MOLLE
If you didn't already know, MOLLE stands for moduled, lightweight, load-carrying equipment. We have described this purpose above as keeping the load of carrying a weapon and other essential supplies off your hips and legs. MOLLE has been known to carry grenades, water canteens, first aid kits, and things that can add substantial weight to your body without being other attached to a belt or vest.
To help you with your MOLLE balancing, the Safe Life Tactical Defense belt has two rows of Micro Molle webbing. The webbing allows you to weave and stick the holster and packs for accessories on with ease. The Tactical Defense belt also has plenty of space to carry most everything you need, since the entire belt is a solid strip of durable nylon with only that purpose. 
Sizing
The Outer Belt is 2" tall just like the inner belt. Both the bottom and top half inches are covered in a tight MOLLE webbing that allows for the easy addition of accessory packs. 
Common Concerns
Some tactical belts have an issue being tightened, resulting in a tightening problem that reduces the overall space you have to place MOLLE packs on the belt itself, or making one side more spacious than the other. The Safe Life belt has a longer adjustment strap to ensure that you are tightening with an easy to tighten strap that serves only the purpose of tightening instead of also being a piece for accessories.
A Negative About the Adjustment
Even with the longer adjustment strap, a user who has mounted their firearm holster neatly on one side might have to move their holster if they adjust the strap since only one side is adjustable. If both sides adjusted the user would less likely need to move already attached accessories.
Stitching and Height
Safe Life keeps the molle and nylon sections quite secure with extensive stitching, reporting up to 4 or 5 times to ensure that the MOLLE element is both durable and offers very strong stitching should you choose to sew your molle packs directly to your belt. This ensures that a typically weighted pack will never fall off or move, and that the exterior of the belt itself is ready to last a long time.
While some belts are covered in MOLLE webbing, the Safe Life doesn't need to offer as deep of stitching, which results in a lower profile belt that also keeps your accessories lower and out of the way of your abdomen, or body armor if you are wearing it. Many users who do not have a lower profile belt complain that a higher profile belt requires users reach underneath their own body armor to find accessories, or that the vest will cause the MOLLE packs to move on the belt.
Another user described a similar issue and suggested using kiwi straps to ensure that longer magazines don't move, as people with shorter bodies might be annoyed by the reach of a tall magazine around their abdomen, and the straps can hold the magazines in place. This isn't a bad thing and is more about the user's body than the belt.
How do I put items on?
Add to your Safe Life belt by either semi-permanently using the stitching and "stick" that came with the MOLLE case itself through the Micro Molle webbing, which will make it very secure and assure the MOLLE case stays on through accident or force. Another less permanent option is to slide MOLLE cases on. Many cases and holsters have velcro built in to further secure the attachments and will bond right with the stitching. One user recommends bending the belt so that the super tight stitching opens slightly to allow for easier movement of cases and accessories vertically into the switching and openings.
How do I take items off?
Since the items are meant to be quite secure, taking them off can be a bit more difficult, though they are truly meant to be since you definitely wouldn't want someone simply removing your firearm holster in the heat of a moment, or something essential falling off. Items can be taken off by cutting stitching or if they were slide on, by using a small scraper to separate any velcro you used to apply it. If you simply slide them on without velcro, unbuckling the belt and sliding off items is all that's necessary. As indicated earlier, the stitching is intentionally super tight and will not let go of items unless you intend to let them go!
Riding up
This user expressed concern about the Molle pouches and belt riding up while shooting in the desert heat while using full-size MOLLE pouches to carry some gear. This would be a comfort concern as well as an issue of the belt not carrying a full load of weight and movement under rather dry and hot conditions. Even if the weight on the belt is off-center (as in one side weights more than the other, or a heavier MOLLE pouch isn't quite directly in the middle of your back), the Safelite still will not move because the outer belt is velcroed to the interior belt. This is especially nice because a more worn or weaker belt would likely drag you down and wear your muscles out. Instead, you can rely on the nylon to absorb the weight.
Uses
We mentioned before that belts are most commonly used by law enforcement, military, security, and hunting enthusiasts. One reviewer who is an outdoors enthusiast went to training for safe and accurate pistol use, and was told that instead of bringing just a belt and holster to class, that he should arrive at the range and classroom using the same equipment he would be using to go hunting or otherwise use his firearm.
Organization
The user attests to how much easier it is to carry a pistol in a holster within the belt and how much more comfortable the Safe Life Tactical Belt is compared to a single piece. While the ability to organize equipment isn't necessarily unique to Safe Life, his testament to being able to pack up for a video shoot tells you what you need to know about the convenience of the belt.
Competitive shooters and firearms enthusiasts also find the Safe Lite belt useful for the number of pouches it can carry and the level of organization for people with multiple uses and needs. 
Police and Military
Police and military will have the strongest use since they wear a belt nearly all the time while on duty and truly need the weight support while carrying a large variety of items, all while having a highly secure buckle that is secure, even if a suspect tries to reach for it.
How Strong Is it?
So a tactical belt like a Safe Life is probably going to carry your sidearm (pistol), at least a couple magazines full of ammunition, a multi-tool, possible a radio depending on your profession, gloves, and a "dump pouch" for all your extra stuff. All of these things can weigh upwards of 30 pounds. That's quite a bit of weight to hold around your waist at least 8 hours per day. A durable, strong belt like the Safe Life will reduce the load of this weight.
To probably exaggerate its capabilities, one police YouTuber attempted to lift a broken down vehicle with the Safe Life belt. They did so successfully, while also clarifying that the heaviest parts of the vehicle, with the engine and transmission, were still intact. While you most certainly don't need your belt to lift a 2-ton vehicle, it's nice to see that the belt doesn't break while doing the job.
Where do I buy one?
Safe Life is available in some states, but not many. They also don't have their own retail stores. Here is their store locator. Most customers buy online at safelifedefense.com where you get a 30 day refund policy and free shipping on orders over $500.
Conclusion
A good duty belt is essential for health and safety reasons for some professionals, like police officers, security guards, and many others who may need to carry a weapon or a large variety of items for immediate use. The Safe Life Tactical Belt provides the weight support and security you need to do your job without causing major back pain and problems like less supportive belts, all while being highly secure and difficult for anyone but you to take off.
Safe Life is a great example of a super durable belt that can handle your pistol, extra ammunition, and most anything else in a comfortable package. We hope that our reviewed provided the details necessary to make a decision about your belt. Carefully consider what you really need and how you plan to organize your gear, then definitely think about Safe Life as an option to make everything safer and more comfortable.
---
OUR RECOMMENDED TACTICAL GEAR LIST:
---