A tactical band is a great way to protect your Apple Watch without having to step back from your usual activities. Apple Watches are expensive pieces of equipment, and they're at risk of getting broken with any kind of extreme activity. Let's be honest: even running into something and hitting your watch just right can cause permanent damage. A tactical band is a sturdy replacement to the original Apple Watch band, lending an extra layer of protection while you live your active lifestyle. Sweatproof, shock-resistant, and even waterproof options are available. There are endless choices, but don't worry: I've researched for you. In addition, in my personal opinion, they look better too. For the top fifteen tactical Apple Watch bands, keep reading. 
Handmade Ultimate Tactical Apple Watch Band
The best tactical apple watch band for 2023 is the Ultimate Tactical Apple Watch by Kordiz Gear.
I love great quality. Buy once, by right is a great motto that I remind myself of often. After too many purchases to count that I made because it was a "better value", I often wish I had purchased quality from the start. That is this watch band.
This tactical apple watch band is handmade to order by Kordiz Gear using premium, thick nylon that is woven in a tight pattern for lasting durability.
This band is not cheap compared to others on this list, but it is original, handmade, and is a band you'll only need to buy once to last the life of your watch.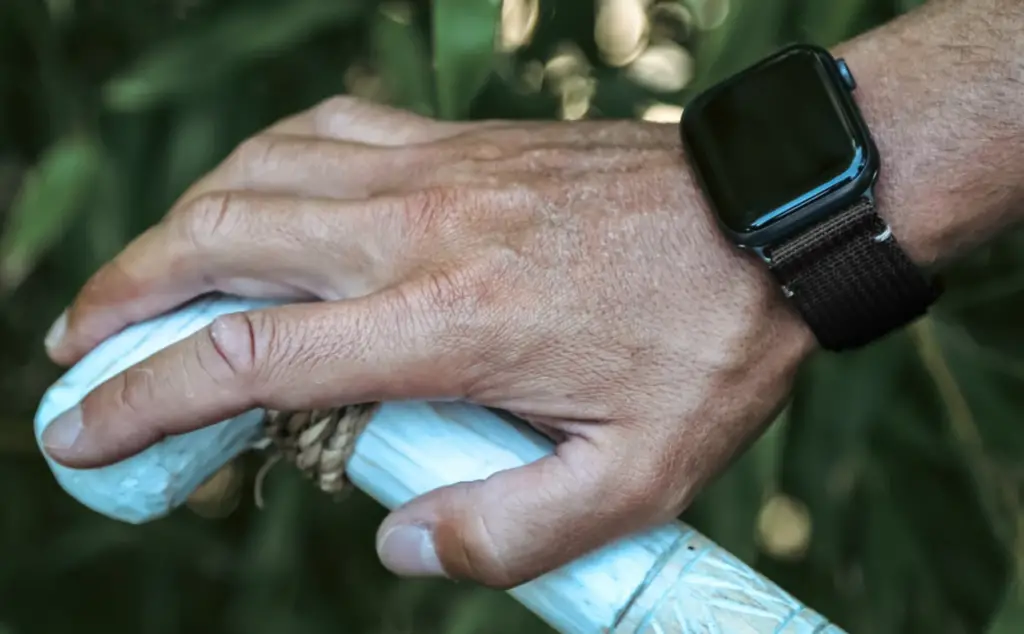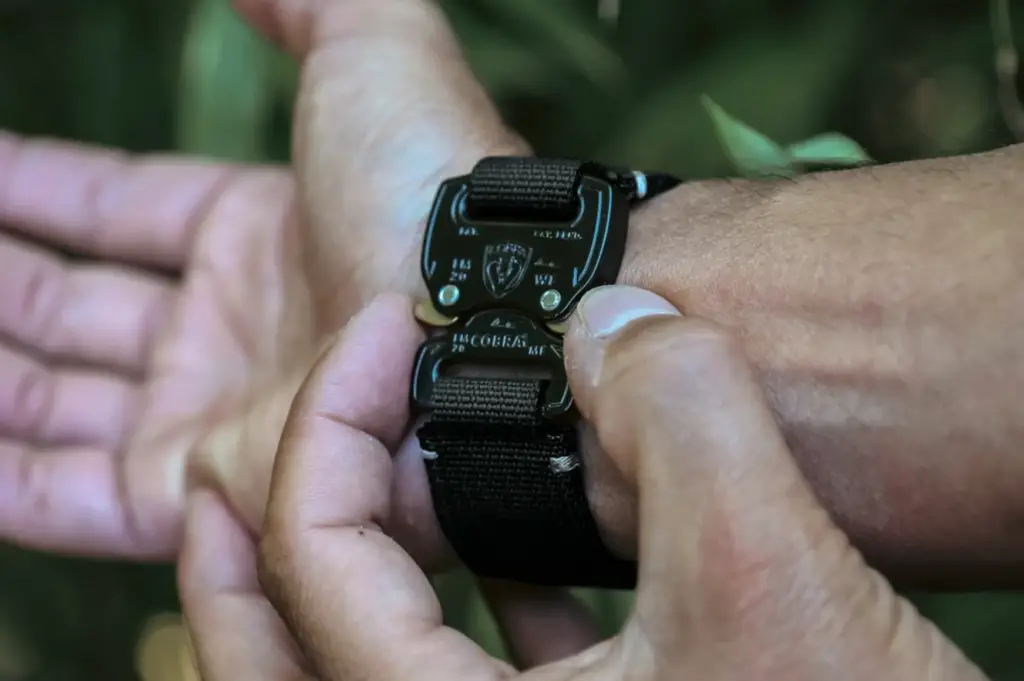 The clasp on this band is a tactical quick-release that is not only extremely strong but it's also a breeze to take on and off. I have the same clasp on one of my main daily carry belts and the new tactical collar and leash I recently purchased for my dog.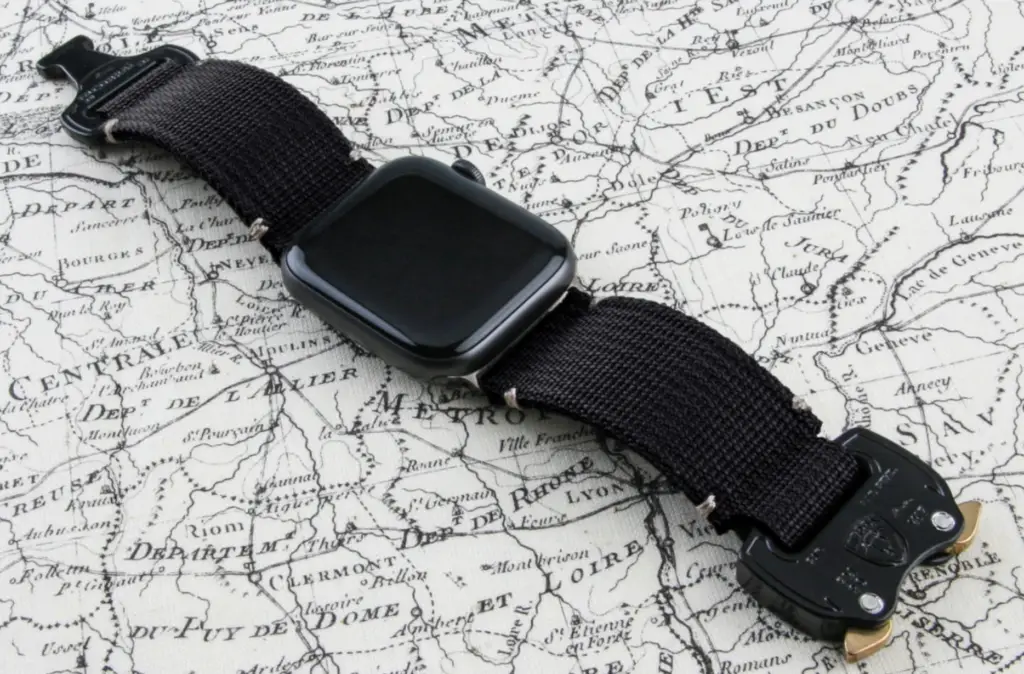 You can custom order this watch band below for about $95 using the link.
Nereides Sport Band Woven Nylon
The Nereides Sport Band wins my vote for best value. Coming in at only $18.99 (or $16.14 using the link below) this band gives quality, appearance, and value. While it's not made with full-on paracord like some watch bands below, it will be lower profile, more comfortable, and cheaper.

If you are looking for something that doesn't break the bank but still gets the job done, this band is it. It comes in about 15 different color variations, so you are likely to find one that suits your taste. I like the tactical green color or the grey/black band.
GELISHI Bumper Case Apple Watch Band
If total protection is what you are after, you'll want to consider the Gelishi band which also doubles as a case of sorts. This band has a full bezel that wraps around the watch itself protecting all sides and giving a protection zone for the screen.
It has a cut-out for the side dial, so no functionality is lost. The looks of this band are not bad, but it's not quite my taste/style. However, I do like the full coverage this model provides. If I were doing activities that caused me to bump my watch often, I would go for a band/case combo like this. It shouldn't be understated how much scrapes on your watch will devalue it when it comes to selling it.
A case like this can help keep the watch looking great even after rough use. Coming in at $19 with the link below, it is also a great value. If it looks bad after a year of use, go buy a second one and you'll still be less money invested than a few others on the list below.

amBand Apple Watch Band and Protective Case
This band goes beyond just the basics and includes a protective bumper case. Depending on how active you are, this might be imperative to preserving your Apple Watch's life. It protects against impact, and it's waterproof. The band itself is made of soft yet durable material that's breathable. It also adjusts easily for a fit that you like.
Spigen Rugged Armor Pro
Spigen carefully crafted this band to make the features of the Apple Watch accessible without having to take the watch off and on. There are cutouts strategically placed for easy use. The clasp is metal, so it's extra durable. Not to mention the band is shock-resistant, so any impact sustained during your activities won't lead to significant damage. There is not much screen protection in this one, so keep that in mind. You might want to purchase an additional screen protector.
SUPCASE Unicorn Beetle Pro
If you're interested in a more affordable option for a tactical watch band, this is a great choice. For under $20, you're getting the same protection provided by much more high-end watch bands. It comes with a scratch-resistant band and screen protection. It has a tough outer shell, just as the "Beetle Pro" name suggests. The bumper around the edge of the screen does add an extra level of shock-resistant protection, but it can be a little bulky. This is not the watch band for anyone looking for a sleek design, but then again, sleek and tactical don't really go together. 
Water Bear Tactical Paracord Band
Paracord is the ultimate in tactical watch band material. It looks tactical and feels tactical. The paracord band is virtually indestructible, with a shackle closure. There's little risk of losing your Apple Watch when it's attached to this watch band. Paracord is also a fairly breathable option for band material. It doesn't get slippery when you sweat or trap heat as some other synthetic materials do. The band itself is also a multi-purpose tool that can be used to find yourself in a sticky situation. Any of these are known uses of this watch band that doubles as survival gear:
To help start a fire
Pulleys
Securing things
Tourniquets
Emergency snares
Hanging bear bags
The paracord on this tactical band also comes in a few different contrasting color combos, so it looks great too. 
Urban Armor Gear UAG Watch Band
Depending on your activity level, you might not need a full tactical watch band that includes a case. A simple nylon tactical watchband might do the trick. If that's the case, then this model is perfect. It's inexpensive yet incredibly durable. Sometimes, simple is best. The fewer bells and whistles, the fewer things you have to worry about breaking, right? This one also comes with a one-year warranty.
Mifa Rugged Hybrid Apple Watch Band
In the event that you want a tactical watch band, but you're not ready to fully commit, this one has all of the protection a tactical band offers, but in a more stylish, less bulky design. Instead of the traditional rubber, nylon, or paracord band, this model is made of leather. But don't worry, this Apple Watch band still provides added protection. It's a waterproof band that easily attaches to your Apple Watch, so it fits securely in place without having to use any tools.
SPIDERCASE Waterproof Case for Apple Watch
If underwater activities are your thing, then look no further. This is the tactical band for you. It's waterproof for an hour in waters as deep as 6″. You can swim laps, snorkel, surf… almost anything! You can even scuba dive, as long as you're not going too deep. This is another affordable yet durable option. And there's no doubt that anyone wearing this Apple Watch case is living a life of adventure. It looks and fits the part of a tactical watch band. It features dual covers for both the front and back of the watch screen. The Spidercase watch band also has water and scratch-resistant qualities, plus it's shock-absorbing. This particular tactical case looks heavy-duty, but it feels surprisingly lightweight on the wrist. 
Loxoto Rugged Protective Drop Shock Resistant Case
If you've ever dropped your phone without a case or screen protector, then you know that immediate feeling of "that's going to be an expensive fix." And you're probably hoping to do everything you can to avoid that with your Apple Watch. This tactical band will help you avoid that potentially awful situation. Loxotos' case is shock-resistant, so it can take the impact when it's dropped or if you accidentally bump into something and your wrist takes the force of the hit. The band is sweat-resistant, so it's comfortable to wear while you're working out or doing any other strenuous activities. 
RhinoBrand Stealth 
RhinoBrand is one of the top sellers in cases. It's no surprise that their tactical Apple Watch band comes with three layers of screen protection without weighing down your entire arm. This band really embraces the company's tagline of "Stop living cautiously." One of the biggest challenges in finding just the right watch band is making sure the clasp is secure but not constricting. This one features a specific "ladder buckle" that keeps your watch in position, even when you're on-the-go. Be sure to watch the videos on the website before you install the watch band. Some reviewers suggest they didn't do this initially but wish they did. The installation process can be a challenge, and if it's not done right, it can result in some severe damage to your watch.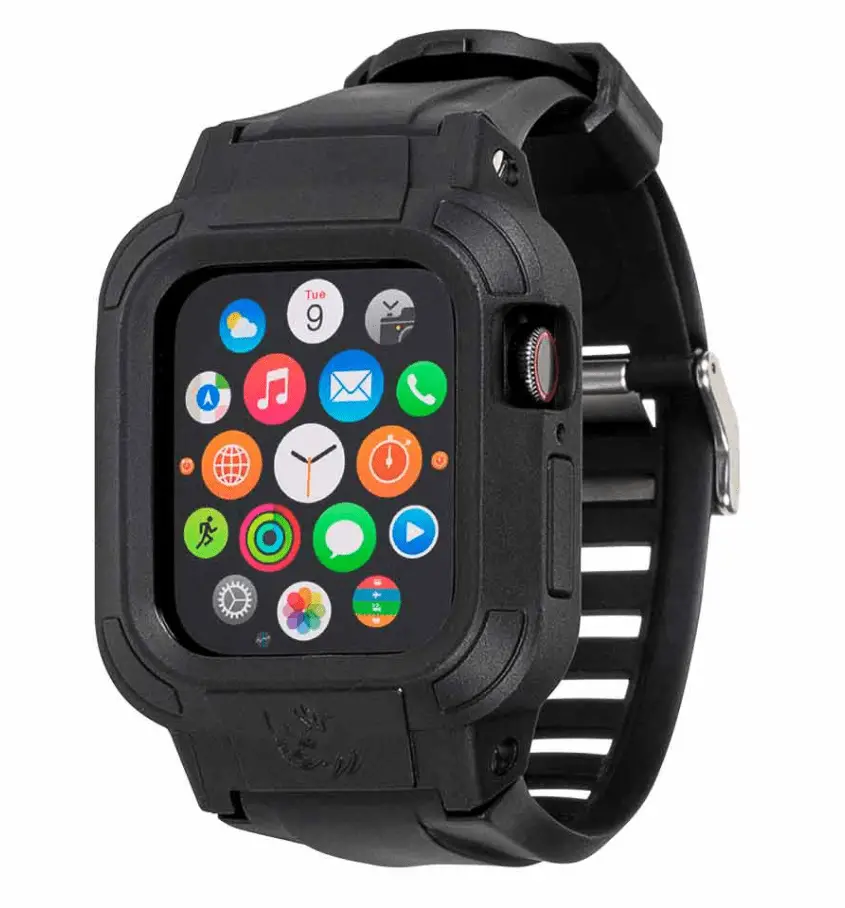 T-Engine Tactical Rugged Watch Band
The price and durability are both spot-on with this watch band. It's under $20 but still offers plenty of Apple Watch protection for your active lifestyle. There are also multiple colors available, so you can surely find one to fit your style. Or, if you have a hard time making choices, why not pick two? This band surprised users by being easy to install, and surprisingly less bulky when it arrived. Reviews also note that the band itself is flexible and comfortable, as well as sweatproof, just like the product claims. The band looks the part of being tactical, but it feels lightweight on the wrist.
Final Thoughts
Just one quick search for tactical watch bands brings up tons of options, and let's be honest: you don't have the time or patience to dig through all those results on your own. Any of the tactical bands for Apple Watches on this list are top-rated and ready to wear; it's just a matter of deciding which one is best for you.  
---
OUR RECOMMENDED TACTICAL GEAR LIST:
---