With the advancements in 3D printing technology, more and more people now have the opportunity to create various objects using this innovative method. In the past, owning a 3D printer would cost several thousand dollars, making it inaccessible for many. However, these printers have become more affordable, with smaller models available for around $200. This increased accessibility and ease of use have led to a growing interest in 3D printing among gun owners.
What's remarkable is that modern plastics used in 3D printing have become incredibly durable and practical. This means that gun owners can utilize their 3D printers to manufacture parts for their firearms. It's no longer uncommon to see gun enthusiasts producing 3D printed accessories for their non-3D printed guns. From grips and stocks to magazine stackers and shell holders, creating customized accessories for firearms has become as simple as pressing the print button and saving money in the process.
This technological development has revolutionized the way gun owners can enhance and personalize their firearms. With 3D printing, they have the ability to bring their creative ideas to life, making modifications and improvements to their weapons according to their preferences. It offers a cost-effective solution for obtaining gun accessories that are tailored to their specific needs and styles.
However, it's important to note that regulations and laws surrounding 3D printed firearms and accessories vary in different regions. It's crucial for individuals to be aware of and comply with the legal requirements in their respective jurisdictions when engaging in 3D printing activities related to firearms.
---
---
Winchester/Remington/Mosburg Pump Forend
Shotguns are one of the most popularly owned guns in existence, and this 3D file for a pump forend grip will fit most shotguns in the main three manufacturer linups. This is a full length pump forend that can replace an existing forend.
You can check out this 3D file and see more example photos here.

3 Size Picatinny Rails

In addition to the other available picatinny rail options, I came across a newer version that offers enhanced convenience. This version includes a standard 3D print file that contains three commonly used picatinny rail sizes. What makes it particularly advantageous is that you can create all three sizes in a single print, saving time compared to the alternative options mentioned below.
When you embark on printing a picatinny rail, it's essential to select the appropriate filament for optimal performance. It is recommended to use a high-quality filament called PETG, which stands for Polyethylene Terephthalate Glycol. While this filament may cost approximately $19 per spool, it offers distinct advantages. PETG filament is known for its exceptional strength and durability, making it harder than other printing materials. This hardness ensures a secure and reliable attachment for your accessories, while maintaining a snug fit on your firearm.
By opting for PETG filament, you can have confidence in the longevity and reliability of your 3D printed picatinny rail. The investment in a reliable filament like PETG ensures that your rail will withstand the demands of regular use, providing a sturdy platform for attaching various accessories to your firearm.
Remember, when engaging in 3D printing activities, it is important to adhere to safety guidelines and use suitable materials for the intended purpose. By selecting the appropriate filament and following best practices, you can enjoy the benefits of 3D printing technology and create functional and reliable picatinny rails for your firearms.
Check out these 3 picatinny rails here to get the original file from the creator.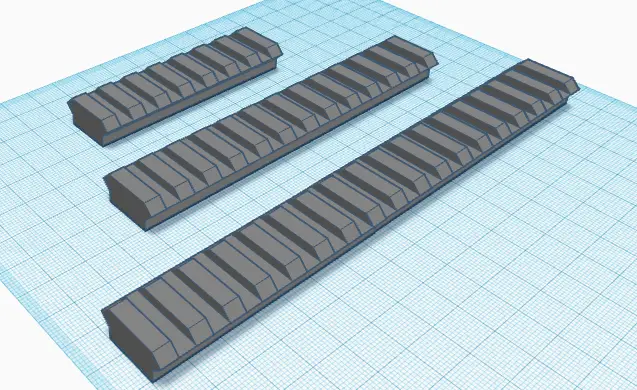 Pistol Magazine Holder
Among the best gun accessories are those that help you organize and keep track of ammo and magazines. This Pistol Magazine Holder is a great wall-mounted solution for hanging your magazines for easy access. Once you print out the rack, all you will need to acquire is the hardware to mount it on your wall.
This holder works with magazines for:
Walther PPQ Q4 TAC
CZ Shadow 2
Glock 19 Gen5 MOS
Beretta APX
Any type of plastic filament will work with this design. With this type of magazine rack, you do not need to fuss with magazines scattered in boxes and on your floor. The designer used PETG with a 20-30% infill. Once you have printed it, you will need to purchase some countersunk wood screws to mount it.
Magpul Pmag AR-15 Magazine Coupler
A magazine coupler is a great accessory to have for your AR-15. It joins two magazines together keeping a full magazine at the ready while the other magazine is in use. This makes for quicker reload times and with a magazine that could not be more accessible. It is literally at your fingertips and usable with a simple twist. Now with the Magpul Pmag AR-15 Magazine Coupler, you can print your own 3D coupler to use. This straightforward but effective design that tightens down on the clips works specifically with Pmag 30rd magazines. In order to make this design work, you need only to add:
One #10-24 3 inch long bolt
One nut
Once you have the pieces that you need, you simply slide the coupler over the middle of the two magazines you want to join and tighten the screw.
M-Lok Stubby Grip

This fantastic accessory provides an extra layer of security and a firm grip for your M-lok compatible rifle. Once you have printed it out using the provided STL file, you will only need two bolts as hardware to attach it securely to your M-lok system. To achieve the best results, it is recommended to use a cubic pattern with a support of 20% and an infill of 50% or higher during the printing process.
The grip itself offers several noteworthy features:
Secure Hold: The grip is designed with grooves on both sides, ensuring a reliable and firm grip on your rifle. These grooves enhance your control over the firearm, promoting stability and accuracy during use.
Comfortable Design: The grip features a slight backward angle of approximately 15 degrees. This ergonomic design adds a touch of comfort, making it more enjoyable to hold and reducing strain during extended shooting sessions.
To print this accessory, you can use an Ender 3 printer, which is the original printer used for this design. However, you can also use any printer of your choice that supports the required specifications. While PLA filament is usable for this grip, it is recommended to use ABS filament due to its increased stability and durability.
By utilizing ABS filament, you can ensure that the grip withstands the rigors of regular firearm use. ABS provides a more robust and reliable material choice, enhancing the longevity and performance of the printed grip.
Whether you are customizing your firearm or seeking to improve its functionality, this 3D printed grip offers an accessible and practical solution. Simply follow the recommended printing guidelines, select suitable materials, and enjoy the benefits of a secure and comfortable grip on your M-lok compatible rifle.
Dual Magazine Holder
Originally designed to be used for competition shooting, this belt loop magazine holder could work for a variety of belts given the hole dimensions of 1.65 inches by .25 inches. It was designed to carry Smith and Wesson .45 magazines, but could likely work with other .45 magazines of similar dimensions. Printed for toughness at 80% infill using PETG, this design requires that you go to your hardware store to get:
A retention spring
A 6/32" x ½" screw
A heat-set insert.
With this stout design, you can print your own magazine holder for quick reloading with your .45 pistol whether in a competition setting or simply in a practice setting at home or at the range.
Remington 870 Pump Forend
Sometimes accessorizing your gun means adding a part that works better for you than the original part. Such may be the case with this 3D printing of a Remington Pump Forend which can come with rectangular slats for a solid grip or as a smooth sleek attachment. And it not only fits the Remington but also:
Mossberg 500 series
Winchester 1400
Winchester 1300
Winchester 1200
This accessory has supports and requires infill of at least 35%. PETG is probably the ideal filament although PLA works fine as well. In an early version there was not quite enough room for the castle nut, but that has been fixed in later versions.
Ruger MKII Charging Handle

This remarkable 3D printable bolt racker is specifically designed to fit a Ruger MKII, providing a cost-effective alternative to purchasing an aluminum racker that can typically cost around $30. With convenient nubs located on both sides of the opening, this charging handle functions like a can opener for guns, and just like your trusty can opener in the kitchen, it can be kept easily accessible whenever needed.
One notable feature of this bolt racker is that it doesn't need to permanently remain on your Ruger firearm. You have the flexibility to attach and detach it as required, giving you the freedom to customize your firearm according to your preference and shooting needs.
To ensure ease of use and accessibility, the handle includes a hole that allows you to tie it securely to a rubber bracelet around your wrist. This way, you can conveniently keep it within reach, ensuring that you always have quick and effortless access to the bolt racker when necessary.
The opening of the racker measures 1.75 inches, making it suitable for the Ruger MKII. It is recommended to use PLA filament to print this tool, as it has demonstrated excellent performance. The design does not require additional support structures during the printing process, but it is advised to use an infill of 50% for optimal strength and durability.
If you choose to print the bolt racker using a plastic filament that tends to shrink significantly after printing, it is important to consider this factor and make any necessary adjustments to the print settings to achieve accurate dimensions and a proper fit.
By utilizing this 3D printable bolt racker, you can save money while adding a practical and personalized accessory to your Ruger MKII. Its functional design and customizable features make it a valuable addition to your firearm, providing enhanced convenience and ease of operation.
7.62×39 100 Round Case
This one requires a large printer. If you have one, then with this file you have the ability to make your own ammo case out of ABS plastic. This is huge savings overtime. Given how much ammo you store and use, being able to make your own cases for it could lead to a great benefit and ease of use. This case:
Carries 100 rounds
Prints as one piece (hence the large printer)
Cuts the round size into the lid
With the label already engraved into the case, you have a nice way to organize and store your ammo. This download does come with a minimal cost of just under $4, but that still makes for a savings. If you print this out:
Use .02 layer height
No infill
No supports or brim
300 Blackout Trimming Feature
If you are in the practice of trimming your own shell casings, then you know that part of the problem is over insertion leading to trimming off too much. That is where this nice little accessory comes in handy. This is a printable plastic jig that holds the shell in place for you to trim it to a predesigned length.
A simple design, this jig is a solid piece of plastic made two with shell stops:
At the base of the shell
At the shoulder of the shell
Using this jig your cut will be true everytime. It was specifically designed to fit into the vise of a 2 inch mini chop saw from Harbor Freight. Because of the tension this little piece will receive from vise and from shell to say nothing of the cuts from the saw, print this accessory out of hard and durable ABS.
30-06 20 Round Carry Case
Here is another great carrying case for you ammo, particularly your 30-06 rounds. Most gun owners use this round at some point in their lives, so having a case to store what you have around is essential. This case prints as one piece with a 302 mm width (even though it holds 20 rounds instead of 100), so you will need a large printer to print it.
This download also has a minimal cost of around a buck fifty. Not bad for a closing case that holds 20 rounds of ammo that closes on hinges and has a small clip to hold the lid shut. If you print the case:
Use .02 layer height
No infill
No supports or brim
Rusty Lok
This is an alternative to the metal tek-lok devices that enable you to attach gear to your belt. These are very popular items for both gun and knife owners since it allows them to attach whatever gear they need to their belts. Now you can print your own in durable plastic (such as ABS) and use it to hold:
Shot shell caddies
Mag carries
Other ammo carriers that you need at your belt
The only thing the maker recommends that you not carry is your actual gun. This is not intended to be a holster of any kind (though you will find one later in this article if you keep reading).
This is an item that relies on durability so print it with at least 50% infill, but you could go all the way up to 100% if you felt the need. Once you have printed it out, you will need to drill the holes using a 3/32 bit for the dowels to slide into place. Use ⅞ long dowels with 3/32 diameter.
Trigger Lock
This trigger lock is a very simple device and the kind of accessory where 3D printing really shines. Making devices like this enable you to save a little bit of money here and there that adds up over time. It also removes any excuses about investing in the safety of your firearms. Held in place by a simple counter sunk screw and bolt, the trigger lock fits over the trigger providing safety and security for your weapon. For the nut size you can use 10-24 or 10-32 with your favorite tamper proof screw of choice.
As far as printing, ABS is recommended for this one but other plastics would work. After you choose what you will want to work with, use:
.2 layer height
20% infill
3 bottom layers
4 top layers
3 walls
M&P Shield Flat Trigger
This little accessory really shows off the world of plastic in terms of:
It also shows off 3D printing's ability to work with small and detailed pieces. This accessory is not a trigger guard, but the trigger itself. Printed with fine detail (including some etching work to give it some flair) and extra strength around the pin for durability, this is meant to be a flat trigger for a Smith and Wesson M&P. The creator of this remarked that the shape of the trigger helps not jostle the nose of the pistol while pulling. Now is a good time to reinforce a truth about working with plastics and 3D printing. These are not manufactured pieces, they are fabricated by you. So use care when making them and caution when employing them.
M-Lok Angled Foregrip
This foregrip is designed after the Nightstrike Diamondback foregrip and has a similar function, being something the shooter can grip at the front of the rifle. It also has two positions on it:
One where you can hold it like you would a rifle stock
One where you can grip it like a pistol
The designer made this for a PSA AK-47 but it will work with any M-lok rail system. For this model:
The size is X 114 x Y 51.9 x Z 19.1 mm
Use an infill of 50% or greater
Installing this grip can create more versatility in how you hold your fire arm, and it can relieve your pocket book of brand name purchase.
Ruger Magazine Thumb Saver
This great accessory is a key chain thumbsaver that will go with you wherever your guns go (so long as it stays on your key ring). Slide this thumbsaver over the magazine while you are loading it up and it can save the wear and tear on your fingers for the grip and the trigger.
Designed for Ruger magazines, this thumbsaver works with the following models:
24/45
24/45 Lite
MK IV
MK III
MK II
MK I
Printing this accessory does not take any supports or rafts. You can make a very solid piece with a 100% infill, but you can also dial it back to 25% infill for just as much durability for what it does. It all depends on how much give you want to put into the piece and how much you think you will be using it.
Laser Polar Alignment for Astro Tracker
This is probably one of the most intricate designs that this article has discussed. In this accessory, you can align a metal laser sight for a gun to a polar alignment. This mount holds the laser sight steady while allowing it to be adjusted rotationally by means of a 6806 ZZ ball bearing through the use of an aligning app. So cool! This printable definitely has some assembly required, but the technical assistance it can give you with your sight should make the extra effort well worth it. You will need these additional parts:
Two 12 mm M4s
Four 20 mm M4s
Six M4 shims
Two of the bearings mentioned above (or you can use two 61806 2RS ball bearings)
One laser gut sight of your choice
The printing aspect of it will keep you busy and give you lots of practice with your equipment since you will be printing out the following parts:
One body
Two legs
Two caps
Two lids
Finally for printer settings, note that this printing uses supports with 100% infill, and you can work with PETG material.
Trap Shooting Shell Holder
Shotgun shells are a pain in the butt to wrangle, but with this shell holder, you can keep them literally right by your side, easily accessible, and organized. Because the holder is made to the dimensions of the shells, you can line them up the direction that makes the most sense to you when you grab one to load it. This holder is as straightforward as it looks. With angular openings throughout to give a see through feel that allows you to judge how low your shells are, and printed with an easy going 10% infill this box is:
You can even just cut the top off your box of shells and slide it in there if you want to. Even though durability is not explicitly called for, ABS tends to last longer in the sun than PLA.
Round Forend Molot Vepr-12
This is another forend piece, but instead of it being a grip for pumping rounds in a shotgun, it is round and encloses the barrel of a Molot Vepr-12. It is 245 mm long and can fit on barrels from 483 mm.
This is a fairly simple accessory that is easy to install on Weaver rails with a couple M4 screws. For printing this accessory:
Use supports
No rafts
25% infill
You can use PETG
Walther P22 Gun Stand
This gun stand is a great accessory for your Walther P22 or other guns that are of a similar type (the piece that holds the gun in place is a little loose to allow for some flexibility). For example the P99 fits on this holder. With this accessory, you can hold:
The holder organizes all these things in one place, which is a huge benefit, but the way it does it, with the Walther and the clip standing upright, makes a great display for the gun and its components. So under the right circumstances, the simple, black holder can make a show piece out of your gun (safety first, of course). You can print it with a height layer of .2 mm and use PLA for the material. For all it does,this is actually one of the easiest accessories to print out.
Flame Cover M4 V1
A flame cover can be an important accessory for a gun, but would a plastic flame cover really cut it? Yes! This Flame Cover M4 V1 is designed for an M14. Because the plastic materials used in 3D printing are hard and because they are, in this case, not exposed to flame for long periods of time, they can work (though probably not as long as metal). Nevertheless at 7 grams this flame cover is significantly lighter than its metal counterparts. The printer settings are straightforward in this case, and if you want to print this accessory you can use a PLA material or greater with a .2 of accuracy. You should also use 65% infill.
MagPul PMag Rack Organizer
This is a truly useful accessory for gun owners, it is a magazine rack organizer. You can print out multiple racks and use them for three magazines each, as long as they are AR-15 magazines. The design of these organizers is simple and yet remarkably versatile in how you can mount them. Putting them in the interior of your gun safe, you can mount them on:
Floor
Walls, including vertical and horizontal positions
Ceiling
Either way you have only to slide the bottom of the magazines into the rack and gravity will take care of the rest. These are great for getting magazines up off the floor or the shelf of your gun rack. Each rack has four holes so you will need to install them with #4 countersunk wood screws. Not only does that make your magazines easy to access, but the computer files for the printable racks allow versatility to print for one, two, or three magazine racks. With versatility in both the design and the application, this is a must have accessory.
Sunshade for a Bushnell 1x30RD
Protecting the accuracy and visual clarity of your scope is a must even if you do casual shooting, but especially if accuracy is crucial to a hunt or competition. That is why this accessory Sunshade for the Bushnell 1x30RD is a must have item. This is a bit unusual compared to the accessories that this article has already looked at because it does not so much depend on the durability of a hard plastic as on flexibility. That is why, in this case, the sun shade (which slides onto the end of the Red Dot) is made from a softer, more flexible TPU filament.
This accessory is easy to print out and supports the following file extensions:
.sldprt
.sldasm
.slddrw
.stl
Glock Grip Plug
A grip plug is an important accessory for a glock. It prevents the magazine from snagging when it is being put in, and it also prevents dirt and debris from getting into the gun from the handle. This plug is made as a trim and snug fit so that it sits flush with the frame of the gun, looking like it is an actual part of the weapon. One of the nice things about printing 3D components and accessories for guns is that you have the opportunity to adjust them as you need to for your particular firearm. Simply take a knife and trim and go to work as necessary. SO fear not if the plug is not the perfect fit at first.
Glock Holster
Another accessory that you can print out for your Glock is a holster, believe it or not. Using a durable plastic and a solid design, a printed 3D holster can actually work well and fit sleekly to your belt. It has that sort of look where the Glock is just sitting on your belt. This particular design was made for the Model 17 and supports a variety of file types. If you are not wanting to print your holster, we recommend this one instead. You will need to print out components and assemble them with some store bought hardware, including:
4 mm diameter pin
2 screws with nuts
A spring
This design also comes with your choice of three different types of attachment catches:
40 mm for extended and for belt
25 mm for molle standard
USP HK Flashlight Mount
This is a cool accessory that allows you to mount a 20 mm long flashlight to the USP rail. Who wouldn't want a flashlight mounted to their pistol? It fits snugly against the trigger guard with just a bit of extension past the barrel and has easy access to the on/off switch. Now you can print one out from the following files supported:
With this single printout all you need is a screw and a nut that fits flush to the mount. The designer admits that the install is somewhat tricky. This sounds like a necessary development of the design. Early models broke, so the inner rails of the mount are reinforced. So while the install may be tricky it is definitely achievable.
CZ 75 Aluminum Style Grips
Complete with the CZ logo, these grips look like aluminum, but are actually, you guessed it, plastic. With a cool flashy design, they look great and are easy to install with just a couple store bought screws.
Also, these grips work on the following models:
The grips also feature a place to put grip tape.
Full size Glock 17
This full-size 3D printed Glock 17 is perfect for practice and live-action scenarios. A full-size replica like this works for practicing your draw, getting perfect sight picture, and many other drills that are safer with a full-size dummy gun.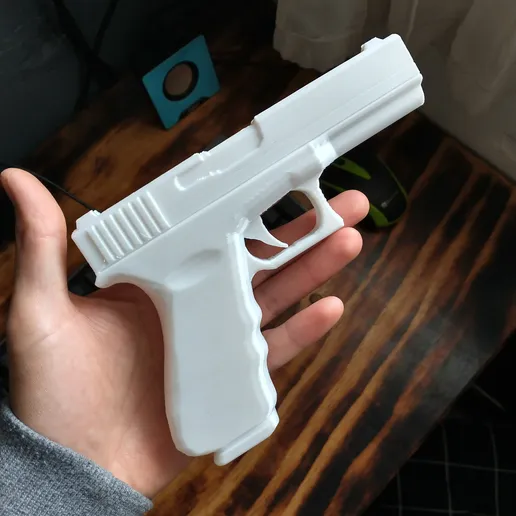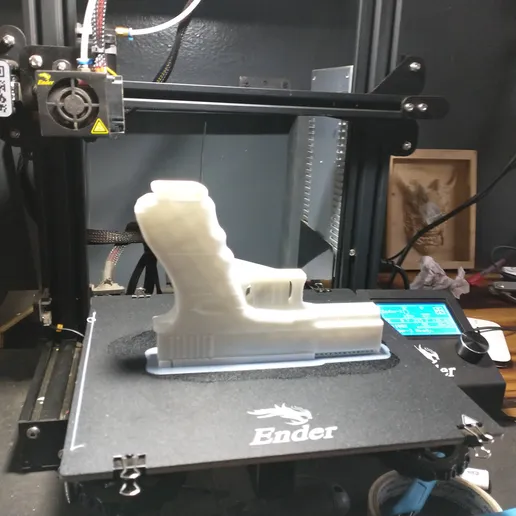 Pistol and Magazine display/holder
Keep your gun ready when needed while looking great. This combo allows you to safely store your gun upright with extra magazines at the ready.
Due to the gun remaining upright in the holder, it's extremely easy to grab quickly and throw the in next to the handgun.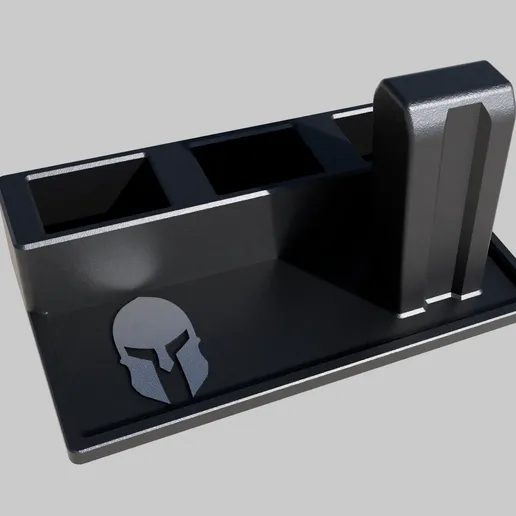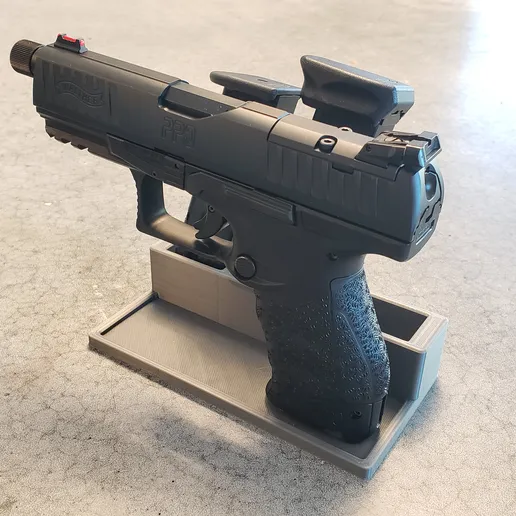 ---