A bug-out bag is a survival kit. It helps when evacuating homes during natural disasters. The bag should have all the tools and supplies required to survive for at least 72 hours. Here are the essential items to carry in a bug-out bag.
Basics to carry 
Every bug-out bag should include the 5Cs of survival. They are cutting, covering, container, combustion, and cordage. 
Cutting refers to tools used to break or cut another object. 
Cordage refers to tools used to tie objects. 
Container refers to holding utensils. 
Combustion tools are accessories required to start a fire. 
Covering provides shelter. 
Food and Water
Make sure the food supplies will last at least three days. Start to fill your bag with sufficient non–perishables, such as healthy canned foods. Next, go for high nutrition energy bars, ready-to-eat meals, and shelf-stable foods. Try to pack foods that require minimal cooking, for instance, boiling in water and nothing more than that.
Your survival foods should have maximum calories, not react weirdly to extreme temperatures, and not spill easily in the bag. Although nice, do not prioritize taste and comfort, and avoid carrying salt-preserved food items, as they can cause constipation, which is the last thing you need when trying to survive. Be logical in your packing – you're not going to be needing supplements, so leave them out.
Water
Water is vital for survival, and there's always the possibility you won't know if the water around you (if any) is drinkable. Add water purification drops or tablets in the bag, or even a small portable water filtration system, so you can be sure your water is safe.
Consider adding collapsible water bags, so you can take water with you if you have to move. If you live in a hot climate, it might be a good idea to double the water storage. Avoid storing water in flimsy pouches, as they can become punctured easily.
Stoves
There are many camping stores that sell lightweight stoves that are ideal for your bug-out bag. Try to find one that doesn't use firewood, as firewood isn't always available, especially during winter when there is high moisture in the air. Instead, go for petroleum fuels.
Hiking stoves are a good option, as they come with a separate fuel source and are safe to use. If you are working on a limited budget, you can go for hobo stoves. These stoves do use firewood but try to avoid the ones with open fires, as they are difficult to use in shelters. Hobo stoves with a box give good protection against the wind in shelters.  
Tools
Something a lot of beginner campers forget is a can-opener, making it even more important for you in a survival situation! Make sure you pack at least one in your bag. Also, carry good-quality multipurpose tools, such as a tool that includes a knife, screwdriver, cutter, etc. 
Shelter
Add a lightweight tent. Your lightweight tent should be based on capacity, season, and livability. When searching for the ideal tent, consider how many people will be using it, what seasons you might need it in, whether it is easy to set up, etc.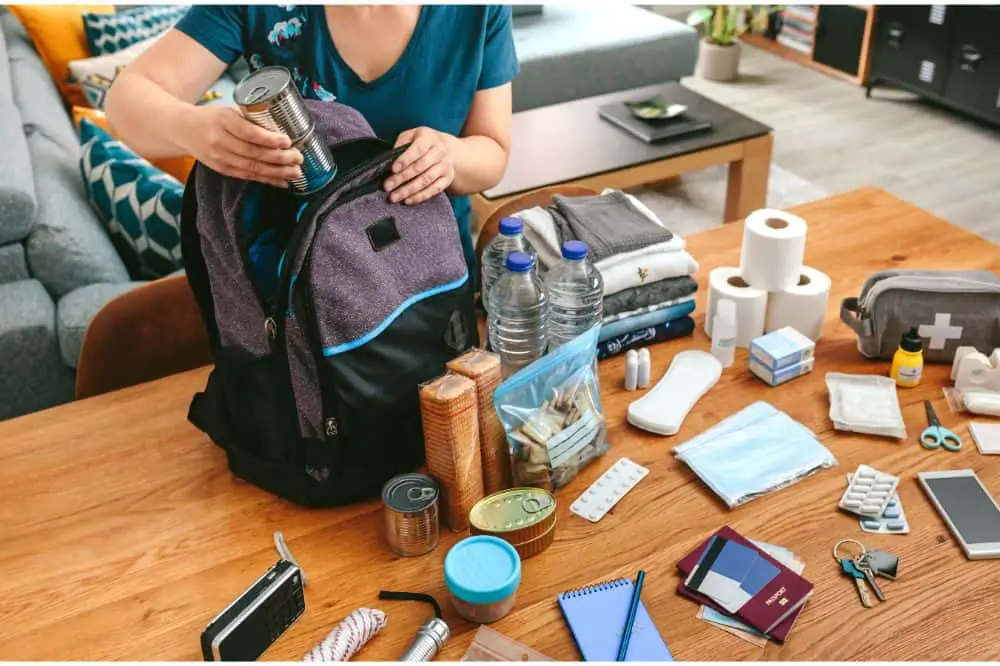 First aid kit
Prepare your first aid kit to deal with minor injuries. Add things like bandaids of different sizes, sterile gauzes for dressing any wounds, safety pins, scissors, sticky tapes, thermometers, antiseptic cream, sterile gloves, rolled bandages, pain killers like aspirin or paracetamol, eyewash, and distilled water to clean wounds. Always remember to check the medicines regularly for their expiry dates. 
Warmth
Pack in gloves, hand warmers, and winter jackets, but make sure they are lightweight. Also, ensure their colors suit the weather. For instance, black colors absorb more heat than light colors.  
Clothing
Keep climate-appropriate clothing. Technical clothing is perfect because it is lightweight, durable, takes less space, retains heat, dries out quickly, and is washed easily. Long sleeves shirts and full pants are recommended because they give extra protection, even if you are in a hot climate.
Take high-quality socks. Foot care is the most critical part of surviving. Some people prefer to rotate the clothing twice a year in their bug-outs. They usually do this at the beginning of summer and winter. 
Headlamp
Light is critical for those dark nights, so make sure you pack something like a headlamp or a flashlight. Go for lightweight, small USB rechargeable or solar-powered. Although flashlights are handy, they require you to carry them or hang them from somewhere, so a headlamp is recommended, as your hands will then be free.
Apart from a headlamp, a lantern is a good option, as they provide better flooding light. Candles are good but are less advantageous than modern gadgets, especially as they have a flame. If you prefer to carry candles, you can pack 5 to 6-ounce of candles, which should provide light for at least 25 to 50 hours.  
Cell Phones
These are some of the most critical items, as they carry all the info. Obviously, don't put your regular phone in your bag; instead, go for prepaid burner phones or an old one. Ensure the old phone works with the same charging cables in the kit. 
Hygiene
Carry soap, wet wipes, menstrual products, and toilet paper. Don't forget to add your travel toothbrush, toothpaste, lip balm, and hand sanitizers. Respirators are essential for those living in civil unrest areas. They are essential for people living around bioweapon or nuclear disaster-prone regions. Iodine tablets are of good help to those evacuating in a nuclear situation. Apart from these, the other items to carry are mouthwash and deodorant.
Important Documents
Birth certificate, State ID, passport, bank account details, credit card numbers, life insurance, house insurance, medical history, living will, marriage certificate, etc. are all important documents. 
Navigation 
Navigational items are optional, but you can pack a compass, GPS unit, topographical map, etc. 
Cash
Last but not least, pack some cash. Depending on the type of emergency you're in, credit and debit cards might not work, so cash will be king in this situation.
What is the right weight to carry in a bug-out bag?
Do not make the bag too heavy. People seldom pack their bug-out bags considering their physical fitness. If you do not exercise regularly, carry only 20%of your body weight. If you are physically active, then you can carry up to 30% of your body weight.  
Always pack your bug-out bag with minimum essentials that are lightweight. Also, update the items in your bug-out bag frequently and replace items as necessary. Remember, your bug-out is what will keep you alive so plan wisely. 
---
OUR RECOMMENDED TACTICAL GEAR LIST:
---