.
Whether you are considering your first AR or your twentieth you have probably noticed there is something missing. As versatile as the AR platform may be it is basic. Before you even get your new rifle home there is bound to be a list of additional features you wish it had. Luckily, not only is the AR one of the most popular platforms available it is also one of the easiest to customize.

Below are 25 of what we consider the best AR accessories available. This is a very subjective topic, and each shooter will have a different opinion. However, we feel that the items we have listed provide actual function over aesthetics, each is in the top tier for their field, and most can be easily installed without the aid of a gunsmith. We have even included tools and related items that may not directly change your AR but will help you maintain or protect your investment.

You will also notice that we have limited our selections to a single piece per category. This was done for two reasons: first, it allows us to address more categories in the space available, and second, it provides a shopping or checklist rather than multiple choices requiring additional research.

The main goal was to supply a list of accessories that will increase function, help you harness the potential of the AR platform, and perform better than when it left the factory. No glam or glitter, although a flashier version of the same options may be available.

Now let's look at what we consider the Top 25 AR Accessories.

Radian Raptor SD Charging Handle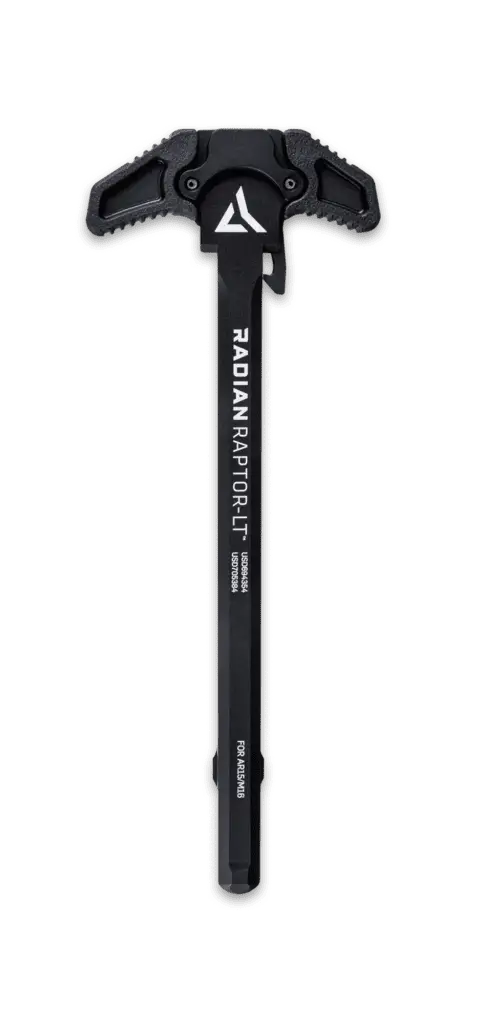 Adding a more prominent or ambidextrous charging handle allows smoother, easier use when wearing gloves or shooting off-hand. Do not start a left-handed shooter on how hard it can be to use a factory charging handle. The Radian Raptor SD Charging Handle answers each of these problems. Deep grooves on the release levers allow easier manipulation when wet, wearing gloves, and in low-light conditions. Machined edges prevent snagging and are easier on your hands. Plus, the 7075-T6 aluminum construction with Mil-Spec Type III hard coat anodized finish means this charging handle will stand up to even the worst conditions for years to come.
For more information click here.

B5 Systems Bravo Stack Mil-Spec Diameter Stock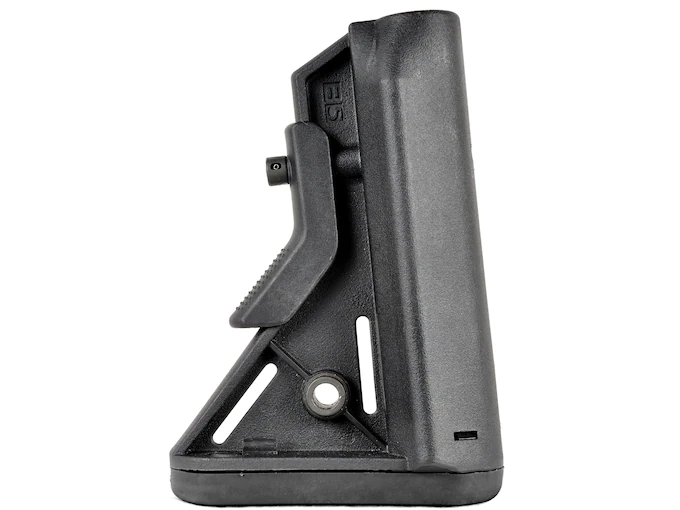 Many shooters find that adding a collapsible stock to their AR is essential. This single change allows for a lower profile and a more personalized fit when needed. The B5 SystemsBravo Stock offers all the advantages of a collapsible stock with a minimalist approach. Features include an over-molded steel anti-rotation QD sling mount, ergonomic cheek weld, non-slip cushioned butt pad, and Suregrip stock latch. At only 9.1 ounces, the Bravo SOPMOD is the lightest design of its kind, adding features without unwanted weight.
For more information click here.

Vortex Optics Strike Eagle Rifle 1-8×24 Scope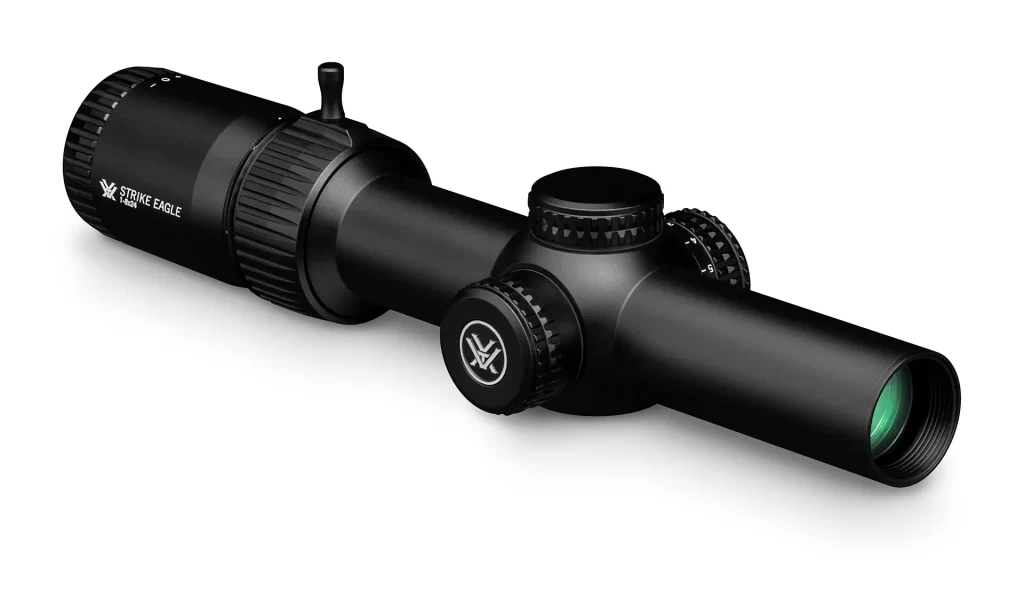 Vortex Optics has gained a reputation for providing some of the best economical optics
for hunting, tactical, or target shooting. The Strike Eagle leads the pack when it comes to
AR magnification optics. With genuine 1x on the low end and 8x at the top end, 24mm
objective lens diameter, 30 mm tube size, and an overall length of only 10 inches, the
Strike Eagle is a perfect fit for any AR platform. The tread-in throw lever gets you on
target quickly, and the AR-BDC3 reticle aids in rapid holdover out to 600 yards. Whether
you are targeting coyotes on a winter night, defending your family & home, or plinking
cans, the Strike Eagle by Vortex Optics can get the job done.
For more information, click here.

Aimpoint CompM5 Red Dot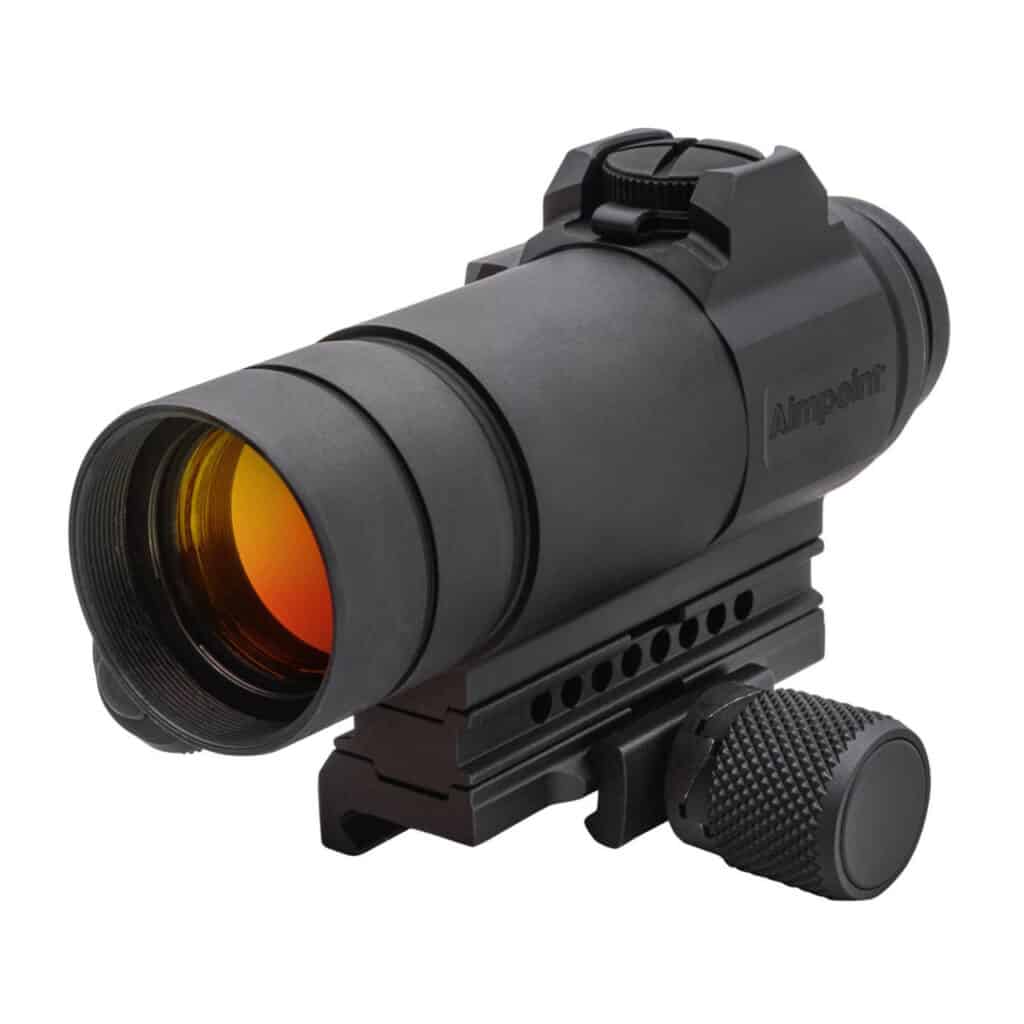 Aimpoint's CompM5 allows shooters to benefit from a red dot nearly identical to the design adopted by the US military in a slightly smaller package. Superior optic clarity,
waterproofing to 150 ft., and extended battery life mean the CompM5 will provide the
benefits of a red dot without compromise. Two of the best features are the 39mm
spacer and quick-release (LRP) mount. The space allows for exact pairing with the standard AR iron sights for easier zeroing. The LRP mount makes attachment, or removal, a
snap. The smaller design also allows the unit to be powered by smaller AAA batteries
without sacrificing longevity.
For more information, click here

Magpul MBUS Flip Up Sights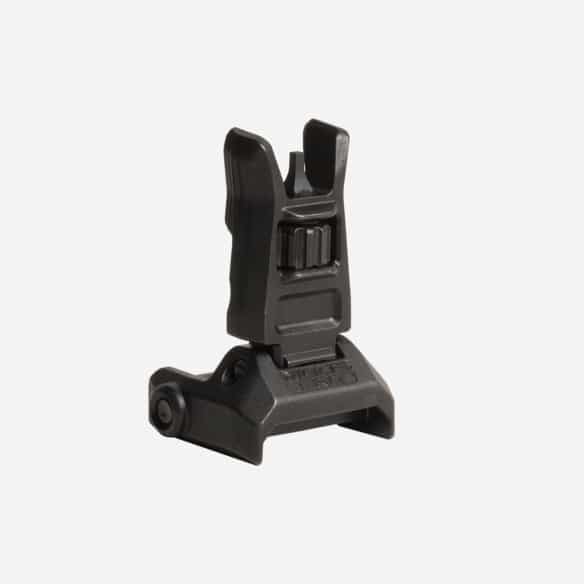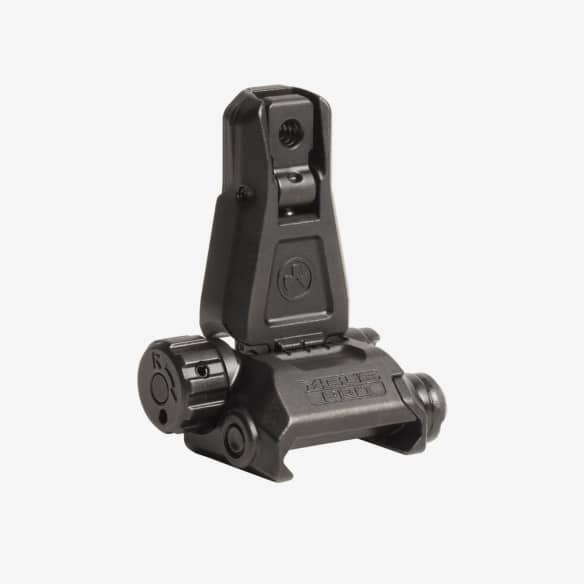 Flip-up sights provide a perfect backup when optics are inoperable without obstructing
your view. Of course, the need to switch to fixed sights usually occurs at an
Inconvenient time, meaning you want to put them into action as soon as possible. The
MBUS allows some of the fastest deployment possible with spring-loaded ambidextrous
activation. Lightweight polymer construction, locking retention, and the same height over
bore as factory sights allow for mounting on any Picatinny rail in moments. Magpul is a
trusted source for a wide range of accessories, and the MBUS Flip Up Sights are one
of the reasons.
For more information click here.

Magpul PMag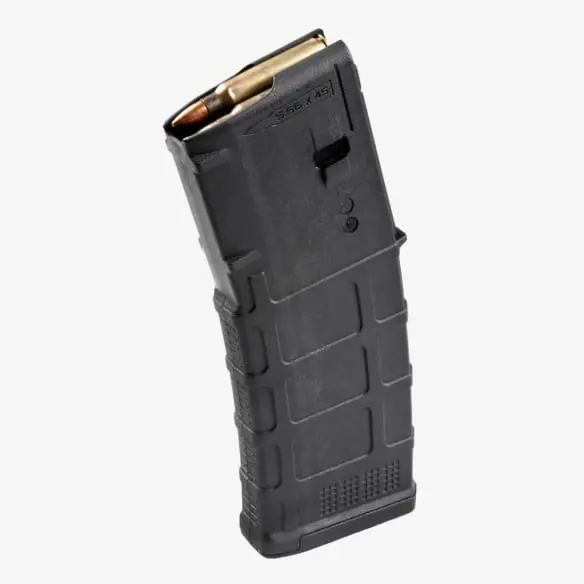 The Pmag is a cost-effective, high-quality upgrade from the standard aluminum USGI
magazine that is standard issue with many ARs. This inexpensive upgrade will
allow for smoother, hassle-free operation for many years. Unlike the standard magazine,
the Pmag is designed to withstand dropping and exposure to harsh conditions without
warping, denting, or splitting. The flared floor plate provides positive control even when
wet. The anti-corrosion stainless steel spring and anti-tilt self-lubricating follower
Increase the overall reliability. The PMag is a 30-round magazine compatible with
AR15/M4 configurations chambered in 5.56×45 NATO/ .223 Remington.
For more information click here

S2 Delta Tactical Sling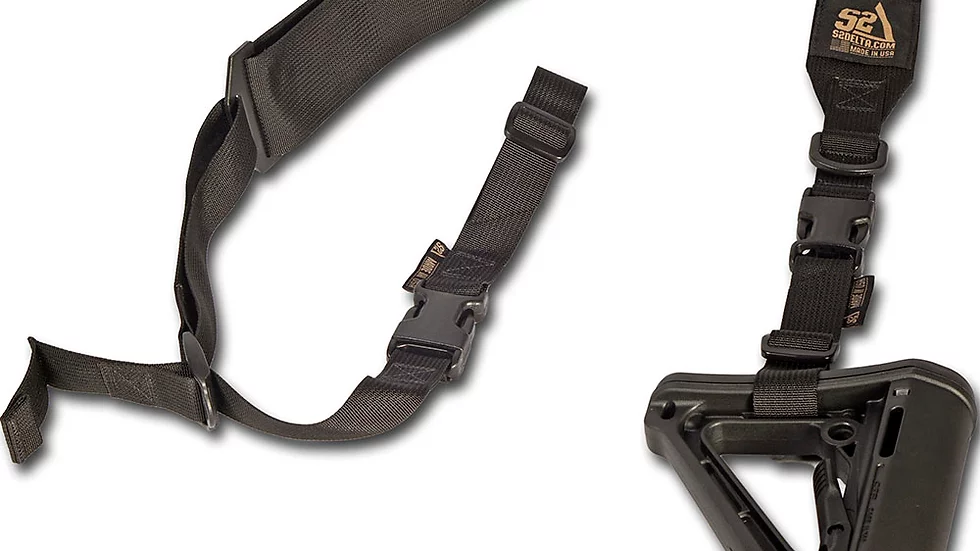 If your AR supplied a sling, it was probably a cheap, essential style. It lets you
carry your firearms but is not comfortable or functional. Adding an upgraded tactical
It is a small investment that will pay off in a big way. The S2 Delta Tactical Sling allows for Easy, hand-free carry and almost instantaneous access. The S2 is designed and
manufactured in the United States using high-quality components. The 2" Mil-Spec web
design offers quick one-hand adjustment, attaches via multiple modular connections, and can be used on multiple firearms. Once you have used a tactical sling, you will never return to a standard factory sling again. Once you have used the S2 Delta, you will
want one for all your firearms.
For more information click here.

Streamlight ProTac Rail Mount 2 light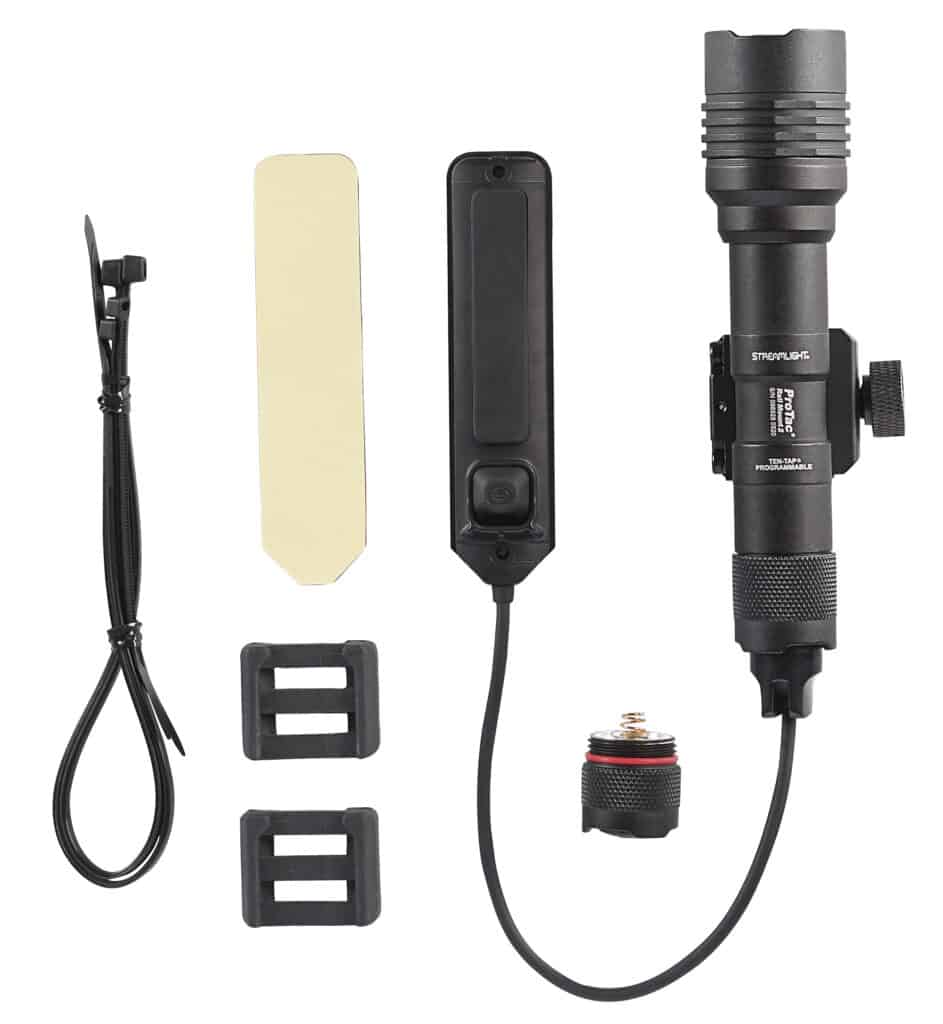 Adding a tactical light to your AR is about more than looking cool. It is about seeing your
target in all light conditions. Whether preparing to operate at night or when
entering a darkened space, a tactical light is a must. Streamlight has been a trusted
provider of lighting options since "tactical lights" hit the market. The ProTac Rail Mount 2
offers the latest features you need and dependability you can count on. On high, it offers
625 lumens and a bean distance of 297 meters. It will fit any Mil-Std-1913 rail system
and can be operated via a remote touchpad or push-button tail button. Constructed from
anodized aluminum and impact-resistant tempered glass, the ProTac 2 will withstand
temperatures of -40 to 120 degrees F and is waterproof to 1 meter. Should there ever be
a problem, you can rest assured with Streamlight's limited lifetime warranty.
For more information click here.

Surefire Muzzle Brake Suppressor Adapter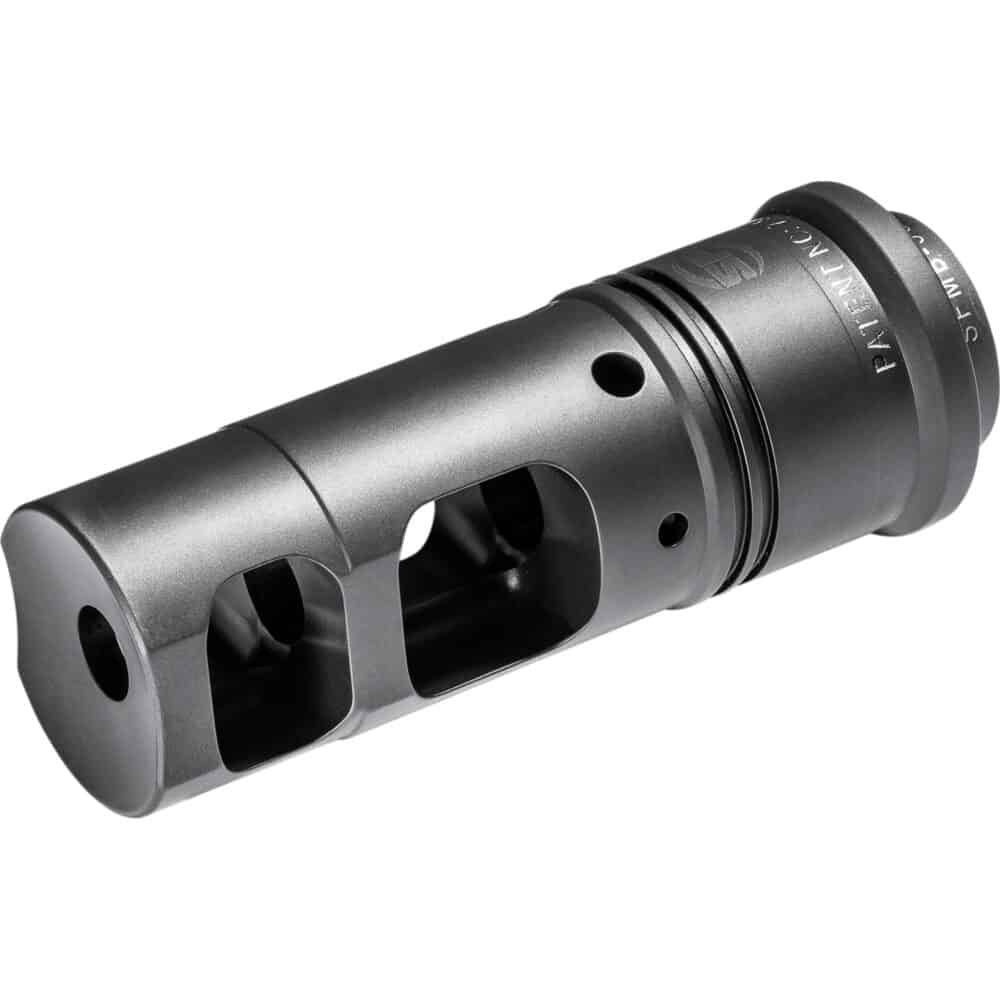 The Surefire Muzzle Brake / Suppressor Adapter dramatically reduces both recoil and muzzle rise, allowing you to stay on target for faster follow-up shots. Constructed from US mil -certified heat treated stainless steel car stock, high-precision single-point cut
threads, and Black Ionbond DLC coating provides a lifetime of service. Labyrinth seals
prevent carbon buildup on the suppressor locking ring. Installation requires no
permanent modifications, and this brake makes a perfect adapter for your Surefire
suppressor. Although you can install the Surefire Muzzle Brake yourself, you will need a
few special tools and some degree of mechanical know-how to avoid damage to your
AR.

For more information click here.


TYR Tactical M4 Mag Pouch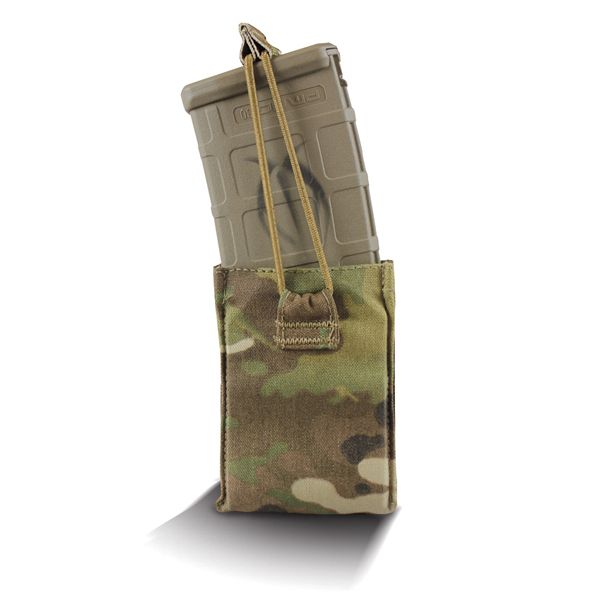 The TYR Tactical Magazine Pouch with Happy Mag clip is designed to secure either.
5.56, .223, or 7.62 magazines. A slight adjustment to the interior retention allows for use with pistol magazines as well, Thanks to the wider opening and expandable interior clip
It is more versatile than other options. The Happ Mag clip feature allows use
without exterior retention straps, snaps, or Velcro. This feature allows for
use with multiple platforms and reduces the need to carry extra gear. Outfit with the
TYR pouch and swap magazines depending on the mission.MOLLE attachments allow
you to attach this pouch anywhere that is convenient for you. A pack, vest, or even a belt
wherever you need a spare magazine.

For more information click here.

Magpul Battery Assist Lever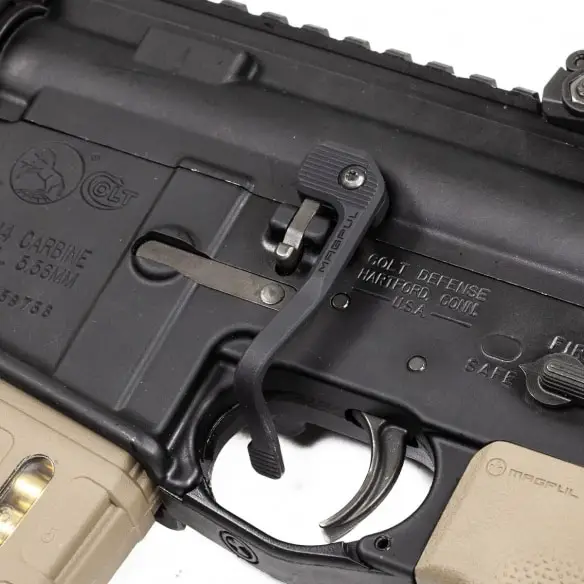 There is no doubt the AR platform is a proven one. However, that does not mean it does
not have its shortcomings. One such area is the size, or lack of size when it comes to
some of the controls. The bolt catch lever is one such control. Its small size requires
users to perform long hours of practice before becoming proficient. Even then, it can be
difficult to find under stress or when wearing gloves. The Magpul Battery Assist Lever
(BAD.) correct that problem. The BAD attaches to the Mil-Spec AR15/M4 bolt catch
without permanent modification. Once in place, the user can manipulate the bolt
stop from the ready position with the right trigger finger. The result is faster reloads and
malfunction correction allowing the firearms to be brought back in battery and ready to
use again. The advantage needed to take your next trophy, win your next match, or
defend your family.
For more information click here.

STNGR USA Handguards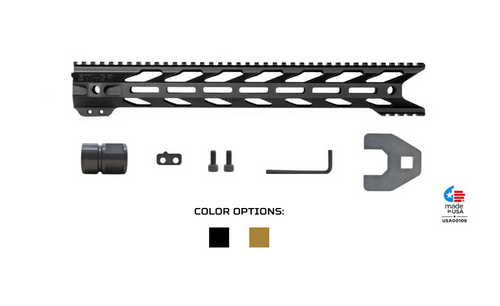 STNGR handguards offer an upgrade that will make your AR stand out at a price that will not break the bank. Handguards are available in multiple lengths, including 7, 10, 13.5, and 15 inches. Each is a one-piece free-floating design with aggressive machined angle cuts to reduce weight, vibration, and heat retention. An anti-rotation tab and anti-slide plate ensure the guard stays in place. M-Lok slots at the 3, 6, and 9 o'clock positions, a continuous top Picatinny rail, and Picatinny sections at 6 o'clock allow mounting of your
favorite accessories. A non-timing barrel nut makes the handguard installation an easy DIY project. This STNGR USA handguard will make your AR more functional, comfortable, and fun to shoot.

For more information, click here.

Odin Works Extended Magazine Release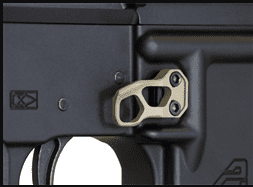 The magazine release is another tiny feature of your AR that could benefit from being more prominent. Our choice for correcting this problem is the Odin Works Extended Magazine Release. Not only does it provide a more extensive release button, but it also has an extended surface area. This allows the shooter to reach it easier without changing grip. The ergonomic design allows for more natural manipulation. This release is machined from Billet 6061 aluminum, includes an aggressive texture, and can be installed in minutes. This is one accessory that every AR15 or AR10 needs. Doing so will increase your ability to find the magazine release in the dark, under stress, or wearing gloves – all things that can be the difference between winning and losing.
For more information, click here.

Timney AR Calvin Elite Drop In Single Stage Trigger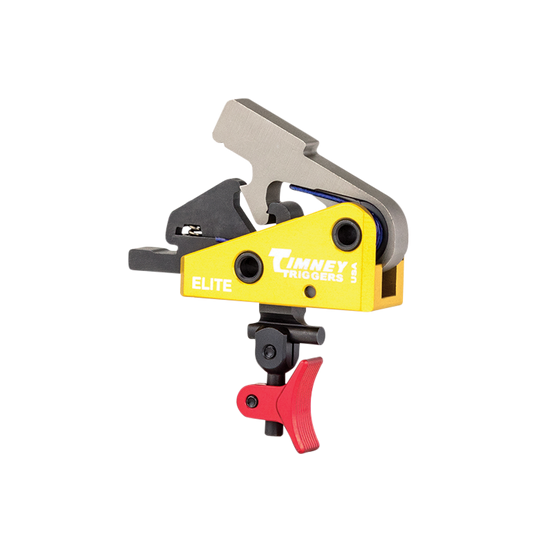 Timely set the standard for aftermarket AR trigger upgrades, so it should come as no surprise, they have made this list. Their single-stage drop-in trigger is one of the most straightforward designs available. It is a complete assembly, factory-tuned for pull weight with no creep. You can personalize the trigger for pull length, cast, and height, but it is out-of-the-box range ready—no need for a gunsmith. Having a quality trigger is the key to having a smoother shooting and more accurate firearm.
For more information, click here.

JP Enterprises Full Mass Bolt Carrier Group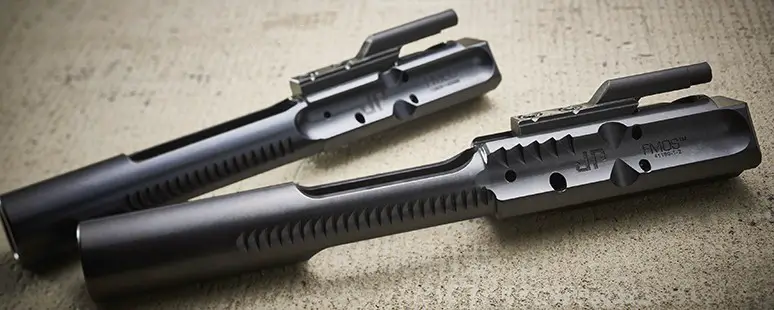 Upgrading your bolt carrier group allows you to achieve smoother, more reliable operations with only a few minutes of work—no special tools. No gunsmith. The JP Enterprises Full Mass Bolt Carrier Group (BCG) is offered in 5.56 NATO, .223 Rem. or 300BLK. It provides a 100% increase in bearing surface, and all the Mil-Spec sharp corners have been rounded. The QPQ finish provides superior lubrication and hardness. The bore is roller-burnished to prevent cracking or peeling. The result is a BCG that runs smoother, faster, and with less risk of malfunction.
For more information click here.
CCOP 6″ Hunting Tactical Bipod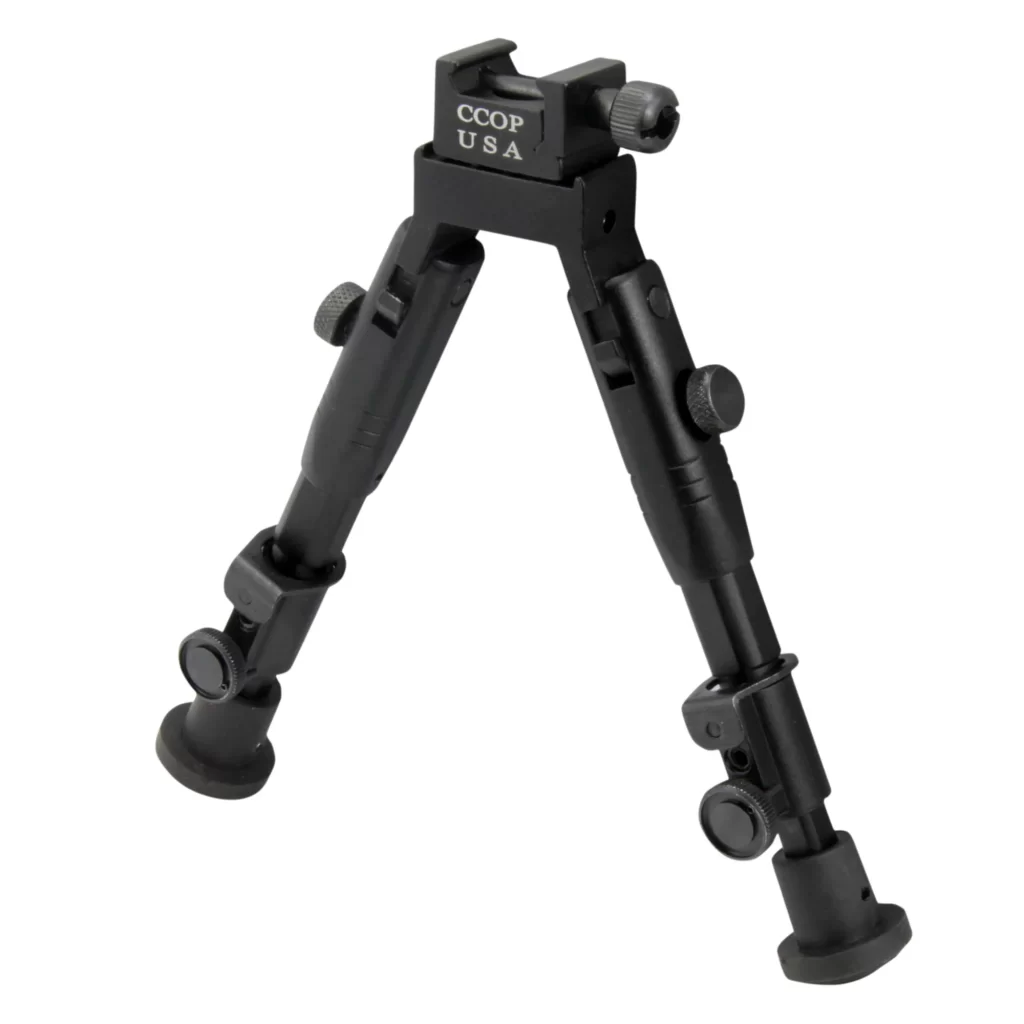 If you want to increase the range and accuracy of your AR, a bipod is just what you have been looking for. There are tons of bipod options, and selecting one can be difficult. The CCOP USA 6" Tactical Hunting Bipod may not be the most expensive, but it is still one of the best choices for the range or the field. The aluminum construction makes it light enough to carry all day. With an extension ranging from 6.1" to 6.69," it is versatile enough to fit multiple platforms and shooters. It includes a swivel stud to Picatinny mount adapter making it ready to go out of the box. Easy to install without special tools for a gunsmith.
For more information click here.

Silencer Central Banish 223 Suppressor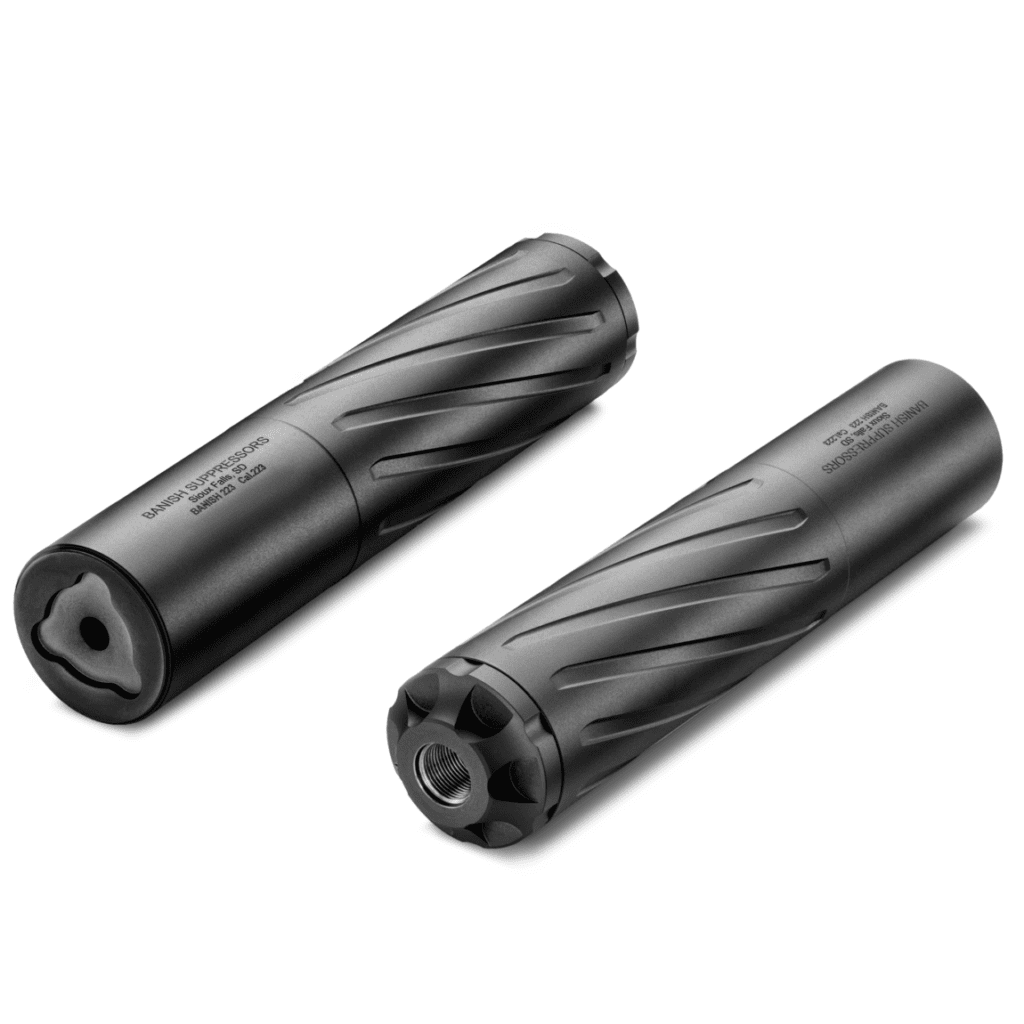 The Banish 223 was designed to run on small caliber rimfire rifles, including the AR15. This direct thread model mounts easily to ½ x 28 threads and is constructed from lightweight, highly durable titanium with a weight of only 9 ounces. With seven baffles, the Banish 223 has a sound reduction of 38 decibels, perfect for protecting your hearing and preventing the game from being spooked. Because centerfire rounds are often jacketed and utilize increased powder loads, cleaning is essential. This is why Banish designs all their suppressors to be easy to disassemble for cleaning and maintenance. Plus, the baffles can be stacked and indexed in any order, making reassembly even more effortless. The Banish 223 is one of the best all-around AR suppressors available- functional, easy to install, and maintain.
For more information click here.

Magpul StripLULA Magazine loading tool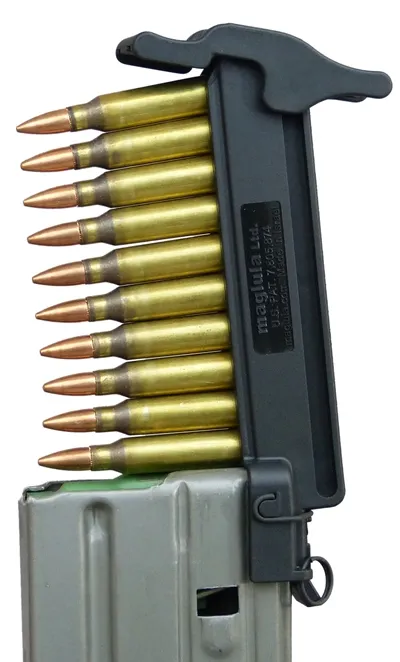 How many more rounds would you shoot if each one did not need to be hand loaded into a magazine? If you are tired of pinched fingers, numb thumbs, or just wasting range time fumbling with ammunition, MagPul has the answer. The StripLULA Magazine loading tool is a universal 10-round AR loading tool. It can be used with either 5.56 or .223 ammunition, loose or on a stripper clip. It will also work with metal or polymer magazines, including the Pmag, Lancer, or Beta-C mag drum. The StripLula is ⅓ the size of competitors, making it easy to transport and carry on the range. The ambidextrous design allows for use by all shooters, and the simple functions make it perfect for the beginner. No more aching fingers or wasted time on the range.
For more information click here.

Wheeler Delta Series AR-15 Armorer's Essentials Kit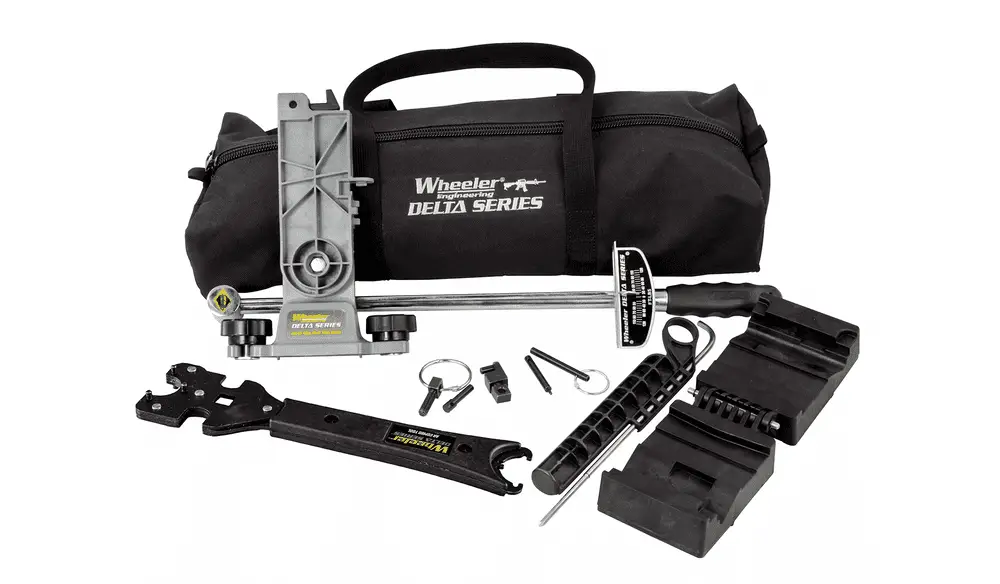 Whether you are thinking of doing a complete AR build, making your repairs, or just keeping up with routine maintenance, having an armorer's kit on hand is a must for any AR owner. Wheeler Delta Series Essentials Kit has everything you need. It includes an AR armorer's wrench, torque wrench, upper vise block with gas tube alignment tool, pivot and roll pin installation tools, magazine well vise block, and adjustable receiver link. Everything comes in a durable custom-fitted carry case to ensure all your tools are close at hand when needed. Having your own armorer kit will make installing any of these accessories easier and help prevent unnecessary damage to your AR or the upgrades.

For more information, click here.

Leatherman MUT Multi-Tool


Multi-tools have been a DIYer's favorite since they were first introduced. With one tool, you could open lunch or build an emergency shelter. One thing you could not do was clean or fix your firearm. That has changed with the introduction of multi-tools specifically designed to clean, repair and maintain your AR. Although there are many different variations available, it is hard to beat the MUT by Leatherman. Not only is Leatherman a pioneer in the multi-tool industry, but the MUT also offers all the tools you need in a small, easy-to-carry package. Tools include bronze carbon scraper, threaded attachment for cleaning rods, needle nose pliers, regular pliers, 154CM replaceable wire cutter and hard-wire cutter, stranded wire cutters, crimper, combo knife, saw, hammer, cutting hook, disassembly punch, bolt override tool, carabiner/bottle opener, large bit drive, ⅜ wrench, front sight adjustment tool, Standard accessories include MOLLE pouch, scope adjustment wrench, and bit kit. The bit kit consists of various small bits – screwdriver tips, drives, etc. all stored in a small plastic holster that fits in the MOLLE pouch.
For more information, click here.

Stopbox Chamber Lock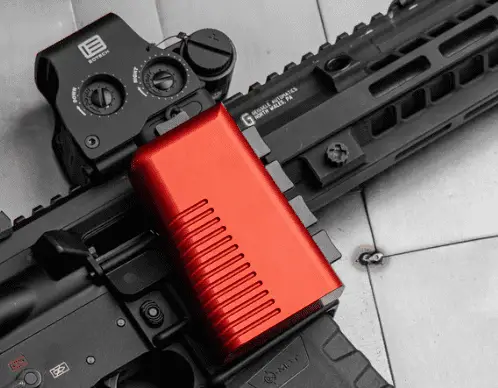 As a gun owner, safety is your first responsibility. The problem is there is a fine line between ensuring your AR is safe and preventing your AR from being accessed in an emergency. Enter the Stopbox Chamber Lock. This device is designed to avoid tampering with others while maintaining your AR's readiness. The rapid access finger code lock does not rely on batteries, electronics, or keys, so there is no fumbling in the dark to need a power source. The hard anodized 6061 T6 aluminum housing will withstand tampering yet only weighs 14 ounces. Compatible with all Mil-spec AR-15 uppers and backed by a lifetime warranty.
For more information, click here.

Magpul Rail Vertical Grip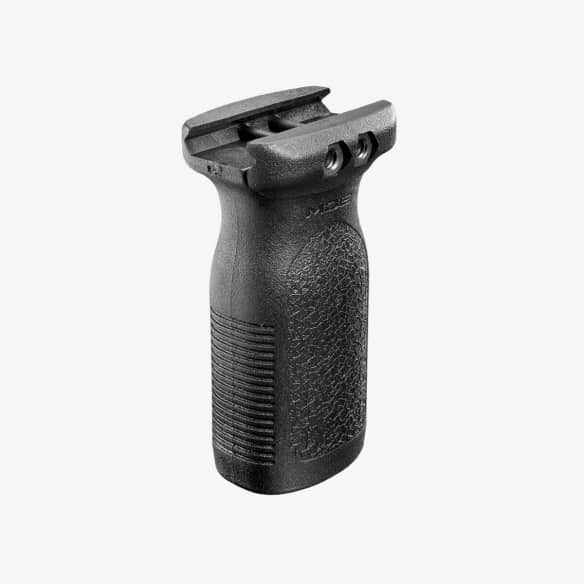 The Magpul Rail Vertical Grip (RVG) offers an economical, easy-to-use means of increasing firearm control. The lightweight, ergonomic design is optimized for the "thumb break" shooting style and is easy to install on any 1913 Picatinny railed hand guard. A universal mounting rail is also included for installation on traditional factory handguards. The polymer construction is durable and easy to care for in most conditions.
For more information, click here.

Troy Enhanced Rifle Trigger Guard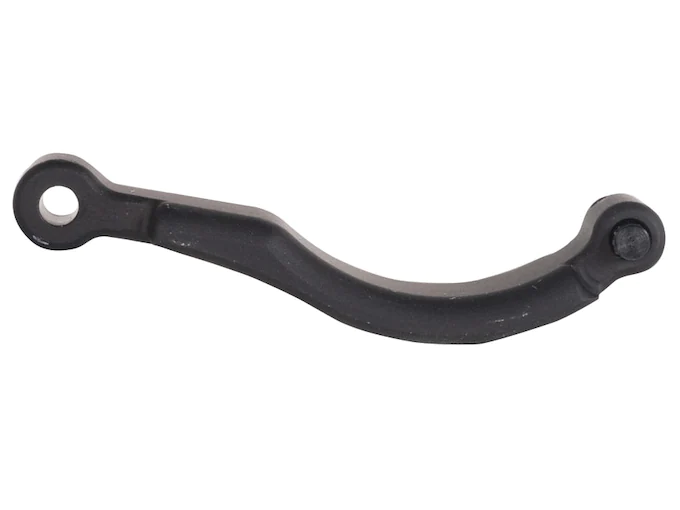 If you have larger hands or have ever tried to use your AR while wearing gloves, you probably noticed the trigger guard was not precisely designed for you. Some shooters overcome this by removing the trigger guard, posing serious safety concerns. The better option is to install an enhanced trigger guard. The larger size will accommodate even heavy winter gloves, and installation is a breeze. The hard coat anodized black aluminum construction matches most factory AR components and fits easily into available space with no permanent modifications. Even if you are not wearing gloves, the smooth surfaces and rounded edges will be a welcome change.
For more information, click here.

Caldwell Brass Catcher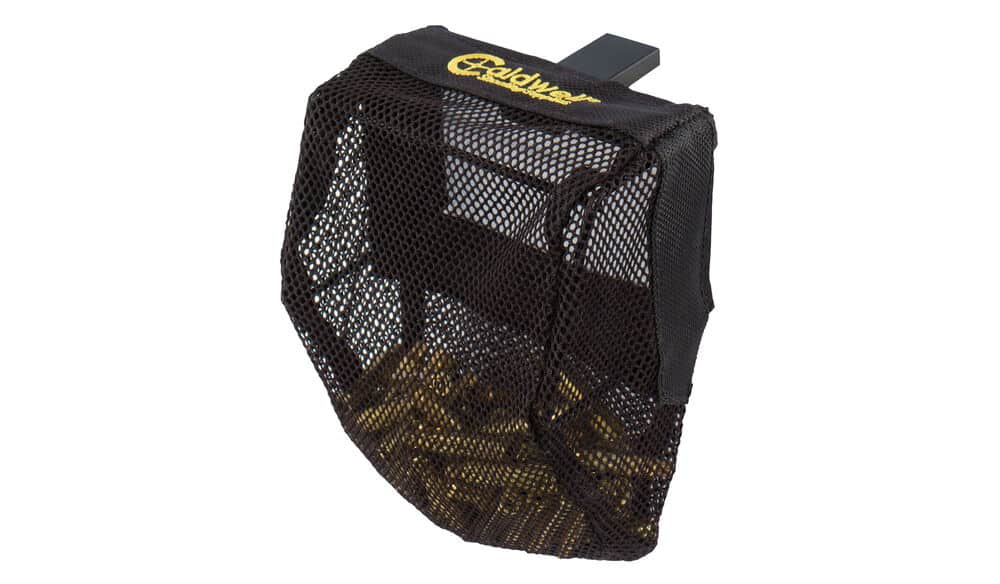 Whether you are a reloader, trying to reduce range clean-up time, or protecting other shooters from hot brass, installing a brass catcher is an easy remedy. Many shooters have tried brass catchers only to find they were not worth the hassle to install, interfered with their AR's function, or required too frequent stops to empty. Not so with the Caldwell Brass Catcher. This design utilizes a quick detach aluminum clamp to install to any rail with various optics installed. The sizeable heat-resistant mesh net and aluminum frame were explicitly designed to reduce interference with the cycling or bolt and have a capacity of 100 .223 casings. Easy to install, easy to use, and an easy way to keep brass from flying.
For more information, click here.

Urban Warfare Soft-Sided Carry Case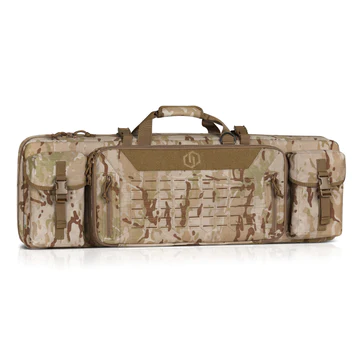 If you are going to spend the time, and money, to upgrade your AR, you will also want a means of carrying it that will keep it secure and protected. The Urban Warfare Soft-sided Carry Case by Savior Equipment does just that. A durable nylon outer shell protects from water, dirt, and scratches. The extra thick interior padding keeps your rifle secure and provides further protection in the field or the vehicle. With Duraflex UX buckles, and YKK zippers you will never need to worry that the case will unexpectedly open. Plus, there are three carry options – backpack style straps, carry handle, and single shoulder strap. The ample interior space will accommodate two rifles. The three exterior pouches, one large and two smaller, will house a wide range of range or field equipment, including magazines, tools, ammunition, or even a backup handgun.
For more information click here.


When the AR was first introduced to American troops, the United States was embroiled in the Vietnam War. Troops were fighting fast-moving battles in a jungle environment that required lighter, more durable equipment than was currently issued- some of which dated back to Korea or World War 2.

The AR platform was unlike any US force's weapons system. A lighter, metal, and composite construction designed to be easier to carry on the move and less susceptible to the elements. It was also easy to care for and shoot; using a lighter but faster cartridge than many thoughts was helpful in warfare.

Despite the earlier naysayers, the design prevailed. Furthermore, it continues to be used by troops not only in the USA but around the globe. It has also grown to be one of the most popular sporting rifles in America, with thousands of shooters each year choosing it for hunting, target shooting, and home defense. Not to mention the countless law enforcement and security departments that rely on it.

There is no doubt that the AR is a time and battle-tested platform. It has proven easy to use, reliable, and adaptable to various missions. These are only some reasons why it is one of the most popular firearms in America.

However, no weapon platform is perfect and the AR has been virtually unchanged since its inception. Chances are you have noticed some aspects of your AR that could benefit from improvement.
]
The good news is there are endless options when it comes to AR accessories. Whether you want to increase reliability or provide a more personalized fit, chances are the changes can be made with a few tools, a little mechanical aptitude, and the ability to follow simple instructions.

The bad news is that the market has been flooded. Almost everyone with a CNC machine or small plant has started providing what they consider "must-have" accessories for the AR. Some of these accessories are well-made components that add function to your rifle. Others are either junk with little more quality than a well-made toy or offer no real benefit than increasing the "tactical cool" appearance.

So how do you know which accessories are right for you? We have compiled a list of those that provide the best combination of quality, price, and function. But we will go into that more later. Personal preference is the only accurate way to know what accessories are best for your AR.

Decide what you are trying to achieve. Do you want a better running, easy-to-use home defense rifle? Are you a hunter trying to get the most bang for your buck while increasing functional field performance? Once you have answered this fundamental question, you have a starting point.

Regarding quality, the suggestion would typically be "go with the established, well-known company with a good reputation." However, there are plenty of small startups that produce quality accessories. You may need to research and see what others say before purchasing from one of these unknowns.

Finally, ensure the accessory you choose is right for you and your shooting style. The best way to do this is to head to the range and try an already-outfitted rifle before you buy. Many gun ranges have loaner guns for rent, so that is an excellent place to start. If you cannot try, be prepared to install, test, and possibly replace some pieces before you are satisfied.